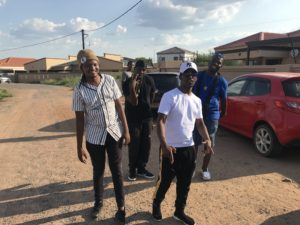 Botswana is a large, landlocked country in Southern Africa, a vast stretch of desert and savannah between South Africa, Zimbabwe and Namibia with a population of only 2.2 million. While widely overlooked internationally for their music, over the past 20 years Batswana have steadily built a diverse and fruitful local scene that includes traditional choirs, hip-hop and kwaito, r&b and jazz and even heavy metal. While Franco, the biggest star in the country, packs stadiums with his Congolese-derived Setswana kwassa kwassa, Vee Mampeezy, Charma Gal and a host of aspiring stars champion a distinctly local fusion called house kwassa: a mix of rumba guitars, house beats and kwaito vocals. In this program we hear from Kabelo Mogwe of the popular cultural troupe Culture Spears; hip hop star Jujuboy; the metal band Skinflint; Afro soul singer Mpho Sebina and reformed house kwassa badboy Mingo Touch. We also head to a midnight recording session with young producer Zolasko and singer Naisi Boy and learn the insides of the Botswana music video industry with videographer Jack Bohloko.
Produced by Morgan Greenstreet and Lollise Mbi.
Originally aired May 28, 2020.