Cheikha Rimitti, Rebel Queen of Algerian Music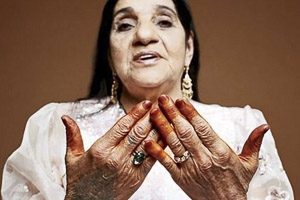 Cheikha Rimitti was certainly a queen. For some, she was the queen of raï (pronounced RYE), which means "opinion" in Arabic. For others, she was the queen of freedom, an Algerian Statue of Liberty wielding the fire of independence, as she sang daringly and frankly about love, sexuality, poverty, drinking and oppression. She defied taboos and her music was often banned. She used to say that "misfortune was her teacher" but she became an international star who died at 86, two days after a sold-out show!
However, it might be too simple to portray Rimitti only in this iconic role. She was even more than a musical and cultural queen, and she still lives on in many hearts.
Rimitti would have been 100 in 2023 - and yet the Algerian diva is still praised and remixed by a young new generation of artists. In this episode, we'll journey through Rimitti's rocky life and we'll meet her musical progeny.
Produced by Elodie Maillot #apww #cheikharimitti #algeria #rai #hadjsameer #chebkhaled #medehates #flea #souadasla #lesheritieres #festivaldessud #arles #france #paris #stephane # krasniewski #acidarab #rachidtaha



APWW #870