Everything Transforms: Remixing Tradition in North Africa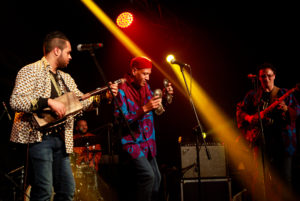 Two new bands, one from Morocco and one from Tunisia, are mixing jazz, funk, and rock with centuries-old ritual music with roots in the trans-Saharan slave trade. It rocks, but what does it mean for the tradition? Afropop talks with both bands about the divergent ways that they negotiate innovation and conservation. Produced by Sebastian Bouknight and Lauren Schenkman.
Dendri Stambeli Movement's song "Boussadia" tells the story of a costumed, dancing figure, who, according to stambeli lore, would welcome freed slaves and newly arrived sub-Saharan migrants in Tunisia. The main character in the music video is wearing the traditional Boussadia costume, which sometimes shows up at stambeli rituals.
Bab L'Bluz's "Ila Mata" is inspired by the words of the Tunisian poet Anis Shoshan, which called for an awakening from the delusion of racism and superiority. Yousra Mansour, lead singer and awicha player of Bab L'Bluz, says that it is "a call to search for what can unite us instead of going towards everything that divides us." In the song, she sings, "A fear that grew inside us has led us astray from the straight path . . . Until when will ignorance rule? . . . How long will violence triumph?"
Tracklist

Dendri Stambeli Movement - "Nana Aicha"
Bab L'Bluz - "Bab L'Bluz"
Maalem Si Mohamed Chaouqi - "Lala Aicha"
Chikh Hamadi Bidali - Unknown title
Aymen Ben Attia and Senda Makhlouka: "Waltz for Debby"
Dendri Stambeli Movement - Live at Visa for Music
Maalem Si Mohamed Chaouqi - "Fangara"
Nass el Ghiwane - "Mahmouna"
Maalem Abderrazak Hadir - "Negcha"
Bab L'Bluz - "Africa Manayo"
Dendri Stambeli Movement - "Boussadia"
Bab L'Bluz - "El Gamra"
Bab L'Bluz - "Gnawa Beat"
Dendri Stambeli Movement - "Nana Aicha"