Jamaica: Big A Yard, Big Abroad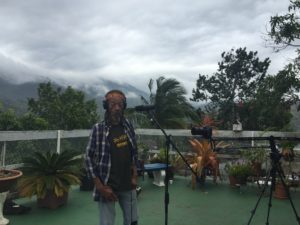 Since the 1960s in Jamaica, iconic figures such as Bob Marley have gathered in backyards to write reggae anthems that conquered world charts. The yard remains a cornerstone in Jamaican culture. Musicians withdraw from the violence of the city to create and play songs in their yards. In Jamaican patois, "mi yard" means "my home," and many songs, proverbs and colloquialisms hinge on the word "yard." More even than the music itself, the yard evokes a state of mind and a physical space wherein artists create amid the warmth of acoustic sound, raw emotion of voices and a collective energy. In this program, we move yard to yard in Jamaica, listening to acoustic music being written and recorded, smelling trees and flowers, and meeting legendary artists like Ken Boothe, Winston McAnuff, Cedric Myton of the Congos, Kiddus I, Robbie Lyn, Viceroys, or Nambo Robinson, as well as a number of young and emerging reggae artists like JAH9, Var, and Derajah, who grew up and found their artistic voices in ghetto yards. You've never heard Jamaica sound like this before!
Produced by Elodie Maillot and Banning Eyre.