The Muslim World Music Day will take place in April 12, 2011. The date was created to increase awareness and understanding of Muslim music through a day of thematic events and an online effort to identify and catalog all the recordings of Muslim music in the world. It is a collaborative project kick started by the Archive of Contemporary Music in New York (ARC), which was later joined by Columbia University. Here are some links related to the event:
Muslim World Music Day Website
Muslim World Music Day YouTube channel
Our show features artists that you've probably heard before like Youssou N'Dour, Fela Kuti, Ali Farka Toure and Ebenezer Obey. But here's some information on some of the less known artists presented on the show:
El Tanbura
From Port Said, Egypt, El Tanbura is a collective of master musicians, village singers, local fishermen and Sufi philosophers. Focused on the ancient sound of the Simsimiyya harp, the group blends Sufi vocal and percussion.
Sahra Halgan
A political refugee from her native Somaliland, Sahra Halgan is a singer that combines sounds from East and West Africa. An icon of her community, in the North of Somalia, she sings the nostalgia, the memory and the rips of exile. Her style is made distinct by its timbre and how she combines throat-voice, tribal inflexions, ululations and oriental ornamentations.
Haruna Ishola
The late nigerian musician Haruna Ishola is one of the greatest praise singers of the apala, a traditional form of social music derived from the Yoruba people. He sticks to a traditionalist approach, citing Yoruba proverbs and Koranic scripture in his songs and performing alongside talking drummers, shakers, bells, a chorus of singers and the agidigbo.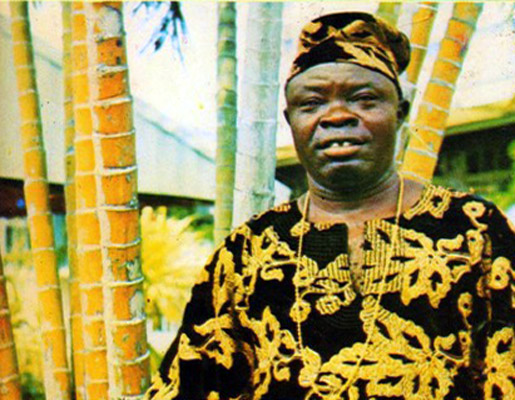 Haruna Ishola
Kollington
Popularly known as "Baba Alatika" (father of the masses), Nigerian Ayinla Kollington was one of the first stars of fuji -- a rhythm that synthesized elements of apala with the sounds of the sakara tambourine drum into a new recreational dance style -- ranking second in popularity after "Barrister" Wasiu. His lyrics were razor-sharp and made him the essencial social commentador in the Yoruba Muslim music scene.
Ahmed Abdul-Malik
American bassist and oud player of Sudanese descent, Ahmed Abdul-Malik is noted for integrating Mideastern and North African music styles with jazz. He served as bassist for jazz legends such as Art Blakey, Randy Weston and Thelonious Monk.
Salaam
Salaam is a US-based band with a repertoire of Middle Eastern and North African music.  Their sound is rooted in maqam (the modal system used throughout the Middle East), whilst infused with jazz, blues, classical and  avant garde.
Master Drummers of Dagbon
The Dagbamba people of West Africa have developed a high standard of drumming and this large ensemble of drummers is the perfect example. Their work, recorded by ethnomusicologist John Miller Chernoff presents a portion of the musical heritage of Ghana. They are lead by Alhaji Ibrahim Abdulai.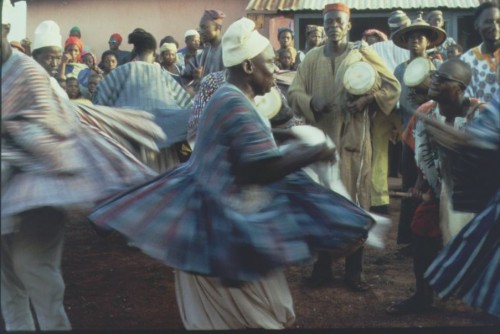 Master Drummers of Dogon
Katibeh Khamseh
Also called Katibeh 5, this rap band is formed by 5 young refugees living in the Palestinian camp of Burj al-Barajneh, in Lebanon. In their music hard beats meets Arabic sounds and political activism.
Faiz Ali Faiz & Titi Robin
Hailed as a worthy sucessor to Nusrat Fateh Ali Kahn, Fiz Ali Faiz qawwali vocalization complements Thierry "Titi" Robin's virtuoso fingerwork on instruments like bouzouq, rhubab and guitar. They worked together on the album "Jaadu" to create a dialogue between France and Pakistan, qawwali and gypsy sounds.
Anouar Brahen
Tunisian Anouar Brahem is regarded as a major inovator of the oud. When he plays, the instrument is no longer another sound in a large and loud ensembles, but the lead solo in a delicate context. With unusual formations, he establishes links between jazz, Arabic classical music and folk.
Olu Dara
The father of rapper, Nas, Olu Dara was born in Natchez, MS. He draws on his Mississippi roots to create a mix of blues, jazz. gospel, R&B, Caribbean and African rhythms. During his musical performances he plays the trumpet (pocket trumpet), a wooden aboriginal instrument that he picked up on his travels, the guitar, and the harmonica; in addition he always sings, vocalizing his many stories. Think of him as a modern equivalent of the itinerant traveling musician/historian of years past. As he puts it, " I sing about women, food, and life in general".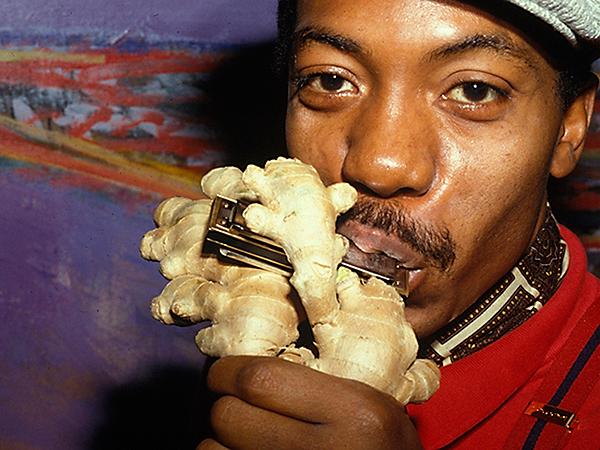 Olu Dara
Juan Pena (El Lebrijano) and Orquesta Andalusi de Tanger
Juan Pena Lebrijano grew up in a prominent Gitano (Roma) musical family and began to play Spanish guitar as a child but eventually turned to Flamenco singing. He came to be regarded as one of the greatest voices of flamenco, collaborating with the famous guitarist Paco de Lucia. Encuentros is the result of his collaboration with Orquesta Andalusi de Tangeran, an Andalusian orchestra from Morocco, mixing flamenco with the Magreb style of North Africa.
Mohamed Bajeddoub & Abderrahim Souiri
Mohamed Bajeddoub is one of the masters of arab-andalusian music. He plays with an orchestra of the andalous music (al-ala), which typically includes a violin, a rabat, an oud, a cello, a viola and some percussions. The music of
Abderrahim Souiri
is a continuing proof that the ancient andalous tradition of the al-ala is alive and well. He's currently one of the most esteemed singers of Morocco.
Alhaji Bai Konte
Gambian jali singer and kora player. He is believed to be the first kora player to perform and tour in the United States, where he played at the Newport Jazz Festival in 1973.
Al Andaluz Project
Made up of three, female vocalists including Mara Aranda from L'Ham de Foc, the group combines Sephardic Jewish, Christian and Arabic styles against intricate arrangements made up of Middle Eastern instruments.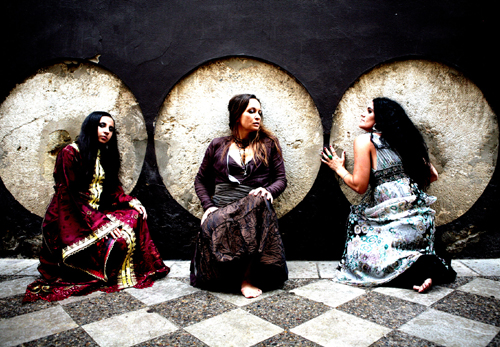 Al-Andaluz Project