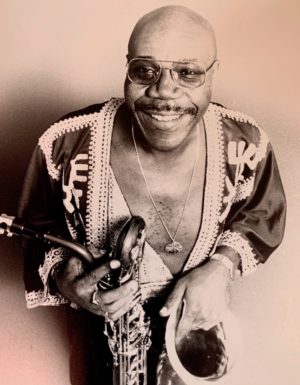 Cameroonian musician and composer Manu Dibango passed away on March 24 at his home in France, an early victim of Covid 19. "My Friend Manu" is a tribute to the exceptional man who, by chance as he says, gave us the famous "Soul Makossa," a tune that opened the disco era.

In this episode of Afropop Worldwide, Georges Collinet goes back in time to recollect his friendship with his fellow Cameroonian. He explores the many ways their lives paralleled and intersected after they were sent to France by their parents for an education. This musical journey is enhanced by the wisdom and sonorous laughter of Manu Dibango and by the mesmerizing music culled from the over 200 records that Manu produced over a 60-year career.
On the program, we also hear Manu reflect on his incredible journey in an interview that Afropop producer Dan Rosenberg recorded at Dibango's apartment in Paris.

In "My Friend Manu" you will not only sample some Maxi Voom Voom, as Georges Collinet's show on the Voice of America was called, but also have a taste of andouillette and suya in Yaoundé, Cameroon. And you will finally know how to correctly say Ma Ma Ko, Ma Massa, Ma Ma Makossa. "My Friend Manu" is definitely a multisensory delight!
Photos by Pierre René-Worms, used with permission.
Originally aired June 18, 2020.