African Legends: Remembering Fela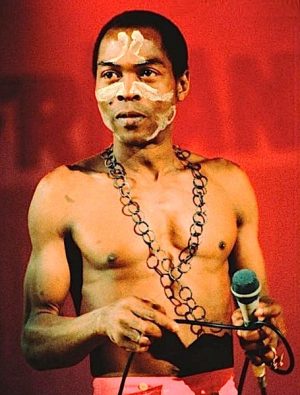 Fela Anikulapo-Kuti would be 79 years old this month, had he not died from complications of AIDS in 1997. By the time of his death, Fela was the inventor of the enduring and influential Afrobeat music style, the composer of an enormous body of music, and one of the bravest political voices in 20th century African music. It is fair to say that no African musician before or since has sacrificed more for the principles he believed in. Nigerian history and music have barreled forth during the two decades since Fela left us. A powerful new generation of Nigerian musicians have emerged in that time, and the music they now champion has been dubbed "Afrobeats," an appropriation of the name Fela gave his original sound during its heyday. The youngest artists on the scene today have no direct memory of Fela, though his legacy is impossible to escape. In this program, we hear from current day Nigerians from multiple generations and genres—fuji, juju, hip-hop (Afrobeats) and highlife—on how they remember this musical giant, and how they reckon with his complex and challenging legacy.
Produced by Banning Eyre and Morgan Greenstreet. Hosted by Sahr Ngaujah.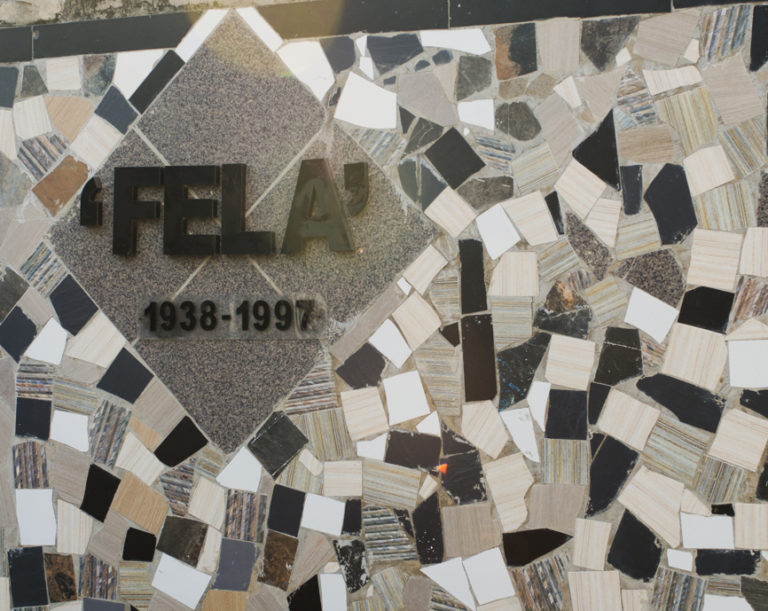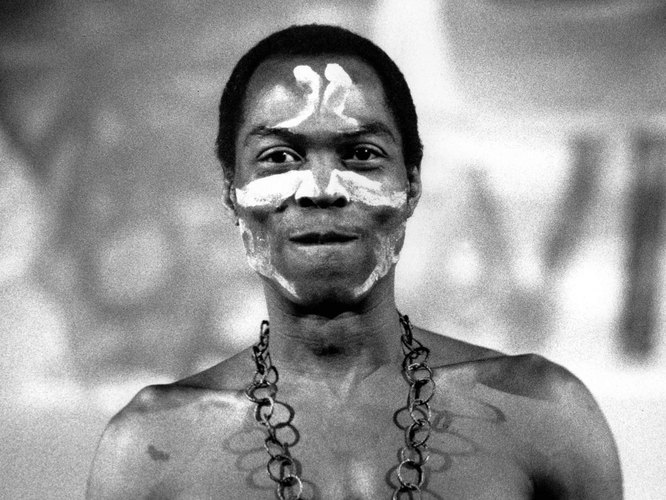 Playlist: Fela Inspired Music- From Afrobeat to Afrobeats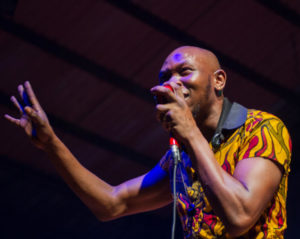 Transcript
Remembering Fela [RADIO PROGRAM SCRIPT]
WINDOW: Shrine_Ambiance.wav/Alagbon Close
SAHR: WE'RE STANDING OUTSIDE THE NEW AFRIKA SHRINE IN LAGOS, NIGERIA. THERE ARE MANY PEOPLE ABOUT, LISTENING TO MUSIC, HAVING A DRINK, HAVING A LAUGH, YABBING—WHICH IS LAGOS SLANG FOR ADMONISHING, CUTTING, RAZZING. THE ORIGINAL SHRINE WAS CREATED BY THE FOUNDER OF AFROBEAT MUSIC, FELA ANIKULAPO KUTI, BACK IN THE 1970S. TODAY'S SHRINE IS RUN BY FELA'S DAUGHTER, YENI KUTI, AND IT'S A UNIQUE HANGOUT SPOT FOR AFROBEAT FANS. IT'S ALSO THE FAVORITE PERFORMANCE VENUE FOR TWO GREAT BANDLEADERS, FELA'S ELDEST SON FEMI, AND HIS YOUNGEST, SEUN.
ACTY: Seun_positive.wav: As a black man I concentrate on the black struggle. That's why my music isn't radio friendly, because it doesn't fit into the narrative of what Africans are supposed to be saying. Africans are supposed to be happy in the suffering. We are supposed to be suffering and be hopeful at the same time. We are supposed to believe that, yes, we can make it no matter what, no matter the injustice, no matter the corruption, no matter the disadvantage, no matter the disability, you can make it.
WINDOW/BED: crossfade into Seun_LIVE_board.wav + Seun_LIVE_house.wav (a bit of vocal in the clear, then instrumental as bed)
SAHR: SEUN KUTI LEADING HIS FATHER'S BAND EGYPT 80 AT THE NEW AFRIKA SHRINE IN LAGOS EARLIER THIS YEAR. I'M SAHR NGAUJAH SITTING IN FOR GEORGES COLLINET ON A SPECIAL EDITION OF AFROPOP WORLDWIDE: "REMEMBERING FELA."
ACTY: Ikon1_Jesus.wav: I feel like Fela has already spoken out. He's already shown us that, look, you can actually influence the country. You can just have balls and say what you need to say, through your music. He's done that. He has been the Jesus of music and died for our sins.
ACTY: Osupa_Fela.wav: People like Fela, they are not common among human beings. They come once in awhile. There is no one like Fela Anikulapo Kuti, he's one in a million. That's how God does his own kind of thing. There's no one like Mohammed. There is no one like Jesus Christ. So there is no one like Fela Anikulapo Kuti right now.
SAHR: THAT WAS NAIJA POP PRODUCER IKON AND FUJI MUSICIAN SAHEED OSUPA IN LAGOS, PAINTING FELA AS A KIND OF DIVINITY! THESE DAYS, A LOT OF NIGERIANS FEEL THAT WAY. NOW, I'M NOT A NIGERIAN, BUT I DID PLAY ONE ON BROADWAY. IN FACT, I PLAYED FELA HIMSELF, AND AS YOU AN IMAGINE, THEY WERE ENORMOUS SHOES TO FILL.
WINDOW: Roforofo Fight.m4a, Fela Kuti, The Best Best of the Black President – Deluxe Edition [Disc 2] [Knitting Factory Records, 0 20286 15027 5]
Saheed Osupa, live in Lagos
SAHR: FELA WOULD BE 79 YEARS OLD THIS MONTH HAD HE NOT DIED IN 1997. BUT HERE IN LAGOS, AND FRANKLY, ALL AROUND THE WORLD, FELA LIVES! THERE ARE AFROBEAT BANDS FROM TOKYO TO NEW YORK TO SALVADOR DO BAHIA, BRAZIL. AND HERE IN NIGERIA, FELA'S LEGACY CAN BE FELT, AND SOMETIMES HEARD, LIKE A SUBTLE, BUT POWERFUL UNDERCURRENT: A NEW GENERATION OF ENORMOUSLY SUCCESSFUL POPULAR MUSICIANS WRESTLE EVERY DAY WITH FELA'S LEGACY. AS NAIJA POP BECOMES INCREASINGLY KNOWN AS AFROBEATS–WITH AN "S"–FELA CHALLENGES THEM FROM BEYOND THE GRAVE, WITH HIS COURAGE, HIS AUDACITY, AND HIS MUSICAL BRILLIANCE. ON THIS PROGRAM, WE'LL HEAR FROM PEOPLE WHO KNEW AND WORKED WITH THE MAN HIMSELF, AND WE'LL HEAR FROM YOUNGER NIGERIAN MUSICIANS WHO NEVER MET HIM, TO GET THEIR TAKE ON THE GREATEST MUSICAL GIANT NIGERIA HAS EVER PRODUCED. BUT LET'S START WITH MUSIC, ONE OF FELA'S MANY MASTERPIECES, "ROFOROFO FIGHT."
MUSIC: more "Roforofo"
SAHR: WE'RE HEARING FELA ANIKULAPO KUTI'S "ROFOROFO FIGHT"…. I'M SAHR NGAUJAH IN FOR GEORGES COLLINET ON AFROPOP WORLDWIDE. TODAY WE'RE REMEMBERING THE NIGERIAN MUSICAL ICON, FELA KUTI.
ACTY: StMercy_Fela.wav: To me Fela's songs are like stories. That's why I read the lyrics. I don't really listen to the beat or how he singing, no. I read the lyrics. They're like stories. And when you read the story, you get your own picture. For me, that's what happens. I don't really carry his lyrics in my mind. I carry his pictures. The things he tries to show in his songs. It's from another time, but it's what we're facing now. It's quite present. It's like he prophesied then. So now we're just facing everything he talked about. It is what we are facing.
ACTY: Dre_Fela.wav: One of the things I learned from Fela, if you want to diss the government, you don't just go and say, "Hey, f#*! you, government." There are ways you can go about it. But it doesn't mean you have freedom of speech, and you can just say whatever you want and get away with it. Not in Nigeria. It doesn't happen that way. Freedom of speech. People don't even know that. But if you take it that other way around. When you say freedom of speech, since it doesn't work for Nigerians, if you want to diss the government, you do it the way Fela is doing it. That's one of the things I learned from him. If I want to express yourself, I will just go directly in expressing it. I will use other means of expression.
ACTY: Sira_naked.wav: I had nothing to do with Fela. I knew he was famous. I heard everything, but my sister here got me interested. And I was thinking, "Is this the kind of message Fela was actually passing? Oh, if it is, then he is great." I never knew. I thought he was all dancing naked. I didn't really look at the lyrics. Now, I'm getting to know. it's not about the performance. The person could be crazy, naked on stage. But the message is so cool. Look at the message.
SAHR: THAT WAS ST. MERCY, KING DRE AND SIRA DOMEGAMABO, THREE YOUNG MUSICIANS FROM PORT HARCOURT, ON THE NIGER DELTA. AND I MEAN YOUNG. THESE THREE WERE JUST KIDS WHEN FELA PASSED, AND IF THEY HEARD FELA'S MUSIC AT ALL BACK THEN, IT WAS PROBABLY FROM THEIR PARENT'S STEREOS. BUT THEY'VE COME TO APPRECIATE THE MAN, EACH IN THEIR OWN WAY. THAT'S LARGELY THANKS TO THEIR EXPERIENCE WITH CHICOCO RADIO, A GROUND-BREAKING GRASSROOTS ORGANIZATION IN PORT HARCOURT. WE'LL COME BACK TO THE CHICOCO CREW LATER ON.
WINDOW/BED: Authority Stealing.m4a, Fela Kuti, V.I.P. / Authority Stealing [MCA, 7 31454 73842 2]
Sira Domegamabo
ACTY: K1_Fela.wav: Most things happening today have been said in Fela's music a long time ago. Authority stealing. Yeah. Don't we have authority stealing? We have authority stealing. Who are the people they use the word of authority stealing for? They are the people in power that have responsibility rested on them, and they don't do it. They don't serve people. We use this music to educate the public, to prepare them to kind of bring out that thinking of them to say, something is not right.
SAHR: THAT'S K1 DE ULTIMATE, THE KING OF FUJI MUSIC, AND ONE OF THE FEW GUYS AROUND TODAY WHO STILL HAS THE KIND OF REBELLIOUS STREET APPEAL THAT FELA HAD. BUT FELA'S SON SEUN SAYS THAT FELA'S BRAND OF SOCIAL ACTIVISM, JUST DOESN'T WORK IN THE PROFESSIONAL WORLD YOUNG LAGOSIAN MUSICIANS OPERATE IN TODAY.
ACTY: Seun_Fela.wav: When Fela was making music, music was underestimated as a weapon of media. Nobody believed that musicians could actually change the world, until musicians started changing, the world and the corporations were like, "What?? Get that!" There's no value to music today, like commercial value, no. You have to create a brand that corporations can work with. Musically, there's no money to be made. No one can make the money Bob Marley made in music today. Except if the corporations embrace you, and give you endorsement and invest in your show productions so you can play the stadium and have all the lights…
ACTY: Martha_Seun.wav: Seun is the carbon copy of Fela. He dresses like Fela, he sings like Fela, his lyrics are Fela.
SAHR: THAT'S MARTHA NAADA OF CHICOCO IN PORT HARCOURT. SHE AND HER FRIEND SIRA ARE LEARNING TO APPRECIATE FELA, BUT LIKE A SOME KIDS THEIR AGE, THEY'RE NOT SO QUICK TO EMBRACE TRADITIONAL AFROBEAT ARTISTS.
ACTY: Sira_sleep.wav: They are not so famous in Nigeria because of the times. That Afro whatever I think is almost dying. And people in Nigeria don't enjoy so much, except you make it groovy. You know, there is a way you pass a message. And it sounds very official. Just go straight to the point. And there's a way you pass a message and it's also a joke, and people laugh about it, but the messages are there. That's the times right now. People say things, funny things. Not everybody might get it. But the wise people laugh, and also know the message. In Nigeria, the kind of music we do now, everybody wants to dance about it. It doesn't matter what the message is saying. Some people will just sleep over Fela's songs. People will sleep.
SAHR: SLEEP DURING FELA'S SONGS! WOW, ONE MUST VERY SLEEPY. LET ME TAKE YOU BACK TO THE SHRINE DURING FELA'S HEYDAY IN THE 1970S AND '80S, WHEN POLITICIANS WERE REELING FROM FELA'S ATTACK, AND NOBODY WAS FALLING ASLEEP.
IN LAGOS WE MET UP WITH DURO IKUJENYO. DURO PLAYED IN AFRICA 70, AND HE REMEMBERS WHAT IT WAS LIKE TO HIT THE STAGE WITH FELA AT THE SHRINE.
WINDOW/BED: Water No Get Enemy.m4a Fela Kuti, The Best Best of the Black President – Deluxe Edition [Disc 1]
ACTY: Duro_priest.wav: Wooooo. We get to the Shrine at 11, as a band. We tune up. By 12 we start, and then we played till about five, but no stops. On Saturday, Fela does a show called the comprehensive night. And that's where he goes to the Shrine, he does his voodoo, it's like a real voodoo. Fela has an altar. He would get a chick there, cut it, and then put some wine, says prayer, put fire, put air, and so all the elements of the world are all appeased. It's like a Babalao, what you go to do in the house of the divination of African priests. So he was going to call himself the chief priest of the Shrine.
SAHR: FELA LIVED IN A TIME WHEN CHRISTIANITY AND ISLAM WERE RAPIDLY GAINING POWER IN NIGERIA, AND TRADITIONAL AFRICAN RELIGION WAS BEING FORCED UNDERGROUND. THAT TREND CONTINUES TODAY. BUT FELA RESISTED IT MIGHTILY. HE DEFENDED AFRICAN RELIGION AND SPIRITUALITY RIGHT TO THE END. IN FACT, THAT'S ONE WAY A FEW BRAVE NAIJA POP ARTISTS TODAY CHOOSE TO HONOR HIM. BLACKMAGIC IS ONE. HE CHOSE HIS STAGE NAME IN PART IN HOMAGE TO FELA.
ACTY: Blackmagic_fetish.wav. Some people say, "Ah why the name Blackmagic? It's very fetish," and they're the ones that do juju. They do. They do. They do! It's all that mentality. We act like we're afraid of it but that's what we're doing. We're very diabolic but we act like Jesus is Lord all the time.
SAHR: NOW DURO, WHO STILL PERFORMS IN LAGOS THESE DAYS, HAS HIS OWN TAKE ON FELA'S SPIRITUALITY.
ACTY: Duro_Aquarius.wav: That voice is a voice that is trying to harmonize world. Not divide the world. Were talking about the Age of Aquarius. Because Fela came to the United States and talked about the Age of Aquarius. But Age of Aquarius is now. Every 2000 years there is a change in the zodiac. So it was the Age of Pisces, where water was the constellation. Now it's air. So air is now the element that's going to be there for 2000 years.
ACTY: Duro_Water.wav: I think it is a recognition of Jesus Christ speaking of the Age of Aquarius, in a way that he sang a song called "Water No Get Enemy." "Water No Get Enemy" means that you have water in you, so you don't have enemies. So there must be love between human beings. That is very, very deep, "Water No Get Enemy." And people are not thinking like that. If you have water, you can't be my enemy. Water is common to everybody in the world. But this guy was saying it, and he was saying the brothers will have to start to fight brothers. So that's a sign of the end of the Age of Pisces.
WINDOW: more "Water"
SAHR: THE DAY WE MET DURO, HE WAS IN A REFLECTIVE MOOD. HE WAS RECALLING THE MOST TRAUMATIC DAY OF FELA'S STORIED LIFE, THE DAY SOLDIERS RAIDED AND BURNED HIS HOME, THE KALAKUTA REPUBLIC. IT HAD BEEN 40 YEARS TO THE DAY, AND DURO WAS THERE WHEN IT WENT DOWN.
BED: Zombie.m4a, Fela Kuti, The Best Best of the Black President – Deluxe Edition [Disc 1]
ACTY: Duro_burning.wav: February 18 actually was the day they burned Fela's house, 40 years ago. The burning of Fela's house means sacrilege. It is the most inhuman thing that I personally have ever witnessed in my life. And that is why I still hang on Fela, and I still believe in what he's saying, and I still play Afrobeat.
ACTY: Duro_rift.wav: A lot of things were happening at the time. Fela was always smoking marijuana, and he had dancers, he had singers, who dressed very freakily, and then when they go out in the neighborhood they are molested by the soldiers. So when they do that, that actually started causing a kind of rift, some kind of wild part that the government was so scared of in a way. Then he started changing his songs. He started writing satirical songs. The last one he did was "Zombie." Which was a direct hit on the Nigerian Police and the Nigerian Army.
WINDOW: "Zombie" (more)
SAHR: IN EARLY 1977, THE NIGERIAN GOVERNMENT WAS GEARING UP FOR THE BIGGEST CULTURE AND MUSIC FESTIVAL WEST AFRICA HAD EVER SEEN: FESTAC '77. FELA STARTED OUT ON THE FESTAC PLANNING COMMITTEE, BUT—NO SURPRISE—HIS IDEAS DIDN'T EXACTLY JIVE WITH THOSE OF GOVERNMENT OFFICIALS ON THE COMMITTEE. IN THE END FELA QUIT, BOYCOTTED THE EVENT, AND DECIDED TO PUT ON HIS OWN FESTAC CONCERT AT THE SHRINE. FOR THE NIGERIAN GOVERNMENT. THAT WAS THE FINAL STRAW.
WINDOW/BED: "Unknown Soldier" Fela Kuti
ACTY: Duro_raid1.wav: So it was like, hey, this guy, we have to destroy him. So anything and it does in that area, the soldiers try to beat you up. So when they started beating us up, we said "Man, you can't beat us up." So we made our own weapons in Fela's house. So I was like a Fela boy at that time. So we confronted the policeman and we beat them up. The soldiers. This was the day before they burned the house. Fela was thinking just as a musician, and he was not thinking about the consequence. And he never thought that, you guys are so animalistic and they can just come on him anyhow. They brought the soldiers. They've got them from everywhere.
SAHR: FELA'S ELDEST DAUGHTER YENI ALSO HAS VIVID MEMORIES OF THAT DAY.
ACTY: Yeni_raid1.wav: My mom was having her afternoon siesta. They woke her up, "Ah, mommy, mommy, mommy. There are soldiers in front of Fela's house!" So my mother got up. "Okay, another one of those raids. Okay let's go there. Let me take you there. Let's see what's happening." Femi was outside playing. Some boys passed and said to him, "Ah! You are here playing? Your father's house is burning!"
ACTY: Duro_raid2.wav: We got in front of Fela's house. Before you can even get there, you have to raise up your hands. The soldiers for this railway line about 200 m from Fela's house. From there, we just saw the house in flame. Wow. Soldiers! . 1000 soldiers. And I went, I just saw Fela's mother, standing in front of the place too. So I went and stood by her.
ACTY: Duro_raid3.wav: And then they were bringing out the girls one by one, all nude. It was really dehumanize. And about 5 o'clock or 530 in the evening, they brought out Fela. Naked. All in blood. I have not seen anyone dehumanized like that. Naked. He could hardly walk. They had broken his leg. That evening, we were so shocked.
ACTY: Yeni_raid2.wav: We got to the house at about 9 in the evening. Everywhere was pitch black. Just seeing people walking with their hands in the air, and soldiers were on the street. When we got in front of the house my mom just started screaming, "They've killed him! They've killed him! Oh no, they're all dead!" We couldn't believe what we saw, the house was completely burnt. I don't think I can I ever forget that sight. We were just in a state of shock.
ACTY: Yeni_raid3.wav: It took us about three days before we could find Fela after that. Yeah, he was in a military hospital because they had broken his leg, his arm, his head. He was just generally bruised all over.
ACTY: Duro_raid4.wav: It was like they've taken your leader. There's nothing left.
WINDOW: "Unknown Soldier"
SAHR: "ZOMBIE," THE SONG THAT TRIGGERED THE TRAGIC RAID OF 1977, A RAID THAT RESULTED IN THE DEATH OF FELA'S ACTIVIST MOTHER FUNMILAYO–AS THEY SAY, A DATE THAT WILL LIVE IN INFAMY.
WINDOW/BED: Coffin For Head of State.m4a, Fela Kuti, The Best Best of the Black President – Deluxe Edition [Disc 2]
SAHR: RIKKI STEIN WAS FELA'S MANAGER OF 15 YEARS, AND HE SAYS FELA IS STILL KEEPING HIM BUSY. THAT'S BECAUSE RIKKI OVERSEES FELA'S HUGE CATALOG OF MUSIC. IF YOU'VE CAUGHT ANY OF THE CD AND VINYL REISSUES OF FELA'S WORK ON KNITTING FACTORY RECORDS, YOU HAVE RIKKI TO THANK. WE REACHED HIM BY PHONE IN LONDON AND HE SHARED WITH US ONE PARTICULARLY WILD STORY OF SECURING MASTER TAPES AFTER FELA DIED.
ACTY: RStein_tapes.wav: We had a huge cache of these two track stereo masters that we had managed to get back off EMI, after a fight. Which made a pile about 4′ x 6′ 6 feet. We stored these on my partner Francis's houseboat in Paris. Actually, in the middle of the bedroom. And one weekend, Francis and I went to San Trope for the weekend, to have a fun and then came back, arrived at the boat to find a huge crowd, and firemen. The boat had caught fire, and was gutted from one end to the other. We're talking about a huge hundred foot long barge. We were just horrified,[ particularly Francis because it was his home.] In the bedroom, there was a cupboard next to this pile of tapes, and in the heat of the fire the cupboard doors opened, and the cupboard fell over the tapes. And it protected those tapes. And those tapes formed I would say 60% of the overall Fela catalog.
SAHR: WOW! YEARS AFTER HIS DEATH, FELA'S MUSIC SURVIVED YET ANOTHER FIRE! IT'S HARD NOT TO WONDER WHETHER THE GUY'S GHOST MIGHT HAVE WORKED SOME KIND OF JUJU TO TIP OVER THAT CUPBOARD. YOU CAN'T RULE IT OUT! EVEN WHEN HE WALKED THE EARTH, FELA WAS ALWAYS THINKING OUT OF THE BOX. AND RIKKI HAD TO BE ONE SPECIAL CAT TO RIDE ALL THE UPS AND DOWNS OF FELA'S LATE CAREER.
ACTY: RStein_MrReason.wav: Well, Fela was a very focused guy. He knew what he wanted. Sometimes Fela would come out with something of the wild, and I would say, "Yeah, but Fela.." And he would say, "Ah, ah. Mr. Reason has come in with his own." [LAUGHS] he used to call me Mr. Reason. That was my job but sometimes people would say about some decision that Fela had made. "Oh Rikki, what do you..? What you think?" And I would just shrug. Why would I just shrug? Because I understood where he was coming from.
ACTY: RStein_rock.wav: When he was working on a new song, in the Shrine, in the afternoon, there would be several hundred people sitting there, quietly, the real Fela aficionados. And I know–although if I'd accused him of this, he'd have yabbed me for it–that before he would make any decision, he asked himself what those people would think. I mean those people were the rock on which his whole chariot was based. And if the answer came back they wouldn't like it, he wouldn't do it. Simple matter.
WINDOW: JagaJaga.wav (start on song at 1:40)
SAHR: ONE OF FELA'S GREATEST CONTRIBUTIONS TO NIGERIAN MUSIC WAS HIS USE OF PIDGIN ENGLISH. AT THE TIME, MOST POPULAR NIGERIAN MUSIC WAS SUNG IN YORUBA, IGBO AND HAUSA. THOSE ARE THE MAIN ONES, BUT THERE ARE PLENTY MORE AS WELL. PIDGIN CREATED A MIDDLE GROUND, A PLACE WHERE EVERYBODY COULD GET THE MESSAGE, AND THAT HAS BECOME A MAJOR FEATURE OF TODAY'S NIGERIAN MUSIC.
THE SONG WE'RE HEARING, "JAGA JAGA" BY EEDRIS ABDULKAREEM IS AN EXAMPLE FROM 2004. EEDRIS TOOK HEAT FOR THIS ONE, EVEN FROM THE PRESIDENT, WHO ACCUSED HIM OF DISRESPECTING THE COUNTRY. SOUND FAMILIAR?
ACTY: Eedris1jagajaga.wav: "I dropped the song, and the president came on the national TV and insulted my family. He said "the boy that sang Jaga Jaga, it is your father, and your mother, and your family that Jaga Jaga." I was so happy that my message got to the president, and that was my break. Yes! That the truth got to the president and he couldn't even hold it! He gotta come up and talk about me, he made me a superstar! The president is my mugu! D'you understand?"
WINDOW: (a bit more)
SAHR: HAHA! "MUGU," THAT'S A NIGERIAN TERM FOR FOOL!
WINDOW/BED: "Mathematics"- Sound Sultan
SAHR: OUR MAN MORGAN GREENSTREET ALSO SPOKE WITH NAIJA POP ARTIST SOUND SULTAN ABOUT FELA'S USE OF PIDGIN. TURNS OUT SULTAN TOOK THE IDEA TO A WHOLE NEW LEVEL!
ACTY: Sound Sultan_pidgin.wav + Sound Sultan_pidginMOside.wav: The thing is Fela knew that the only way to unify the people was to speak the common man language, which is pidgin. Before I started this my career, I asked, "Do you all understand pidgin English?," and I say, "Yes sah." I named my first album [sucks teeth] MORGAN: The sound you made. [sucks teeth] MG: That was the name of your first album? Yeah! How did you write it? Kpsshew, [sucks teeth] I was the one, you can quote me. MG:That's aswesome. Then I put in brackets "Sounds of the Frustrated Mouth". Because I said, I want to name my album after the most used word in the streets. People were not happy with the new governor, so it was just [sucks teeth]. I said, "Okay, that's the title of my album."
SAHR: COMING UP, HOW YOUNG NAIJA POP STARS CONTEND WITH THE FELA LEGACY, AFROBEAT VS. AFROBEATS, FELA'S LEGACY AMONG EDO HIGHLIFE MUSICIANS, AND MUCH MORE. BE SURE TO CHECK OUT AFROPOP.ORG FOR A PLAYLIST OF FELA-INSPIRED MUSIC. AND BY THE WAY, IF SOME OF THE NAMES AND LANGUAGE IN THIS PROGRAM ARE GOING BY A BIT FAST FOR YOU, WE'RE GOING TO POST THE ENTIRE SCRIPT. I'M SAHR NGAUJAH, AND YOU'RE LISTENING TO AFROPOP WORLDWIDE, FROM PRI, PUBLIC RADIO INTERNATIONAL.
WINDOW: 20-second break "J.J.D. Johnny Just Dropped"
BED: Gentleman.m4a, Fela Kuti, The Best Best of the Black President – Deluxe Edition [Disc 1]
ACTY: KeziahJones1_lifestyle.wav: In Nigerian society, traditional society, musicians and artisans were a lower class almost. Certain families did it, and you weren't supposed to go down into that class and be an artist. And then people like Fela came along and he just lived his life the way he wanted to live it.
SAHR: NIGERIAN SINGER-SONGWRITER KEZIAH JONES HAS SEEN AN EVOLUTION IN THE ATTITUDES TOWARDS MUSICIANS IN HIS QUARTER CENTURY CAREER– MOST OF IT POST-FELA.
ACTY: It all became, if you're a musician, you want to be like Fela, immediately, In those days when I was coming up, it was very hard to even say that to your parents, especially because they invested so much time and effort and money into your education and all this stuff, to now come around and say you want to be a musician was considered a real let down. It's not just a hobby. It's not just living life as a libertine, getting high, getting drunk. It's a heavy life. You know what I mean? I've been doing music for 20, 25 years. You've got to look after yourself, deal with your own stuff. You've got to pay taxes. It's a functional life.In Nigeria we're only beginning to understand this. So now there are all these kids doing music, and even their parents are getting into it. We've evolved to the point where we can now see arts as a valuable thing. I think it has to do with Fela dying. When Fela died, and they saw the response internationally to somebody who didn't have to go to the West to get known, I think a lot of people kind of opened eyes up to the fact that he's considered a hero outside Nigeria. Like, seriously! Whereas here we're still hung up on his lifestyle, while over there it's what he said.
WINDOW: "Gentlemen" (more)
SAHR: THE MESSAGE VS. THE LIFESTYLE. THAT'S A TENSION THAT SURVIVES FELA. MEKI NZEWA IS A MUSIC PROFESSOR AT THE UNIVERSITY OF PORT HARCOURT. AND HE HAS AN EVEN DEEPER HISTORICAL TAKE ON THE EVOLUTION OF THE MUSICIAN IN NIGERIAN SOCIETY.
ACTY: MekiNzewi_Fela.wav: There are popular musicians, whether highlife or juju or any other genre, who call attention to how society is getting on. But how the music is passed on drums down the message in the music. Take Fela Ransome Kuti. We were colleagues. We worked in the radio together. Fela had a very powerful message, but something about his lifestyle undermined the message. And so it was easy for the authorities to mess up his life. In traditional societies, if a musician says what is happening is wrong, and you go to beat the musician or anything, the community will lynch you. You do not touch a musician for what he has said musically. Even though the Oba, or whoever the ruler is, maintains you in his house, feeds you, gives you clothes, everything… But when that ruler does something that is against the morals of the society, they will sing about it, and the ruler will take the consequences.
WINDOW: Army Arrangement.m4a, Fela Kuti, Army Arrangement [MCA7 3145493182 9] (emerge21:000
ACTY: 2face_names.wav: Fela used to name names. He actually named names…
SAHR: THAT'S 2FACE IDIBIA, ONE OF THE MOST RESPECTED FIGURES IN NIGERIAN MUSIC TODAY.
… I don't know how he did that, I don't know if he had proof or it was just blatant boldness [laughs] But for me, I'm not gonna call a name if I don't have proof. If I will call a person's name and say, "This person thief money," I will have to prove it. He might, he'll have the right to sue me to court if I say something like that, that means. I'll have to prove it. This is the modern society, you understand. That's why it's kinda difficult to name names.
WINDOW: E Be Like Say.m4a, 2Face Idibia, Grass to Grace (key line at 3:47) [Kennis Communications, KMCD 061]
ACTY: 2face_shady.wav: Sometimes you even a song that you dis government. The people start attacking you, even though you didn't name the person' s name. They will just start attacking you. Like, I did a song and I said, "I dedicate this song to all the shady politicians." And I was on this flight, and one of our so-called senators was sitting next to me, and he said to me, "2face, you this small boy, you are the one who are calling us shady politicians?" And I just looked at him and I said, "Are you a shady politician, sir?" He said "No I'm not…" I said, "Hey, I wasn't talking to you, so why do you think…? Unless you are shady. That's when you'll know I was talking to you. If you are one of the few that are trying to actually do the work and put Nigeria on the right track, then kudos to you. But if you are a shady politician, you know yourself. I was talking to the people, the ones who are actually blocking the progress of Nigeria." And he just laughed and said, "Ok, now I see it from a different perspective…" I'm like, "Look at this guy. He started feeling guilty already. He was feeling guilt already, like I'm talking to him."
SAHR: [reaction] NOW WE HAVE TO POINT OUT THAT 2FACE'S SONG CALLING OUT "SHADY POLITICIANS" IS NOT TYPICAL OF TODAY'S NAIJA POP, EVEN IN SONGS THAT PAY TRIBUTE TO FELA MUSICALLY, LIKE "JAIYE JAIYE" FROM WIZKID FEATURING FEMI KUTI:
WINDOW/BED: Jaiye Jaiye (feat. Femi Kuti).m4a, Wizkid, Ayo
ACTY: 2face_money.wav: Many of them don't even sing about socially conscious stuff. It's all about Bugati and how much money they got. I think it's the generation, it's what they see on TV, it's the influence of hip-hop. When they see that every song that Rosé? does is all about how many diamonds are on his pinky, that's what they want to talk about as well. When they want to to touch social issues, they will praise sing for somebody, when money is involved. If the person gives the money, they they will sing and praise that person. They hardly play socially conscious song son TV or on the radio. You hardly hear them, these days it's crazy. But I think it's because nobody wants to be depressed, You have to just be happy and just gyrate, you know. So I totally understand that.
SAHR: ME TOO! HEY, WHO DOESN'T LIKE TO PARTY WITH GOOD TUNES? BUT THE CRAZY THING IN NIGERIA TODAY IS IT SEEMS TO BE MOSTLY AN EITHER/OR SCENARIO. EITHER YOU'RE A REBEL MAKING UNDERGROUND MUSIC, OR YOU'RE CHASING MONEY AND STAYING WELL CLEAR OF CONSCIOUS MUSIC. JOSEPH ALABI IS A YOUNG LEADER OF A TRADITIONAL MUSIC GROUP CALLED KINISO KONCEPT. THESE FOLKS PLAY EVERYTHING, FROM HIGHLIFE TO NAIJA POP. BUT WHEN THEY GO OUT TO PARTY AT NIGHT, IT'S A DIFFERENT STORY.
ACTY: JAlabi_Fela.wav: Listening to Fela, I don't think they would play Fela in the club. We know why we go to clubs, to have fun, to party, to forget our sorrows, to forget the day's work. It's a lot different from what Fela tried to do. The young people of today, the hip-hop artists of today, they always pay homage to Fela. They always recognize that legendary art, that heroic movement of his. But they just need something to cling on to. They need something to cling on to. But they don't practice what they preach. Or rather, they preach something different, and then they practice something different. They know Fela. They love his idea, but they don't want to be like him, and they can't be like him, because Fela didn't care about money. Fela did not care about money. He just wanted to take his band everywhere, lampoon the government, and that's it.
SAHR: NOW I HAVE TO SAY, THERE ARE NAIJA POP MUSICIANS WHO CONSCIOUSLY DRAW ON ASPECTS OF FELA'S MUSIC. LIKE THIS 2014 WIZKID COLLABORATION WITH FEMI KUTI WE'RE HEARING.
WINDOW: more "Jaiye Jaiye"
SAHR: OR WIZKID'S 2017 HIT "SWEET LOVE," WHERE HE NODS TO FELA. "SHAKARA OLOJE NI."
WINDOW: SweetLove.wav, Wizkid, single 1:30
SAHR:… WIZKID ACTUALLY HAS FELA'S NAME TATTOOED ONTO HIS FOREARM! YET, FOR THE MOST PART, HE AVOIDS SOCIAL THEMES ALTOGETHER.
WINDOW: Temper.wav, Scales ft. Burna Boy, single
78 SAHR: THEN THERE'S ANOTHER RECENT TUNE, "TEMPER" FROM SCALES FEATURING BURNA BOY, WHICH QUOTES LINES RIGHT OUT OF FELA'S "SORROW TEARS AND BLOOD," AND THE SONG "1,2,3" BY FALZ ALSO SAMPLES FELA'S "O.D.O.O"…
WINDOW: 123.wav, Falz ft. Oyinkansola, single
SAHR: EVEN IN SONGS THAT DO NOT DIRECTLY REFERENCE FELA'S MUSIC, THERE IS OFTEN A HEALTHY DOSE OF AFROBEAT SWING IN THE GROOVE: HERE'S A COLLABORATION BETWEEN TWO TOP NAMES IN NAIJA POP, FALZ AND YEMI ALADE.
WINDOW: Marry Me.wav, Falz ft. Yemi Alade, Poe [up to 00:56]
SAHR: "MARRY ME" BY FALZ AND YEMI ALADE. THIS NOW BRINGS US TO THE STICKY MATTER OF AFROBEATS—WITH AN "S". THE ARTISTS WE'RE HEARING, FALZ AND YEMI, BOTH SEE THE TERM "AFROBEATS" AS A WAY OF PAYING TRIBUTE TO FELA, HOWEVER DIFFERENT THE MUSIC.
ACTY: YemiAlade_Afrobeats.wav: I think Nigerian music, the Afrobeats sound is ever-evolving, even though Fela is the one who is the pioneer of Afrobeats, the sound itself. I think we found a way to use that as the foundation and keep interpreting it in ways that best reflect our artistic sides. So it's an ever evolving, ever changing sound.
ACTY: Falz_Afrobeats.wav: I think term Afrobeats is a general term for every sort of music that comes out of Africa nowadays. Now the sound that we've been able to invent, but I think that it's a sound that is inspired by the original Afrobeat, without the "s". Now the original Afrobeat was obviously coined by the great Fela Kuti, the legend, and he made his own sound. He was able to mix jazz, and African percussion and… Now that sound that he created, we've taken and we've recreated into something modern, and I think that's what is called Afrobeats, and right now it's definitely catching on. Everywhere internationally it's becoming something huge.
WINDOW/BED: Shakara.m4a Fela Kuti, The Best Best of the Black President-Deluxe Edition [Disc 1]
SAHR: NOW, AS YOU MIGHT IMAGINE, NOT EVERYONE IS A FAN OF THE TERM "AFROBEATS." TO SAY THE LEAST…
ACTY: RStein_Afrobeats.wav: The only kind of issue that we have to deal with is this whole phenomena of Afrobeats with a f*%$ing "s" on the end, which is frankly infuriating…
SAHR: THAT'S RIKKI STEIN AGAIN, FELA'S LONG-TIME MANAGER.
… I mean, do they realize the sweat and sacrifice that had to go into creating that word on which they just stuck n "S"? Okay, we know it was a marketing ploy. I think it was a DJ in London came up with the idea and he's been dining out on it ever since. Having said that, I like some of the music. I find myself obliged to say to them, "Come on people, it's okay, but you have to acknowledge this Afrobeats music, like it or not has got little or nothing to do with Afro beat." It really is just a marketing ploy.
ACTY: AdeBantu_Afrobeats.wav: You know it is very important that we talk about ownership here. We mustn't be disrespectful of Fela Kuti's legacy. Once you add the "s" to it, it becomes very worrisome. Let's not mix things up here. For these kids not being aware, it's a term for everything African, but it's not. How dare you speak for popular music in Sierra Leone, in Kinshasa, in Windhoek, or Rabat. It doesn't make sense. But what is interesting to note and to establish is that before Fela's death, he was calling it Classical African Music. So it's interesting that people are jumping on a term that the originator had already moved beyond. He just pushed that away. "Afrobeat? I don't do Afrobeat anymore. I do classic music, from an African perspective, you know?"
SAHR: ADE BANTU, LEADER OF THE BAND BANTU. BANTU'S SOUND INCLUDES A STRONG SHOT OF FELA'S AFROBEAT. HERE'S WHAT FELA'S SON SEUN HAS TO SAY ABOUT THE TERM AFROBEATS.
ACTY: Seun_Afrobeats.wav: I feel there's a bit of lack of confidence in the way the music is being pushed to a new audience. There's talent there and I think they should just be brave to be pop artists. But, you know, Afrobeat being the most famous thing musically out of Nigeria, out of Africa, and them being Nigerian musicians, and everybody is influenced by Fela. I think "afrobeats" is a way for them to get on that Fela platform. But other than it coming from Nigeria, I don't see how both genres relate, really, in terms of what they speak about and the way the music is written.
SAHR: NOW THESE NAIJA POP ARTISTS MOSTLY OPERATE OUT OF LAGOS, BUT FELA'S LEGACY EXTENDS ALL OVER THIS ENORMOUS COUNTRY. IN THE PREDOMINANTLY HAUSA CITY OF KANO, HOWEVER, WE DIDN'T PERCEIVE THE SAME TYPE OF REVERENCE FOR FELA. FELA'S YORUBA PIDGIN IS NOT AS WELL UNDERSTOOD IN THE HAUSA-SPEAKING NORTH, AND HIS CONTROVERSIAL REMARKS ABOUT ISLAM PROBABLY DON'T HELP EITHER. BUT ELSEWHERE IN NIGERIA, IT'S ANOTHER STORY.
WINDOW/BED: Oyinbo Don Tire.wav Ambassador Joker, Afropop field recording
SAHR: IN EDO STATE, SOUTHWEST OF LAGOS, WE MET REGIONAL HIGHLIFE MUSICIANS WHO WERE CONTEMPORARIES OF FELA, INCLUDING A YOUNG ARTIST WHO GOES BY AMBASSADOR JOKER. HE ACTUALLY PLAYED WITH FELA'S BAND EGYPT 80.
ACTY: AmbassaderJoker_Fela.wav: When I decided to fight for Africa, it was when I was working with Fela Anikulapo Kuti. I see the man talking about Africa, that Africa should unite. My mind and my spirit were telling me that this is the kind of man that I should work with. I stayed with Fela for two years. I played the conga. And when I started my band, and said yes, I will fight for my nation. In Africa, the leaders the way they are mismanaging our economies disappointing us know like nothing, we are living in the wilderness.
SAHR: AS WE HEARD IN OUR HIP DEEP PROGRAM ABOUT EDO HIGHLIFE, WHEN AMBASSADOR JOKER SANG A SONG IN PIDGIN ENGLISH CRITICIZING A LOCAL POLITICIAN, HE WOUND UP IN JAIL. UNLIKE FELA, HE WAS DISCOURAGED BY HIS EXPERIENCE IN JAIL, AND NOW HE TENDS TO STICK TO SAFER FARE, LIKE THIS SONG HE PLAYED FOR US CONDEMNING THE PRACTICE OF SKIN BLEACHING.
WINDOW: a bit more.
SAHR: AND THEN THERE'S VETERAN HIGHLIFE BANDLEADER OSAYOMORE JOSEPH.
WINDOW/BED: Soja Go, Soja Come.wav, Osayomore Joseph, Ororo No De Fade
ACTY: OsyomoreJoseph_Fela.wav: I was in the Army school of music then, and Fela's house was opposite. So I was very close to him. I was always sitting by him when he was blowing his sax and I would be blowing my flute. You see, but activism is a very deadly game. He said, "You see all that I've seen, my house is destroyed, my mother beaten. You're going to face it." So my heart was already hardened before I went into political songs. Yes, I was afraid for my life but so be it, if it happened. But I'm one of the few lucky ones So many people saw the truth in my songs that they were always on my side. It is after Fela's death that people knew what Fela was about. his own was a different style, so I respect that man. Only few of us in Nigeria who was doing that, attacking bad governments. Victor Uwaifo couldn't dare it.
SAHR: "VICTOR UWAIFO COULDN'T DARE IT." HMM. WELL, WE ACTUALLY HAD A CHANCE TO ASK SIR VICTOR HOW HE FELT ABOUT FELA.
ACTY: VictorUwaifo_politics.wav: I don't like talking about people, especially when they are late. He was a good musician. But later on he delved into politics. So I could just figure out whether he was playing music or doing politics. But he's a good musician.
SAHR: OKAY, SIR VICTOR. WE KNOW YOU'RE NOT ALONE. A NUMBER OF FELA'S EARLY COLLABORATORS ALSO LOST FAITH WHEN HE TURNED TO POLITICS.
Osayomore Joseph, Sir Victor Uwaifo
WINDOW: Alagbon Close.m4a, Fela Kuti, Alagbon Close/Why Black Man Dey Suffer [MCA 8 7523200712 3 (emerge 10:25-12:00)
SAHR: FELA'S "ALAGBON CLOSE," RECORDED JUST AFTER HE WAS RELEASED FROM PRISON…THE FIRST TIME.
YOU KNOW, THERE ARE A NUMBER OF NIGERIAN ARTISTS WHO DON'T FALL INTO THE STANDARD GENRE CLASSIFICATIONS. ONE OF THOSE IS SINGER/SONGWRITER KEZIAH JONES, WHO WE HEARD FROM EARLIER IN THE PROGRAM.
WINDOW/BED: Nollywoodoo.wav, Keziah Jones, Captain Rugged
ACTY: KeziahJones_home.wav: I met Fela a year before he died. It was a kind of an interview, ended up being his last kind of interview. We got into a lot of heavy stuff, spiritual stuff, language. And at the time I was actually thinking about where I was going to go next, how I was going to evolve myself next. And so meeting him was the catalyst. Moving home was like, "Okay, time to get back, figure out how you could do it, how you can make it work." And building a studio was the best way I thought. Build a studio, contribute to the evolution of the new music thing here, this whole new wave of music is happening. It's great, but I'm more on the level of musicianship, songwriting, and expanding the boundaries of what's considered Nigerian music–not just hip hop. You know what I mean? Like Fela's days, being a musician was the thing. Excelling at your instrument was the thing. So that's where I'm coming from. That's what I want to bring back here now.
BED: "Economy" 9ice
Kunle Tejuoso at the Jazzhole in Lagos
SAHR: IT SEEMS LIKE EVERYONE IS TRYING TO FIGURE OUT WHAT'S NEXT FOR NIGERIAN MUSIC, AND IT'S HARD NOT TO USE FELA AS THE ULTIMATE MEASURE. FAIR OR NOT, EVERY NIGERIAN ARTIST FACES THAT COMPARISON. HERE'S KUNLE TEJUOSHO AT THE JAZZHOLE RECORD STORE, A HOME TO ALL SORTS OF FELA MEMORABILIA.
ACTY: KunleT_NigerianSound_edit.wav: If you're talking about music in Nigeria, highlife is highlife, juju is juju, apala, sakara, and all the other forms. They all had their own forms, and their own style and their own audience. These days what we should ask ourselves is, "What it the Nigerian sound? What is Nigerian music?" Then I get worried, because if we're going to take this young, exciting music that we are talking about now. It's a mixup of all kinds of things. I still find them searching. They are young. Very few of them will remain, because there is a lot of money that they are making. And most of them are in there for the money and less of the music. I know that for a fact. Even from their lyrics, you can tell that it's a money thing. I don't know if it's going to evolve, because I mean it's just about beats. It's not as if they are thinking about arrangements or how they are going to tap from this and tap from that, like a Fela was thinking of tapping from all these forms. So I don't know. I just think it's a thing of the times.
WINDOW/BED: "Economy" more
SAHR: VETERAN REGGAE ARTIST AND PRODUCER ORTIS WILLIKI SEES A BIG UPSIDE TO ALL THIS DISCUSSION OF FELA'S LEGACY, WHATEVER ITS IMPACT ON TODAY'S MUSICIANS.
ACTY: OWiliki_Fela.wav: I think even when it seems like nothing is happening, something is actually happening. Today we are talking about Fela. Why are we not talking about other musicians who lived as Fela lived? They lived as Fela lived, but they didn't speak as Fela spoke. And so, Fela is still remembered today. He will be remembered forever.
SAHR: ORTIS WILLIKI SEES POLITICAL COURAGE IN A NUMBER OF ARTISTS ON THE SCENE, BOTH OLD AND YOUNG.
ACTY: OWiliki_change.wav: We have plenty of them. We have Ras Kimono. We have Femi Kuti. We have Seun. Daniel Wilson is a great guy too. He's not afraid to speak. We have The Mandators. And we have some of these young ones too who are bold. Olamide will tell you "Your mouth smells," He will tell you everything he wants to say, but people are carried away dancing, they don't care to listen much. Yes, change might not come easy. But don't run away from it. Continue to talk about it.
Ortis Williki outside his studio in Lagos
WINDOW/BED: "Sorrow Tears and Blood.m4a," Fela Kuti, The Best Best of the Black President – Deluxe Edition [Disc 1]
SAHR: ECHOES OF FELA'S LEGACY SOMETIMES APPEAR IN THE MOST UNLIKELY PLACES: BLACKMAGIC FOUND A SURPRISING EXAMPLE OF FELA'S STAYING POWER WHILE PLAYING A VIDEO GAME, OF ALL THINGS. WE'RE TALKING "GRAND THEFT AUTO"!
ACTY: Blackmagic_GTA.wav: The other day I was playing Grand Theft Auto and his songs are featured in there, and it fits in the whole point of the game. You see the guy and he's running away and a car explodes behind him and all the police and bystanders go up in the explosion and the song playing is, "Hey yeah, everybody run, run, run! Hey yeah, everybody scatter, scatter!" I was tripping like, wow! When he made that song, it was a real moment in time but that same thing applies to similar scenarios.
ACTY: Blackmagic4-FelaLegacy.wav: We Africans have the magic. Fela had the magic and he did it. I'm sure his parents wanted him to be a doctor. He has two brothers and they're both doctors and none of them are as great as him today. None of them are as relevant as him today. If Fela didn't make the music that he made, we wouldn't have any afrobeats now.
WINDOW: Shuffering and Shmiling.m4a, Fela Kuti, The Best Best of the Black President – Deluxe Edition [Disc 2]
ACTY: 2face_masses.wav: The mentality of the masses has changed. Like Fela had this saying Suffering and Smiling, that is a correct description of Nigerians, Africans, Suffering and Smiling. People, when they stand up, just give them 2-3 days, everybody will go back home, "Me I can't do this thing again, ah ah…" So people…they are afraid to die for what they believe in. "Me I can't die, I just bought a car, I haven't got a car…" You know, all those reasons…
ACTY: Martha_message.wav: There's this thing I really want every adult Nigerian to get. We the youths, our message is not silly. What we are trying to say is not stupid. Where's a message in every music. We develop. Our message can't keep being the same thing. What they experienced then is different from what we are experiencing now. In their time, it wasn't easy to see a girl and a boy walk on the streets together. But now it's a norm. In fact there's a certain age to get to, and if you're not seen with a guy it's like, "Is she alright? I mean, she doesn't have a boyfriend and she's that old." So the message is kind of different.
SAHR: AFROPOP GOT A DEEP SENSE OF FELA'S LEGACY IN PORT HARCOURT, WHEN WE HEARD YOUNG WOMEN WORKING WITH THE CHICOCO ORGANIZATION PERFORMING A RECENT CREATION. THE SONG IS A NEW VERSION OF FELA'S CLASSIC "NO AGREEMENT," BUT SUNG FROM A WOMEN'S PERSPECTIVE. THEY DESCRIBED IT AS "FEMINIST FELA."
WINDOW/BED: NoAgreement_LIVE_house.wav + NoAgreement_LIVE_board_vocal.wav, + NoAgreement_LIVE_board_vocal2.wav (two board feeds here, a bit different.)
SAHR: HERE'S MARTHA NAADAA OF CHICOCO
ACTY: Martha_wives.wav: Fela is a guy who has so many wives, which is not that comfortable with us. But still, we forget that bad aspect of him, and we like the fact that his music is nice.
ACTY: Martha_feminism.wav: If you see from what we did, we did something close to Fela. It was Afrobeat. We were sending a message. And the message, everyone who was on that ground got that message. Feminism is something that is not popular in Nigeria. The moment you bring up this issue of feminism, doors get closed. People are against you. But we were able to do something in Fela's language. And so so many people loved the beat, and because of the beat, even the people that would've left the scene were like, "Mmm, let me stay because it's Fela."
SAHR: THIS JUST IN: MARTHA AND SIRA AND THE CHICOCO BAND ARE PERFORMING AT THIS YEAR'S ANNUAL FELABRATION IN LAGOS. FEMINIST FELA IS HITTING THE BIG TIME! WELL, I'M AFRAID WE'RE OUT OF TIME HERE, BUT IT'S BEEN A PLEASURE TO BE WITH YOU. GEORGES COLLINET WILL BE BACK NEXT WEEK.
Chicoco singers performing feminist rewrite of "No Agreement" at The Shed in Port Harcourt
WINDOW: "No Buredi" Fela
SAHR: FUNDING FOR AFROPOP WORLDWIDE COMES FROM THE NATIONAL ENDOWMENT FOR THE HUMANITIES, THE NATIONAL ENDOWMENT FOR THE ARTS, WHICH BELIEVES A GREAT NATION DESERVES GREAT ART, AND PRI PUBLIC RADIO INTERNATIONAL AFFILIATE STATIONS AROUND THE U.S. AND THANK YOU FOR SUPPORTING YOUR PUBLIC RADIO STATION.
ALSO, A SPECIAL NOTE: AS WE WERE RECORDING THIS PROGRAM, WE LEARNED THAT THE LEGENDARY EDO STATE MUSICIAN OSAYOMORE JOSEPH HAS BEEN KIDNAPPED. WE WANT TO EXPRESS OUR CONDOLENCES TO HIS FAMILY, AND WISHES FOR SWIFT JUSTICE.
THANKS TO KAZEEM AKINPELU AND JOH OLANIYI IN LAGOS, AUSTIN EMIELU IN EDO STATE, ALSO MARK LEVINE AND ALL OUR FRIENDS AT CHICOCO RADIO IN PORT HARCOURT FOR THEIR HELP WITH THIS PROGRAM.
VISIT AFROPOP.ORG TO DIG INTO OUR "HIP DEEP IN NIGERIA" SERIES. YOU CAN ALSO FIND US ON FACEBOOK AND FOLLOW US ON TWITTER AT "AFROPOPWW." MY AFROPOP PARTNER IS SEAN BARLOW. SEAN PRODUCES OUR PROGRAM FOR WORLD MUSIC PRODUCTIONS. RESEARCH AND PRODUCTION FOR THIS PROGRAM BY BANNING EYRE AND MORGAN GREENSTREET. AND, BE SURE TO SUBSCRIBE TO OUR AFROPOP CLOSEUP PODCAST SERIES. SEASON TWO IS UNDERWAY NOW!
JOIN US NEXT WEEK FOR ANOTHER EDITION OF AFROPOP WORLDWIDE. OUR CHIEF AUDIO ENGINEER AND CO-PRODUCER IS MICHAEL JONES. THIS EPISODE WAS MIXED BY STEPHANIE LEBOW. BANNING EYRE AND CC SMITH EDIT OUR WEBSITE, AFROPOP.ORG. OUR DIRECTOR OF NEW MEDIA IS AKORNEFA AKYEA [ah-CHAY-ah]. AND I'M SAHR NGAUJAH.