Afropop Worldwide
Sauti Za Busara, Sounds of Wisdom 2023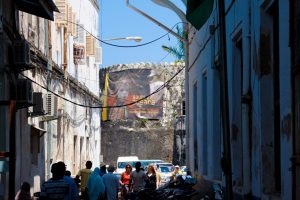 Sauti Za Busara means "sounds of wisdom." That gives a clue to the music heard at the annual Sauti Za Busara festival in Stonetown, Zanzibar. It's cool, savvy, surprising, but never dull, and often hard-grooving. Afropop Worldwide attended the first edition in 2004. In 2023, we returned for a three-day feast of fantastic performances from the Swahili coast, the Indian Ocean and beyond. Taarab, kidumbak, bongo flava, Wagogo tradition and much more were on the menu. In this program, we hear live recordings from and meet artists who may never make it to our shores, but who you'll be glad to meet. Produced by Banning Eyre.
You can enjoy this program as an audiovisual experience. Grab a beer, and spend an hour in Zanzibar!
#afropopworldwide #worldmusicproductions #saudizabusara2023 #soundsofwisdom #tanzania #zanzibar #cultureclubmusic #zily #waungwanaband #kaloubadya #zawosereunion #damiensoul #asiamadani #nasibo #patriciahillary #zabubuntu #swahiliencounters #taarab #kidumbak #bongoflava #wagogo #swahilicoast #peabodyaward #banningeyre #seanbarlow #georgecollinet #mukwaewabeisiyolwe #michaeljonesstudio #ccsmith #africanmusic #africa #eastafrica #musicfestival
Transcript

WINDOW: 01a_OpeningAmbiance.wav + 01b_Yusuf_Greeting_board.wav + 01c_Yusuf_Greeting_house.wav(synch Yusuf over crowd sound) "I'm feeling your vibes. It's incredible how on day one of the festival the energy level in Stonetown goes from 0 to 100."
WINDOW/BED: M01_WaungwanaBand-1_board.wav + M01_WaungwanaBand-1_house.wav
GEORGES: THAT'S VETERAN FESTIVAL DIRECTOR YUSUF MAHMOUD GREETING THE CROWD ON THE OPENING NIGHT OF THE SAUTI ZA BUSARA FESTIVAL IN STONETOWN, ZANZIBAR, TANZANIA. HELLO, GEORGES COLLINET WITH YOU ON AFROPOP WORLDWIDE FROM PRX. TODAY, WE SAMPLE HIGHLIGHTS FROM THREE BLISSFUL NIGHTS OF MUSIC INSIDE A MASSIVE 18TH CENTURY STONE FORT BY THE SEA, UNDER CLEAR BLUE EAST AFRICAN SKIES. SO MUCH MUSIC TO GET TO ON OUR PROGRAM: "SAUTI ZA BUSARA 2023!" WE START WITH A YOUNG GROUP CREATING THEIR OWN FUSION OF COASTAL SWAHILI SOUNDS. THIS IS WAUNGWANA BAND.
MUSIC: M01_WaungwanaBand-1 (this should run about 3 minutes and then go to bed)
ACTY: 02_Tryphon_dance.wav: My name is Tryphon and this is the Waungwana Band from here in Zanzibar. It was established in 2019. We came up with this idea because we tried to take some of the traditional Taarab music instruments to come up with our own new styles, our own songs, our own compositions, and to prove some people wrong like music without bass or without keys is nothing. And we say, "We can do that without any bass or keys and people will dance and be in a good mood."
GEORGES: THANK YOU, TRYPHON EVERIST. TRYPHON MENTIONED TAARAB MUSIC. THAT'S A SOUND UNIQUE TO THE SWAHILI EAST AFRICAN COAST, AND WE'LL HAVE MORE ON THAT IN A MOMENT. BUT WHEN TRYPHON WAS A TEENAGER, PLAYING THIS TYPE OF MUSIC WAS THE LAST THING ON HIS MIND.
ACTY: 03_Tryphon_tradition-first.wav: That time traditional music, especially Taarab music, appeared to be dead. That's when the people of the Dhow Countries Music Academy sat down together to establish this, so that young generations would start to learn some of the traditional taarab music instruments. Myself, I didn't like that before, but once when I came to the Academy, playing traditional music was the first priority. So whether you want it or not, you must learn the tradition first and then you can do your own thing.
GEORGES: WHAT TURNED TRYPHON AROUND WAS THE EDUCATION HE RECEIVED AT THE DHOW COUNTRIES MUSIC ACADEMY IN STONETOWN. IN FACT, MANY OF THE LOCAL GROUPS AT SAUTI ZA BUSARA GOT THEIR START AT THE DCMA AS IT'S KNOWN. WE VISITED THERE ONE DAY TO TAKE IN THE AMBIANCE. STUDENTS WERE MINGLING, DISCUSSING, REHEARSING…GETTING READY FOR AN EVENING CONCERT. THIS WELCOMING SPACE WAS THE BIRTHPLACE OF WAUGWANA BAND.
WINDOW/BED: 04_DCMA_ambiance.wav (crossfade out of the music into this)
ACTY: 05_Tryphon_Waungwana.wav: Waungwana I can say is anyone who cares about others. So we are Waungwana, kindly people.
ACTY: 06_Tryphon_DCMA.wav: We all here met at the Dhow Countries Music Academy, like this guy here, my fellow graduate. Myself I used to be a student and now I became a teacher. So we all met there and thought, "Hey let's sit together. Let's try. Let's see what we can just come up with."
GEORGES: JUST NEXT DOOR TO THE DCMA IS THE HEADQUARTERS OF A LEGENDARY ZANZIBAR ENSEMBLE, ONE WE'VE FEATURED ON THIS PROGRAM BEFORE, INCLUDING WHEN WE ATTENDED THE FIRST EDITION OF SAUTI ZA BUSARA WAY BACK IN 2004. I'M TALKING ABOUT THE CULTURE MUSIC CLUB. WE STOPPED BY ON THE NIGHT BEFORE THE FESTIVAL TO CATCH A REHEARSAL.
WINDOW/BED: M02_CultureMusic_KamaYalivyonibata.wav (go to about 1:30, just before vocals come in. Vocals are not loud enough in the rehearsal recording, so we won't feature them. Then to bed)
ACTY: 07_Chimbeni_Intro.wav: My name is Chimbeni Khesi, and this is to tell you that you are here in the Culture Musical Club, our home sweet home in Zanzibar Tanzania.
GEORGES: THIS GROUP HAS A LONG HISTORY. BACK IN 1964 IT FORMED AS A COMBINATION OF LOCAL STREET GROUPS, AND IT WENT UNDER VARIOUS NAMES BEFORE SETTLING ON CULTURE MUSIC CLUB IN THE 1980S. NONE OF THOSE ORIGINAL MEMBERS ARE STILL AROUND, BUT MANY HAVE COME TO TAKE THEIR PLACES. THE CHALLENGE NOW IS TO RECRUIT YOUNG MUSICIANS FOR THE FUTURE. WE ASKED CHIMBENI HOW THAT'S GOING IN THE AGE OF AFROBEATS, HIP-HOP AND BONGOFLEVA.
ACTY: 08_Chimbeni_YoungRecruits.wav: Very difficult. We try to educate them. This is traditional taarab music of Zanzibar. You know, there are two groups. Malindi, they play traditional Taarab like Culture Musical Club. And then there are so many clubs mixing here and there, but they don't play traditional. They play music that is absolutely out of Zanzibar. They use guitar, not guitar only. But in Zanzibar we don't use that. We play with violin, qanun, oud, so we tell these young ladies that they have to follow us. That's why we are still here. We go to find ladies and gents and try to teach them to come to Culture Musical Club. "Yes I'm ready to come." "Write a letter." He is writing a letter, this and that, and I want to come. Then we try to help.
GEORGES: THE NEXT NIGHT, WE SAW CULTURE MUSIC CLUB FULL FORCE, YOUNG AND OLD, ON STAGE AT THE OPENING NIGHT OF THE SAUTI ZA BUSARA FESTIVAL.
MUSIC: M03a_CultureMusic_LIVE_board.wav + M03b_CultureMusic_LIVE_house.wav (this one gets cut off between 3 and 4 minutes, but anything over 2 minutes should be fine, then to bed)
GEORGES: SUCH A SWEET SOUND! TAARAB MUSIC FROM CULTURE MUSIC CLUB, SOMETHING UNIQUE TO ZANZIBAR. BANNING EYRE SITTING IN FOR GEORGES COLLINET ON AFROPOP WORLDWIDE FROM PRX. MIDWAY THROUGH CULTURE MUSIC CLUB'S SET, THE ENSEMBLE SWITCHED TO A MORE PERCUSSIVE DANCE MUSIC, THE STYLE KNOWN AS KIDUMBAK.
MUSIC: M04a_CultureMusic_Kidumbak_board.wav + M04b_CultureMusic_Kidumbak_house.wav (this comes in in the middle, and we won't get to the end. Let it go for about 90 seconds, then fade to bed.)
GEORGES: CHIMBENI TOLD US THE DIFFERENCE BETWEEN TAARAB AND KIDUMBAK.
ACTY: 09_Chimbeni_Taarab_Kidumbak.wav: You need to know the difference. Taarab we play in front of the people. Ladies and gentlemen. Long long long time ago it was gentlemen only, but now we sing to ladies and gentlemen. We stay together during happy occasions of government and things like that. Kidumbak is for ladies during their wedding parties, celebrating this and that. But we gentlemen, we are not allowed to go. Just to see, but not to dance and to do everything. You know you have seen these ladies. Gentlemen do not do that.
WINDOW: more of the performance.
GEORGES: IN KIDUMBAK, THE STANDUP DOUBLE BASS IS REPLACED BY A ONE STRING BOX BASS CALLED SANDUKU.
ACTY: 10_Chimbeni_sanduku.wav: That sanduku guides the ladies to dance. To change the steps. When they play on the sanduku, the ladies who are dancing change position follow that sanduku.
WINDOW: more of the performance.
GEORGES: CULTURE MUSICAL CLUB WITH KIDUMBAK. SAUTI ZA BUSARA PUTS AN EMPHASIS ON EAST AFRICAN MUSIC, AND ALSO GROUPS LED BY WOMEN. THE LINEUP ALSO INCLUDES ISLANDS FURTHER OUT INTO THE INDIAN OCEAN, LIKE MAYOTTE, HOME TO THE ARTIST ZILY.
BED: M05a_Zily_bed_board.wav + M05b_Zily_bed_house.wav
ACTY: 11_Zily_intro.wav: (French)
GEORGES: ZILY SAYS THERE'S A RICH MIX OF MUSIC IN MAYOTTE, STYLES FROM THE EAST, LIKE SALEGY FROM MADAGASCAR, ALSO EAST AFRICAN AND EUROPEAN INFLUENCES, EVEN AMAPIANO! THE ISLAND IS A CULTURAL CROSSROADS, BUT ZILY SAYS SHE ALSO WORKS IN LOCAL TRADITIONS.
ACTY: 12_Zily_mbiwi.wav: (French)
GEORGES: ZILY IS DESCRIBING A MAYOTTE TRADITIONAL SONG AND DANCE CALLED MBIWI. IT'S A FORM OF EXPRESSION ESPECIALLY FOR WOMEN. MANY OF ZILY'S SONGS ADDRESS THE CONCERNS OF WOMEN AND HER AUDIENCE LOVES HER FOR THAT. LET'S HEAR ZILY AND HER BAND PERFORMING THE SONG "MOINA BIBI" FROM HER DEBUT ALBUM "IMANI NA AMANI." AND IF THIS REMINDS YOU OF MALAGASY SALEGY. WELL, YOU'RE NOT WRONG.
MUSIC: M06a_Zily_MoinaBibi_board_mono.wav + M06b_Zily_MoinaBibi_house.wav
GEORGES: FANTASTIC! FROM MAYOTTE, ZILY WITH "MOINA BIBI." LET'S KEEP THE INDIAN OCEAN VIBE GOING WITH A GROUP FROM ISLE DE LA REUNION. KALOUBADYA IS A YOUNG BAND PUTTING A NEW GENERATION'S SPIN ON THE CLASSIC REUNION MUSIC STYLE CALLED MALOYA.
MUSIC: M07a_Kaloubadya_board-stereo.wav + M07b_Kaloubadya_house.wav
GEORGES: HOT, HOT MALOYA FROM THE GROUP KALOUBADYA FROM REUNION, PERFORMING LIVE AT THE SAUTI ZA BUSARA FESTIVAL IN ZANZIBAR. OK, LET'S HEAR A GROUP FROM MAINLAND TANZANIA, THE TOWN OF BAGAMOYO, TO BE EXACT. MAYBE YOU RECOGNIZE THIS SOUND?
WINDOW: M08a_Zawose-bed_board-mono.wav + M08b_Zawose-bed_house.wav
ACTY: 13_Msafiri_intro.wav: My name is Msafiri Hukwe Zawose. I am the son of Dr. Hukwe Zawose, the legendary Tanzanian musician. I'm doing traditional musician from Tanzania from the Wagogo people. So I pay ilimba, zeze, filimbi and ngoma.
GEORGES: THESE ARE EXTRAORDINARY TIMBRES, UNIQUE TO THE WAGOGO PEOPLE OF TANZANIA. AND THE WAY THEY SING?
ACTY: 14_Msafiri_birds.wav:
GEORGES: THE GREAT HUKWE ZAWOSE PASSED AWAY IN 2003, AND HIS NEPHEW AND ACCOMPANIST CHARLES DIED THE NEXT YEAR. FOR SOME YEARS, THE FAMILY WAS CAST INTO DISARRAY, FORCED TO WORK IN OTHER PROFESSIONS. BUT THEY NEVER LEFT THE MUSIC, AND IN THE FALL OF 2022, FIVE MEMBERS OF THE CLAN CAME TOGETHER TO FORM THE GROUP WE'RE HEARING NOW, ZAWOSE REUNION.
ACTY: 15_Msafiri_goal.wav: Our goal is to keep the tradition alive in any way, by any means, whatever. Keeping the tradition alive, inspiring the people to share all around the world the music of Tanzania, the music of the Zawoses, and keeping Hukwe alive. Bringing new ideas in a different way.
MUSIC: M09a_Zawose-song_board-mono.wav + M09b_Zawose-song_house.wav
ACTY: 15A_Msafiri_ID.wav: Yes this is Msafiri Zawose. I'm listening to Afropop Worldwide.
GEORGES: THANK YOU MSAFIRI. COMING UP: SWAHILI ENCOUNTERS, BONGO FLAVA, POP TAARAB AND MORE FROM THE STAGE AT SAUTI ZA BUSARA IN STONETOWN, ZANZIBAR. VISIT AFROPOP.ORG FOR MORE ON SAUTI ZA BUSARA, INCLUDING GORGEOUS IMAGES OF THESE ARTISTS ON STAGE. I'M GEORGES COLLINET, AND YOU'RE LISTENING TO AFROPOP WORLDWIDE, FROM PRX.
WINDOW: 20-second break M10_Damien_20.wav
BED: M11a_DamienSoul_BED_board.wav + M11b_DamienSoul_BED_house.wav (very short window)
GEORGES: ON THE FINAL NIGHT OF SAUTI ZA BUSARA, IVORY COAST REGGAE STAR TIKEN JAH FAKOLY WAS THE CLOSING ACT. BUT JUST BEFORE HIM, WE HEARD FROM A UNIQUE FIGURE IN TANZANIA'S BONGO FLAVA SCENE, DAMIEN SOUL, SINGER, SONGWRITER, GUITARIST AND COMPOSER. DAMIEN GREW UP IN THE OUTSKIRTS OF DAR ES SALAAM, IN AN AREA CALLED SINZA. HE HAD FAMOUS MUSICIANS AS NEIGHBORS, LIKE REMY ONGALA AND MEMBERS OF MLIMANI PARK ORCHESTRA.
ACTY: 16_Damien_Sinza.wav: I think Sinza is the place where Bongo Flava started. Kwanza Unit, Diplomat. Most people were coming from that area.
ACTY: 17_Damien_MyStyle.wav: I came from a background of hip-hop, jazz, Gospel, and tradition. Mix and blend all this together and I come up with my own style. I'm still under the umbrella of Bongo Flava, but when you hear my music, it's more world music. Because I'm also inspired by all these African legends like Salif Keita and Mory Kanté. They really inspired me because my dad used to play their records when I was young. Papa Wemba.
40, 41 GEORGES: WELL BEFORE ALL THAT, DAMIEN GOT HIS EARLY MUSICAL EDUCATION…IN CHURCH.
ACTY: 18_Damien_Church.wav: When I was growing up, my mother was really a church lady, a spiritual person, so she used to take me to church. I was attending Sunday school and stuff, and then later I decided to be also a church boy. I learned guitar. I was in the choir. And I got really a lot of skills from the church because they're a lot of talented musicians around, and I just decided that I wanted to do it professionally. So right after I came from college, I dropped my first track. "Hakuna Matata" was my first track.
WINDOW/BED: M12_Damian Soul - Hakuna Matata (Official Audio).mp3 (emerge on vocal at 0:17-0:43, then to bed)
ACTY: 19_Damien_HakunaMatata.wav: Major hit. It was a really big song. And at the time I had no support, but I just managed to put a record out. And after like six months, the song blew up. "Who is this guy?" They thought I was from Kenya. So every time I would hear my music on one of the big radio stations like Clouds FM, they used to say, "This is Hakuna Matata by Damien Soul from Kenya." Damien Soul from Kenya? Interesting.
43, 44 GEORGES: THESE DAYS, EVERYONE KNOWS DAMIEN IS TANZANIAN. HE'S ONE OF THE COUNTRY'S MOST BELOVED ARTISTS. IN HIS SET AT SAUTI ZA BUSARA, DAMIEN FEATURED A RECENT SONG CALLED "MAPOPO."
ACTY: 20_Damien_Mapopo.wav: "Mapopo" became one of the major hit songs today. It connected to people because of the style of the music that I used, Amapiano/Bongo Flava. And the melody that I use it sounds like coastal music, which represents me, because I was born and grew up in this coast region in Tanzania. It really connect with people because of the salam alaykum thing. Most people when they hear Salam alaykum, they think it's for Muslims. But Salam alaykum means "peace be onto you," so even if you're a Christian, you say, "Amani ….," one of the famous sayings of the church. Peace be onto you. Amani Mapopo. (as he talks about this song, crossfade bed to the beginning of M13)
ACTY: 21_Damien_Mapopo-sings.wav: (He's not quite on key with the live recording. See if you can pitch correct and overlay this so that we go from this into the live.)
MUSIC: M13a_Damien_Mapopo-board.wav + M13b_Damien_Mapopo-house.wav (he doesn't sing the opening line until 1:58, so that's where we want to emerge, but use earlier part of this track as bed when he talks about this song.)
45, GEORGES: DAMIEN SOUL ROCKING THE CROWD AT SAUTI ZA BUSARA.
BED: M14a_AsiaMadani_BED_board.wav + M14b_AsiaMadani_BED_house.wav
GEORGES: LISTENERS MAY REMEMBER THE NILE PROJECT, A COLLABORATION OF ARTISTS FROM THE ELEVEN COUNTRIES THAT BORDER THE NILE RIVER. ONE OF THEM WAS ASIA MADANI OF SUDAN, AND SHE WAS VERY PLEASED TO BE RETURNING TO THIS ZANZIBAR FESTIVAL.
ACTY: 22_AsiaM_Sauti.wav: I love Sauti za Busara because I meet a lot of musicians from different countries. The Zanzibaris are very, very kind. In Zanzibar I feel like I'm in my country. This is my second time, I'm so happy. I'm so proud for the team
GEORGES: WHEN WE SPOKE, ONE OF ASIA'S NIMBLE-FINGERED PERCUSSIONISTS HELPED WITH TRANSLATION.
ACTY: 23_AsiaM_intro_VO.wav: My name is Mostafa Kevin. I am a drummer. Asia's beginning was around a lot of percussionist in her hometown. She was involved in a lot of the music scene there. She used to play percussion and a Sudanese instrument called daluca. She used to play from when she was a little kid. That's how she started getting involved in music.
ACTY: 24a_AsiaM_Daluca.wav: (Arabic)
ACTY: 24b_AsiaM_Daluca_VO.wav: She kept learning and developing herself on the daluca and percussion in general, but her parents were a little bit against music.
ACTY: 25a_AsiaM_Egypt.wav: "My family did not like this." (then Arabic)
ACTY: 25b_AsiaM_Egypt_VO.wav: It was a challenge for her, but then when she moved to Egypt it was a different scene. It was more open. She tried different things in music and she kept developing more in Egypt, in Cairo.
GEORGES: IN CAIRO, ASIA FOUND LIKE-MINDED MUSICIANS AND BEGAN COMPOSING SONGS OFTEN FOCUSED ON EMPOWERING WOMEN. BUT SHE NEVER LOST HER CONNECTION TO HER SUDANESE ROOTS.
ACTY: 26_AsiaM_Sudan.wav: I believe my country has different music, different people, different cultures. East Sudan, west Sudan, South Sudan. I sing all the cultures of Sudan.
GEORGES: ASIA'S SET WAS A THICKET OF COMPLEX RHYTHMS ALL CENTERED AROUND HER FIERCELY COMMITTED VOICE.
MUSIC: M15a_AsiaMadani_SONG_board.wav + M15b_AsiaMadani_SONG_house.wav (some dead air at the top. Come in strong at 0:16. Whether or not we get the whole song, let's keep the ending as it goes nicely into the next one) [4:04]
MUSIC: M16a_Nasibo_Ancestors_board.wav + M16b_Nasibo_Ancestors_house.wav (top to 3:43, then to bed)
GEORGES: FROM HARARE, ZIMBABWE, THAT'S NASIBO AND HER BAND OPENING THEIR SET WITH A SONG OF THANKS TO THE ANCESTORS. THESE YOUNG MUSICIANS ARE WELL VERSED IN TRADITION, BUT THEY'RE MAKING A NEW MUSIC FOR A NEW TIME. KEEP AN EYE OUT FOR NASIBO. I THINK WE'LL BE HEARING MORE FROM HER. NOW LET'S RETURN TO THE SAUTI ZA BUSARA STAGE TO HEAR AN ICON OF MODERN TAARAB MUSIC IN THE COASTAL CITY OF TANGA.
ACTY: 27a_PatriciaHillary_Intro-board.wav + 27b_PatriciaHillary_Intro-house.wav (no bed under this) OK let me translate. Are you guys ready for the next performance? We have a legend that's going to come on the stage, and she has been doing this for so long, and so beautifully and so elegantly. Ladies and gentlemen are we ready for Patricia Hillary? Please give it up for this legend. Come on guys, show some love!
MUSIC: M17a_PatriciaHillary-board.wav + M17a_PatriciaHillary-house.wav [6:51, but we won't get it all]
GEORGES: SUCH A UNIQUE SOUND. MODERN TAARAB FROM TANGA WITH THE INIMITABLE PATRICIA HILLARY. NOW HERE'S A YOUNG TANZANIAN GROUP, BASED IN ZANZIBAR, MAKING THEIR OWN FUSION, INCLUDING TRADITIONS FROM THE MAINLAND, THE ISLAND, AND FURTHER AFIELD, EVEN BRAZILIAN CAPOEIRA.
WINDOW/BED: M18a_ZanUbuntu_board-mono.wav + M18b_ZanUbuntu_house.wav
ACTY: 28_ZanUbuntu_intro.wav: This is Zan Ubuntu all the way from Stonetown, Zanzibar, and my name is Jimmy the drummer. My name is Sungro. I'm a vocalist in Zan Ubuntu and also I'm the leader. Zan Ubuntu is a group of 15 young people who do different arts like dancing music and acrobatics. In short.
GEORGES: WE WERE ABOUT TO GET A DEMONSTRATION OF ZANZIBAR CAPOEIRA WHEN FESTIVAL DIRECTOR YUSUF MAHMOUD CAME BY TO PUT IN A WORD FOR THE BAND. .
ACTY: 29_ZanUbuntu_Yusuf.wav: These are very creative, talented new generation artists. I'm very proud they're here with us. Zan Ubuntu are making very unique performances which includes so many different influences. I'm really proud of them. And we believe in them.
MUSIC: M18
GEORGES: PAN-TANZANIAN FUSION FROM ZAN UBUNTU. YOU KNOW THIS IS A FESTIVAL WITH HIGH IDEALS. SAUTI ZA BUSARA MEANS "SOUNDS OF WISDOM." EVERY YEAR THE LINEUP FEATURES YOUNG ACTS, WOMEN-LED BANDS, AND EVERYTHING IS 100% LIVE, NO PLAYBACK. NEAR THE CLOSE OF THE FESTIVAL, DIRECTOR YUSUF MAHMOUD HAD A FEW WORDS FOR THE CROWD.
ACTY: 30a_Yusuf_Final_board.wav + 30b_Yusuf_Final_house.wav: You know I'm really happy in Zanzibar here to see our leaders in government and businesses now are starting to talk about the blue economy and the green economy—how we can preserve the environment and make sustainable tourism in Zanzibar. But let's not forget music and culture are also important drivers for development. So my message to musicians in Tanzania is when you are entertaining guests at these hotels and beach resorts and so on, you don't have to be singing "Jambo Bwana" and "Hotel California." Let's stop that nonsense. I would like to say thanks to Team Busara, to all the people behind the scenes, big up to our security. Our stage crew, to our technical crew, the sound has been amazing on both stages. Thank you AB Sound as well. Please put your hands together for the Busara team.
BED: M19a_SwahiliEncounters_BED-board-mono.wav + M19b_SwahiliEncounters_BED-house.wav
GEORGES: AMEN, YUSUF AND TEAM. WELL DONE! WE LEAVE YOU WITH A FESTIVAL TRADITION. EVERY YEAR SELECTED ARTISTS FROM THE LINEUP ARE INVITED TO COME TO STONETOWN EARLY AND COLLABORATE ON NEW MUSIC. IT'S CALLED "SWAHILI ENCOUNTERS." TRYPHON EVARIST FROM WAUNGWANA BAND EXPLAINS.
ACTY: 31_Tryphon_SwahiliEncounters.wav: Swahili Encounters is just like Saudi Za Busara tried to pick some of the musicians from different groups that will perform for this festival and to come up with their own ideas, just sharing, doing an exchange of their music. So we sat down for almost 5 days to make a performance together.
GEORGES: THIS YEAR, NASIBO, ASIA MADANI, MEMBERS OF ZAWOSE REUNION, NAXX BITOTA FROM THE CONGO AND OTHERS CAME TOGETHER AND MADE SOMETHING ABSOLUTELY BEAUTIFUL. AND THAT'S OUR FAREWELL TO SAUTI ZA BUSARA 2023
MUSIC: M20a_SwahiliEncounters_SONG-board-mono.wav + M20b_SwahiliEncounters_SONG-house.wav
ACTY: 32_Damien_ID.wav: (singing might not work over music) What's up beautiful people? It's your man Damien Soul all the way from Dar es Salaam Tanzania and you're listening to Afropop Worldwide. Stay tuned.
GEORGES: THANK YOU DAMIEN SOUL. AND BIG THANKS TO YUSUF MAHMOUD, THE PARADISE JUNGLE HOTEL IN STONETOWN FOR BEAUTIFUL ACCOMODATIONS FOR OUR TEAM!—AND TO EVERYONE INVOLVED IN THE SPECTACULAR SAUTI ZA BUSARA FESTIVAL. MAY YOU LIVE FOREVER!
BY THE WAY, IF YOU WOULD LIKE TO JOIN US AT THE FESTIVAL IN FEBRUARY 2024, WE'RE ORGANIZING AN AFROPOP MUSIC LOVERS TRIP TO DAR ES SALAAM AND ZANZIBAR. WRITE TO US AT INFO@AFROPOP.ORG FOR DETAILS.
FUNDING FOR AFROPOP WORLDWIDE COMES FROM THE NATIONAL ENDOWMENT FOR THE ARTS, WHICH BELIEVES A GREAT NATION DESERVES GREAT ART, AND FROM PRX AFFILIATE STATIONS AROUND THE U.S. AND THANK YOU FOR SUPPORTING YOUR PUBLIC RADIO STATION.
VISIT AFROPOP.ORG FOR MORE ON SAUTI ZA BUSARA, ESPECIALLY PHOTOS OF THIS YEAR'S ARTISTS IN ACTION. YOU CAN ALSO FIND US ON FACEBOOK AND FOLLOW US ON TWITTER AT "AFROPOPWW." MY AFROPOP PARTNER IS SEAN BARLOW. SEAN PRODUCES OUR PROGRAM FOR WORLD MUSIC PRODUCTIONS. RESEARCH AND PRODUCTION FOR THIS PROGRAM BY BANNING EYRE. AND, BE SURE TO SUBSCRIBE TO OUR PODCAST, INCLUDING RADIO PROGRAMS AND OUR AFROPOP CLOSEUP PODCAST SERIES.
AND DON'T FORGET TO JOIN US NEXT WEEK FOR ANOTHER EDITION OF AFROPOP WORLDWIDE. OUR CHIEF AUDIO ENGINEER IS MICHAEL JONES. THIS PROGRAM WAS MIXED IN BROOKLYN BY MICHAEL JONES. ADDITIONAL ENGINEERING BY GC FROM THE SYNCOPATED LAIR IN WASHINGTON, DC. BANNING EYRE AND CC SMITH EDIT OUR WEBSITE, AFROPOP.ORG. OUR DIRECTOR OF NEW MEDIA IS MUKWAE WABEI SIYOLWE. AND I'M GEORGES COLLINET.