Afropop Worldwide
Talking with Mopao (The Leader) Koffi Olomide Exclusive Interview with Sean Barlow
Afropop Worldwide's Executive Producer Sean Barlow had a Zoom conversation with Congolese soukous legend Koffi Olomide in New York right at the start of his U.S. tour, his first in 20 years. The man is formidable—master of Tcha Tcho or "slow soukous" style, able to sell out stadium shows in both francophone and anglophone African countries, appealing to both his original and now mature audience as well as popular with young music fans, 24 albums to his credit, appointed as Congo's Cultural Ambassador by DRC President Alex Tshisekedi.
SEAN BARLOW: Welcome Koffi Olomide or "Mopao" as they call you in Lingala.
KOFI OLOMIDE: Mopao means "the guide", "the leader."
SB: We're looking forward to seeing you in New York City this Saturday the 5th at Webster Hall and enjoying your classy band Quartier Latin. And we're super excited to induct you into the Afropop Hall of Fame where you'll join fellow inductees Angelique Kidjo, Youssou N'Dour, Salif Keita, Oumou Sangare, and Harry Belafonte. On your upcoming U.S. tour, will you be reaching mainly Congolese fans?
KOFI OLOMIDE: I'm not here just for the Congolese community. I'm here for all Africans and for all Americans.
SB: Koffi, the first time I saw you live was in Matonge, in Kinshasa, Congo in 1987 at a very cool open air nightclub show at 3 a.m. where the party went "Jusqu'a l'aube" or "Until dawn". What fun! And best of all, the Kino ladies all graciously agreed to my dance invitations. How do you account for your long success? How are you staying relevant to your older audience, AND also appealing to a younger audience?
KO: I do everything with my heart. I'm a son of God. Everything I do is true, and I think that the Congolese people feel when you are real, when you are true, when you are authentic. I love what I do, I do what I do by love, and for respect. I love my job. I love people.
SB: Hey, man, this is your first U.S. tour in 20 years. Why have you been ignoring your fans in America for so long?!
KO: (laughs) Oh, it was too busy for me in Africa! I'm so happy to meet my friends here in U.
S.A. for the first time.

SB: So to start off, just please introduce yourself. What is your story of your life in music?
KO: I started by playing guitar when I was a student. I love guitar. I still think I'm more of a guitarist than a singer. My father told me that I couldn't be a musician, a singer if I didn't get a degree, a license. That's what I did. I got a small one in 1981 at Bordeaux University. For all the students on the campus, every time I was playing guitar and people told me it was excellent. And the game continues…Not like the world grand guitarists like Jimi Hendrix

SB: Not like Dr. Nico?
KO: Yeah, no. When I was growing up I used to appreciate artists like Tabu Ley Rochereau. That was my father's music.

SB: Koffi, talk about your upcoming U.S. tour. Your fans will probably expect or even demand that you play their favorite Koffi songs. What are some of them?
KO: I love these songs like "Kuku", "Enrique", "Gobila", "Gina".

SB: (applause) Koffi you're known for a slower style of soukous you call "Tcha Tcho." Describe Tcha Tcho for us.
KO: Tcha Tcho is me. I'm like that. Tcha Tcho is my soul. People feel the differences about my style from traditional rumba. Tcha Tcho is magic. I do music differently.

SB: Tcha Tcho is slower right? It's not like Zaiko Langa Langa and their imitators, right?
KO: Yeah, because music for me is not only to dance, to jump to. Music is also meant to make the heart vibrate. That's why everyone today is asking me to play my first, first, first songs.

SB: Wikipedia reports you've made 29 records to your credit. Is that right?
KO: That should be 24.

SB: Your band is named Quartier Latin. Why did you name it that?
KO: In Paris, most the universities are in cities named Quartier Latin. When I wanted to have my own band, I wanted to do everything with intelligence. That's why I named my band Quartier Latin.
SB: And I imagine you love Cuban music?
KO: Yes, yes, yes.

SB: When you think of Congolese music in the 50's and 60's, they were listening to GV records from Cuba.
KO: My dream is to finish my life in Cuba. Most of the first, most celebrated Congolese artists like Franco and Tabu Ley, they used to play a kind of Cuban music. But when I arrived, I did not want to do exactly the same. My ambition was to bring something new. That's why I made my music Tcha Tcho. It comes from rumba so it comes from Cuba it's also something totally different.

SB: One of my all time favorite Congolese artists is Papa Wemba (the subject of our recent Afropop Worldwide show "Remembering Papa Wemba"). May he rest in peace.
KO: Me too.

SB: You worked with Papa Wemba and his band Viva La Musica. What was that like? What did you learn from him?
KO: I didn't work with him. I worked for him. I wrote so many songs for him and his band. But I've never been a member of his band Viva La Musica. Never.

SB: And what was it like working for him? Did you enjoy it?
KO: Yeah! First of all he was my favorite member of Zaiko Langa Lange, l.e. Grand Zaiko Langa Langa. And I wanted me to be useful to him. When he left Zaiko Langa Langa and formed Viva La Musica, he asked me to continue writing songs for him. That's what I did from my heart without being paid.

SB: You have a reputation for taking on controversial topics that break taboos.
KO: It depends. But me I ask for respect of my freedom of mind. Me I don't necessarily
want controversy but I am what I am with my good sides and bad sides.

SB: Do you ever sing about politics because I know most Congolese singers do not sing about politics.
KO: Oh, I sang "Affaires D'Etat", "State Affairs" 20 years ago. And recently I sang "Elelo." "Elelo" means "cries." I wanted to highlight what everyone in Congo is thinking. About the problems everyone was experiencing. But that was only the truth, not politics. Only the truth. Recently I sang about a government man who takes the money of the country. Today everyone is in agreement to say Congo is rich but we are one of the poorest countries in the world. Yet we have billionaires. They have everything. People have nothing. People are crying everywhere. I sung that in "Ligablo" where I ask politicians to ask them to stop doing that. And to be generous to give money to the Congolese people for schools and hospitals, to help the old people.

SB: You know Lubangi Muniania, right?
KO: Yes, he's an old friend.

SB: He's my friend and colleague and he's going to be on stage Saturday night in New York, co-presenting with me when we induct you into the Afropop Hall of Fame.
KO: Wow! I'm waiting for you.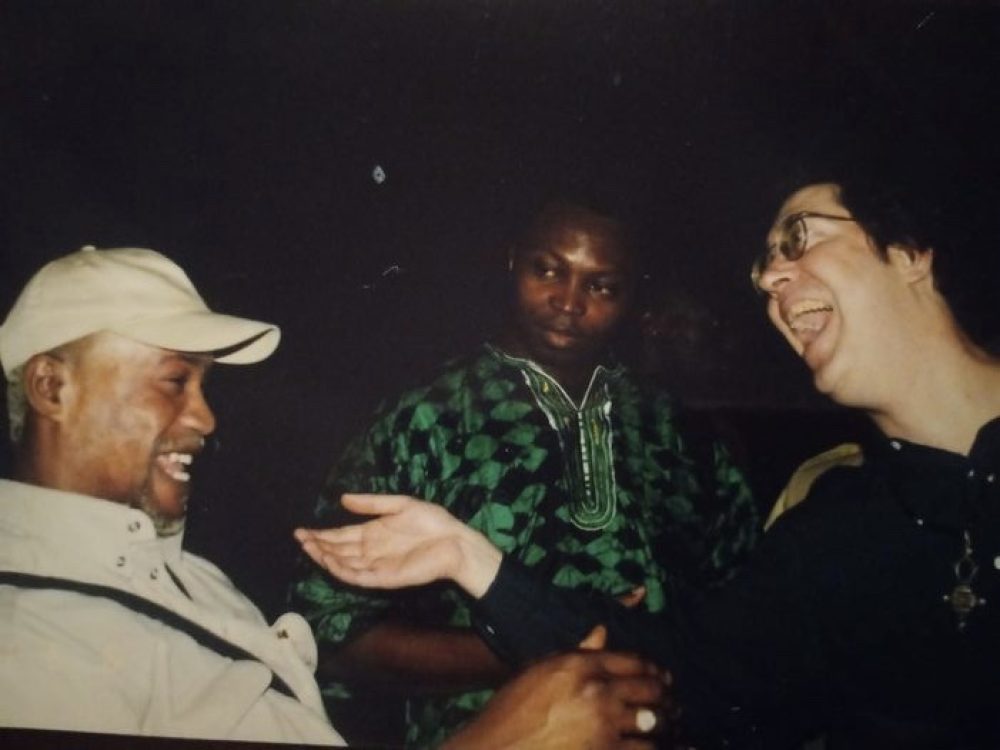 SB: Lubangi worked with us on the Papa Wemba tribute, "Remembering Papa Wemba" O,K. Koffi, you reach all across Africa, across the francophone/anglophone divide. I hear you recently sold out stadium shows in Botswana and Namibia. These are people who do not speak Lingala. They do not speak French. How do you approach people in the non-Lingala, non-French speaking world? Places like Nigeria and the U.S.A.?
KO: You're the same like me! I used to love Michael Jackson, Ray Charles, Stevie Wonder but I did not understand English (laughs). It's the same. You know music is magic. You don't have to understand everything. You know I have Russian, Chinese, Japanese, Spanish, Brazilian singers I love without understanding what they're saying. Those people in Botswana and Namibia feel my songs, Koffi Olomide songs. There's something useful for them. I can't explain. It's magic. I can't tell you why. I'm so happy when I ask them what song they want and they name their favorites because it's rumba song, Tcha Tcho slow songs like you said.
SB: Excellent! "Avec la musique, il n'ya pas de frontieres"
KO: Oui, la musique, il n'ya pas de frontieres. Voila"
SB: Voila! So speaking on that topic, what do you think will be your audience in the U.S. By the way I'm glad to see ticket prices in your dates in cities like Atlanta, Houston. Dallas, L.A, Seattle, Montreal are mostly a modestly priced $50 unlike the Nigerian Afrobeats stars like Burna Boy who charged at his historic, sold out Madison Square Garden $300 or $500 per seat for a mostly Diaspora clientele. That's fine for super fans I suppose but for people just trying out the music for the first time, that's too high.
KO: Burna Boy does not charge. Koffi does not charge. It's the promoters. Promoters have their marketing strategies. Me myself, I don't know sometimes what they charge. That's the promoters.
SB: O.K. That's their business. But back to my point. Your audience on this U.S. tour will probably mostly be Congolese and people from around Africa and the African Diaspora. Is it important to you at all to reach African-Americans, Latinos, Asian Americans, and white people?
KO: Let me say that we French speaking singers in America do not have the same audience as English speaking singers who come from Nigeria, Ghana, Uganda, Zambia. They are more introduced in the U.S. than us. We who speak French, it's very different. But I'm very happy for (Nigerian Afrobeats stars) Davido and Burna Boy. Happy for all the English speaking singers in America. But if you're in (French-speaking) Congo, Togo, Ivory Coast, Senegal, it's different for us because the world is like that. Now I'm very proud to do what I do and to have the audience that I have. Now on this tour, I'm waiting for everyone—Nigerians, Arabic, Zambians, Congolese, American—everyone.
SB: O.K. Insh'Allah! (God willing in Arabic)
KO: Insh'Allah (laughs)
SB: Salaam!
KO: Salaam. Shukram (Arabic for "thank you")
SB: Koffi, you're not only a composer and musician, you're also a dancer.
KO: No, no, no. I'm not a dancer. I respect dancers but I'm not one. I try to dance but you can't name me a dancer. I dance sometime but I'm not a dancer.
SB: So for instance in your very happening music video "Papa Ngwasuma" with that big, exhuberant dance corps, you did not do the choreography for that?
KO: Yes! You can be a choreographer without being a dancer. That's two different jobs. I can give ideas.
SB: So you give ideas to your dancers?
KO: Yes. Many of them.
SB: And tell me, on your upcoming U.S. tour, there will be a lot of Congolese people. Will those people be happy to show Americans how to dance, Kinshasa style?
KO: Yes. Yes. Ask American people to be with me on my tour. I will be happy to share, to enjoy with them.
SB: Great! Also Koffi, we know that new Internet technology—Instagram, YouTube, TikTok, Snapchat, and more—has made huge changes in the global music industry. How has that changed your career? How have you been able to take advantage of that?
KO: I try to follow the game. To be up to date. But I'm an old monkey (he's 66). I come from the Old School, the authentic school but I'm obliged to accept what is happening today. It's easier for young artists today with the Internet, with TikTok. When we started, we did not have the opportunity to have such things. But we try to be updated. Let me ask everyone to subscribe to my Koffi Olomide officials (Google "Koffi Olomide").
SB: Yes. Get connected to the man! So Koffi, we love the Africando project (wonderful collaborations between veteran Latin session musicians in New York and African star singers) Tell us about your involvement with Africando.
KO: Yes, they wanted to do a pan-African album and I've been honored to have been chosen. And I created that song "Mopao". It was a very, very amazing experience. And I'm ready to go with them again. I wish them the best.
SB: Throughout your career, you've trained several young artists who now have their own successful solo careers. Artists like the great Fally Ipupa. What is your approach to cultivating young talent?
KO: I definitely believe that the future is the youth. That's why I'm always ready to help, to advise, to coach young people. In Congo, every day they come to me to ask me something. In my new album, coming out in December, there will be three or four young singers I will feature. Very talented. And I'm very happy to do that. For example, there is Cindy LeCoeur. She is one of the one or two of the most beautiful voices in Congo today. She's the queen, the princess of African music today. Cindy LeCoeur, superstar!
SB: Your U.S. tour producer, Yves Tshimanga, tells me this is your last U.S. tour and now at the tender age of 66 you want to enter a career in politics. Is that true and do you want to become the President of the Democratic Republic of Congo (DRC)?
KO: (laughs loudly) That's your regrets or what? What personally do you think about that?
SB: It's tricky. It's challenging. I remember when the great artist Ruben Blades tried to run for the presidency of Panama (it didn't work out.)
KO: You know Sean, only God knows what. I'm happy to be a singer today. And I have many ideas and ambitions. I think I can serve my country very well outside of music. Now I can't say that I have decided to become a politician. Not now. Right now I'm focused on my tour in U.S. and once again, I invite all the Americans, all the Africans to come see me. We start this Saturday (Nov. 5) in New York to be with me.
SB: So now my colleague Lubangi Muniania has some questions for you. Those previous were my questions. Now Lubangi has some questions for you. You did this beautiful song with Senegalese superstar Youssou N'Dour. Tell us about that because it didn't get much promotion in America.
KO: Youssou is the king of song in Africa. He's a very big singer. And my dream was to sing with him one day and he said "yes"! I came to his studio in Dakar and I asked him to sing what he felt. I was so happy. I was very sad when he decided to leave music for politics (Youssou became Minister of Culture and Tourism for a short-lived career change) but that's his decision. I can't be opposite. I say thank you to Youssou. He's someone I really respect. The song with Youssou "Festival" was dedicated to my young daughter.
SB: Koffi, you were honored as Cultural Ambassador for Congo appointed by President Alex Tshisekedi How do you think about working for your country?
KO: In Africa we forget culture but Africa is very rich in culture. My idea is to promote culture because a country without culture is a dead country. I do my best. I said I was a baby, a kid in politics but I do my best to be a good ambassador.
SB: Thank you so much and we look forward to inducting you into the Afropop Hall of Fame on Saturday.
_______________________________________
To get city/venue/date/ticket buying information for Koffi Olomide's concerts in New York, Atlanta, Dallas, Houston, L.A., Seattle, Montreal, go to: www.lenoirnyc.com
If you're coming to Koffi's New York show Saturday Nov. 5 at Webster Hall, be sure to join us for an Afropop Meet Up at the Webster Hall bar (side closest to stage) from 7:30 to 8:30 (Doors at 7/meet up at 7:30/Afropop Hall of Fame ceremony/showtime at 8:30 sharp.) You'll enjoy meeting and hanging out with fellow lovers of Afropop and Congolese music. Let us know you're coming so we can be on the lookout for you. Reach us at: sean@afropop.org.