The Black History of Tap Dancing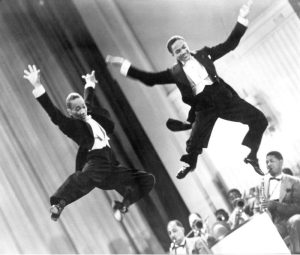 Foundational for Broadway and the movies, intertwined with jazz, tap dancing is a Great American Art. Strap on your shoes and shuffle along as we trace the history of tap and celebrate the Black artists and innovators who built--and continue to build this art form. From its murky origins melding African percussion and Anglo-Irish step dancing to tap's golden age and its ongoing evolution.

If you're going to do a radio show about dancing, tap is the one to do it on—it's as much music-making as it is dance, after all. But the visual element of tap can't be denied, especially with the likes of the high-flying Nicholas Brothers, the tight formations of the Syncopated Ladies, the suave coolness of Honi Coles and the eyepopping speed of Savion Glover. It's no wonder tap was so foundational to Broadway and those early talking pictures.

Go ahead and order an apology card for your downstairs neighbors now—or just invite them up—because it's time to shuffle along.
Produced by Ben Richmond