The Cameroon-Cuba Connection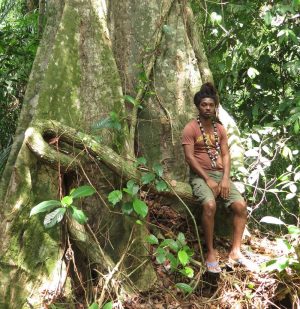 Special guest Dr. Ivor Miller, back from a 2021 research trip to Cameroon, takes us into the complexities of south Cameroonian spiritual tradition and its connection to the Cuban Abakuá secret society for men. Featuring Abakuá-themed music from Cuba, ceremonial music from Cameroon, and Batanga pop by Chief Eko Roosevelt, Pablo Gabbana, and Emily Sadey.
Produced by Ned Sublette.

Portions of music in The Cameroon-Cuba Connection were taken from these videos:
See videos of other Cameroonian and Nigerian ceremonies on Ivor Miller's YouTube channel.
PLAYLIST

Ecobio Enyenison (CD):
-Eribó Eriboñé
-Maribó Konkai
-Yumba Efó
-Isunekue
Eko Roosevelt: Tondoho Mba
Pablo Gabbana: Retour a Moa
Emily Sadey: Bolo ô Ngondo
Photo caption:
For The Cameroon-Cuba Connection, we talk to Georges Mbele, a nganga (healer) in the spiritual tradition of the Batanga people of south Cameroon, seen here in the sacred grove where the healing ceremonies take place. Photo: Ivor Miller (2021).