The Festival In Fes: World Sacred Music Festival, Revisited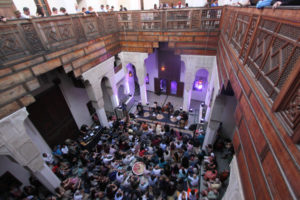 This spring, Afropop returned to Fes, Morocco, for the 23rd annual World Sacred Music Festival, a sumptuous spread of music from across the globe that blurs the boundaries of what is sacred. Interwoven with Morocco's ornate history and fertile fabric of daily life is a mosaic of many musics: Gnawa, Arabic pop, Amazigh ahwach, classical Andalusian, Issaoua, raï, rap, chaabi, jazz, metal and so much more. At the World Sacred Music Festival, we heard many of these sounds, as well as those of international artists from China to Mali to Kuwait. Join us as we revisit these concerts—the late night music of Sufi brotherhoods, Moroccan fusion with Taziri and Inouraz, traditional Kuwaiti pearl diving music with Salman El Ammari, a stunning bit of Mali-Spain fusion with Toumani Diabate and Ketama, and more. Beyond the festival, we sit in with a respected Gnawa mâalem in Rabat and sample the array of tunes heard in cars, shops and CD stores around Fes.
There's only so much one can cover in just an hour! Here's some more background and stories about some of the music we hear in the program. We covered Amazigh/Berber music in our programs Berber Rising I & II, including interviews with prominent Berber artists. For more on fijiri, the pearl diving music of the Arabian Gulf, check out our programs Africans in the Arabian (Persian) Gulf and African Slaves in Islamic Lands, an interview with scholar Joseph Braude or this chapter from "Music and Traditions of the Arabian Peninsula." Our program Traveling Spirit Masters takes a close look at the traditions of Gnawa and Moroccan Music Today takes on an overview of some of the more cutting edge, innovative musicians on the contemporary scene.
Field Report: Moroccan Pop at the World Sacred Music Festival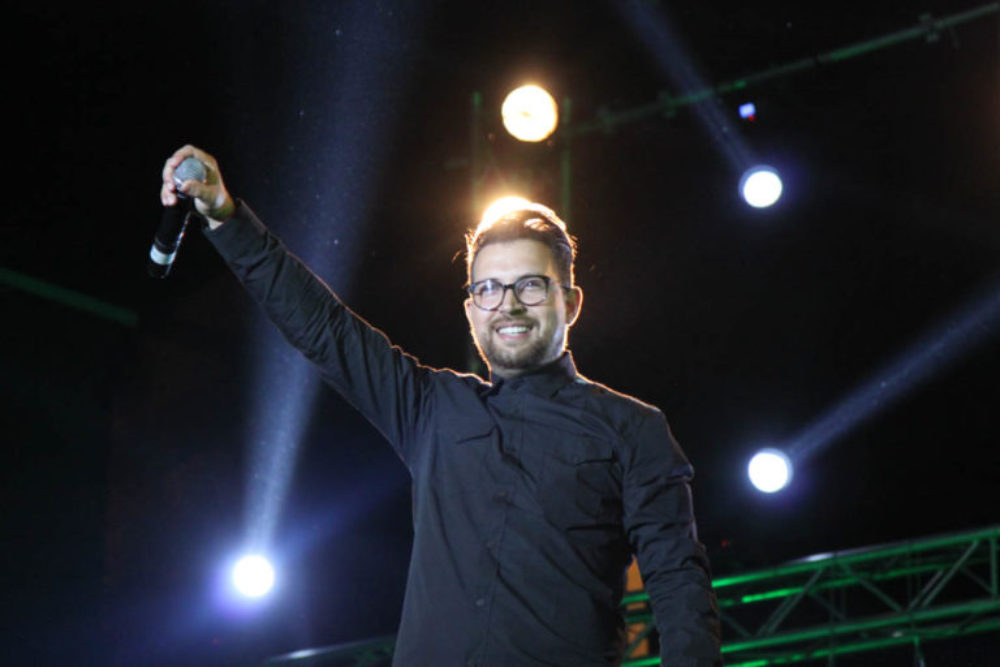 Samir Langus on Morocco's Musical Landscape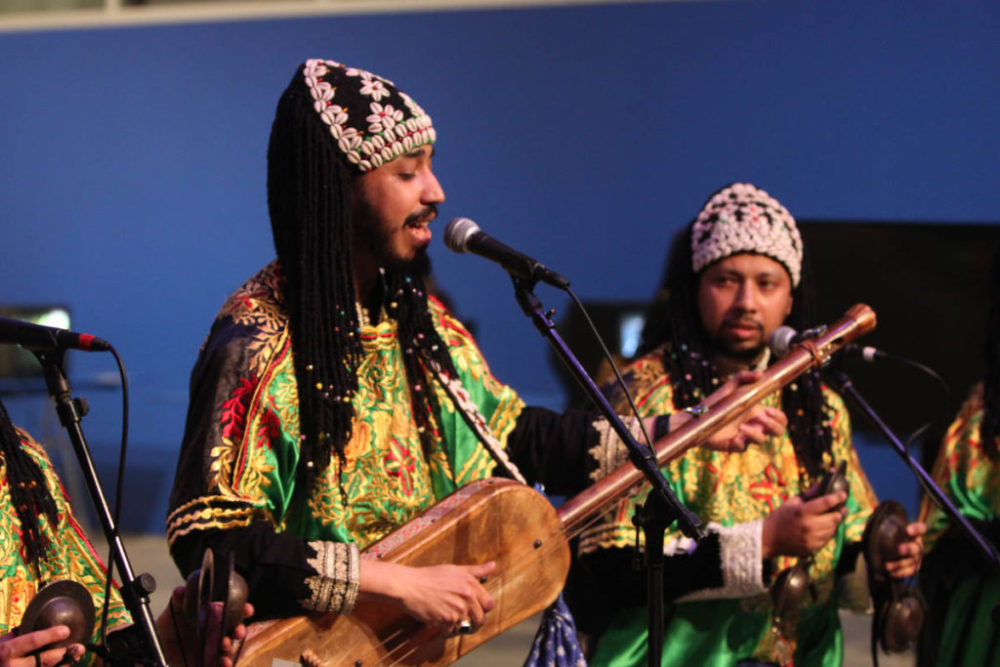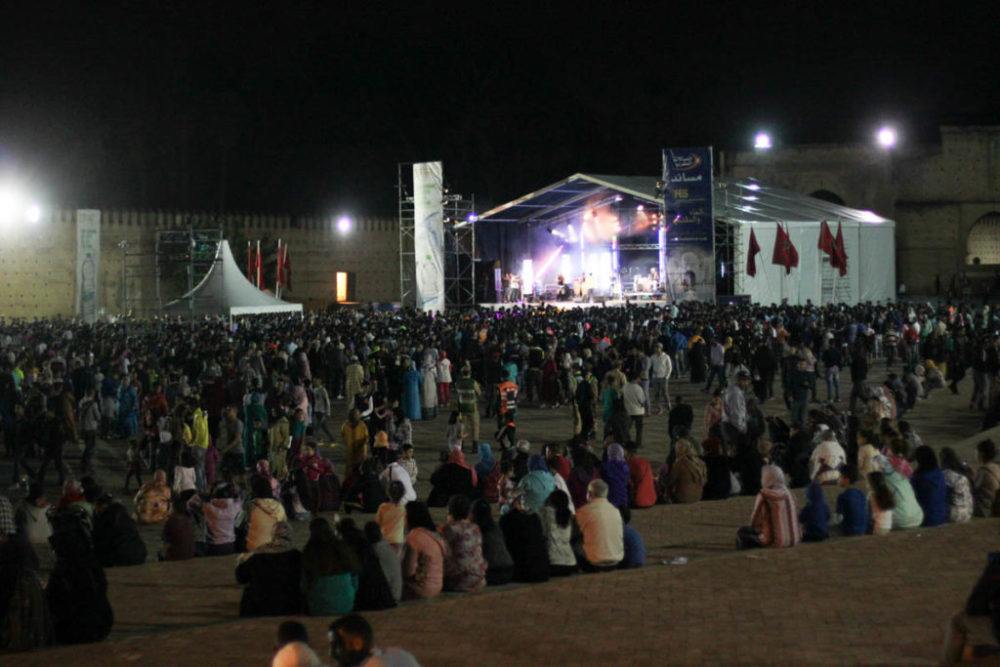 Program Tracklist:
| | | | |
| --- | --- | --- | --- |
| 0:00 | | Taziri | Sahara |
| 2:41 | | Aymane Serhani | Krite L'Message |
| 3:30 | | Nizar Idil | — |
| 5:36 | | Fnaïre | Ngoul Mali |
| 7:18 | | Zina Daoudia | Waer Waer |
| 9:11 | | Fatiha Al-Arian | Andou Zine |
| 9:35 | | Asma Lmnawar | Andou Zine |
| 10:36 | | Unknown Artist (Sufi Music) | — |
| 12:07 | | Fatima Charii | Kol Lil Malihah |
| 14:38 | | Ensemble Slimani de Taza | — |
| 17:19 | | Mourad el Hachimi | — |
| 19:15 | | Izenzaren | Wa Zine |
| 20:49 | | Inouraz | Taddinga |
| 22:35 | | Ahmad Adaweya | Eilah Taihah |
| 23:23 | | Musicians of the Nile | — |
| 24:59 | | Songhai | Africa |
| 27:07 | | Songhai | Djamana Djana |
| 28:16 | | Songhai | Jarabi |
| 32:39 | | Mohamed Abdel Wahab | Ana Oual Azab |
| 33:00 | | Salman El Ammari | — |
| 36:03 | | Salman El Ammari | — |
| 36:33 | | Salman El Ammari | — |
| 37:45 | | Maalem Abdelkader Amlil | Boulila |
| 41:04 | | Maalem Abdelkader Amlil | Soudani Manayo |
| 44:34 | | Maalem Abdelkader Amlil | Hamdouchia |
| 45:58 | | Nass El Ghiwane | Mahmouna |
| 49:08 | | Taziri | La Femme Ideale |
| 51:34 | | Taziri | — |
| 53:05 | | Taziri | Rih Ljanoub |
| 56:22 | | Rahma el Berkaniya | Ellil Ellil O Hbibi Hdaya |