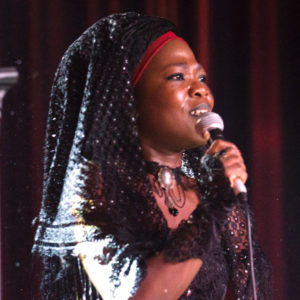 The annual WOMEX gathering is a feast for the eyes and ears. At the 2018 edition in Las Palmas, Gran Canaria, over 300 artists performed in 60 official showcases. Afropop Worldwide recorded both intimate exclusive sessions and official showcases. We also interviewed globetrotting artists: Moonlight Benjamin (Haiti/France), Dawda Jobarteh (Gambia/Denmark), Tita Nzebi (Gabon/France) and Serge Ananou (Benin/France). And, we collected a load of new releases from artists you know, like Salif Keita, and some you don't, but will be happy to discover. This is our second WOMEX 2018 program, a music-filled hour of music and impressions from the world's greatest gathering of global music movers and shakers. Produced by Banning Eyre.
Transcript
What's New at WOMEX?
WINDOW: m01_Gulaza_YaMehija.wav (EBU/Afropop live recording) (first 18 seconds, then to BED)
GEORGES: THIS IS THE BAND GULAZA, PERFORMING LIVE AT WOMEX IN LAS PALMAS, GRAN CANARIA, IN THE CANARY ISLANDS. GULAZA IS AN ISRAELI BAND. THE LEAD SINGER HAS ROOTS IN ALGERIA AND MOROCCO. BUT HIS PASSION, AND THE BAND'S SPECIALITY, IS TRADITIONAL WOMEN'S SONGS FROM YEMEN. THAT'S THE KIND OF FASCINATING DIVERSITY YOU ENCOUNTER ON THE SHOWCASE STAGES OF WOMEX, THE ANNUAL WORLD MUSIC EXPO.
WINDOW: a bit more "Ya Mehija" (emerge on vocal 0:44—1:09, then to bed )
GEORGES: HELLO, GEORGES COLLINET WITH YOU ON AFROPOP WORLDWIDE FROM PRI PUBLIC RADIO INTERNATIONAL. THIS EDITION, "WHAT'S NEW AT WOMEX?" ON OUR PROGRAM TODAY, WE'LL HEAR PERFORMANCES FROM SHOWCASE ARTISTS, INCLUDING HAITI'S MOONLIGHT BENJAMIN AND THE GARIFUNA COLLECTIVE. WE'LL ALSO CHECK IN WITH THE DELEGATES TO GET THEIR THOUGHTS ON THE STATE OF THE WOMEX COMMUNITY FACED WITH TODAY'S TURBULENT GLOBAL POLITICS. AND WE'LL DIP INTO A TREASURE TROVE OF NEW RECORDINGS FROM SOME OF THE HUNDREDS OF ARTISTS WHO PARTICIPATE IN WOMEX.
BUT LET'S START BACK ON ONE OF THE FESTIVAL'S THREE SHOWCASE STAGES. HERE'S RISING CAPE VERDEAN DIVA LUCIBELA WITH THE SONG, "VIOLEIRO."
MUSIC: m02_Lucibella_Violeiro.wav (EBU/Afropop live recording) [4:10]
GEORGES: MY GOODNESS, I LOVE THIS WOMAN! LUCIBELA FROM CAPE VERDE. HOPEFULLY AFTER THIS PERFORMANCE AT WOMEX, WE'LL BE SEEING HER ON AMERICAN STAGES VERY SOON. GEORGES COLLINET WITH YOU ON AFROPOP WORLDWIDE, CHECKING OUT WHAT'S NEW AT WOMEX, THE WORLD MUSIC EXPO. LET'S KEEP THE CAPE VERDEAN VIBE GOING WITH A NEWCOMER ON THE SCENE. HERE'S CARLOS G. LOPES FROM HIS DEBUT ALBUM, KANTA PA SKECI!
MUSIC: m03_E Ka Purci.m4a, Carlos G. Lopes, Kanta pa Skeci (Cap en Scene, 3 760231 763538) [3:00 then to bed]
GEORGES: CARLOS G. LOPES, A YOUNG CAPE VERDEAN ARTIST WHOSE MUSIC WE DISCOVERED AT WOMEX, THE WORLD MUSIC EXPO.
WINDOW: m04_Gorée.m4a, Germán López, Canela y Limón (Indica, B01LYX7M6G)
GEORGES: ONE ARTIST WHO PERFORMED AT THE MOST RECENT WOMEX IS A NATIVE OF GRAN CANARIA, THE ISLAND WHERE THE EXPO TOOK PLACE. THIS IS GERMAN [HEHR-mahn] LOPEZ, A MASTER OF THE TIMPLE [TEEM-play], A SMALL, GUITAR-LIKE INSTRUMENT INDIGENOUS TO THE CANARY ISLANDS. HERE HE IS PLAYING WITH GUITARIST ANTONIO TOLEDO FROM THEIR RECENT ALBUM, CANELA Y LIMON, "CINNAMON AND LEMON!" THE SONG IS "GOREE."
WINDOW: m03_Gorée.m4a [Up to 2:29, then to bed]
GEORGES: GORGEOUS, AM I RIGHT? GERMAN LOPES ON TIMPLE AND ANTONIOTOLEDO ON GUITAR. LET'S TAKE A STROLL THROUGH THE WOMEX TRADE FLOOR, WHERE FESTIVAL ORGANIZERS, AGENTS, RECORD LABELS AND MORE PRESENT THEIR WORK TO SOME 2700 DELEGATES.
BED: 00_ROOMTONE1.wav (keep music going quietly, but use this trade floor hubbub as needed to link trade floor ACTYs. When the music ends, we'll go with the trade floor sound, not other bed until the next track.]
ACTY: 01_Susana_intro.wav: My name is Susana. I am a PR and press officer for the Brazil Music Exchange project, the Brazilian stand. And I've been to the fair for five years now. And I love it. Every year gets better.
ACTY: 02_Norway.wav: My name is Yuntz Amison. I work with Folklarm, which is a showcase festival in Norway, only for Scandinavian or Nordic acts. And they have to be folk music oriented from their home country. My goal is to find festivals, venues, and bookers that are interested in Nordic folk music. And then we invite them to our showcase festival.
ACTY: 03_Sumudi_intro.wav: I'm Sumudi Suruweera. We are from Sri Lanka. I represent a band called Baliphonics. This is my second time at WOMEX. It's very hard to sort of quantify it. You meet a lot of people, and I don't think anything happens immediately. It's a matter of finding the contacts you need to make tours in Europe.
GEORGES: ON THE TRADE FLOOR, WE MET AMITAVA BHATTACHARYA, A WOMEX REGULAR WHO DIRECTS A FESTIVAL IN INDIA.
ACTY: 04_Amitava_intro.wav: I am the founder director of an 18-year-old social enterprise called Bangalanatak.com, headquartered in Calcutta. We have 102 employees and we have offices in Calcutta, Goa, and Delhi.
ACTY: 05_Amitava_showcase.wav: If I look at all these years, one thing is still common is the enthusiasm of the music practitioners and business delegates. This networking I think it's very, very important, and still the best festivals do come. That's why I'm always very excited to be at WOMEX.
GEORGES: AMITAVA IS A KEEN OBSERVER OF WOMEX SHOWCASES, AND A CRITIC. HE'S A BIT OLD SCHOOL, AND NOT EASILY IMPRESSED BY THE MORE ELECTRONIC ACTS THAT ARE AN INCREASING PRESENCE ON WOMEX STAGES.
ACTY: 06_Amitava_dilution.wav: I think there is a problem of dilution. We can't blame everything on the new generation. Computer music is okay, but provided that person at least is a good musician. Now, I'm not a good guitarist, I'm not a good vocalist, but I use a computer, so I'm in. Ah! No, no. That will not be acceptable in any terms.
GEORGES: OH BOY. EVERYBODY HAS AN OPINION. BUT HERE'S A CONTEMPORARY ARTIST, AND A WOMEX VETERAN, WHO I THINK EVEN AMITAVA WOULD AGREE IS A VERY FINE MUSICIAN. FROM BRAZIL, NEW WORK FROM A BONAFIDE MAVERICK, DJ DOLORES. THE ALBUM, OUT IN 2019, IS CALLED BUENA VENTURA.
MUSIC: m05_A Casta.m4a, DJ Dolores, Buena Ventura (Stern's Music, unreleased) [4:19]
MUSIC: m06_Afro Aid Problem (Aap).m4a, Kyekyeku, Sor (Kyekyeku, B07336X3B8) [4:27 use ending as bed]
GEORGES: FROM GHANA, OUR OLD FRIEND che-CHAY-kuh FROM HIS RECENT ALBUM SOR. CHE-CHE-KUH IS A FINE PALMWINE GUITARIST, A PROTÉGÉ OF THE LEGENDARY KOO NIMO. BUT ON THIS ALBUM HE'S BRANCHING OUT IN MANY DIRECTIONS, INCLUDING AFROBEAT, AS WE HEAR IN THIS SONG.
GEORGES: WE MET AN INTERESTING ARTIST FROM HAITI WHO DELIVERED A FORCEFUL LATE NIGHT SHOWCASE PERFORMANCE. HER NAME IS MOONLIGHT BENJAMIN.
ACTY: 07_MoonlightB_intro.wav: [French]
GEORGES: IT SOUNDS LIKE A STAGE NAME, BUT IT TURNS OUT MOONLIGHT IS HER CHRISTENED NAME. SHE SAYS HER FATHER LOOKED AT HER AND SAW SOMEONE WHO WAS GOING TO BRING LIGHT TO THE WORLD, SO HE GAVE HER THIS NAME. THESE DAYS MOONLIGHT BENJAMIN LIVES IN FRANCE, AND HER SOUND IS AS MUCH ROCK AS ROOTS. WE'LL HEAR MORE FROM HER ON A FUTURE PROGRAM ABOUT NEW SOUNDS FROM HAITI. FOR NOW, LET'S HEAR A SONG FROM HER SHOWCASE SET AT WOMEX.
MUSIC: m07_Monlight_Memwan.wav "Memwa'n" (EBU/Afropop live recording) [4:47]
GEORGES: FROM HAITI, MOONLIGHT BENJAMIN REVVING UP THE CROWD AT WOMEX IN THE CANARY ISLANDS. COMING UP LOTS MORE MUSIC AND IMPRESSIONS FROM THE LATEST WOMEX. VISIT AFROPOP.ORG FOR MORE OF OUR WOMEX 2018 REPORTING. I'M GEORGES COLLINET, AND YOU'RE LISTENING TO AFROPOP WORLDWIDE, FROM PRI, PUBLIC RADIO INTERNATIONAL.
WINDOW: 20-second break m08_Sorondongo de Lanzarote.m4a, Timples y Otras Pequenas Guitarras del Mundo (Multitrak, B016XDF16A)
GEORGES: AMONG THE FANTASTIC CDS WE PICKED UP AT WOMEX IS A NEW RELEASE FROM THE TOP ROOTS GROUP OF ISLE REUNION. THE GROUP IS LINDIGO, AND THE ALBUM IS CALLED KOMSA GAYAR, WHICH MEANS "TO BE HAPPY."
MUSIC: m09_Somin Ton Kaz.m4a, Lindigo, Komsa Gayar (Helico, 3 52183 444689) [3:10]
GEORGES: HOT MALOYA MUSIC FROM ISLE REUNION FROM THE BAND LINDIGO. AT WOMEX, IN THE WEE HOURS OF THE MORNING, AFTER THE SHOWCASE BANDS HAVE ALL PERFORMED, THERE'S ALWAYS A DJ DANCE SCENE. ONE OF THE FEATURED ARTISTS IN LAS PALMAS WAS AN ELECTRO-SHAABI DJ FROM SYRIA, WAEL ALKAK. CHECK HIM OUT.
MUSIC: m10_Dabke.m4a, Wael Alkak (unreleased) (this can be a stretch and shrink zone. The track is 3:42 but anything over 2 minutes is fine)
GEORGES: ROCKING, SYRIAN ELECTRO-SHAABI FROM WAEL ALKAK ONE OF THE LATE NIGHT DJS AT THE MOST RECENT WOMEX. OKAY, LET'S CHANGE GEARS. ONE DAY AT WOMEX, WE WERE FORTUNATE TO SIT DOWN WITH A FINE KORA PLAYER FROM THE GAMBIA.
WINDOW/BED: m11_Dawda_Kelefa.wav, Dawda Jobarteh, Afropop recording [time window to next emerge]
BANNING: THAT'S BEAUTIFUL. DAWDA JOBARTEH PLAYING FOR THE AFROPOP MICROPHONE AT WOMEX. DAWDA GREW UP IN BRIKAMA, IN THE COMPOUND OF HIS UNCLE, THE LATE KORA MAESTRO MALAMINI JOBARTEH—MANDE MUSIC ROYALTY.
MUSIC: m11_Dawda_Kelafa.wav (emerge on vocal, 1:12—2:59)
GEORGES: DAWDA IS PERFORMING THE TRADITIONAL SONG "KELEFA." IT TURNS OUT, HE HAS LIVED IN COPENHAGEN, DENMARK FOR THE PAST 19 YEARS. HE ARRIVED THERE AS A DRUMMER AND ACTUALLY TAUGHT HIMSELF TO PLAY KORA IN DENMARK. CLEARLY IT WAS IN HIS BLOOD.
WINDOW: (short, then to bed)
ACTY: 08_Dawda_AfroBlue.wav: I listened to some recordings, you know, and then tried to create my own music. And then tried to create my own music. I am very much influenced by the music around me. If you listen to my second album, I played a very old Danish song from the 16th century. It's called "Jeg Gik Mig Ud En Sommerdag," "I went out on a summer day to listen to birds songs." Also "Hello," by Adele. And then, "Afro Blue" by Mongo Santamaria.
WINDOW: m12_Afro Blue.m4a, Dawda Jobarteh, I Met Her by the River (Stern's Music, 5 017742 003959) (ease in under talking and emerge 0:33-1:00, then to bed for next section)
GEORGES: DAWDA JOBARTEH'S NEW ALBUM IS CALLED "I MET HER BY THE RIVER," AND I TELL YOU, IT'S A FASCINATING JOURNEY, WELL WORTH FINDING FOR ALL YOU MANDE MUSIC LOVERS.
DAWDA HAS LIVED IN EUROPE LONG ENOUGH TO SEE A LOT OF CHANGES. LIKE MANY AT WOMEX, HE IS NOT HAPPY ABOUT THE RISING TIDE OF NATIONALISM AND XENOPHOBIA IN RECENT YEARS.
ACTY: 09_Dawda_change.wav: Oh, yes, I do feel a change, you know. You see that something's really going strange in the world, and you feel this in Europe. A lot of right orientated politics.
GEORGES: ONE OF THE MOST TROUBLING ASPECTS OF EUROPE'S POLITICAL CLIMATE IS THE MOUNTING COST AND DIFFICULTY OF OBTAINING PERFORMANCE VISAS FOR VISITING MUSICIANS. HERE'S ROB LOKIN, DIRECTOR OF THE AFRIKA FESTIVAL IN HERTME, HOLLAND.
ACTY: 10_Lokin_visas.wav: It's more difficult. Especially new groups that never toured. They're considered as criminals. They don't get visas. They think they will be illegal and stay in Europe. That's how they think about musicians.
GEORGES: AT WOMEX, YOU MEET A LOT OF AFRICAN MUSICIANS BASED IN EUROPE, AND THEY ALL HAVE STORIES TO TELL. ON THE TRADE FLOOR, WE MET A TALENTED SINGER/BANDLEADER FROM BENIN, AND HE GAVE US A COPY OF HIS DEBUT ALBUM.
(we can gradually lose the music bed here. The background crowd sound is enough!)
ACTY: 11_Serge_intro.wav: My name is Serge Ananou. I come from Benin, and I live in Paris since 12 years. I am a musician and I have my band in Paris. I released my first album two years ago, and this is my first WOMEX. I used to be a guitarist, session guitarist and backing guitarist, and I played with many other people. Sometimes, I just like to discover something else. I went to jazz school in Paris to learn new ways to arrange music, and new ways to hear music, and to bridge between my traditional world, the music that I grew up with, and new music that I discover like jazz, like pop, like funk. You know, in Benin, we didn't have the chance to hear music like jazz on radio. We hear most of the time French music, all French music.
[use 00_ROOMTONE1.wav as bed if needed]p
GEORGES: SERGE KNOWS WELL THE DIFFICULTIES FACED BY AFRICAN MUSICIANS IN PARIS. BUT HIS MAIN REGRET IS THAT THEY FIND IT SO HARD TO COME TOGETHER AS A UNIFIED FORCE.
ACTY: 12_Serge_Paris.wav: The thing is you see the Mali people together, the Gabon people together, the Senegalese people together. But no African people really together to build a really African music business in Paris. We are too many African people with too many projects in Paris, and to find a way to promote your own project, you have to work 24 hours to find a connection.
GEORGES: LET'S HEAR A TRACK FROM SERGE ANANOU'S IMPRESSIVE DEBUT ABLUM, BONOU. THIS SONG TALKS ABOUT THE ORIGINS OF HIS CULTURE, THE OLD CULTURE OF DAHOMEY, BUT, AS HE SAYS, IN A DECIDEDLY MODERN WAY.
MUSIC: m13_Serge_Danhomin.m4a "Danhomin" Serge Ananou, Bônou (Serge Ananou, B01MUELY0P) (up to 3:57 then fade to bed)
GEORGES: THAT'S FANTASTIC. SERGE ANANOU FROM BENIN, BY WAY OF PARIS. WE MET ANOTHER NEWCOMER TO THE PARIS AFRICAN MUSIC SCENE ON THE WOMEX TRADE FLOOR.
ACTY: 13_Tita_intro.wav: [French]
GEORGES: TITA NZEBI COMES FROM A SMALL VILLAGE IN GABON, BUT SHE HAS LIVED IN PARIS FOR 20 YEARS.
ACTY: 14_Tita_music.wav: [French]
GEORGES: TITA SAYS SHE COMES FROM THE NZEBI ETHNIC GROUP AND SINGS IN THE NZEBI LANGUAGE. SHE SAYS THAT THE TRADITIONAL MUSIC SHE LEARED FROM HER GRANDMOTHER--IN FACT, GABONESE MUSIC IN GENERAL--IS NOT WELL KNOWN IN PARIS. SO, LIKE SERGE ANANOU, SHE HAS CREATED A FUSION, A SOUND THAT NZEBI PEOPLE CAN RECOGNIZE AS THEIR OWN, AND THAT CAN APPEAL ACROSS CULTURAL AND LANGUAGE BARRIERS. FROM HER DEBUT ALBUM MÉTIANI, HERE'S TITA NZEBI WITH THE SONG "FULANI."
MUSIC: m14_Tita_Fulani.m4a, "Fulani" Tita Nzebi, Métiani (Tita Nzebi, 3 760148 286335) [(start intro under Georges and emerge on vocal at 0:10) [4:13]
GEORGES: TITA NZEBI FROM GABON BY WAY OF PARIS, FROM HER DEBUT ALBUM MÉTIANI. A GREAT NEW DISCOVERY FOR US, AND ONE OF THE REASONS WE KEEP GOING BACK TO WOMEX.
WINDOW/BED: m15_Sinko Moy.m4a, The Turbans Feat. The London Bulgarian Choir, The Turbans (Six Degrees, B0789G9LR8) [first 10 seconds, then to bed]
ACTY: 15_Ben_intro.wav: I am Ben Mandelson. I started in 1994 at the WOMEX as its director, and I am officially the founding director.
GEORGES: WHEN IT COMES TO WOMEX, BEN MANDELSON HAS SEEN IT ALL. EARLIER IN OUR PROGRAM, SERGE ANANOU MENTIONED THE TENDENCY OF AFRICANS IN PARIS TO CONGREGATE WITH THOSE FROM THEIR HOME COUNTRIES. THE IMPULSE TO STICK WITH YOUR OWN KIND IS CLEARLY ON THE RISE WORLDWIDE, AND FOR BEN, IT'S ONE OF THE BIG CHALLENGES WOMEX FACES IN THE 21ST CENTURY.
ACTY: 16_Ben_irony.wav: One of the reasons why it's so tough is that it has an inbuilt irony, just that we are trying to celebrate national cultures in a very beautiful way, and have a pride in what should you feel you have traditionally and what you can create. At the same time you've got the whole idea of national pride as a xenophobic force, and an exclusive force. And the tension between those two feelings about who you are to where you come from, that's a very strong tension, and very hard to resolve. And I think that's the thing we have to discuss and work out. Because I always want to celebrate the specialness and uniqueness of places, regions, cultures, but that can lead you very quickly to an exclusive pride.
GEORGES: BY THE WAY, WE'RE HEARING THE TURBANS, ONE OF THE SHOWCASE BANDS AT THE MOST RECENT WOMEX. THE TURBANS DRAW INFLUENCES FROM AT LEAST SEVEN DIFFERENT COUNTRIES. THEY SAY THEY PLAY MUSIC FROM "MANYWHERE." HERE'S BEN MANDELSON.
ACTY: 17_Ben_worldmusic.wav: [Is world music music from a place that does that, or is it music made by various people in the world together make something that represents a mondophony? You can have this at WOMEX.] People say, "We are part of world music because we are doing a unique thing from a unique place." Another will say, "We are a four-piece band from Peru, Lebanon, Iceland, and Mozambique," and there will be one, I bet you. The point will come where you don't remark on where they're from. The fact that sure from Chile or Sweden may not have anything to do with it, because you are part of an international sonic community. This is the "ask me in 20 years" question.
GEORGES: WELL, BEN, WE WILL ASK YOU IN 20 YEARS. ANOTHER WOMEX VETERAN IS FRENCH BROADCASTER FRANCIS GAY, WHO HAS WORKED FOR YEARS IN GERMANY. FRANCIS SAYS IN THE BEGINNING HE AND OTHER WOMEXICANS--AS THEY CALL THEMSELVES--THOUGHT THEY COULD CHANGE THE WORLD. BUT FRANCIS'S THINKING HAS CHANGED.
ACTY: 18_Francis_Nazis.wav: We cannot change the world. We have to save it. And to save the world, we have to be concrete. We have to be completely dedicated to our job. Because I can tell you, in Germany, the new Nazi community is growing and growing and growing, and they are brutal. So we have to be strong because they are completely dangerous. And this is our fight. We have more responsibility than in the past.
GEORGES: ONE OF THE RESPONSIBILITIES FRANCIS CITES IS THE NEED TO PROMOTE GENDER EQUALITY.
ACTY: 19_Francis_women.wav: Maimouna, she is a presenter in Senegal, and she's very famous, one of the few female presenters in Senegal. And she said, "I am here because I want to fight for the women in the music field." At the WOMEX, maybe 70% of the people running around are men. And on stage, mostly men. And the journalists are very often men. So she's fighting. And I like that. Because everybody is fighting here. Some musicians want to appear very big and to become stars. Bookers want to sell. Labels also want to sell. And there are a lot of people who are making money here, and on the other hand, there are some more topics. Music and politics are very close.
GEORGES: AMEN TO THAT, BECAUSE AS WE SAY AT AFROPOP, MUSIC TELLS THE STORY OF THE WORLD. BEFORE WE GO, ONE MORE STORY. AT WOMEX, WE PICKED UP A COPY OF THE FORTHCOMING ALBUM BY SALIF KEITA. IT'S CALLED UN AUTRE BLANC "ANOTHER WHITE," A REFERENCE TO SALIF'S ALBINISM AND HIS ACTIVISM ON BEHALF OF ALBINOS WORLDWIDE. SALIF SAYS THIS WILL BE HIS LAST ALBUM. WELL, WE HOPE IT'S NOT TRUE, BUT IT DOES HAVE THE FEEL OF A CAREER-CAPPER. ONE HIGHLIGHT IS A COLLABORATION WITH ANGELIQUE KIDJO. HERE'S A SNEAK PREVIEW. THE SONG IS "ITARAFO."
MUSIC: m16_Itarafo.m4a, Salif Keita, Un Autre Blanc (Believe, Naïve, unreleased) [4:45] (could be shortened if needed)
SALIF KEITA AND ANGELIQUE KIDJO FROM SALIF'S FORTHCOMING CD, SAID TO BE HIS LAST, UN AUTRE BLANC, "ANOTHER WHITE." FUNDING FOR AFROPOP WORLDWIDE COMES FROM THE NATIONAL ENDOWMENT FOR THE ARTS, WHICH BELIEVES A GREAT NATION DESERVES GREAT ART, AND PRI PUBLIC RADIO INTERNATIONAL AFFILIATE STATIONS AROUND THE U.S. AND THANK YOU FOR SUPPORTING YOUR PUBLIC RADIO STATION.
THANKS FOR JOINING US ON PART TWO OF OUR COVERAGE OF THE WOMEX WORLD MUSIC EXPO IN LAS PALMAS IN THE CANARY ISLANDS. WE LEAVE YOU WITH A TASTE OF THE FINAL SHOWCASE AT THIS YEAR'S WOMEX. SHOWCASE TIMING IS VERY STRICT. THERE ARE NO ENCORES. BUT FOR THE GARIFUNA COLLECTIVE FROM BELIZE AND HONDURAS, WELL, THEY MADE AN EXCEPTION.
MUSIC: m17_Garifuna_Encore.wav. Garifuna Collective (EBU/Afropop live recording) (use crowd sound under Georges and emerge on "Thank you" at 0:33. Ideally we would have time for the whole track. If not, do an internal edit so that we hear the ending and crowd going into the PRI logo.) [4:48]
GEORGES: THANKS TO ALL THE PARTICIPANTS AT WOMEX AND TO OUR COLLEAGUE JON KERTZER IN SEATTLE FOR THEIR HELP WITH THIS PROGRAM. AND A SPECIAL THANK YOU TO SAM CONNOR FOR HELPING US WRAP UP OUR 3TH ANNIVERSARY CELEBRATION. VISIT AFROPOP.ORG FOR MORE OF OUR WOMEX 2018 COVERAGE. YOU CAN ALSO FIND US ON FACEBOOK AND FOLLOW US ON TWITTER AT "AFROPOPWW." MY AFROPOP PARTNER IS SEAN BARLOW. SEAN PRODUCES OUR PROGRAM FOR WORLD MUSIC PRODUCTIONS. RESEARCH AND PRODUCTION FOR THIS PROGRAM BY BANNING EYRE. AND, BE SURE TO SUBSCRIBE TO OUR PODCAST, INCLUDING RADIO PROGRAMS AND OUR AFROPOP CLOSEUP PODCAST SERIES.
JOIN US NEXT WEEK FOR ANOTHER EDITION OF AFROPOP WORLDWIDE. THIS PROGRAM WAS MIXED AT STUDIO 44 IN BROOKLYN BY MICHAEL JONES. ADDITIONAL ENGINEERING BY MIKE CAPLAN/GREG HARTMAN AND STEPHANIE LEBOW. BANNING EYRE AND CC SMITH EDIT OUR WEBSITE, AFROPOP.ORG. OUR DIRECTOR OF NEW MEDIA IS BEN RICHMOND. AND I'M GEORGES COLLINET.
PROMO TEXT (THIS PROGRAM already done…)
THE WORLD MUSIC EXPO, WOMEX, IS AN EXTRAVAGANZA OF GLOBAL SOUNDS. FOUR DAYS OF CONCERTS, FILMS, CONFERENCES, AND PARTIES! HELLO, I'M GEORGES COLLINET. JOIN ME FOR A WHIRLWIND TOUR OF THE MOST RECENT WOMEX IN THE CANARY ISLANDS, NEXT TIME ON AFROPOP WORLDWIDE FROM PRI PUBLIC RADIO INTERNATIONAL.
PROMO TEXT (NEXT PROGRAM)
DJ CREW ZONA LIBRE TAKE A BREAK FROM PRODUCING PARTIES, LIVE EVENTS AND PODCASTS TO TEAM UP WITH AFROPOP FOR ANOTHER EDITION OF "CUTS FROM THE CRYPT." PRODUCER MORGAN GREENSTREET AND BROOKLYN-BASED PUERTO RICAN DJ RICARDO LUIGGI DIG THROUGH AFROPOP'S VINYL ARCHIVES TO FIND MUSIC THAT DEFIES BOUNDARIES. CUTS FROM THE CRYPT IV: ZONA LIBRE, NEXT TIME ON AFROPOP WORLDWIDE.