May 11-15 | Live Arts and Online
Altered Worlds: Black Utopia and the Age of Acceleration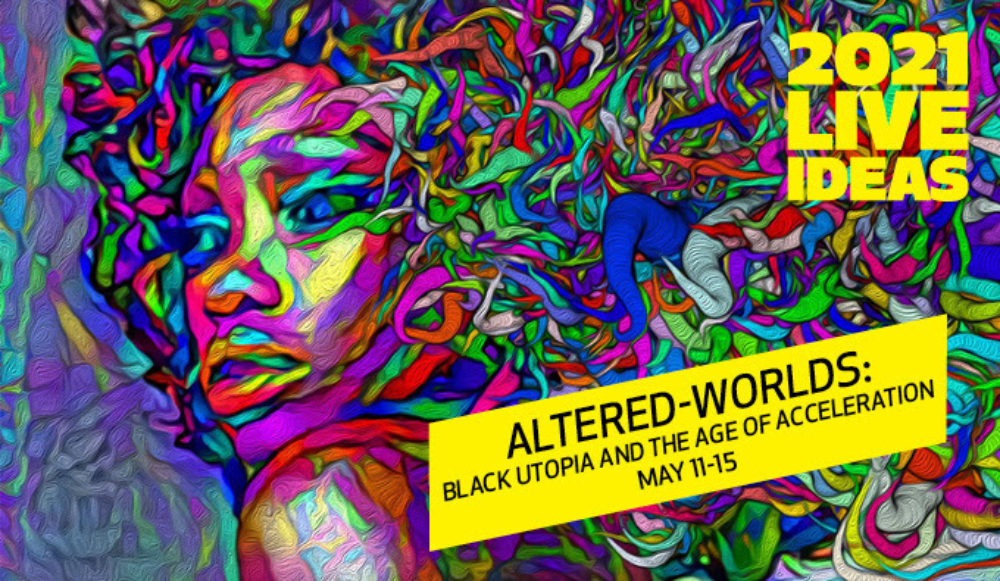 "The past is done, the present is contested, but the future is unwritten. Afrofuturists, Black Speculative designers and thinkers have the ability to locate us in time and space, to create, innovate, catalog, and archive our destinies to reclaim the right to chart the future for ourselves."
- Dr. Reynaldo Anderson, Co-Curator of Live Ideas 2021
A week's worth of live and virtual performances, interactive installations, screenings, a symposium, and more is almost here! Today, we're excited to share with you the dynamic and enticing programming for Live Ideas 2021 this May 11-15.

Live Arts Members get early access to tickets starting today! General public tickets go on sale April 14. If you're interested in becoming a member and snagging limited tickets now, click here and learn more!

The annual interdisciplinary humanities festival Live Ideas is a high point of the Live Arts season, and this year offers both live and virtual activity designed to explore second wave Afrofuturism as the High Culture of the African Diaspora and an alternative to the social anomie, reactionary impulses and neo-fascism of our current era. The hybrid festival will mark a return to limited capacity indoor live performances with ticketed audiences in our theater, as well as feature virtual programming on Live Arts' recently developed dynamic 3D environment INTERSPACE.
Saul Williams Motherboard Suite:
LIVE ARTS:
THURS-FRI, MAY 13-14 @ 7:00PM
TICKETS START AT $45 EACH (SOLD IN SET OF 2)

TIMES SQUARE:
(FATHER DUFFY SQUARE @ 46TH & BROADWAY)
SAT MAY 15 @ 7:00PM
FREE WITH RSVP

ONLINE STREAMING:
MAY 14-15 @ 7PM (ET) TICKETS BELOW

@New York Live Arts Theater
DREXCIYA REDUX: AN AFROFUTURIST CABARET
WED, MAY 12 & THURS-FRI MAY 13-14 @ 8:30PM

@New York Live Arts Studios
TICKETS $20