Saturday, April 6, 2019 8:00 pm - 11:00 pm | North Beach Bandshell, Miami, Fla.
Fatoumata Diawara & Noura Mint Seymali: Afro Roots Music Fest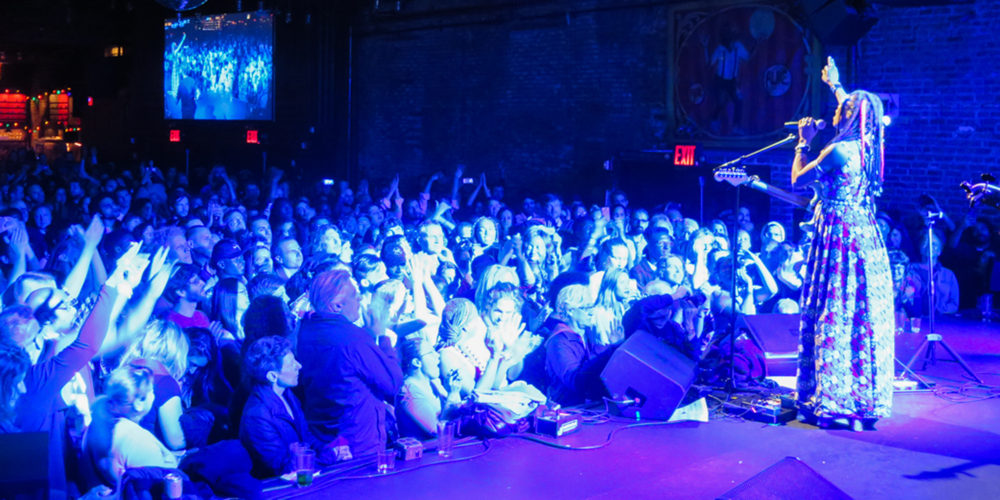 Community Arts & Culture, MDC Live Arts, & Rhythm Foundation Present: Malian singer/guitarist Fatoumata Diawara and Mauritanian Griot Noura Mint Seymali at the 21st Afro Roots Music Festival on April 6, 2019 at the North Beach Bandshell. Buy tickets here.
Hailed as one of the most vital standard-bearers of modern African music, Diawara takes her artistry to fresh and thrilling heights on her new album FENFO. Boldly experimental yet respectful of her roots, it's a record that defines her as the voice of young African womanhood – proud of her heritage but with a vision that looks confidently to the future and a message that is universal. Her spectacular 2011 debut album Fatou made the Malian singer and guitarist the most talked about new African artist on the planet. FENFO (which translates as "something to Say"') dramatically fulfils that promise on a set of vivid and original new compositions that draw on the rich experiences she has enjoyed since. Those she has worked with include some of the biggest names in contemporary music. She recorded with Bobby Womack and Herbie Hancock; played Glastonbury and other major festivals; and toured with the Cuban pianist Roberto Fonseca. She assembled a West African super-group featuring Amadou and Mariam, Oumou Sangaré and Toumani Diabaté to record a song calling for peace in her troubled homeland; and climbed aboard Damon Albarn's star-studded Africa Express, which culminated in her sharing a stage with Sir Paul McCartney.
Mauritania's Noura Mint Seymali draws deep on her West African and Maghreb roots to propel her family's rich griot tradition into the 21st century. Her band conjures "a full-blown sandstorm of hypnotic grooves, melding traditional Mauritanian instruments, like the ardine and tidinite, within an electrified psychedelic rock band (Quietus, U.K.)." Her debut album Tzenni was hailed by VICE/Noisey as "arguably the best psych/blues album of the year" and its follow-up—Arbina—"the best album in the universe."
Afro Roots Music Fest is co-presented with Community Arts & Culture and MDC Live Arts, and is made possible with the support of the City of Miami Beach Cultural Arts Council, Miami-Dade County Department of Cultural Affairs, the Florida Department of Cultural Affairs, the Knight Foundation, the Doris Duke Foundation, and the National Endowment for the Arts.
$28 advance | $35 door