Saturday, October 13, 9 pm doors til late | Nublu 151 Avenue C. New York, NY, 10009
FELABRATION 2018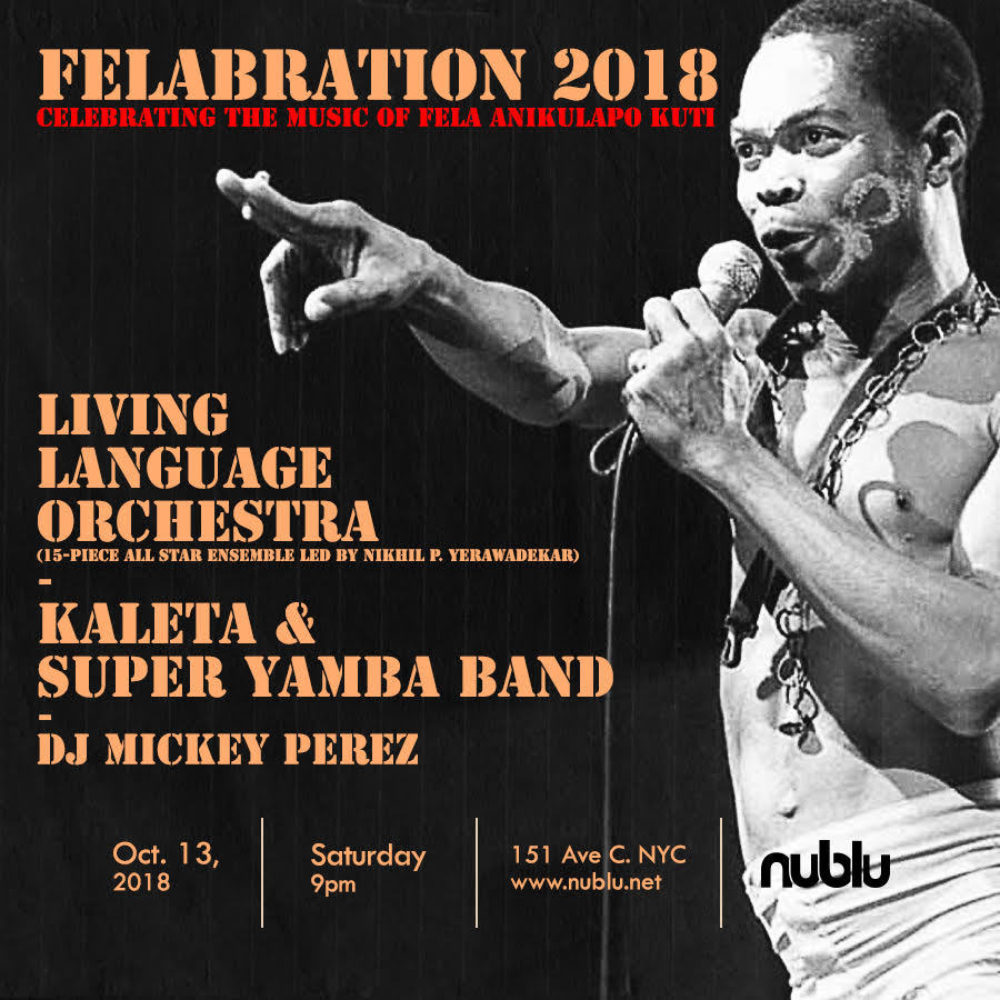 For the past two Octobers, Nublu 151 has been host to New York City's most vibrant and authentic Fela Kuti birthday celebration. This year's official Felabration party will once again take place at Nublu 151 on Saturday, October 13th, and it promises to keep audiences rocking the dancefloor into the late night hours.
Headlining the night is the Living Language Orchestra, an all star group of musicians led by Nikhil P. Yerawadekar, featuring a roster of the most prominent singers from the Afrobeat community, and representing groups like Antibalas, Chop & Quench/Fela! On Broadway, Underground System and Akoya Afrobeat. The 15-piece ensemble is dedicated to performing only the deepest cuts from the Fela Kuti catalog, to keep the Afrobeat style fresh in the public consciousness.
Kaleta & Super Yamba Band will be the opening performers for the night. Lead vocalist Kaleta's experience as a guitarist in Fela's Egypt 80 band blends with his Benin heritage in this unique, funky and original project. DJ Mickey Perez will bless the dancefloor throughout the night with his wealth of worldwide musical knowledge and his time spent DJing at hotspots such as Bembe and Black Flamingo.
Twenty-one years after his passing, and seven years after the Fela! On Broadway musical closed at the Eugene O'Neill Theatre, the impact of Fela Kuti's musical and cultural contributions remain significant to countless artists. The official Felabration party at Nublu 151 is one of the best ways for New York Afrobeat fans and newbies alike to connect with the master's music and dance the night away.