Sep 21, 2019 | Doors 7:00 pm | SOB's 204 Varick Street, New York, NY 10014
Ferro Gaita at SOB's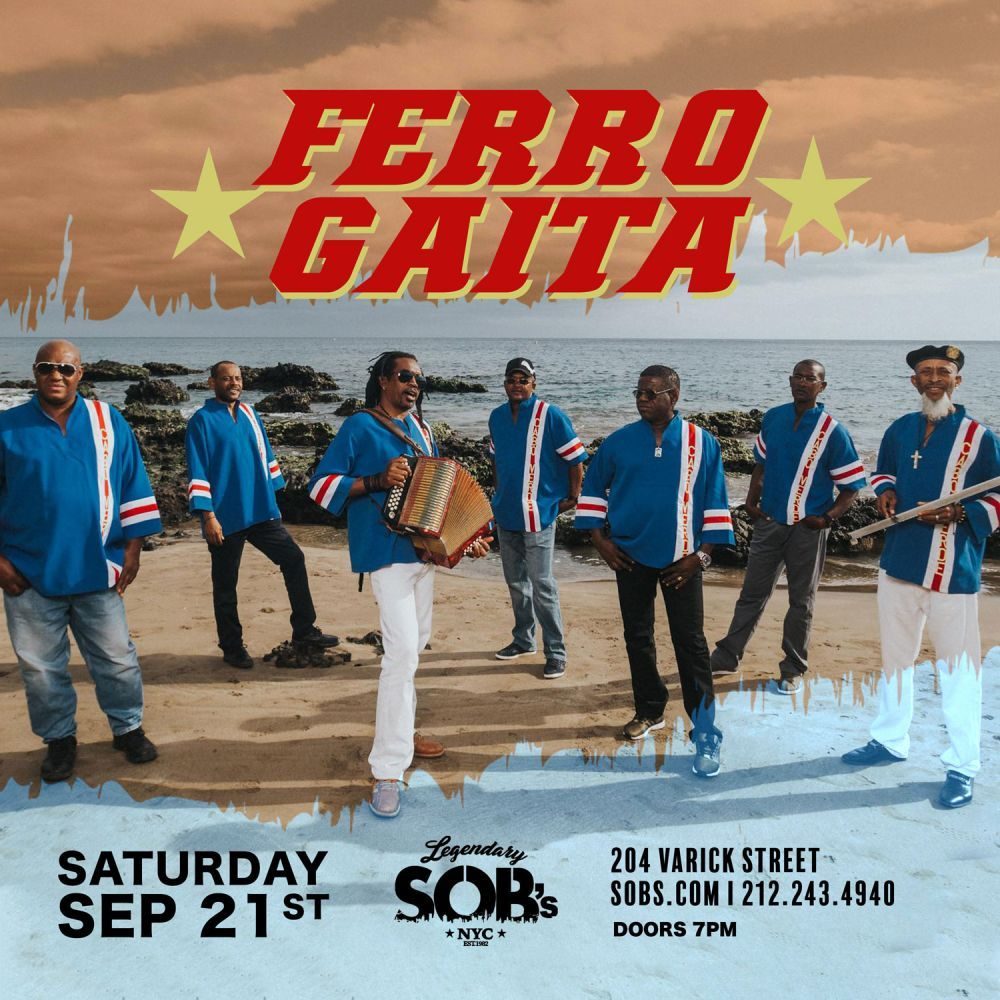 THE NAME "FERRO GAITA" COMES FROM THE COMBINATION OF TWO INSTRUMENTS, THE FERRO (PIECE OF IRON PLAYED
WITH A KNIFE) AND THE GAITA (KIND OF ACCORDEON), USED TO PLAY THE FUNANÁ, STYLE OF TRADITIONAL MUSIC MORE
PLAYED BY THIS BAND.
THIS STYLE STARTED IN THE 19 TH CENTURY WITH THE ARRIVAL OF THE ACCORDION IN CAPE VERDE, BY THE PORTUGUESE
PRIESTS, FOR THE CHURCHES, BUT THIS INSTRUMENT WAS TAKEN OVER BY THE BLACK AND MULATO SLAVES, THAT USED
HIM TO SING THEIR SOUL AND THEIR PROBLEMS, MOTIVES THAT LED IT TO BE FORBIDDEN IN PUBLIC PLACES UNTIL THE
INDEPENDENCE IN 1975.
IN JULY 1996, THREE YOUNG MUSICIANS STARTED THE BAND THAT WITH THE FERRO, GAITA, DRUMS, AND BASS, CAUSING A
REVOLUTION ON THE CAPEVERDEAN MUSICAL SCENE, REVIVING THE TRADITIONAL MUSIC FROM SANTIAGO ISLAND.
IN JUNE 1997, THE BAND RECORDED IN ROTTERDAM – HOLLAND, THE FIRST CD CALLED "FUNDU BAXU", WITH TRADITIONAL
MUSIC SUCH AS FUNANÁ AND BATUKO, THAT WAS THE MOST SOLD CD IN CAPE VERDE IN THAT YEAR, RECORDING TWO
YEARS LATER IN 1999 THE SECOND CD CALLED "REI DI TABANKA" THAT HAD THE ADDITION OF TABANKA TO THE OTHER
STYLES AND WAS ALSO A BIG SUCCESS.