Wed. Sept. 11, 10 PM | DROM | 85 Avenue A | New York, NY 10009
HabanaN'NewYork & ArtBC Presentan: Descarga Cubana! (Cara A- New York)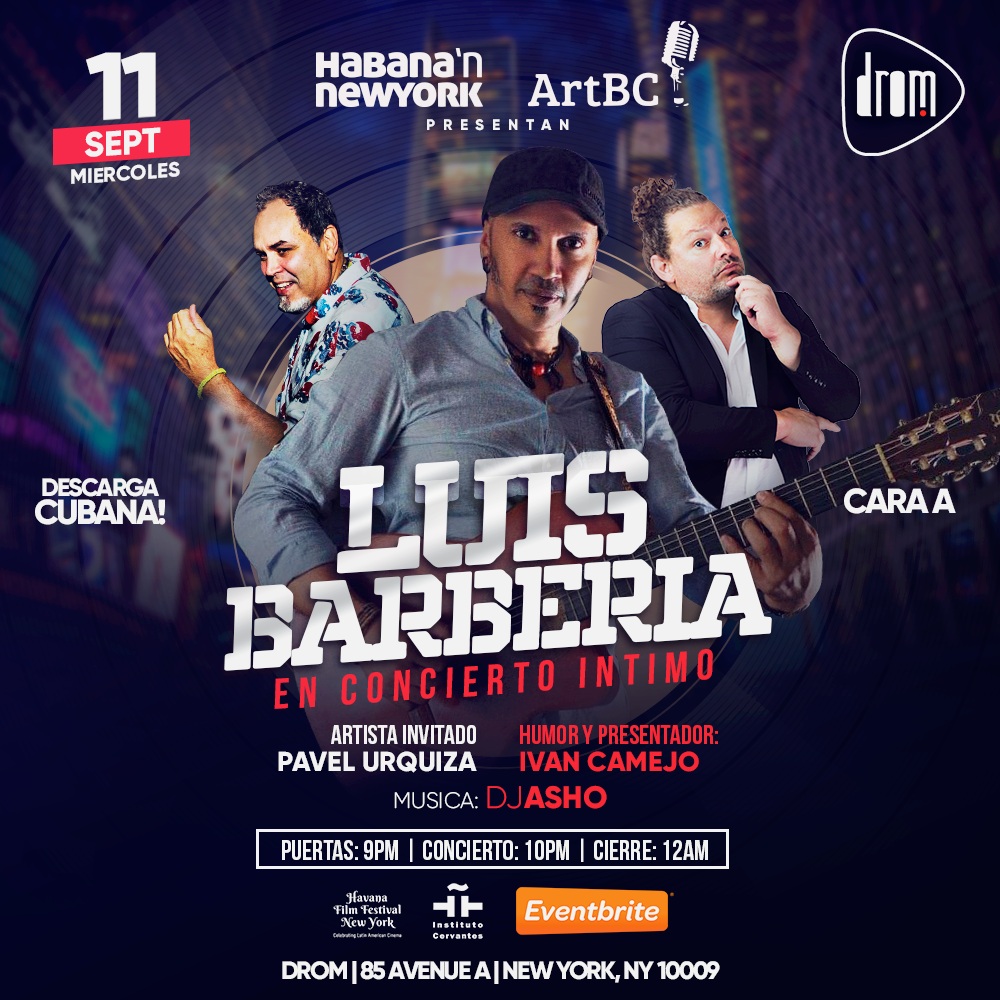 Come and join us for a night of absolutely Cubaness. An Intime and unplugged concert of authentic Cuban Trova (Folk) Music. Enjoy the soulful voice of Luis Barbería (From Habana Abierta), the poetry and melodies of Pavel Urkiza (from Gema y Pavel duo) and the stand-up comedy of Ivan Camejo. DJ Asho will take you on a journey through the sounds and vibes of the Cuban Music of the 90's. A unique night to remember and not to be missed.
Luis Alberto Barbería is preceded by his membership in the band Habana Abierta, his experiences living and working in Spain for 20 years, his musical experience as a guitarist, composer, arranger, and music producer and above all the conviction that the most important thing is not fame. The resonance of his voice and guitar work is based on Afro-Cuban rhythms in a very unusual way. His melodies are lyrical with great jazz influences. His poetry, colloquially uninhibited due to its exquisite Cubanness. He has also worked with Ketama on several of his recordings and tours.
For Pavel Urkiza music in general and the Spanish guitar in particular, came in his DNA as an inheritance of his paternal grandfather who was a well-known composer and singer in his time. Pavel began to play the guitar and to compose in his adolescence, especially in youth and university groups until, in 1990, the duo "Gema y Pavel" was formed that changed his musical life forever. He has composed music for theater and cinema, standing out in the composition of the soundtrack of the Hispano-Cuban production "Las Noches de Constantinopla", directed by Orlando Rojas. Internationally recognized, he is an artist of prolific creativity and deep connection with the world's musical cultures.
Iván Camejo has worked for several years in Miami television as a screenwriter and actor and has also done several shows in theater and different nightclubs. He has worked in several countries throughout his career. This time we arrive in New York and Washington with the latest of its creation, in a show that promises to be the most fun of the moment. Ariel Fernández Díaz (DJ Asho) Cultural promoter, historian, journalist, disc jockey and event producer currently based in the city of Miami. He has stood out as a defender and promoter of alternative socio-cultural movements in Cuba, mainly in Cuban Hip-Hop, of which he was founder and director of the magazine Movimiento. He has been working for more than twenty years in the promotion of Cuban music in different facets including the production of events and festivals, magazines, record compilations, as well as documenting and lecturing at several prestigious international universities.