Tue, April 23, 2019 8:00 PM – 11:30 PM EDT | DROM 85 Avenue A New York, NY 10009
HabanaN'NewYork & CET present: Cimafunk en Concierto en NYC!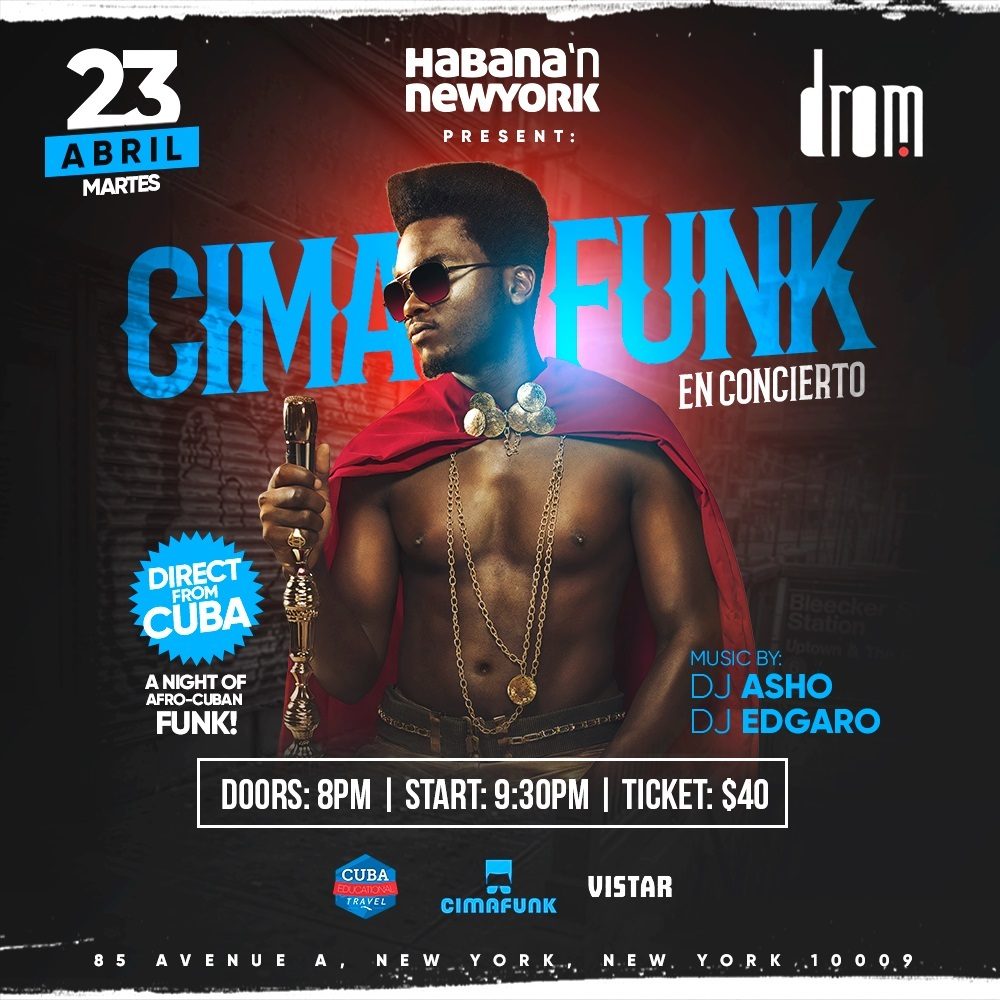 Direct from Cuba! For the first time in New York City!
HabanaEnNewYork & CET Presents Cimafunk en Concierto!
Music by DJ Asho y DJ Edgaro Doors Open: 8 PM Performance Start 9.30 PM Night Ends: At Midnight Advance Tickets: $25 in Advance (plus fees) $40 at the Door DROM | 85 Avenue A | New York, NY 10009
Cimafunk is a cimarrón*, a free being defying classification, a pilgrim in search of new musical miscegenation and the reunion of black music. He believes in nothing but the power of the Groove and the cathartic communion of dancing bodies. A renaissance man, conscious of his roots and musical ancestry, Cimafunk's music looks firmly into the future.
Singer, composer and producer, Cimafunk offers a subtle and bold mix of funk with Cuban music and African rhythms, a life-affirming sound, a UFO in the island's music scene.
His debut album "Terapia" (Independent Production, 2017) and especially his electric live shows are inexorably conquering a multitude of audiences from Havana to Paris. He broke attendance records in iconic venues such as the Fabrica de Arte Cubano, El Sauce, and La Tropical.
* Fugitive slaves who settled in the wild to lead a free life in Cuba. ***
Awards
2018 Cuerda Viva Award, category 'New Artist'.
Album "Terapia" (2017) nominated for the 2018 Cubadisco Awards, category "Best Fusion Album".
Videoclip of "Me Voy", nominated for the2018 Lucas Awards, the category "Most PopularVideo", "Fusion", "Opera Prima", "New Artist".
Artist of the year 2018, Vistar Magazine.
Winner of the "Primera Base" Contest organized by the Havana World Music Festival.
Short-listed for the Afro Pepites Show 2018 by the African Dream (France).
"The future."Fito Páez
"One of the artists with the most promising future in Cuban music."Radio Gladys Palmera