Saturday, June 19, 2021 at 7:00 pm | The Restart Stage at Damrosch Park and The Isabel and Peter Malkin Stage at Hearst Plaza
I Dream a Dream That Dreams Back at Me: A Juneteenth Celebration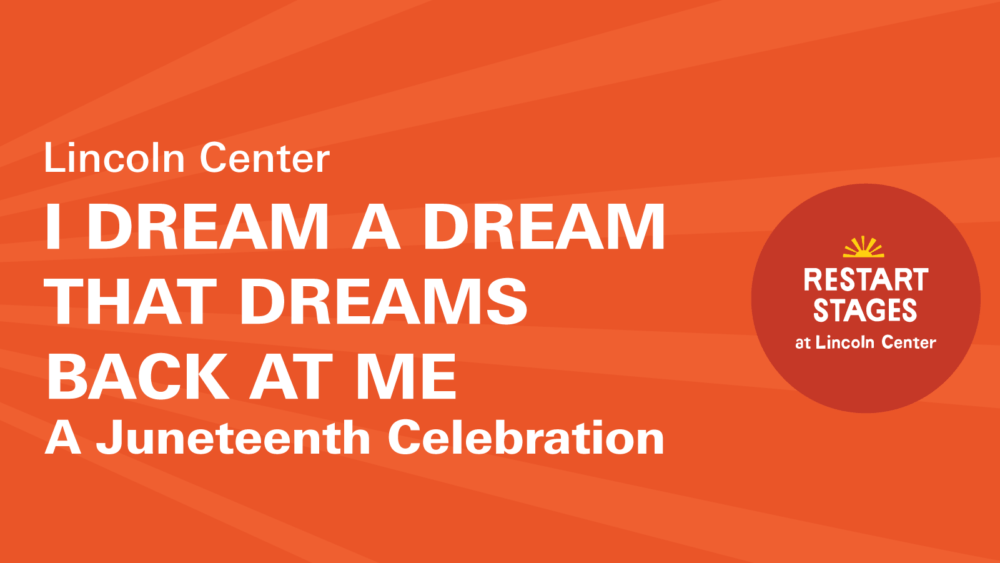 More details on how to enter the ticket lottery here.
Curated by Carl Hancock Rux
Featuring Nona Hendryx, Vernon Reid,
Helga Davis and Toshi Reagon & BIGLovely
Original Lyrics by Lynn Nottage

Conceived and curated by the award-winning poet and artist Carl Hancock Rux, I Dream a Dream That Dreams Back at Me is an experiential site-specific event celebrating the Juneteenth emancipation holiday, unfolding in multiple distinct parts, across the Lincoln Center campus. The evening begins at Hearst Plaza with a musical introduction featuring vocalists Nona Hendryx, Marcelle Lashley and Kimberly Nichole performing original music by Vernon Reid and Nona Hendryx, with lyrics by Lynn Nottage. The performers wear paper dress creations crafted by designer Dianne Smith while standing in the Paul Milstein Pool, symbolizing the river journey taken by abolitionist Harriet Tubman while leading enslaved Americans to freedom.
The event continues with a musical recitation of a deconstructed National Anthem, remixing the works of Francis Scott Key and James Weldon Johnson, sung from on high by the multidisciplinary artist and vocalist Helga Davis. The evening culminates with a full-length performance by the acclaimed rock and roots musician Toshi Reagon with her band BIGLovely, who will be joined onstage at Damrosch Park by Hendryx, Reid, Lashley, Nichole and Davis. The size, scope and impressive talent inherent in this celebration of Black excellence emphasizes America's ongoing struggle for greater equity. As Rux points out in his program notes for I Dream, "we must realize that we all need to be emancipated before we can collectively get to The Other Side."