6PM-7:30 | 376 9th St Brooklyn NY 11215 Corner of 6th ave. 7th Ave stop on the F/G 4th Ave stop on the R
Kaethe Hostetter November Residency at Barbes
Having lived in Ethiopia studying and performing local music, violinist and composer Kaethe Hostetter has deeply absorbed the sensibilities of this uniquely musical country. In addition to being a captivating performer, she's a whiz with a looping pedal! And there will be a series of collaborations in these shows.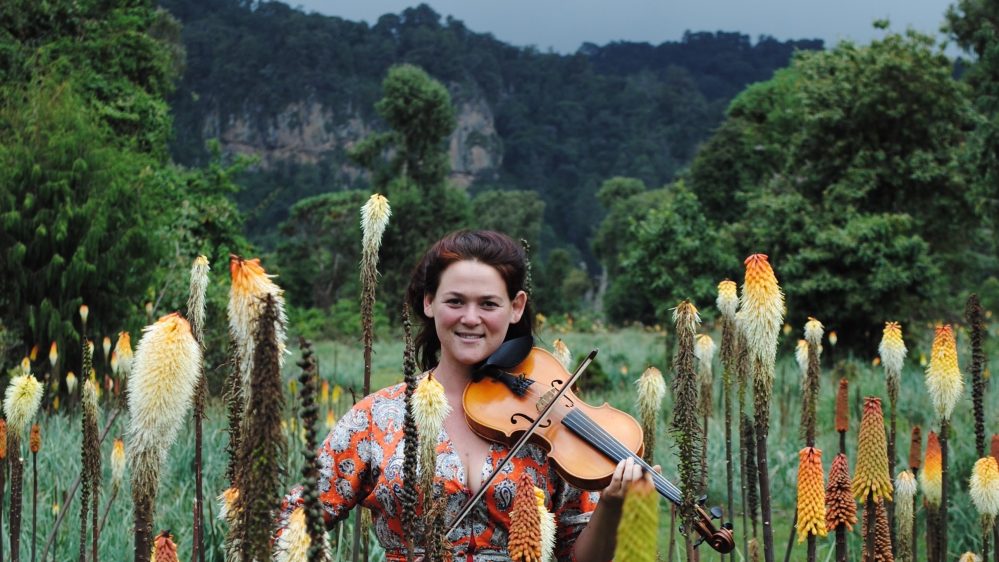 American violinist and composer Kaethe Hostetter celebrates her recent relocation to NYC with a monthlong residency at Brooklyn's legendary listening room Barbès. Each Saturday in November Kaethe will dig deep into her experiences living and making music in Ethiopia, transporting audiences the bustling streets of Addis Ababa. Kaethe will perform both as a solo artist and with a rotating series of guests and collaborators, including Thalia Zadek, Monk Earl, and Lioness. All performances at 6 PM, full lineup below, for tickets, please consult Barbès website: https://www.barbesbrooklyn.com/

November 4th:
Kaethe Hostetter's Impressions of Ethiopia for solo violin and electronics
This is a collection of musical vignettes by American violinist and composer Kaethe Hostetter. Sourcing from her 11 years living in Addis Ababa, she transports you to the bustling streets of the East African metropolis, evoking the crackling sounds of a saxophone blaring out of a barbershop radio, a shephard's flute melody turned dub reggae, the fervent dancing on packed dirt floors of a rural honey-wine bar, amd the funky big band psychedelic sounds of Ethiopia's "Golden Era".
November 11th:
Kaethe Hostetter's Impressions of Ethiopia, with Special Guest Thalia Zedek

American violinist Kaethe Hostetter presents her Impressions of Ethiopia for violin and electronics, with special guest Thalia Zedek (Come, Live Skull, Uzi), who joins Kaethe in a new project in which liberties are taken on music written by American composer and author Paul Bowles (The Sheltering Sky, The Delicate Prey); rearranged for violin and electronics, and punctuated by Thalia's distinct voice and delivery.
November 18th:

Kaethe Hostetter & Monk Earl

This experimental collaboration of Kaethe Hostetter (violin & electronics) and Monk Earl (spoken word & rap) is a result of a friendship developed over the pandemic, as both artists found themselves in the Santa Cruz Mountains. Their conversations over many months eventually drifted into the musical realm, which they developed at an artist residency at Indexical in Santa Cruz. Monk Earl's theatrical delivery of spoken word and rap mixed with Kaethe Hostetter's violin drenched in pedals is at times serious and heavy, at times joyful and playful. And, for continuity of Kaethe's Saturday residency, she also presents some new selections from her Impressions of Ethiopia for violin & electronics-- more Golden hits!
November 25th:

Kaethe Hostetter's Impressions of Ethiopia & Lioness

Lioness is the new trio of Kaethe Hostetter, Samson Kebede (Arki Sound), and Django Carranza (Fully Celebrated Orchestra), for deconstructed Ethiopian traditional and "Golden Era" Ethiopiques tunes-- using electronics, soaring delay, twisty scales, tricky riffs upon cyclical patterns, familiar Ethiopian melodies pushed into distant primal realms.

About Kaethe Hostetter:

Kaethe Hostetter is an American violinist, composer, and bandleader, who's been deeply invested in exploring, preserving, and expanding Ethiopian traditional sounds for over 15 years. A founding member of critically-acclaimed Debo Band. Kaethe lived in Ethiopia's capital, Addis Ababa, for eleven years, immersing herself in the country's deep musical culture. There she founded a music school and started a new band, QWANQWA; which brought together some of the most accomplished players in Addis Ababa's music scene. QWANQWA has recorded 3 albums and made several international tours, including their 50+ date U.S. debut tour in 2022. During the COVID lockdown, she relocated to her hometown of Santa Cruz, CA, to quarantine with her family. While there Kaethe released QWANAQA's third album, and recorded a solo album of Ethiopian-inspired violin compositions, as well as two other albums in collaboration with other artists. As as solo artist she has performed with Fred Frith, Butch Morris, Ava Mendoza, Henry Kaiser, Thalia Zadek, Teddy Afro, and many more.