Sat, June 15, 2019 8:00 PM – 10:30 PM EDT | C'mon Everybody 325 Franklin Avenue Brooklyn, NY 11238
Kaleta & Super Yamba Band with KUYE and DJ tres dos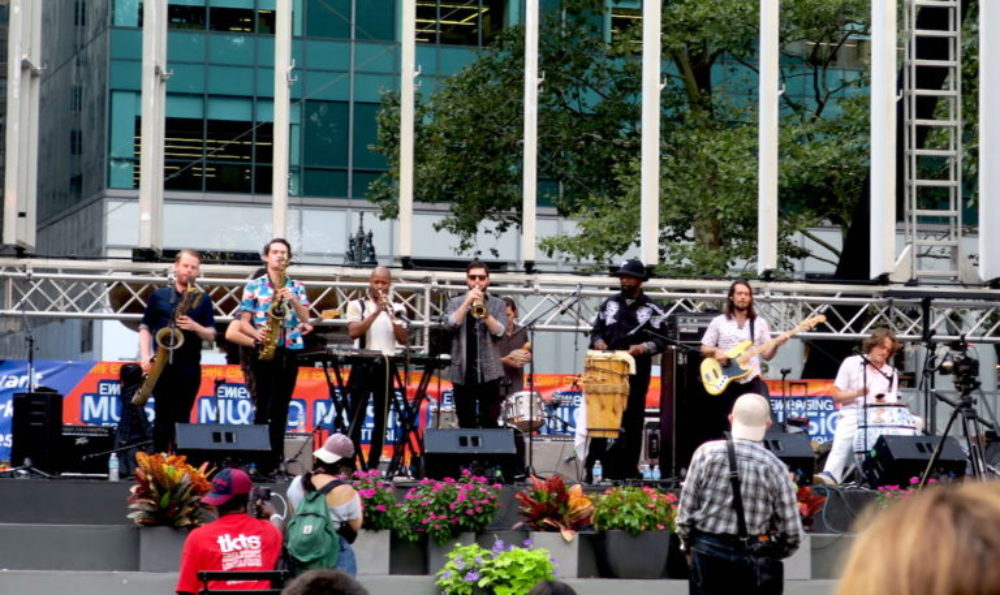 With an iconic, forceful grunt, Leon Ligan-Majek, the veteran afrobeat vocalist and composer better known as KALETA, cues a hard hitting horn section on his debut single for Ubiquity Records titled "Mr. Diva," immediately claiming Brooklyn's Super Yamba Band as his own. Kaleta—a native of Benin Republic whose guitar chops earned him decades of recording and international touring with Fela Kuti's Egypt 80, King Sunny Ade's African Beats and more recently Lauryn Hill—has found the perfect match in his explosive Super Yamba Band. "Mr. Diva," which comes out digitally June 7th on CA based indie label Ubiquity Records, draws on the group's shared reverence for the raw, psychedelic afrofunk sound that captivated Kaleta as a music loving kid in 1970s Benin. Driven by a powerful horn section bouncing on top of a vamping, retro organ, "Mr. Diva" is a heavy dance anthem that packs a powerful message. Singing in the Beninese dialect, Goun, Kaleta decries the state of today's ego-driven, selfie-centric society. But with cutting guitars, an irresistibly groovy talking drum, and a rhythm section locked into a heavy Benin-style groove, "Mr. Diva" transports you to the kind of sweaty Brooklyn dance parties that Super Yamba built its reputation on.
Since taking the helm of Super Yamba in late 2017, Kaleta and his band have erupted onto the stages and video screens of major music festivals, rock clubs, and music publications across the east coast. They prompted Action Bronson to stop his own show on VICELAND TV just so he could hear more Yamba. They performed at the historic Apollo Theatre in Harlem for the 2019 Africa Now! Festival, rocked Paste Magazine's Manhattan studio and its Emerging Music Festival, and the World Music Institute invited them to perform twice at Brooklyn Bowl, once for its Masters of African Music Series and later for its Festival of Mali. Afropop Worldwide fell in love with Kaleta, saying "his James Brown grunts have got to be some of the best in the business!"
The release of "Mr. Diva" lands amidst a busy touring season for the band with performances at FloydFest, Logan Square Arts Festival, Levitt AMP Music Series and plenty of U.S. club dates. At this pace, there's no stopping Kaleta & Super Yamba Band, and "Mr. Diva" is only a taste of what's to come when Ubiquity Records releases the full LP in September 2019.
"Mr. Diva" was recorded live to tape at Hive Mind Recording in Brooklyn, NY, and was produced by Vince Chiarito (Charles Bradley and his Extraordinaires, Ikebe Shakedown). The song also features bandleader Daniel Yount on drumset with Evan Frierson (percussion), Sean Smith (trumpet and keys), Walter Fancourt (tenor saxophone), Carter Yasutake (trumpet) Eric Burns (guitar), and Vince Chiarito (bass).
Kaleta & Super Yamba celebrate the release of Mr. Diva on Ubiquity Records with a hometown party in Brooklyn at C'mon Everybody (325 Franklin Ave.) on Saturday June 15th. They will be joined by KUYE (a new project from Juan Ospina of MAKU Soundsystem) and DJ Tres Dos.
Album release party tickets are available here on Eventbrite.
Kaleta & Super Yamba Band Summer Tour Dates 2019:

6/7: Pittsburgh, PA - Brillobox
6/8: Lewisburgh, WV - Private Event
6/9: Thomas, WV - Purple Fiddle
6/11: Chicago, IL - Martyrs'
6/12: Chicago, IL - Old Town School of Folk
6/15: Brooklyn, NY - C'mon Everybody
6/28: Chicago, IL - Logan Square Arts Fest
6/29: Chicago, IL - Logan Square Arts Fest
6/30: Madison, WI - High Noon Saloon
7/2: Green Bay, WI - Levitt AMP Series
7/24: Winchester, VA - Sweet NOLA's
7/25: Floyd, VA - FloydFest
7/26: Floyd, VA - FloydFest
7/27: Raleigh, NC - The Pour House
7/30: Charleston, SC - Charleston Pour House
7/31: Asheville, NC - Mothlight
8/1: Atlanta, GA - Aisle 5
8/2: Ocala, FL - Levitt AMP Series
8/3: Jacksonville, FL - Justice Pub
8/8: New Haven, CT - State House
8/9: Brattleboro, VT - Stone Church
8/10: Portland, ME - SPACE
8/11: Boston, MA - Middle East
8/12: Utica, NY - Levitt AMP Series

Tickets and more info can be found at https://www.superyambaband.com/