Sun, September 20, 2020 8:00 PM – 11:00 PM EDT | Online
New Doc "Silvio Rodriguez: Mi primera tarea" with a host of song tributes to Silvio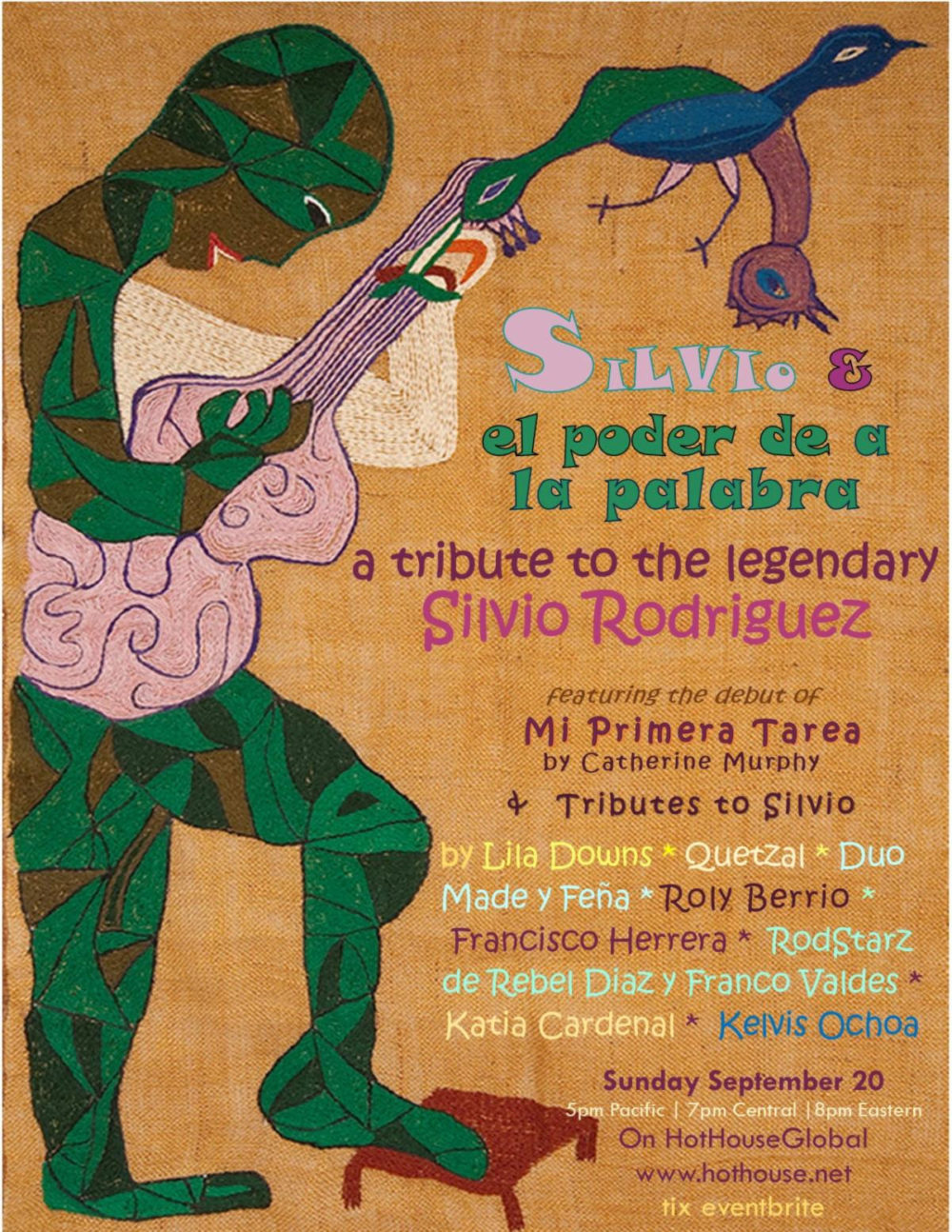 HotHouseGlobal presents the online debut screening of new doc "Silvio Rodriguez: Mi primera tarea" with a host of song tributes to Silvio
The program will broadcast LIVE on HotHouseGlobal's online streaming platform and presented free of charge. The event will take place on Sunday September 20
5pm Pacific | 7pm Central |8pm Eastern
The Program will be exclusively broadcast via the Twitch.tv/HotHouseGlobal channel and simulcast on
• HotHouseGlobal on You Tube
• Facebook https://www.facebook.com/hotho...
And on the HotHouse web site www.hothouse.net/HotHouseGloba...
HotHouseGlobal, with event producers Bill Martinez and Catherine Murphy present the online debut screening of Catherine Murphy's short film "Silvio Rodriguez: Mi primera tarea". Following the film a host of legendary "nueva trova" artists will pay tribute to "Silvio" by performing a selection of his songs. The event will be exclusively streamed via the internet to viewers worldwide via the HotHouseGlobal channel on Twitch.tv
Silvio Rodríguez known throughout Latin America simply as "Silvio" is a Cuban musician, and leader of the nueva trova/nueva cancion (new song) movement that arose in the 1970's.
He is widely considered Cuba's most revered folk singer and arguably one of Latin America's greatest singer-songwriters. Known for his intellectual, highly eloquent and symbolic lyrics, his songs are iconic elements of Latin American left-leaning intellectual culture. Many of his songs have become classics in Latin American music, songs such as "Ojalá", "Playa Girón", "Unicornio", "Sueño con Serpientes", "Vamos a andar," and "La maza". Among his other well-known songs are political anthems like "Fusil contra fusil" and "Canción del Elegido", and poetic melodies like "A donde van" and "Noche sin fin y mar". He has released over 20 albums.
The event "Silvio & el poder de a la palabra" will feature performances by a dozen notable artists who have come together in this exclusive and special tribute to "sing for Silvio". The artists appearing are: Lila Downs, Quetzal, Duo Made y Feña, Roly Berrio, Francisco Herrera, Rebel Diaz, Katia Cardenal, and Kelvis Ochoa
The finale of the broadcast will be a screening of the video "Vamos Y Andar", a Silvio classic sung by multiple Cuban greats.
This unprecedented gathering of musicians influenced by and paying homage to "Silvio" marks this special event to be of consequence world- wide.
Co-presenters around the world will also create Watch parties on Facebook to expand the reach and audience for this legendary event. The archival version will be available on HotHouseGlobal's You Tube channel after the live stream two-day event is concluded. The program will be presented for free without pay walls and all labor related to the program has been donated.
ABOUT THE ARTISTS
DUO MADE Y FEÑA
MADELEINE ZAYAS AND FERNANDO FEÑA TORRES. WITH SPECIAL GUEST CRAIG THOMAS.
FERNANDO TORRES
Originally from Chile, Fernando "Feña" Torres is a musician, composer, poet, and journalist. He masters several Latin American folk string and wind musical instruments. He started to perform publicly at the zenith of what was later known as the Chilean New Song Movement. After being expelled from Chile by the military dictatorship in 1977, Mr. Torres came to the US as a political refugee. He was a founding member of one of the first South American music ensembles in the Bay Area, Grupo Raiz. Torres has composed music for theater and film and collaborated with many Bay Area and international musicians such as Pete Seeger and Holly Near.
MADELEINE ZAYAS
Born and raised in Puerto Rico, Madeleine Zayas is a Latin American singer/interpreter and songwriter based in Oakland. She is the lead singer and artistic muse of the bands with whom she has been performing throughout the Bay Area since 2012. Her singing career began as a duo with Brandon Vance and as co-founder of Buena Trova Social Club. Dancing was her first love, which she began at an early age. She became a choreographer at age 10 and a professional dancer at age 15. She has performed in theaters and television in Puerto Rico, California and Nevada since 1985. She believes in art and cultural activism as a positive force of communication and a tool for social change.
CRAIG THOMAS
Craig Thomas started playing guitar in the 60s. He's played folk songs in archetypical 60s smoke-filled coffee houses and 70s West Coast scenes. In the 80s and 90s he joined in debates on both sides of the question, "Is jazz a folkloric musical form?". In the 90s he started learning to play music from latitudes to the south, from the Caribbean to South America, including folkloric music, popular music, and latin jazz. A life long respect for songs of struggle has connected him with Madelina y los Carpinteros, with whom he plays string bass and Puerto Rican cuatro.
QUETZAL
The band was founded by Quetzal Flores, with the intention of pushing the boundaries of Chicano music and is currently one of Los Angeles' most important and successful groups. They play a mix of Mexican and Afro-Cuban rhythms, jazz, rhythm and blues, and rock music, supercharged by the dynamic vocals of lead singer and composer Martha Gonzalez. Their commitment to using art as a tool for social change is informed and inspired by global grassroots movements. They have also been instrumental in developing Fandango Sin Fronteras, a dialog between Chicanos and Chicanas from California and Jarocho and Jarocha (musicians from Veracruz, Mexico).
FRANCISCO HERRERA
Theologian, Cultural Worker, Singer-Songwriter, Francisco Herrera has produced 7 albums (includes 2 children's music in Spanish), writes scores for film and theater, working with producers like the late great Saul Landau. He has shared the stage with the Jon Fromer, Pete Seeger, Emma's Revolution at mass actions as School of America's Watch (up to 22,000 people), and the Battle for Seattle, with over 250,000 people shutting down the WTO in 1999 and massive demonstrations across the country
KATIA CARDENAL
Katia Cardenal is a Nicaraguan singer, songwriter, and part of the nueva trova movement. Katia and her brother Salvador Cardenal formed Duo Guardabarranco, known for the songs "Guerrero del amor", "Guardabosques", "Casa Abierta". and "Colibri". Voice: Katia Cardenal, Guitar: Nina Cardenal
REBEL DIAZ
Rebel Diaz is a political hip hop duo out of the Bronx, New York and Chicago, IL consisting of the Chilean brothers Rodrigo Venegas (known as RodStarz) and Gonzalo Venegas (known as G1). Rebel Diaz uses their music as an organizing tool and to spread knowledge about injustice
KELVIS OCHOA
Kelvis Ochoa is a Cuban author-composer-singer. He is famous worldwide for having co-composed the original soundtrack from the movie Habana Blues, which won several prizes including the "Premio de la Musica" for the best movie soundtrack". He is also part of the Cuban band Habana Abierta. Kelvis also started a solo career, and later with Descemer Bueno, another Cuban musician, who also produced his work, they co-wrote the album "Amor y Música", released in 2009 on Cuba's EGREM label. In 2013/14 Swiss film maker, Beat Borter made a documentary: "Yo sé de un lugar - Música y vida de Kelvis Ochoa" (I Know of a Place - Kelvis Ochoa living his music).
LILA DOWNS
Lila Downs is a Mexican singer-songwriter and actress. She performs her own compositions and the works of others in multiple genres, as well as tapping into Mexican traditional and popular music. She also incorporates indigenous Mexican influences and has recorded songs in many indigenous languages such as Mixtec, Zapotec, Mayan, Nahuatl and Purépecha. Born and raised in Oaxaca, she primarily studied at the Institute of Arts by Oaxaca and briefly attended University of Minnesota, before withdrawing to focus on her musical career. She soon began performing in the traditional music scene of Oaxaca City.
ROLY BERRIO
Born into a poor but educated, cultured family, and during a period of intense intellectual activity in Cuba´s third city, Santa Clara, Berrío´s first love was acting. He was expected to study theatre was turned down and then chose music and, during the hardest years of the Special Period (1991–94, with the fall of the Soviet Union), he worked intensively on his own songs and began to develop what was to become a singular voice in the world of Cuban Trova. In Santa Clara, that he found a cultural home in Ramón Silverio´s famous community arts centre, El Mejunje. During this period, he co–founded the very successful and prize–winning trio En Série. Together they performed all over the island, recorded an album (Unicornio label), and toured in Guatemala, Mexico, Colombia and Spain. Finally, in 2003, after 12 inspired years together, two of the group left for Europe and Berrío, staying, decided to go solo.