Thurs, Oct. 4, 2018, 6 pm | Brooklyn Bowl 61 WYTHE AVENUE BROOKLYN, NY, 11249
OMAR SOULEYMAN Innov Gnawa, dj.habibi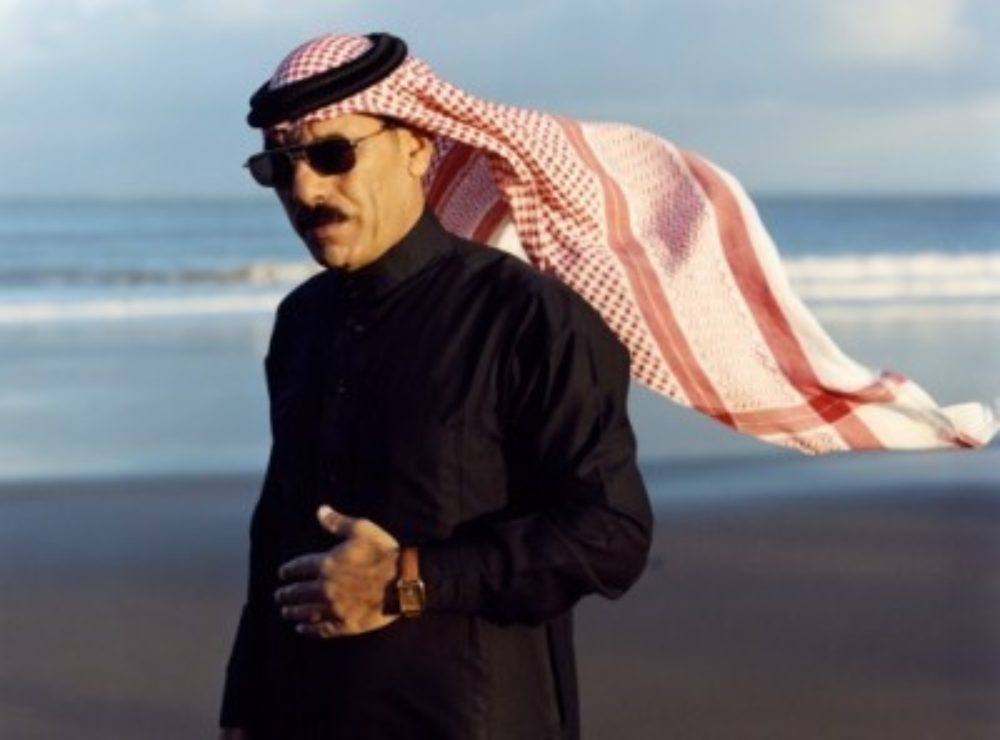 Hailing from Syria, Omar Souleyman has become a worldwide sensation in modern world and electronic music circles.
Souleyman, who has collaborated with Björk and Four Tet, began his career as a prolific wedding singer, releasing nearly 500 live albums before civil war broke out in his native Syria in 2011. He then moved to Turkey and in 2013 released Wenu Wenu which NPR called, "…a jam so visceral, thrilling and intense as to make the mysterious matter of earthly borders seem hardly worth the time to contemplate." Souleyman's new album, To Syria, With Love, is set for release June 2 via Mad Decent. The follow up to 2015's Bahdeni Nami marks Souleyman's third full-length studio record.
To Syria, With Love is a departure musically and lyrically from his previous material, with focus on more elaborate keyboard and techno elements. Completely setting politics aside, Souleyman consciously shares this personal ode to his native country with an emphasis on his emotional connection to the land and people but not without heartache in view of the nation's current state.
"It's been six years I've been away, and I'm tired of looking for home and asking about my loved ones. My soul is wounded and it's like having dust in my eyes," Souleyman sings. "We are in exile, and our nights are long. Our homeland is our only comfort. Life caused us so much pain—our wounds are too many and every wound calls out, 'We miss Al-Jazira'" (Omar's native region in northeastern Syria)
Souleyman has bolstered his growing status as a world and electronic music icon establishing an extensive international following after touring widely and performing at major festivals. Since its founding in 2013, Souleyman has been an advocate for the charity "Our Heart Aches for Syria," which operates in collaboration with Doctors Without Borders. In that same year, he performed at the Nobel Peace Prize Concert in Norway.
INNOV GNAWA IS A GRAMMY-NOMINATED MUSICAL COLLECTIVE DEDICATED TO EXPLORING MOROCCO'S VENERABLE GNAWA MUSIC TRADITION IN THE HEART OF NEW YORK CITY. FORMED IN THE SUMMER OF 2014 BY MOROCCAN EXPAT SAMIR LANGUS, THE GROUP DRAWS ON THE CONSIDERABLE TALENTS AND EXPERTISE OF HASSAN BEN JAAFER, A MAÂLEM, OR MASTER GNAWA MUSICIAN, ORIGINALLY FROM FEZ, MOROCCO. UNDER THE GUIDANCE OF BEN JAAFER, INNOV HAS DELVED DEEP INTO THE ROOTS AND RITUALS OF GNAWA MUSIC, AND MADE A BIG SPLASH IN NYC, PLAYING SOME OF THE CITY'S MOST PRESTIGIOUS ROOMS INCLUDING LINCOLN CENTER, MUSIC HALL OF WILLIAMSBURG, BROOKLYN BOWL AND THE STORIED BACKROOM OF BROOKLYN'S BARBÈS.

FOR THE UNINITIATED, GNAWA MUSIC IS THE RITUAL TRANCE MUSIC OF MOROCCO'S BLACK COMMUNITIES, ORIGINALLY DESCENDED FROM SLAVES AND SOLDIERS ONCE BROUGHT TO MOROCCO FROM NORTHERN MALI AND MAURITANIA. OFTEN CALLED "THE MOROCCAN BLUES", GNAWA MUSIC HAS A RAW, HYPNOTIC POWER THAT'S FASCINATED OUTSIDERS AS DIVERSE AS WRITER/COMPOSER PAUL BOWLES, JAZZ GIANT RANDY WESTON AND ROCK GOD JIMI HENDRIX. THE MUSIC IS UTTERLY SINGULAR, PLAYED ON AN ARRAY OF UNIQUE INSTRUMENTS — FROM THE LUTE-LIKE SINTIR THAT THE MAÂLEM USES TO CALL THE TUNE, TO THE METAL QARQABA (CASTANETS) WITH WHICH THE KOUYOS (CHORUS) KEEP TIME AND POUND OUT CLATTERING, HYPNOTIC RHYTHMS.

HAILED BY BROOKLYN MAGAZINE AS ONE OF THE "5 BANDS YOU NEED TO KNOW IN BROOKLYN'S ARABIC MUSIC SCENE", INNOV GNAWA MAKE GREAT USE OF THIS TRADITIONAL REPERTOIRE, AND ADD THEIR OWN, CONTEMPORARY SPIN WITH ADDITIONAL AFRICAN AND LATIN PERCUSSION. TAKEN AS A WHOLE, THIS EXCITING NEW OUTFIT WORKS HARD TO FUSE A CENTURIES OLD NORTH AFRICAN TRADITION WITH THE PULSE AND ATTITUDE OF NEW YORK CITY NOW.
radioafricaonline.com has trained a team of Afrocentric DJs who have performed at the Apollo Theatre, B.B. King's, Mercury Lounge, Symphony Space, Joe's Pub, and many other venues. Tonight marks the return of dj.habibi, specialist in music from North Africa – Rai, Chaabi, Gnawa, Kabyle, Regada, and more. Some of these tracks were picked up on CDs stuffed with thousands of MP3s from souks in Cairo, Beirut, and Damascus, and are simply not available anywhere outside North Africa and the Levant. dj.habibi has opened for North African stars like Natacha Atlas, was also resident DJ at the original Le Souk in the East Village, and has spun Arabic music at hookah bars and for belly-dancers at clubs like Tagine and the old Habibi Lounge. Radio Africa Online is the longest-running station playing African and North African music online, and the popular Radio Africa Online Mixes podcast, which includes four episodes devoted to music from North Africa and the Middle East, is featured in the iTunes Store and elsewhere, generating over 50 terabytes of traffic annually.