Afropop Worldwide
Saturday, August 17, 2019 3:15 pm | Outside Harlem Hospital Mural Pavilion 506 Malcolm X Boulevard at 136th Street Manhattan
WMI PLUS LA RUMBA LLAMA - Free Event!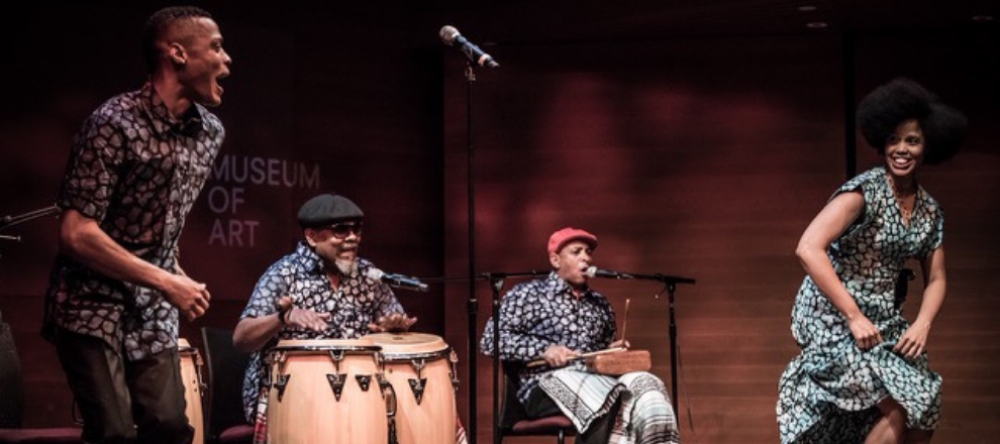 World Music Institute and New Heritage Theatre Group present La Rumba Llama: A unique opportunity to experience authentic Cuban rumba at its best with a live performance, demonstration, a class led by Cuban Choreographer Luanda Pau – and a chance to join in. This event is part of HARLEM WEEK
Concept: Jessica Angel - Liquid Heat
Support by Harlem Community Development Corporation, marketing support from I Love New York Harlem and the Cuban Artists Fund.
Part of Liquid Heat, a dynamic multi-media program of events that brings Rumba from Havana to Harlem. Listen, live and dance the Rumba as seen in the exhibition La Rumba Llama – an exciting photographic installation by artist Jessica Angel - that captures the energy and spirituality of Rumba as danced in the Pogolotti community, a Havana neighborhood famous for its Rumba. 2018 Grammy nominee Melvis Santa and her group Ashedí bring the powerful tradition of Rumba to Harlem. Melvis leads on vocals while fronting a full percussion section of sacred batá drummers. Ashedí features Afro Cuban master percussionists Roman Diaz, Rafael Monteagudo, and Anier Alonso with guest Leonard Govin on percussion and trombone.
This new project is called Krukoro which in the Carabali language ( Abakua) means Personas del Pueblo or the People.
Melvis Santa is a founder of the Cuban vocal group Sexto Sentido, and one of the lead vocalists for Cuban fusion band, Interactivo. Melvis has also worked with many well-recognized artists from the jazz and Latin communities, from Ravi Coltrane to the Buena Vista Social Club.
Roman Diaz, master percussionist, scholar and composer, is regarded as a "living repository" of Afro Cuban music. He has performed and recorded with Merceditas Valdés, Raíces Profundas, Los Marqueses de Atarés, Jane Bunett, Orlando "Puntilla" Ríos, Paquito D'Rivera, Oriente Lopez, Giovanni Hidalgo, David Virelles, Chucho Valdés and Wynton Marsalis.