Field Report: Festival International de Louisiane
Feature image above: Sean Ardoin and Zydekool at the Warehouse in Lafayette, performing a showcase of contemporary zydeco rock and soul. Photos by William Farrington.
Festival International de Louisiane is an arts festival with a special emphasis on the connection between Acadiana and the Francophone world. Attracting 300,000 attendees each year, the annual event features musical performances by artists from many countries along with workshops, exhibits, visual art, theater and other forms of performance arts. The five-day free festival transforms downtown Lafayette into the festival grounds, including several stages and streets lined with stands selling arts, local dishes, and craft beers. The ambience, while unrivaled, isn't what drew us back: The draw is the music, zydeco and Cajun in particular. Zydeco musician Sean Ardoin explained that "the current idiom of zydeco never leaves southwest Louisiana. The gap is filled by cover bands so they [audiences] never get the real thing." It's real in Lafayette, listening to Roddie Romero and the Hub City All-Stars' funk, rhythm & blues, and Cajun standards surrounded by two-stepping Cajun dancers was like hearing the music for the first time. [caption id="attachment_36274" align="aligncenter" width="640"]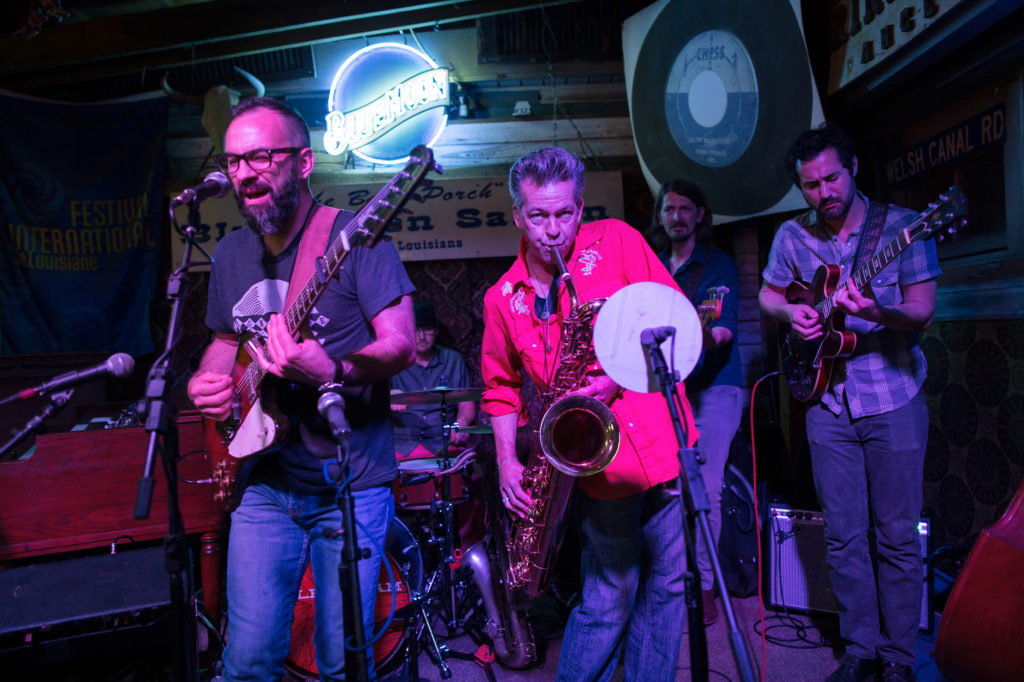 Roddie Romero and the Hub City All-Stars featuring Derek Huston on baritone sax, Eric Adcock, keyboards; Chad Viator, guitar; Gary Usie, drums; and Chris French on bass, at the Blue Moon Cafe in his hometown Lafayette LA, performing regional standards and songs from his latest Grammy-winning album
Gulfstream
.[/caption] As its name suggests, Festival International invites artists accentuating linguistic and musical bonds linked to France and to the African diaspora. International artists are encouraged to sit in with local musicians at after-hours events. When Steeve Valcourt of Haiti's Lakou Mizik walked into the Blue Moon Saloon, an after-hours festival venue, he had never heard the Lost Bayou Ramblers. But Steeve knew what he heard at that moment. It was the
nago
rhythm found in the contradance music of Haiti. He and his bandmates soon joined the Lost Bayou Ramblers on a stage as packed as the tiny dance floor, the drummer shifted from the contradance to a march as the band was introduced, and then segued into the
rara
rhythm, which followed without a pause. Lakou broke into a carnival chant punctuated by cornets. Both Michot brothers were smiling broadly as the raucous celebration ramped up, another moment that will resonate in my mind for a long time with the joy and kinship that could only be expressed through music. [caption id="attachment_36267" align="aligncenter" width="640"]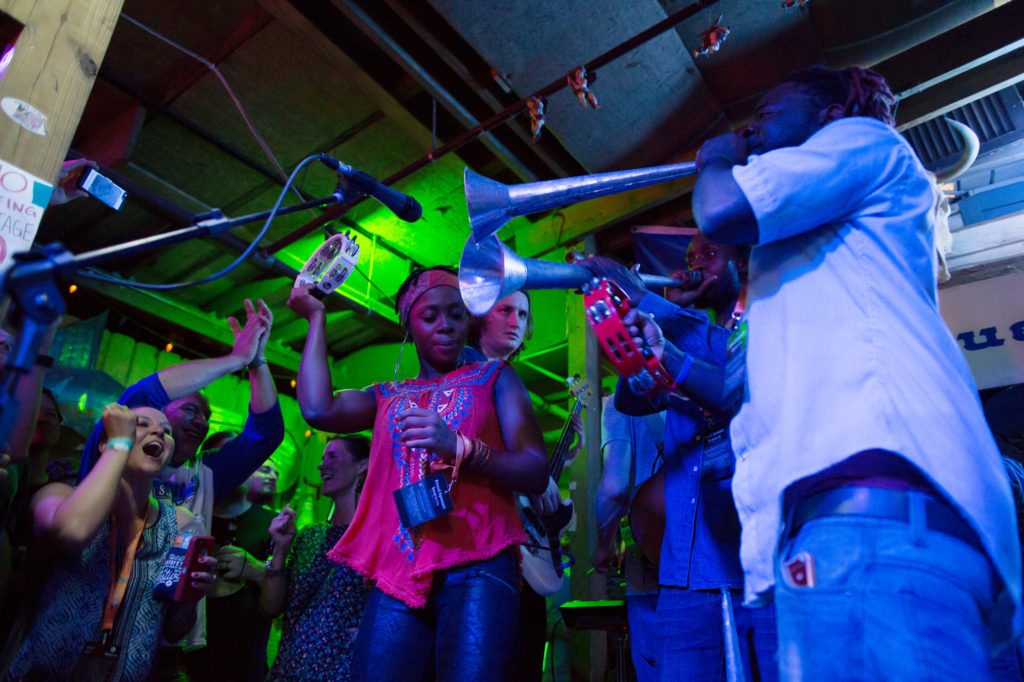 Nadine Remy of Lakou Mizik jamming with Lost Bayou Ramblers on stage at the Blue Moon Cafe in Lafayette, following their performance at Festival International.[/caption] [caption id="attachment_36270" align="aligncenter" width="640"]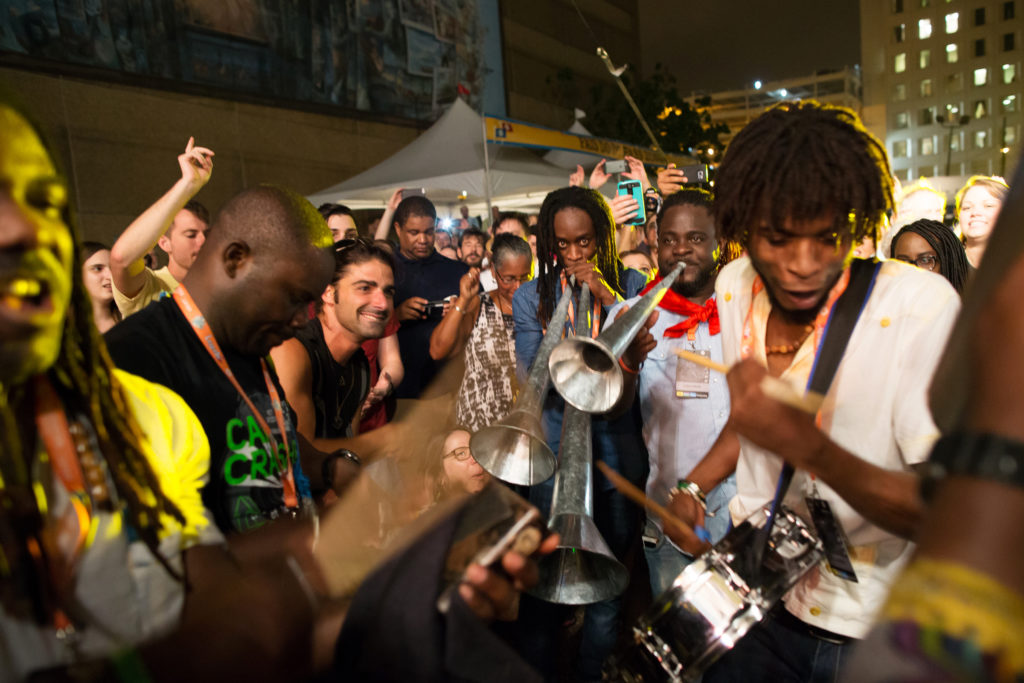 Lakou Mizik from Haiti ended their show with a rara parade through a ecstatic Festival International audience in Lafayette, LA. The band's next release is live rara/electronic collaboration with London-based Nero, an electronic music trio.[/caption] A theme running through my conversation with these artists is the intersection in their music of personal expression and family tradition. As with Andre and Louis Michot and Steeve Valcourt, Sean Ardoin inherited a family tradition of music: zydeco. Zydeco is synonymous with the Ardoin name. His father Lawrence Ardoin and grandfather Bois-Sec Ardoin were well known in the music. Bois-Sec was taught by an older cousin, Amede Ardoin, one of the earliest known zydeco musicians. The knowledge handed down generation to generation gives his voice an authority akin to a West African griot. On stage Sean Ardoin's warmth lit up the Warehouse, and his booming voice and hard driving beat from his band ZydeKool riveted the audience--a mix of locals and music professionals taking in the LIME showcase. Most had not heard him before: He is coming off a 10-year absence from the music scene, and is focused and healthy. After the set he spoke with Afropop. The essence of our conversation centered around the conundrum of being a zydeco artist in the current environment. Ardoin said "That's me, that's who I am, nine times out of 10, if you've heard zydeco what you heard is not zydeco the way I do it. You either love it or hate it, either way it's not me. I want to play for people who have never heard it so I can hit them in the face like I just finished doing." For this reason he calls his music Creole rock and soul, so it is not confused with people's misperceptions of zydeco. "Zydeco is one of the only American musics supported by the people who created it in the region it which it was created in. If we don't get ahold of it it will go the route of rock 'n' roll, reggae, the blues."…. "What I am playing is what is happening here in southwest Louisiana, my version of it." [caption id="attachment_36263" align="aligncenter" width="640"]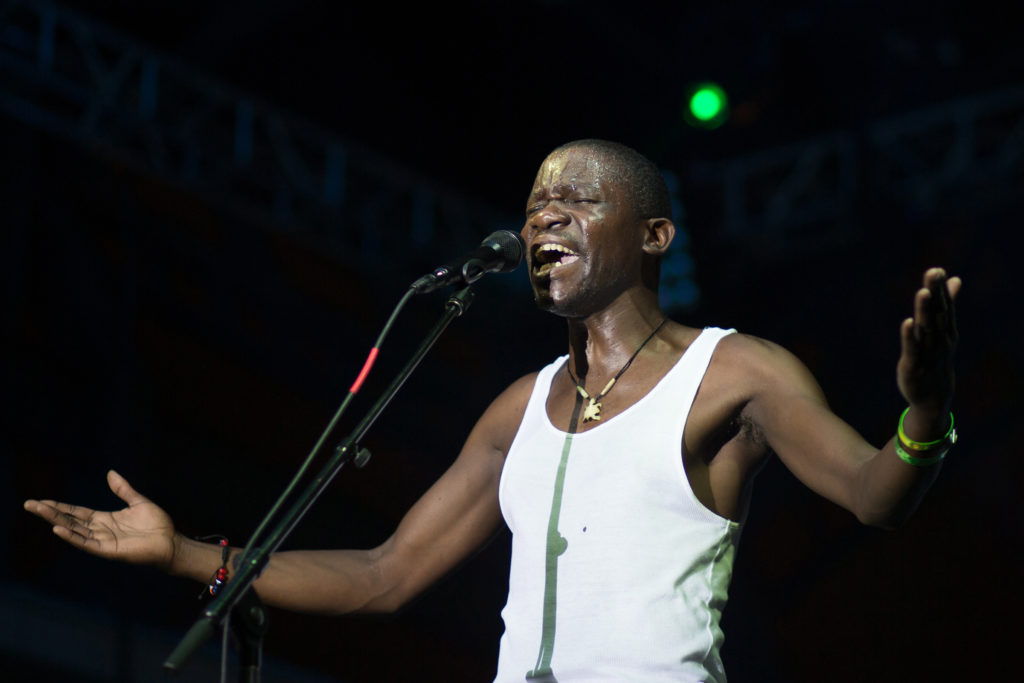 Mathias Muzaza singing "Munaye," an a cappella tribute to his deceased parents.[/caption] Mokoomba's high-energy set drawing on their latest release
Luyando
was a revelation, integrating pan-African influences fused with roots and traditional rhythms. Lead singer Mathias Muzaza stalked across the stage peering at the audience from beneath a fedora. Band members moved unison during the musical breaks of high-energy performance. Trustworth Samende's strong guitar playing was a highlight, throwing off
soukous
-tinged riffs and a rock 'n' roll-styled solo. [caption id="attachment_36259" align="aligncenter" width="640"]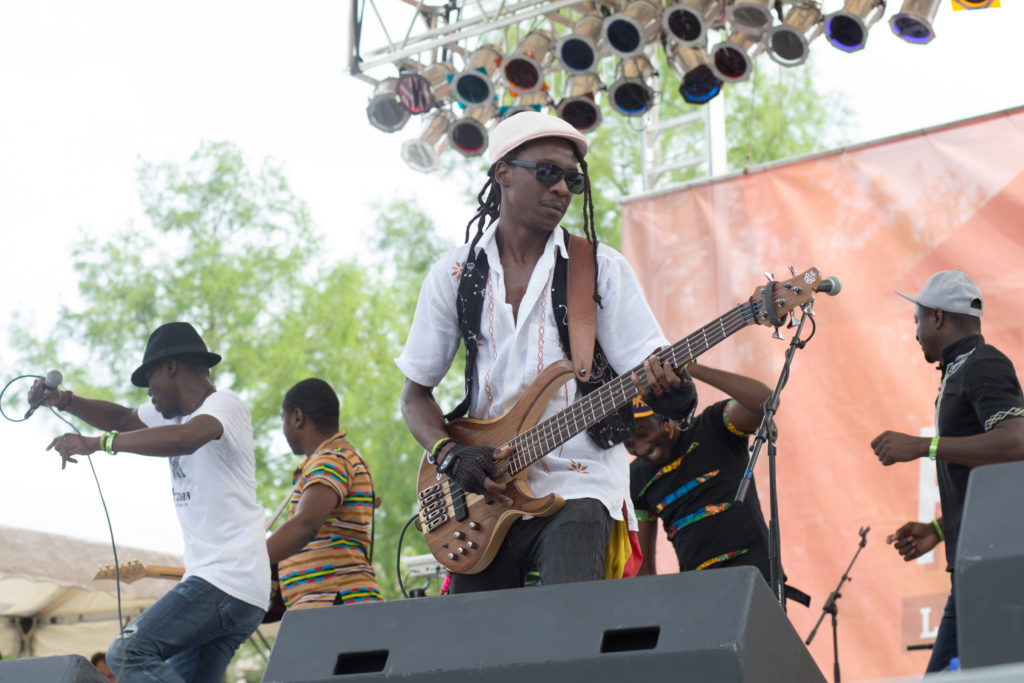 Mokoomba performing at the Festival International.[/caption] Together for over a decade, the band hails from a town in the Victoria Falls region in the far west of Zimbabwe, bordering on Zambia and Botswana. Bassist Abundance Mutori feels that growing up in the relatively cosmopolitan region exposed bandmembers to influences that can be heard in the music. Speaking Tonga, Luvale and Nyanja, they had more in common linguistically with people in the neighboring countries than with the largely Shona population in the capital, Harare. In the music, Latin, soukous and rock are influences cited by Mutori, but the core rhythms are traditional passed on by elders. Muzaza agreed saying that the source his knowledge of the traditions comes from the rite of passage training he received during a six-month stay in the bush. When he vocalizes, he said, the spirit descends into him and expresses itself, and his voice would flip from a high clear pitch to a growl as the spirit moved him. Another highlight of the set was "Munaye," a stunningly beautiful a cappella song with organ accompaniment. "You raised me up, I was in your hands, thank you for this precious gift" he sings, in tribute to his deceased parents, drawing on his musical origins in the church choir. Mokoomba's tour continues in the Northeast U.S., dates can be found on their Facebook page.