Toukadime: Special Gunpowder Mix
Toukadime is a French DJ duo whose mission is to bring the sounds of classic North African music–exclusively on vinyl records–to radio waves and dance floors in France and beyond. The project was founded in 2011 when veteran DJs Krimau and Bachir decided to pool their respective collections of Maghreban records and share them with audiences of connoisseurs and neophytes alike. Toukadime means "presents" in Arabic and refers to the introductions that can be heard on many classic North African records ("Koutoubiaphone toukadime Hamid Zahir"–"[Record Label] Koutoubiaphone presents Hamid Zahir"). On their monthly radio show broadcasting from Normandy, in the north of France, Bachir and Krimau do just that: they present carefully curated record selections to their listeners, introducing the artists and the songs with particular attention to relevant geographical, historical, religious and societal issues in order to place the music within a wider context. Of course, having come to deejaying through hip-hop, soul and funk, the duo maintains a strong dance floor sensibility and is known for bringing a huge variety of crowds to their feet, from young festival goers discovering the music for the first time to members of a senior citizen's club who grew up with it.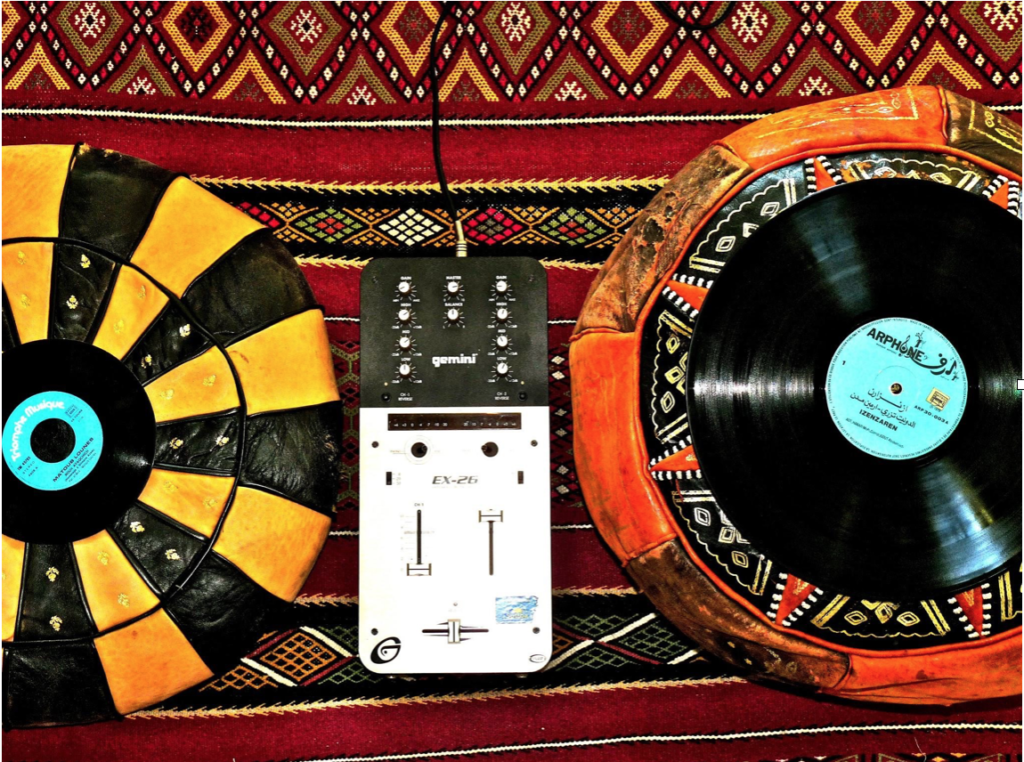 For this installment in the Afropop Worldwide "Exclusive Mix" series, Toukadime has prepared a very special collection of North African songs with a thematic focus dear to the region: tea. Bachir and Krimau have a few words to share with us about their "Special Gunpowder Mix":
North African songs that bring up tea are numerous, and we provide you here with a non-exhaustive sampling of them. What's interesting to see and to hear in the mix is that, beyond the fact that tea is a common theme throughout, its significations are multiple. Tea can be a synonym for sugar and love, just as it can symbolize hospitality and festivity, but it also can refer to the bitterness of life. We would like to share all of these facets with you just as we would like to share many cups of tea. Bsaha!
Follow Toukadime on Facebook https://www.facebook.com/toukadime/
Track listing:
1. Raissa Bada, "l Kass Borobor"
2. Inzenzaren, "Tidink el Barrad"
3. Nass El Ghiwane, "Siniya"
4. Houcine Slaoui, "El Kass Hlou"
5. Hajja Hamdaouia, "El Kass Hlou"
6. Hamid, "Ya Zahra Jibi Siniya"
7. Latifa Slaoui, "Sinia o lbire"
8. Boutaiba Sghir, "Diri Lataï"
9. El Hachemi Guerouabi, "El Kaoua Ouel Lataïe"
10. Mohamed Slaoui, "El Kass el Hlou"
11. La Caution, "Thé à la menthe"
Toukadime performs at the Guess Who Festival in Utrecht, the Netherlands, on Nov. 11, 2017.