A Celebration of African Cuisine, For A Good Cause
Afi Acheampong, or Grace, as she is called here in the United States, had been helping her mom in the kitchen starting at a young age. "I had to help my family, and I was a bit resentful at the time. In the long run, though, it has helped me with my work as a chef and caterer." Hailing from Accra, Ghana, and sporting beautiful, long locks and a warm, welcoming smile, Afi greets me and brings me into her home. We are discussing the food that she prepared recently. Her favorite dish is
kelewele
, which are spicy fried plantains. This was also one of the favorite dishes of the attendees at the fundraiser for Aline Mongota in March, which was held at the Trinity Lutheran Church in Manhattan. Everyone at the fundraiser, including this writer, went back for second and third helpings.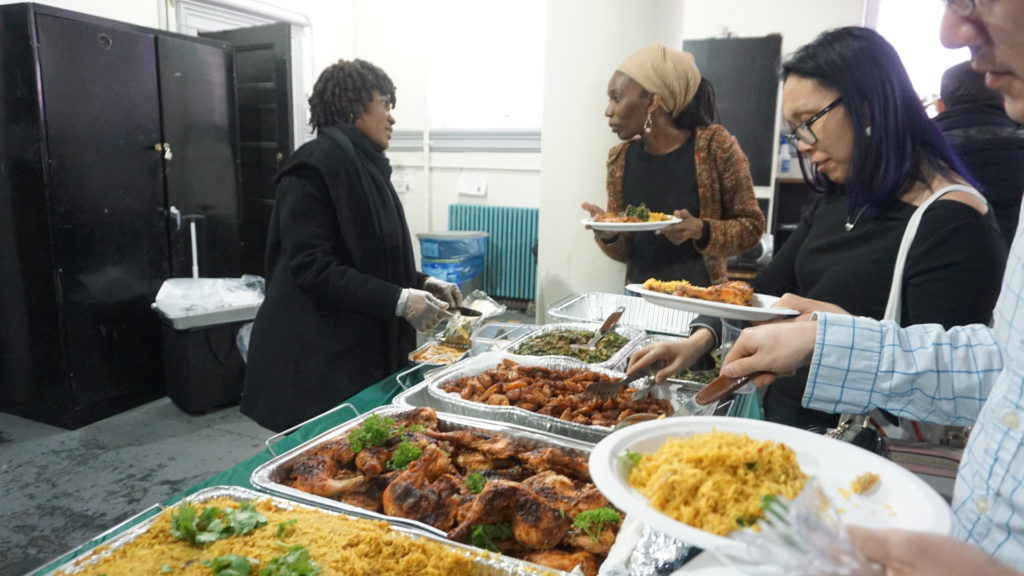 Aline, from the Central African Republic, has been in the U.S. for eight years. When her daughter, living in the CAR, suddenly died recently, Aline had to buy an expensive last-minute plane ticket to return home to for the funeral. Charles Bibilos, founder and editor of the online food publication entitled
United Nations of Food
, met Aline a while back, when she prepared a dinner for Charles and his entourage featuring food from her home country. He organized the fundraiser to help Aline get back on her feet again, and to offer his support. [caption id="attachment_35807" align="aligncenter" width="640"]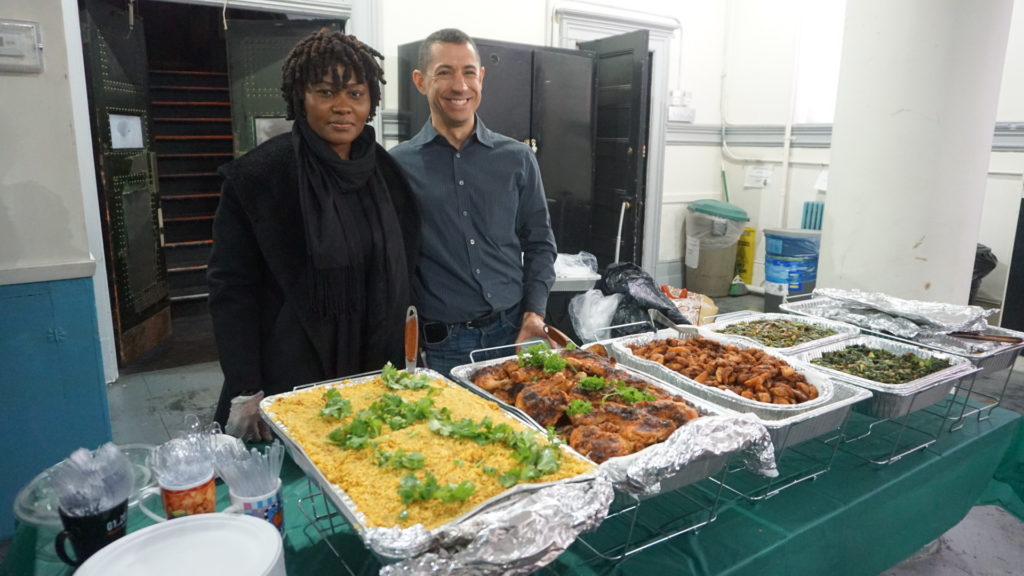 Afi Acheampong and Charles Bibilos[/caption] The fundraiser in the church was well attended. Afi prepared dishes from Ghana, as well as food from South Africa, Tanzania, Kenya, and Nigeria. To prepare the kelewele, Afi first fries the plantains and combines them with ginger, onion, cloves and various kinds of Ghanian peppers. This was sweet, spicy and delicious. The
moi-moi
, a dish from Nigeria, is made with black-eyed peas. Combining sweet red pepper, habanero chiles, salt, ground smoked shrimp, tuna, and egg, the ingredients are ground together to make a fine paste, and steamed. Nigerians use mackerel and crayfish, but Afi opted for shrimp and tuna instead. The result was a light, fluffy, delectable, custard-like dish. The South African
piri-piri
chicken is a spicy dish. The chicken is marinated overnight with habanero pepper, onion, sweet red pepper, lemon, apple cider vinegar and bouillon. It is then baked. The results? Absolutely delightful.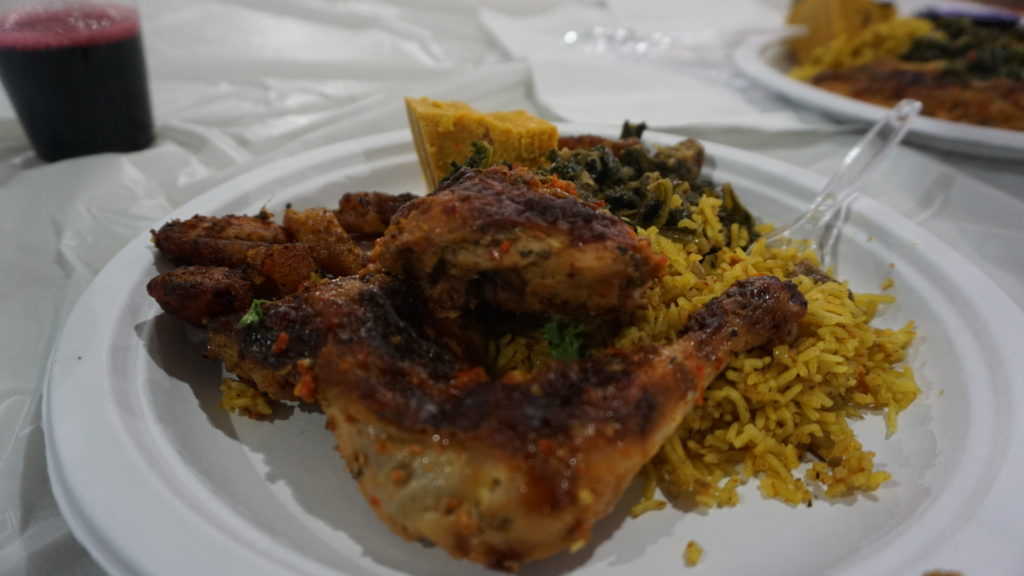 The
sukuma wiki
, a Kenyan kale dish, is prepared by cooking the kale with tomato, onion, garlic, olive oil, cardamom and bouillon. There was a meat version of this dish, prepared with sirloin, as well. This was very tasty and flavorful. The
pilau
, a rice dish, exceeded expectations. The rice is made with cardamom, nutmeg, onion, bay leaf, cinnamon, bouillon, coriander, peppercorns, cumin and mace. All told, the fundraiser was a huge success. Over $2,000 was raised, and everyone at the luncheon enjoyed sampling food from various parts of Africa. As Aline said, it was not just about the money, but about getting love and support from friends and the community. Afi and her business partner, Sampson Nyarko, are opening Heaven's Kitchen, specializing in African and fusion cuisine, portioned, prepped and ready to cook. (
customerservice@hk.com
)