Abdel Kadiri and the Making of Modern Raï
Abdel Kadiri and I sat down behind the main stage as the sun was setting at Montreal's Nuits d'Afrique Festival. The crowd had been getting thicker all day and it would peak when Kadiri got up and absolutely shredded it.
Born in Morocco, Kadiri has been in Canada for 13 years and has been making music even longer. Prodded by his older brother—a musician, arranger and producer in France—the younger Kadiri began building on his background as a DJ and started singing, and the evolution hasn't stopped. His latest album, Bouhatia, goes heavily on Mahgreb electropop, but with something else slipped in—a reggae beat here, an acoustic ballad there.
Abdel Kadiri's music isn't well known in the English speaking world, but if the reaction of that Quebeçois crowd is any indication, Kadiri's profile is only going to grow. Although his songs are sung in Darija, the dialect of Arabic spoken in Kadiri's homeland, the Francophone crowd was eating it up. Of course it could have been because the songs were in Darija—there was at least one Moroccan flag being waved around.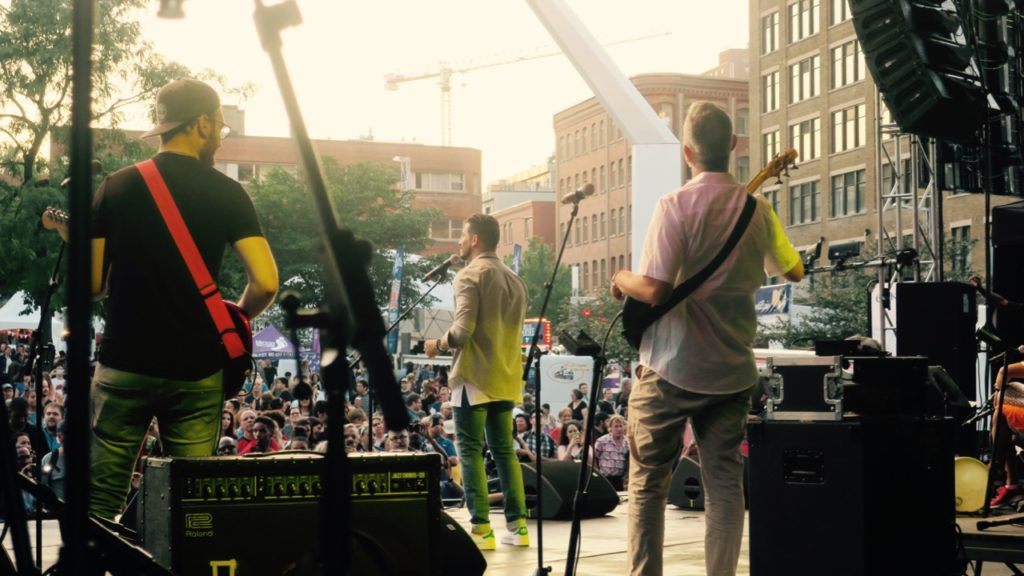 Photos by Ben Richmond
Kadiri describes his music as raï, but with a degree of fusion with pop, funk and rock.
"I call it modern raï," he said. "The first raï was only made with traditional instruments—the traditional flute and drum, for example. But in France they departed from that—we've worked in instruments like the electric guitar and drums."
The story of raï is full of controversy. It started as flute and percussion music played by Bedouins in the desert before there was a Morocco or Algeria. But in 2016, Algeria filed an application with UNESCO to add raï to the World Heritage list under the heading of "Algerian folk music," which caused Moroccan officials to claim they were about to do the same thing, and anyway, their musicians made it too. Granted, the Algerian city of Oran became a big center for raï in the early 20th century, under French colonial rule, but much of the genre's modernization happened in Europe, when musicians fleeing the Algerian civil war in the '90s took their secular, and thus unapproved, music with them.
It is this tradition that Kadiri steps into: diaspora musicians changing the form with what they find living abroad and what they find through experimentation. In the '70s and '80s, raï began transforming into what would be called "raï 'n' b," working in more and more synthesizers. And Kadiri's music takes the baton from this tradition, hence the house beats.
At Nuits d'Afrique, he happily called out Algerians and Moroccans from the stage, earning roars of approval in response.
Already the winner of the Syli d'Or Prize for stage presence, Kadiri's next big move may expand his audience in his adopted Canadian home: He's thinking about writing songs in French.