At a beautiful gala awards ceremony on Sunday evening in New York,
Afropop Worldwide 
received the Peabody Institutional Award honoring our entire 27-year body of work. It was a night to remember: The red carpet treatment started as we entered the classy Cipriani Wall Street. The hilarious Fred Armisen was MC. And the parade of 40 awardees (out of 1,200 applicants) traversed the stage to accept their Peabodys including John Oliver, Sarah Koenig (creator of
Serial
), Neil deGrasse Tyson (
Cosmos
),
Radiolab
, Alex Gibney's film
Mr. Dynamite: The Rise of James Brown
, and others. The common denominator in the Peabody's judgment was excellence in storytelling. We were proud to be among them. From the stage, I thanked all the artists across Africa and around the world who welcomed us into their homes, clubs and studios, sharing their music and stories. A big thanks also to our brilliant creative team including Banning Eyre, Michael Jones, Ned Sublette, Sam Backer, Marlon Bishop and other collaborators and supporters too numerous to list. A big thanks to our Board of Directors and our stations. Ultimately we take this Peabody Award as a celebration of Africa, for too long under-recognized as the deepest source of much of the world's popular music. We want this Peabody to be an encouragement to artists in Africa and throughout the diaspora that the world recognizes their creativity, passion and the rich cultures they embody. Bravo! And we want to thank
you
in the Afropop community for listening, for following our Web magazine, for your curiosity, for appreciating well-told stories, and for your support.
-Sean Barlow, President and Founder of Afropop Worldwide  
Check out photos from the event! [caption id="attachment_23067" align="aligncenter" width="467"]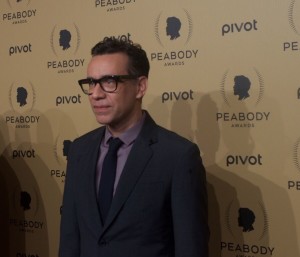 Host Fred Armisen on the red carpet[/caption] [caption id="attachment_23069" align="aligncenter" width="451"]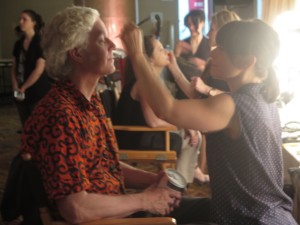 Senior Editor Banning Eyre gets the deluxe treatment[/caption] [caption id="attachment_23068" align="aligncenter" width="432"]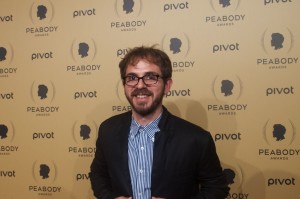 Producer for New Media Sam Backer[/caption] [caption id="attachment_23070" align="aligncenter" width="421"]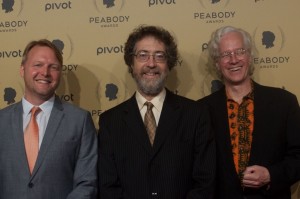 (from left) Engineer/Co-Producer Mike Jones, Founder and Exec. Producer Sean Barlow, Senior Producer Banning Eyre[/caption] [caption id="attachment_23072" align="aligncenter" width="429"]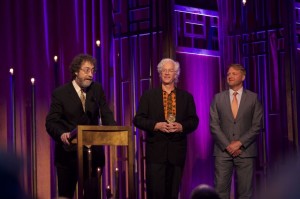 Accepting the Award[/caption] [caption id="attachment_23074" align="aligncenter" width="429"]
The After-Party[/caption] [caption id="attachment_23071" align="aligncenter" width="330"]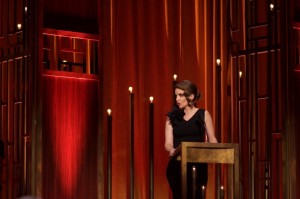 Yes, Tina Fey was there. She says that just LOVES the Ngoni.[/caption]