Afropop Worldwide's 25th anniversary celebrated at Big Night in Little Haiti
Afropop turns 25 in 2013 and
Big Night in Little Haiti
 and our Miami station
WDNA
(88.9FM) warmly welcomed Georges, Banning and myself  in March to celebrate our anniversary. What fun! We loved it! Upon landing in Miami, we were whisked directly to WDNA to go on air promoting BNLH and, this being fundraising season, to do some fundraising of course! It's always refreshing to visit a major market U.S. public radio station with a broad cultural embrace of contemporary music from around the world–Latin, reggae, Brazilian, Afropop, Caribbean, global electronic, world fusion and more. Big thanks to WDNA General Manager Maggie Pelleya and her team for making a home on air in Miami for
Afropop Worldwide
all these years.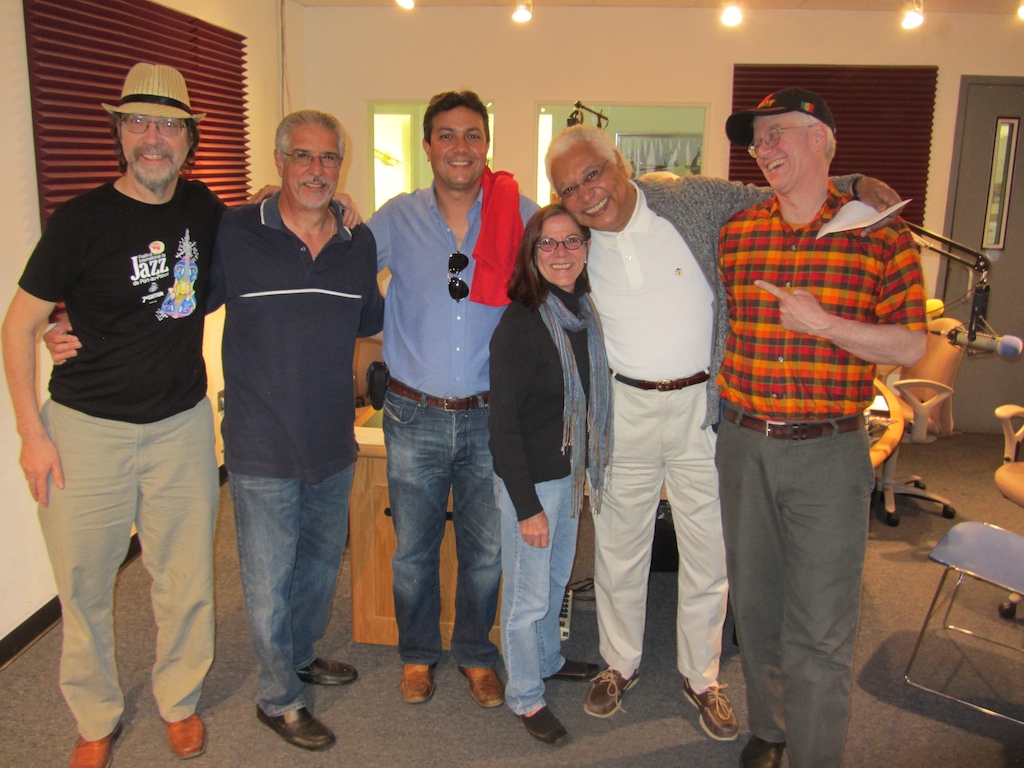 Big Night in Little Haiti is a lively monthly party showcasing top Haitian musical talent that happens in the courtyard of the Little Haiti Cultural Center on the third Friday of each month. We were lucky that the classic
compas
Magnum Band
played at our party. Featuring leaders
Dadou Pasquet
on guitar and vocals and his brother
Tico Pasquet
on drums. Fortified by a punchy three-piece horn section, the band pleased the diverse crowd with classics from their 37 years of music making. 37 years! Our elders. And the Magnum Band still have it. They rocked this mostly-Haitian crowd for nearly two hours, with songs from throughout their career—sensuous
compas
, soulful ballads, cranking dance songs with deep percussion reflecting Haiti's
racines
(roots) traditions.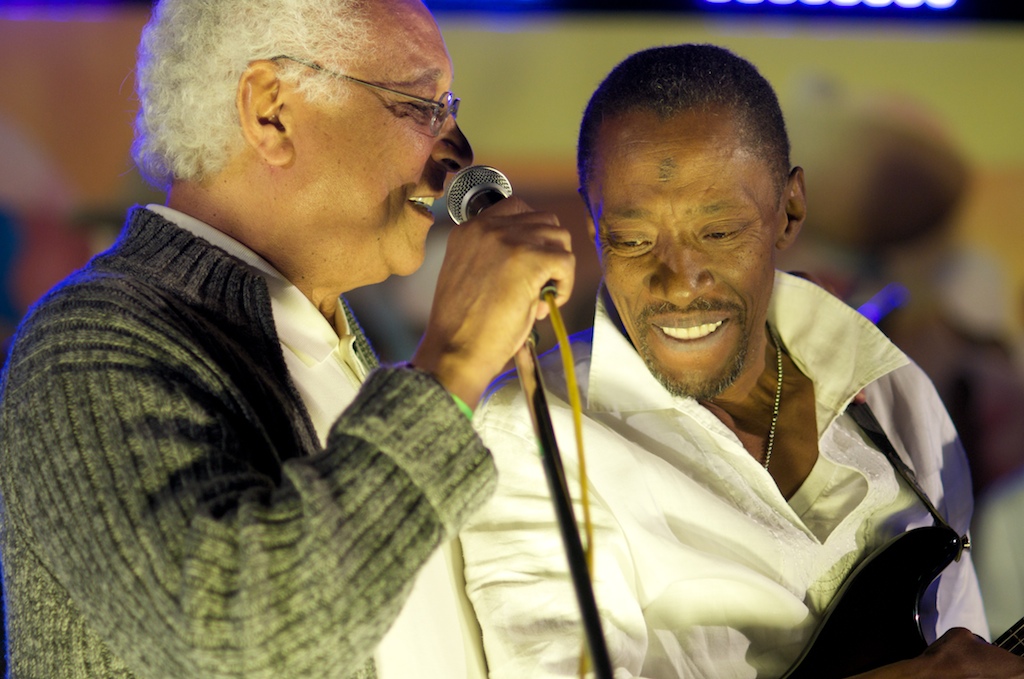 One standout was "Liberté," a song written during the height of the human flotilla emanating from Haiti during the 1990s. The Pasquet brothers were deeply moved by the tragedy of their countrymen who were so hungry for freedom and a better life that they risked, and lost, their lives pursuing it. This song is for them, and judging by the crowd's reaction, many present were also deeply touched by the courage and sacrifice of that era.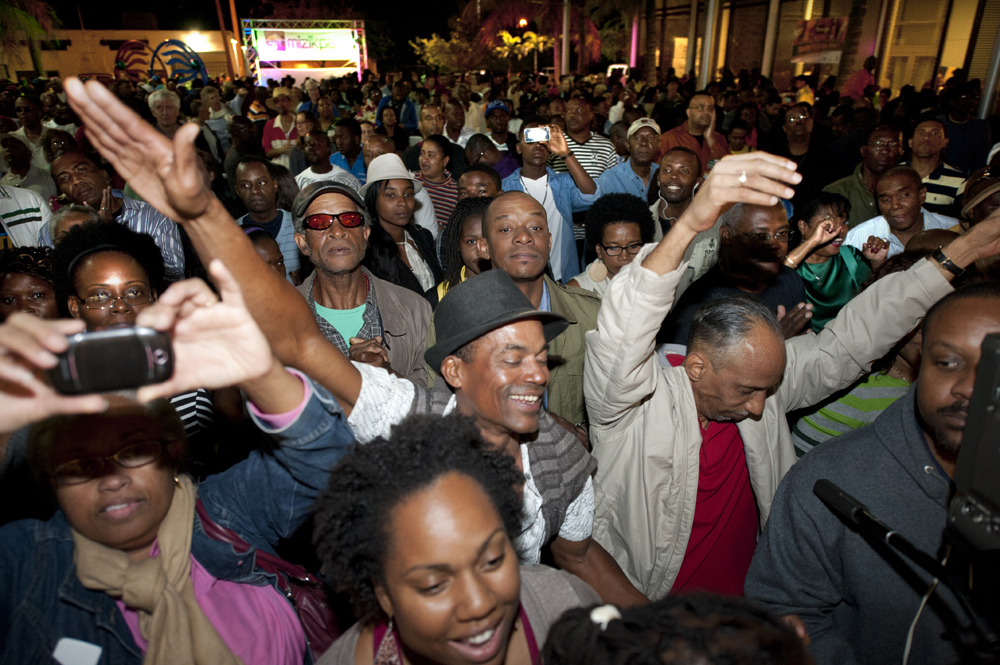 We wondered how these old school compas artists would relate to racines
acts like Boukman Eksperyans and Boukan Ginen, which draw upon vodou traditions in their lyrics and rhythms on traditional drums. I imagined there might be some rivalry between the genres, but was pleased to hear Dadou and Tico, and also Kapi, one of the founders of the legendary Tabou Combo, say they loved racines music, and incorporate it into their own work. Tabou Combo, by the way, trumps everyone with their 45
th
anniversary this year.
(Note: complete transcriptions of our interviews with these Haitian legends will be coming later in April with our radio feature on Big Night in Little Haiti)
Opening up for Magnum Band was
Papy Joe le Twoubadou
, leading a trio that brought to life the troubadour tradition in Haitian music in a folksy set of ballads and gently swinging songs.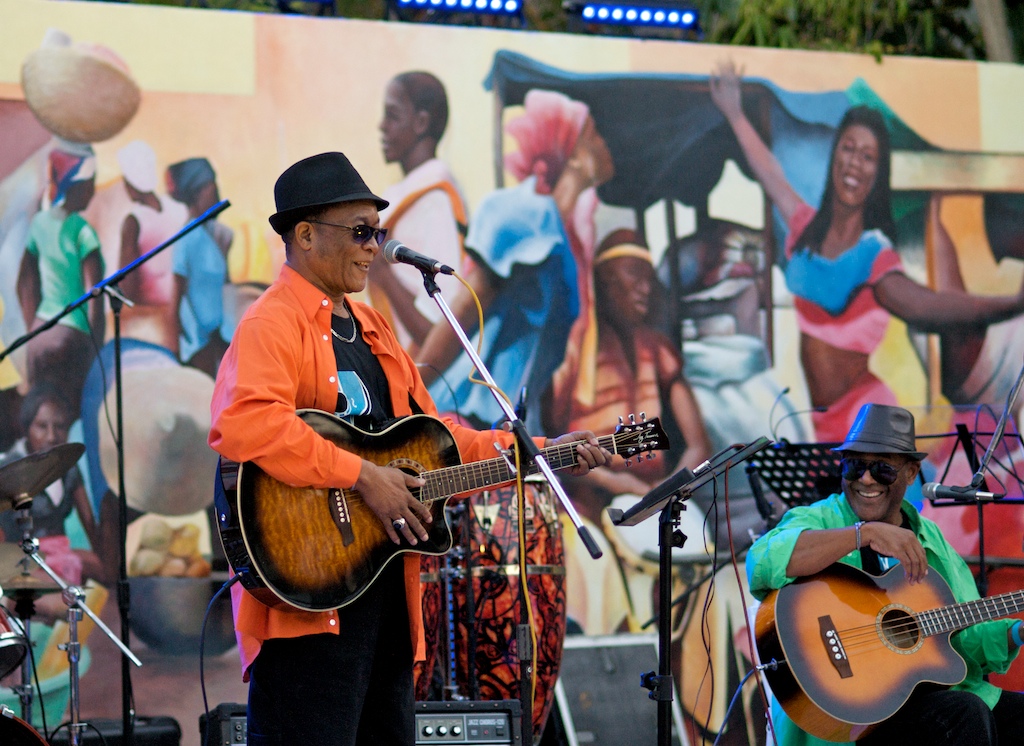 Georges received a healthy share of well-deserved love that night. He was enthusiastically  introduced on stage by WDNA on air personalies Howard "Flagga" Duperly and Gene de Souza.  Georges amused the crowd with a few choice remarks, such as noting that he was still waiting for his plate of
lampi
—that's conch, cooked
kreyol
style. He was not disappointed. It turns out that Georges and Dadou Pasquet are old friends, and their delight at meeting again proved infectious as Georges introduced the band and the night's featured music got underway. Later, midway through Magnum Band's powerhouse set, the band paused while Georges was invited again to the stage and presented with the
Key to the City
by City Commissioner Michelle Spence-Jones. On behalf of
Mayor Tomás P. Regaldó,
she gave Georges a beautifully crafted award that read, "The City of Miami honors Georges Collinet, "Maxi Voom Voom," for 25 years of glorious music on Afropop Worldwide on the occasion of Big Night in Little Haiti"  Bravo!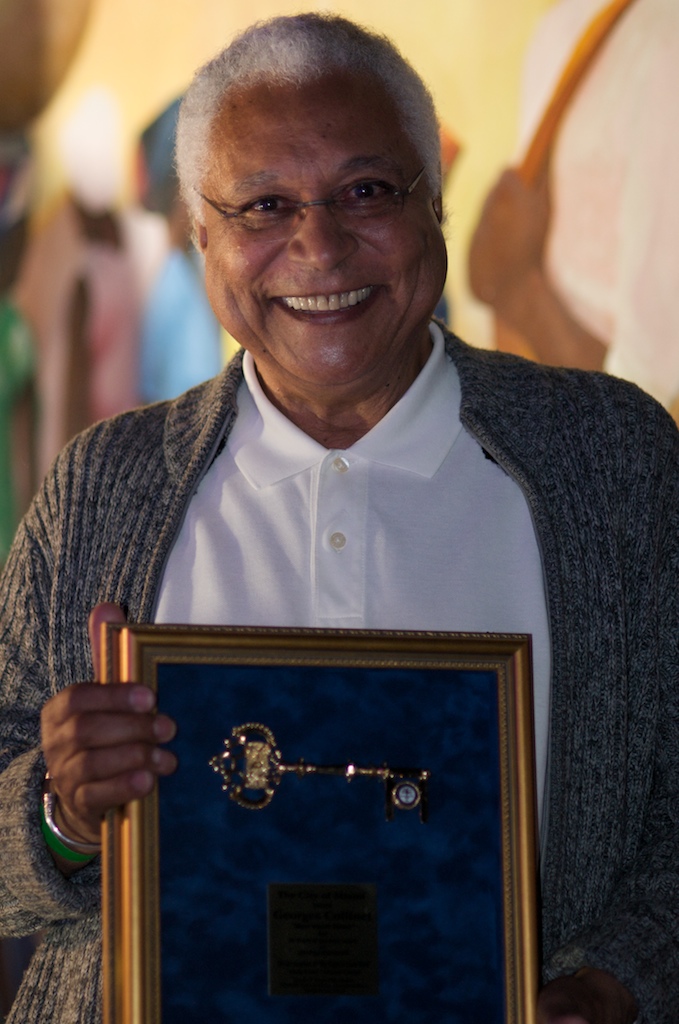 Aside from these official recognitions, listeners approached Georges all night saying things like, "You changed my life!" Also enthusiastic in his praise was John Yearwood, World Editor of the Miami Herald, whom we traveled with a group to Senegal back in 2010 to celebrate its 50
th
anniversary of independence. The finale of Big Night Little Haiti was a boisterous local
Rara Lakay
that took off from the Little Haiti Cultural Center and paraded through the surrounding neighborhood. The tin horns—
vaccines-
-and plastic pipe horns that sounded long, deep hocketing tones—and the percussion section—metal pipes, snare and hand drums—literally propelled a crowd of over 100 revelers down the street. (The Afropop microphone was rolling through all of this, of course.) As this joyful procession wound through the streets of Little Haiti, white haired senior citizens came out on their porches and swayed and whirled to applause from the crowd. It felt like a second line parade, Haiti-style!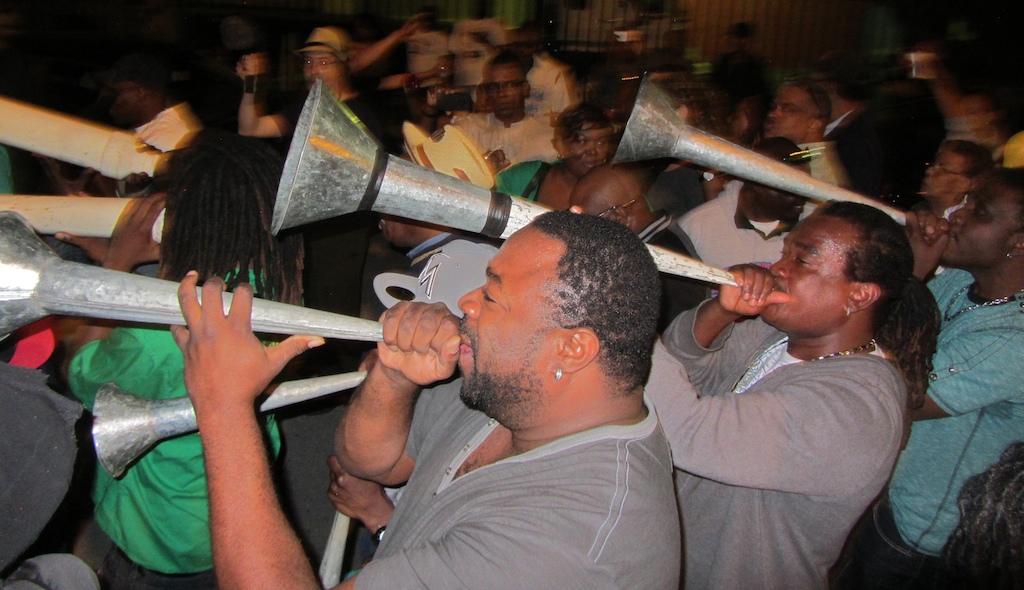 Georges, Banning and I want to extend a special
thank you
to Laura and James Quinlan, Adam Ganuza, Gene de Souza, and Angie Bell of the
Rhythm Foundation
, producers of Big Night Little Haiti along with the Little Haiti Cultural Center. Congratulations to them for attracting funding from the prestigious Knight Foundation. We brought back great lots of great live tape, interviews, photos, and stories. Stay tuned for our report on Afropop Worldwide in mid-April. This on-air party will set the mood for Ned and his exploration of Haiti the next month.
Photos by Banning Eyre and Luis Olazabal