Another Jamaica: A Night At Albany Manor
Far from the high profile clubs of Manhattan, you can find a venue called Albany Manor in the East Flatbush neighborhood of Brooklyn. It's not the kind of place that attracts much attention from the mainstream music press. Despite its low profile status, the unassuming Manor routinely hosts shows featuring any number of legendary names from the worlds of dancehall and reggae. This was particularly true last Friday, when a single bill featured Sister Nancy, Carlton Livingston, Brigadier Jerry, Chaka Demus, Professor Nuts, General Trees, Junior Demus and Errol Dunkley. For fans of classic 80's dancehall and reggae? This is pretty much nothing short of insanity. Although Albany Manor often holds shows featuring well-known artists, hearing about them is pretty difficult unless your are highly clued into New York's Jamaican community, requiring a bit of luck, a good living location (or walking route), and an attentive eye. This combination is exactly how I stumbled upon the "Legends in Action" bill one day when walking home on Nostrand Avenue near the Crown Heights/Bed-Stuy neighborhoods in Brooklyn.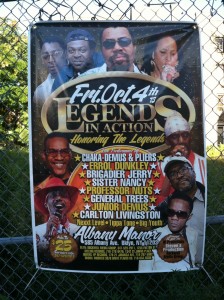 Shows at places like Albany Manor aren't often advertised very heavily online or in the papers, and a pre-show Google search for "Legends in Action" came up with absolutely nothing. Visiting the websites and Facebook pages of the acts on the bill didn't reveal any information about the show, and searching for Albany Manor's website, Twitter account or an official Facebook page didn't help, primarily because it doesn't have any them. This is often the way that things are with kinds of shows located in New York's outer boroughs at venues like Amazura or Albany Manor. Concerts are promoted via posters and a bit on via select radio stations at certain hours, with little online support or coverage from the New York press. Ultimately, the outreach is similar to what you would see for weekly soundsystem events in Kingston at venues like the Stone Love Headquarters or the street parties of Rae Town (both of which are, one should note, located in a city one fifth the size of Brooklyn, let alone greater New York). Despite the lack of press, it proved to undoubtedly be a real event when I walked in the door of Albany Manor last Friday at about one thirty in the morning. The venue is an unassuming, one story building with no windows that looks a lot like a community center-  basically one big room with a wooden dance floor in the middle and tiny stage about two feet high at the far end. There was food available, kept warm in tin trays on top of folding tables like you would see at a street fair food stall (or at the West Indian Day Parade). Drinks were being sold in plastic cups and beer was being sold by the bottle from picnic sized coolers (the beer ran the New York standard of five dollars apiece). A gigantic stack of speakers sat on the corner of the floor, blasting the sound of the selector running through early dancehall hits. The crowd was almost exclusively Jamaican, with well-dressed couples dancing slowly or enjoying their drinks on the periphery of the dance floor while a small group of Rastas showed their support for particularly beloved selections by putting their lighters in the air.  An elderly man walked around with a shopping cart full of peanuts for sale, shaking a set of beads to announce his presence. The air was thick with weed smoke and the lights were dim. When the show finally kicked off around two in the morning, the vibe continued essentially unchanged. Each act- all of whom appeared solo, backed up only by the selector (or DJ as we would call in the states)- was on for between 15 to 25 minutes,  toasted over what essentially amounted to a single riddim throughout their entire set. After three local artists offered up five minute sets to start the show, General Trees came out and riled up the crowd with some slackness-heavy toasting. Professor Nuts followed and not to be outdone, brought his own set of explicit, freestyle content. Jamaican-born deejay and long-time New York resident Junior Demus came on next with some amusing and innuendo-heavy rhymes, dropped with his signature deep, frog-like croak. After that, Errol Dunkley, clad in a shiny blue three-piece suit  switched up the vibe with some soulful love tunes before closing with his hit, "OK, Fred." There was no live band and no intermission between acts. Each deejay passed the mic like a baton to the host when they were finished. The host would introduce the next act to the two hundred or so audience members before quickly passing the mic on to the next artist.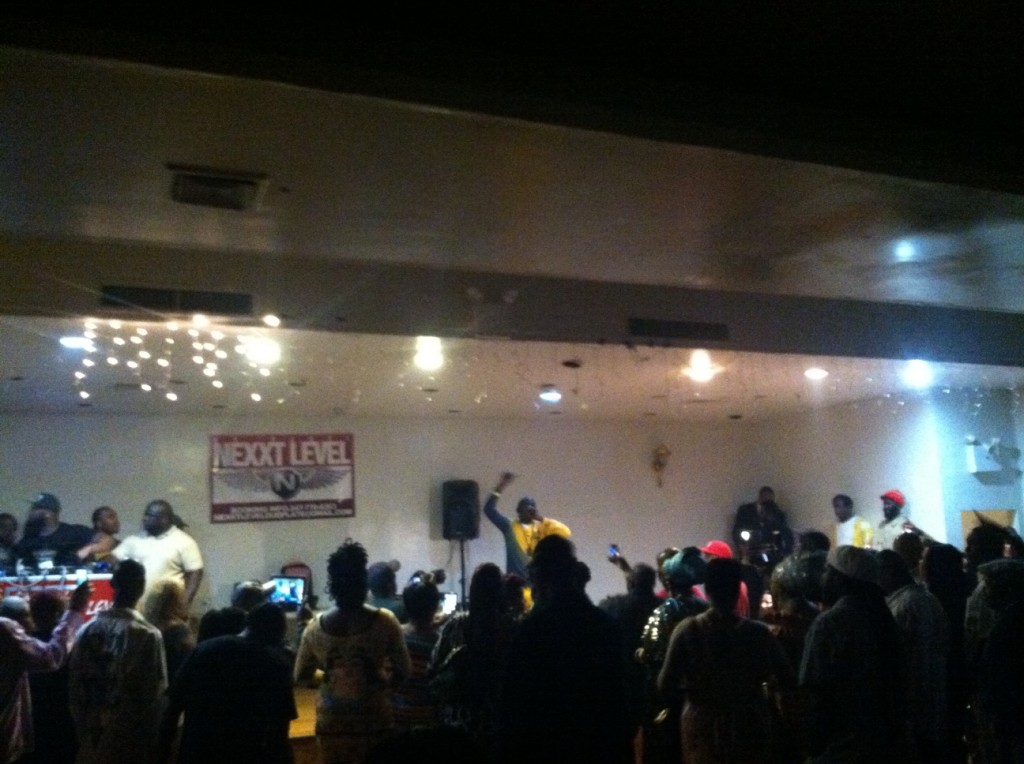 As four thirty approached, Sister Nancy was handed the microphone and took the stage, stealing the night by delivering a much needed jolt of energy. Using every ounce of her forceful vocals, Nancy paced the stage, delivering fragments of her well-known hits between improvised toasting. Wanting to switch it up, Nancy asked for the famous "stalag riddim" but the selector, unprepared, didn't have it immediately ready. This took Nancy off-guard, and rightfully so, considering that stalag is not only one of the most widely used riddims in dancehall history, but was actually employed on Nancy's own hit "Bam Bam." Nancy asked them to play "anything then" and continued on, incorporating lines from "One, Two" (and "Bam, Bam") with forceful vigor despite not riding the riddim she initially wanted. If New York is a city that never sleeps, then the Jamaican community is a major part of what's keeping that true, and shows like these are a big part of the reason why. What's unfortunate is that despite the legendary quality of the performers and dancehall's continuing appeal to NYC's music lovers, so many fans simply don't know about shows like this. Why that's the case isn't clear. Yes, the promotion for such events is severely limited. It's also probably fair to say that the scene at Albany Manor might not appeal to the many some reggae fans better used to the more professionally organized shows put on at Manhattan venues like SOBs or Terminal 5, both of which offer state of the art sound systems and a well-rehearsed set that will wrap up before last call. What is clear, though, is that there seems to be a divide between two very similar musical scenes: primarily Jamaican shows taking place in the outer boroughs at venues like Albany Manor, and the performances going down in the clubs closer to the center of the city (often with more diverse crowds). Despite their shared appreciation of the same body of music, these scenes rarely seem to interact, whether in the nature of the crowd or the style of the show. It's hard not to wonder about the results if they did. What would it be like to have a full, live band at Albany Manor backing Sister Nancy? How would a crowd respond to a soundsystem show of '80s dancehall stars at the Brooklyn Bowl with curried goat from a local restaurant simmering the back? We can only really speculate. Until then, though, you'll have to keep an eye out for posters the next time you're in Brooklyn. Your favorite reggae star might be playing to a small crowd in an unassuming space closer than you think. Back at Albany Manor, Sister Nancy finished around five in the morning with three acts to still to follow. The group I had arrived with were ready to leave due to a combination of too much rum and work the next morning. I couldn't blame them. I was exhausted as well. We watched Carlton Livingston run through "100 Weight of Collie Weed" before hitting the streets where we were encouraged to return by the bouncers outside. We all agreed we would.