Baaba Maal Live at Royal Festival Hall
Baaba Maal holds a privileged place in the pantheon of world music deities. Since coming to international prominence in the late 1980s through a contract with Island (and a close working relationship with Chris Blackwell and his team, which continues to the present day), Maal's willingness to embrace a range of contemporary styles saw his audience continually widen, though some fusion projects were more successful than others, and many of his finest moments have been based on vocal collaboration with the elder griot, Mansour Seck, backed solely by acoustic instruments. We've heard little from Baaba since the decidedly uneven
Television
of 2009, so it comes as a relief to find that his latest album,
The Traveller
, is largely a winner, though with too many different elements dropping into the musical soup pot as usual, he doesn't quite pull everything off.
[See Banning Eyre's review here]
And what holds true for the album holds equally true for this live performance on Jan. 20 at London's Royal Festival Hall, one of the most prestigious concert halls in Britain. It says something that the evening began with a personal commendation from the venerable Jude Kelly, the artistic director of the Southbank Centre (which houses the RFH), who lauded Maal for his musical virtuosity, as well as his openness and kindness. He's been a regular at this venue for a great many years (even cutting a live album here in 1999), and in the course of the evening, it became clear that Maal is a favorite of staff and season ticketholders alike. In her brief introductory comments, Ms Kelly made clear that the opening act, Blick Bassy, was personally chosen by Maal, and it speaks to his generosity that Bassy got such a prime slot. If you've not yet seen him live, Bassy is something of an unknown quantity: Standing at the microphone with a banjo, he delivered an unclassifiable set of songs that ranged from squawking warbles to funky growls, drawing on blues and post-punk in equal measure, and sung in his native Bassa language (save for a smattering of French and English). Bassy employed a lot of humor during the set and even if the audience struggled to guess what his lyrics were about, a great deal of feeling came through in his delivery. [caption id="attachment_27326" align="aligncenter" width="640"]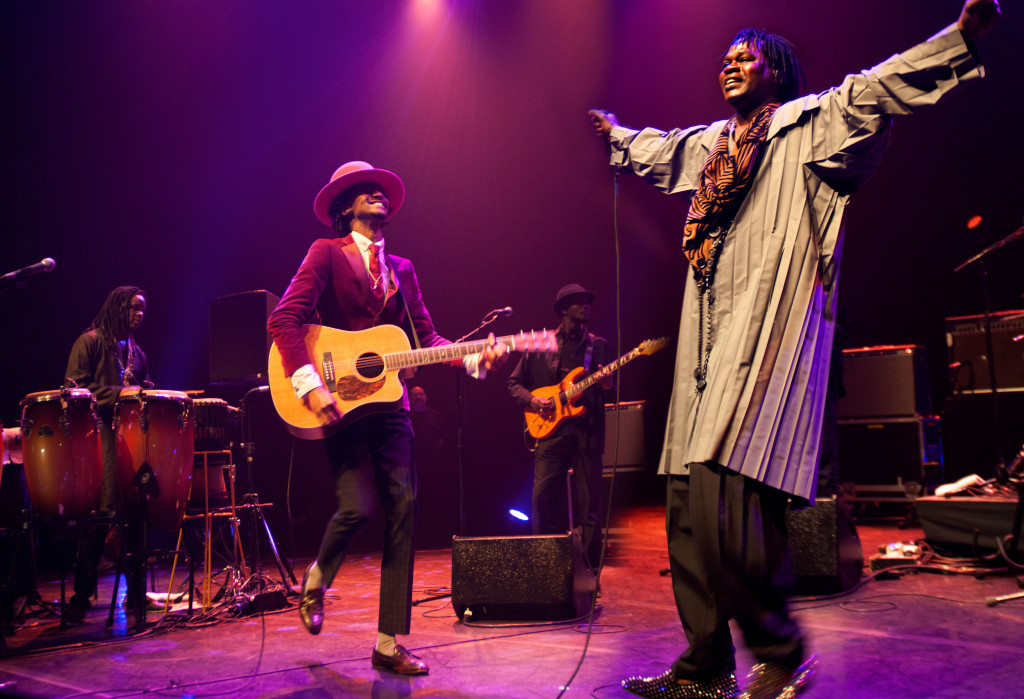 Baaba Maal Live at The Royal Festival Hall, Jan. 20, 2016[/caption] When Baaba Maal took the stage after a brief intermission, resplendent in a multicolored African robe, it seemed the passing of time has been exceedingly kind to him: He looks much younger than his 62 years, and his voice is entirely undiminished. The opening number, "Baayo," sounded just as moving as it did on first release in 1991, and since it was Maal with his acoustic guitar alone, the emotive power of his voice really hit me. Then Mansour Seck was led out to join Maal for an equally moving rendition of "Djam Leelii," emphasizing their enduring closeness, as well as the fact that Maal really doesn't need anything other than voice and acoustic guitar to make a dramatic impact. At this point, the members of the latest version of his Daande Lenol backing band had been present in the background, but not really doing anything other than making a few cymbal splashes and sounding the odd gong. They then started a slowly rising crescendo of sound as the lights came up, and the main percussionist stood out almost immediately (though his calabash was not miked up properly, so when he struck it with his palm, it was somewhat distorted); the percussionist's musical skill was obvious from the start, and he added a lot to the proceedings in general. The track "Kalaajo" from the new album had a slow build-up that gave it a majestic quality, and it proved another showcase for Maal's expressive voice, especially with his ability to convincingly stretch a note in the choruses. Unfortunately, the ngoni player then switched to electric bass, often resorting thereafter to a low open E note, which might work in a backstreet barroom in Washington, DC (where the player is apparently based), but didn't really suit the vibe here at all. A guest musician came out to play a tiny ngoni on the following number, which began with a keyboard drone, and that was one of very few moments in which we could actually hear what the bearded British keyboard player was doing, because most of the time he was simply buried in the mix. The band's version of the song "Cherie" from Nomad Soul didn't quite gel, although when Maal finally rose from his stool to deliver it, there was a momentarily captivating interlude on the congas. Things took a turn for the worse after that, with the stage emptying for the most tedious drum solo since "Moby Dick," a total mess unleashed in haphazard fashion by the Cuban drummer (and made worse by the bass player's momentary Jaco Pastorius imitation). This musical devolution went on for far too long, and if the point of it was so that Maal could change into a fresh brown boubou, he needs to give the band something else to do to fill the time. Thankfully, by now they'd sorted out the levels on the calabash, so we could hear the intricate percussive work more clearly at the slow opening of "Lampenda," another song from the new album, its rising tension and building pace adding to the dancers trying to find a space at the front to shake a leg, as Blick Bassy was called on stage to join in the fun. What should have been a high point turned into another momentary plummet, and the problem really stemmed from the peculiarities of the new rhythm section: the Afro-Cuban groove of "African Woman" brought everyone to their feet, but the four-piece "Kicking Horns" were crowded out by the drummer, who insisted on cluttering the song with off-beat drumrolls, his ego providing a real barrier (and Maal didn't help matters by trying to get the crowd to do synchronized hand-waves, though at least the conga drum solo sounded great). Some other guests joined for the following number, including an extra percussionist, stage left, and Seye Adelakan of Metronomy in a felt hat on acoustic guitar at center stage (who looked great, even if we couldn't hear a note of what he was playing). Toward the end of the set, the rousing "Fulani Rock" from the new album got everyone moving again, and for the final encore we were treated to Maal and Mansour Seck on their own for an a cappella duet—a wonderful way to end the evening. Baaba Maal's performance at the Royal Festival Hall veered from being quietly captivating to a vibrating pulse of pure energy, the flow disjointed by the random chaos of the band. But even if things didn't always quite work as they should have, the overriding feeling is that Maal remains the kind of maverick that is uniquely able to enliven world stages. And that alone is surely something to celebrate.