Behind the Scenes at the 20th Annual WOMEX Conference, Santiago de Compostela, Spain
Eric Herman, onetime Afropop intern and now deeply involved in the world music world as manager for Vieux Farka Toure, Bombino, Sierra Leone's Refugee All Stars and Aurelio Martinez, attended the 20th annual World Music Expo (WOMEX) conference held in October in Santiago de Compostela, Spain. He reports back with an insider's observations and an overview of some of the many outstanding acts that showcased there, providing a behind-the-scenes glimpse of the complicated route some of your favorite performing artists may have followed to arrive onstage at your local club, festival or concert hall.
WOMEX is the yearly gathering of some 2,000 world music industry professionals from over 100 countries who comprise the global mechanism that enables international artists to record, perform, be heard and earn a living. For five days and nights, performers, presenters, journalists, record labels, agents, managers, and many others involved in the world music business participate in panel discussions, view the many booths and displays, attend showcases by more than 60 artists, and network. As at every WOMEX, there were many artists who impressed me. Lula Pena (Portugal), pictured above, was my favorite of the subtle, mellow performers. I was hanging on her every note, crooned in her beautifully raspy alto or strummed delicately on her guitar. [caption id="attachment_21281" align="aligncenter" width="300"]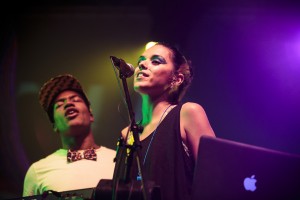 Batida. Photo Jacob Crawfurd[/caption] Overall, though, this festival was high-energy. My favorite party-set came from Batida (Portugal/Angola), whose energy was potent and intoxicating. There are a lot of strong groups around the world melding electronic music with organic percussion and instrumentation along with flashy stage theatrics, and this group did as good a job as I've seen with all of those elements. [caption id="attachment_21282" align="aligncenter" width="600"]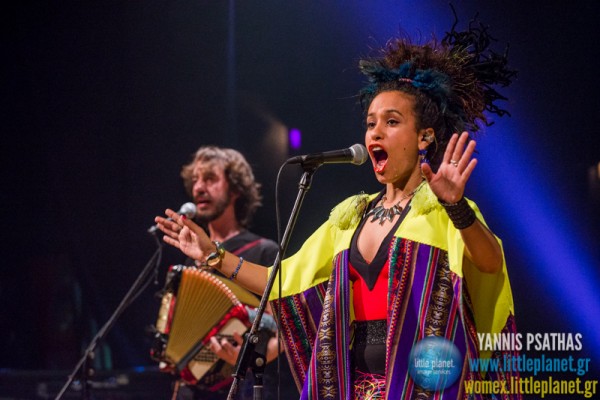 La Yegros. Photo: Yannis Psathas[/caption] A similar impression, though distinctly Argentinean in flavor, was created by La Yegros, who managed to deftly turn a stuffy, seated theater into a sweaty dance party. [caption id="attachment_21280" align="aligncenter" width="300"]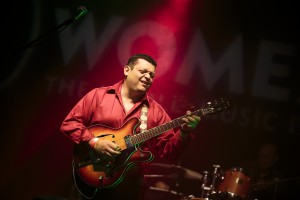 Guayo Cedeno and Coco Bar. Photo: Jacob Crawfurd[/caption] Coco Bar, a psychedelic surf-rock trio from Honduras led by burgeoning guitar hero Guayo Cedeno, who has played lead guitar for years in Aurelio Martinez's band and Andy Palacio's before him, rocked their set. Full disclosure: I now proudly manage Aurelio, and he joined Coco Bar as a special guest for a couple of songs to finish their set, so I can be forgiven for my probable bias in considering those 10 minutes or so the musical highlight of the festival, although I don't think I'm alone in that view. Finally, Ester Rada, an Israeli singer of Ethiopian descent, was roundly considered the queen of this year's showcases. Her beautifully agile voice, attention to detail and larger-than-life stage-presence were formidable, as was the tight Ethio-funk-jazz group backing her. The more compelling story to me, though, was the audience. These people are passionate about what they do and they work tirelessly to promote art that is too often considered marginal in a competitive music market, if it's considered at all. Further, they are nearly all lovely, admirable people. My hat goes off to each and every one of them. So, I hope that whoever among them reads this will forgive me the following complaint and over-generalization: I have sensed an increasing degree of negativity surrounding the showcases at WOMEX over the past few years, and this year it reached fever pitch. People were far more eager to complain about the showcases that they didn't enjoy than to discuss the ones that they did. It almost seemed as though the objective of our attending these performances was to pick apart the flaws rather than celebrate their beauty, as if one's opinion would not be considered sophisticated and credible unless it was first and foremost a critical one. I am aware that this competitive snobbery exists everywhere in the arts, and in some cases can be far worse than what prevailed in Santiago. But I find it ironic that WOMEX—usually a vibrant, friendly and supportive environment even among competitors—has become such a harsh and perilous environment for the artists themselves. It is a rare and coveted opportunity for an artist or group to be showcased at WOMEX; only a few dozen are selected out of hundreds of applicants. WOMEX does not pay the performers, so it is an expensive undertaking for the artists and their teams. Honestly, the main thing I took from this year's showcases was fear of presenting any of my own acts there in the future; increasingly it seems like a risky proposition. Beyond the showcases, this was easily the most fun, spirited and productive WOMEX that I have yet attended. I often found myself in conversations with old and new friends from around the world, reflecting on how lucky we are to go every year and enjoy the people, the events and the city while at the same time getting important business done. I only hope that the artists themselves enjoyed WOMEX and got as much out of the experience as the rest of us did.