Best of The Beat on Afropop: Manu Dibango
It's not easy to encapsulate Manu Dibango's massive career in a few lines. This extravagantly gifted Cameroon-born musician's musician encompasses jazz, funk, soul, and African styles from all over the map, not to mention a dalliance with "Reggae Makossa," recorded with the Jamaican bass and drum team of Sly and Robbie. Universally known for his all-time classic, "Soul Makossa" (1972), his career trajectory has taken him through the Congolese Grand Kalle's Orchestre African Jazz in the early '60s, to collaborations with Herbie Hancock, Tony Allen and Hugh Masekela, among many others. He has released at least 72 albums. A detailed biography by Robert Leaver can be read here.
The Beat caught up with Manu in 1984, in this article by Charles de Ledesma, and some 31 years later, the seemingly ageless saxophonist (who also plays piano and vibes) is still going strong. He's appearing in New York on Dec. 5 at the iconic Apollo Theater, on a bill titled "Je Suis Soul" that also features Les Nubians, Ben L'Oncle Soul with Monophonics, and African jazz keyboard behemoth Cheick Tidiane Seck in the late show.
READ OR DOWNLOAD THE ARTICLE HERE: Beat3#6Manu
ABOUT "BEST OF THE BEAT ON AFROPOP"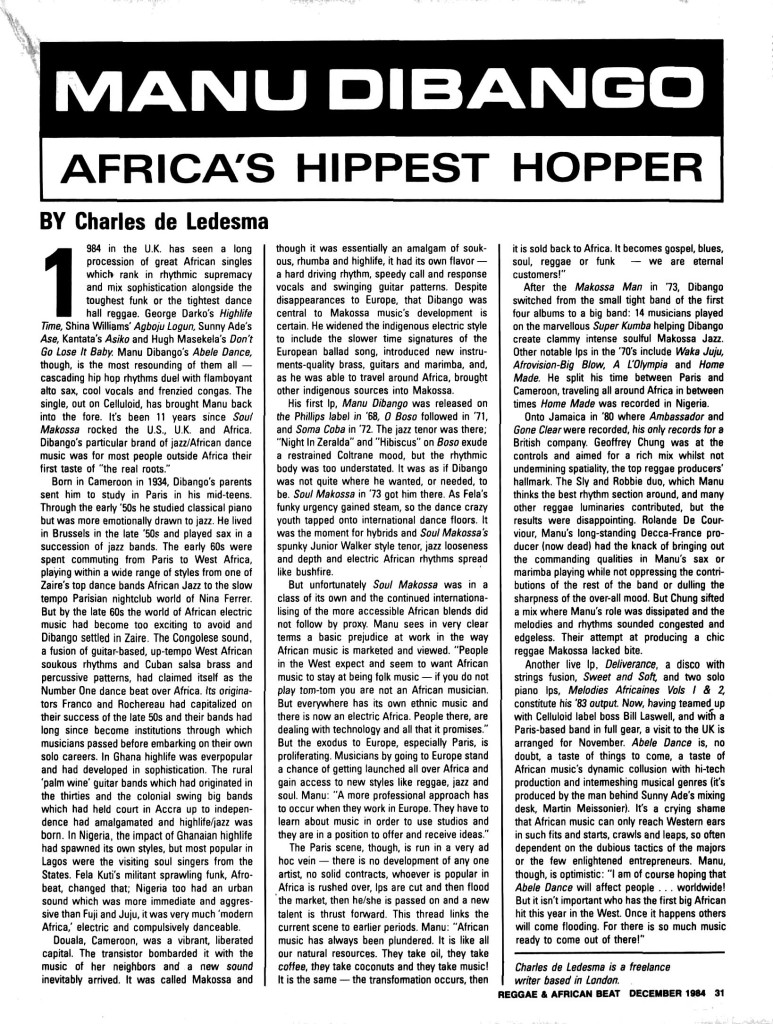 Here is the original recording of "Soul Makossa," along with an interpretation by Les Nubians.