Field Report: Afrojam Music Conference 2017
Things got funky Uptown Saturday night, as Afrojam, an up-and-coming booking company in New York, presented a solid lineup of musicians from Africa and the African diaspora. It seems like every big music event pulls in a constellation of thematically, but not officially, related satellites—and this year's globalFEST was no exception. On the eve of the world music showcase, Afrojam put on a showcase of its own at Mist in Harlem. [caption id="attachment_33980" align="alignnone" width="640"]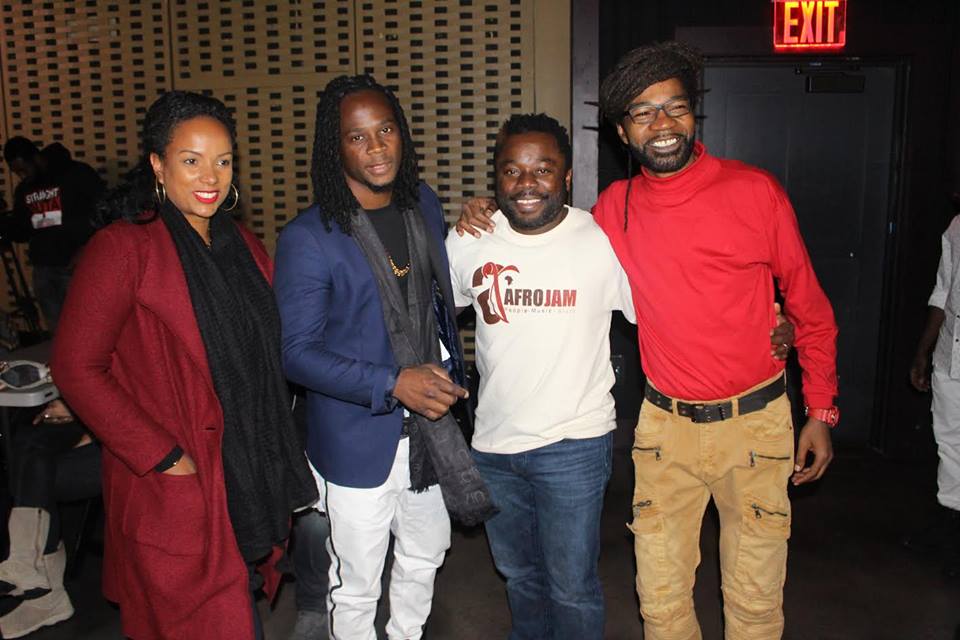 Admiral T (second from left), Vincent (second from right)[/caption] I talked to Vincent Nwachukwu, Afrojam's cofounder. He explained how he isn't even really sure what Afrojam is just yet—so far they book shows and events in New York and are looking to expand internationally, while also promoting foreign artists to the American markets. "A lot of these musicians tour in Europe, or in Africa, or in the Caribbean, but we want to help them break into the U.S. market," he said. As such, the artists were less established than the ones you might see at globalFEST, but the concert was much more intimate too. After a weather delay, Élage Diouf and a duo of French Canadians kicked things off. Though originally from Senegal, Diouf has been living in Montreal, and undeterred by the snow blustering outside, they were more than ready to kick things off. It's rare and usually a treat to see a percussionist also take on band-leading responsibilities, and Diouf drummed and sang capably. The ensemble did a version of the American classic "Man of Constant Sorrow" that was likely without precedent, before ending with a heartfelt ballad for Nelson Mandela.
Next up was Admiral T from the French Caribbean island Guadeloupe. The audience at Mist was pretty well settled into their chairs, but the good Admiral wouldn't take no for an answer when he demanded we get up to dance, at one point even physically pulling people to their feet. And perhaps to give the crowd inspiration—or maybe to show them up—Admiral T brought out a pair of his own dancers. While the dancing was spot on, Admiral T's voice is a pretty amazing instrument to behold. He's a rather slight man but the sound coming from him was both nimble and huge. He slid seamlessly between French, Creole and English, just as his music hovered between Guadaloupean
gwo ka
, hip-hop, and the modern zouk-pan-Caribbean beats heard in the Antilles today. [caption id="attachment_33983" align="alignnone" width="640"]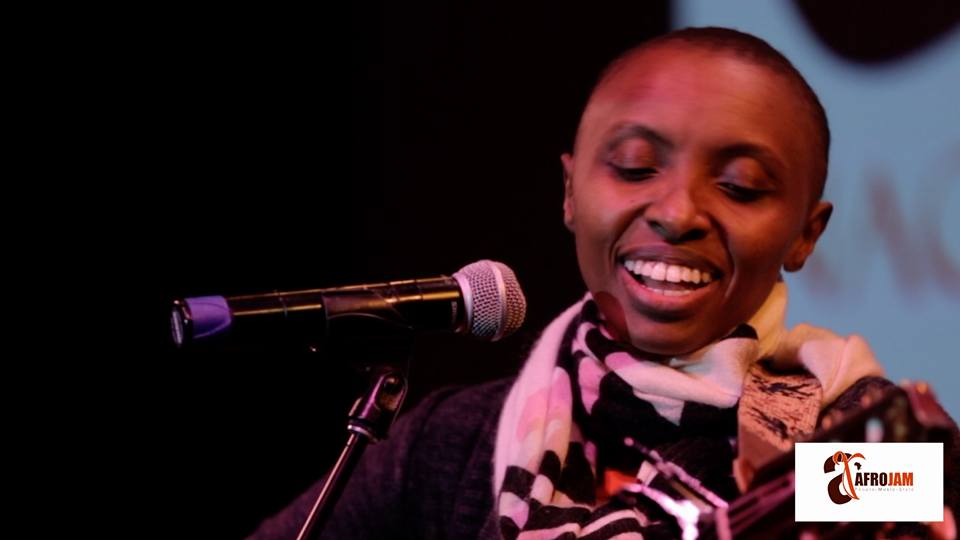 Naomi Wachira[/caption] From Admiral T's booming bass and dancing duo, the evening pivoted to Naomi Wachira, armed with only her acoustic guitar. Even after a long trip—she and her daughter had come from their home in Seattle, a continent away, only to be waylaid en route to New York in Syracuse, arriving just in time to play. But even without a warm-up, Wachira mesmerized the crowd. Her lithe voice skipped atop the upbeats from her guitar. Although from Kenya originally, someone in the crowd offered a fitting comparison from closer to home. "Naomi
Hill!
" someone called out, evoking the patron saint of acoustic r&b, Lauryn Hill. It wasn't the only feedback Wachira got either. After the song "I'm Alive," which ends in tricky vocal acrobatics, someone in the crowd exclaimed "that's
Santeria
!" From the Democratic Republic of Congo, Nkumu Katalay and the Life Long Project Band finished up the night. As the first song was just starting, Katalay realized his guitar wasn't working, and decided then and there that it didn't need to work. The set didn't seem to suffer for it, with two keyboards, a drum kit, auxiliary percussion, and a dance corps filling the stage visually and the room sonically. They played an updated Congolese rumba funk—"rumba with
my funk,"
the bandleader reiterated, pointing to his heart, "my
funk."
Playing in New York is hard; booking in New York is hard. Every concert here is in competition with a world of other options. But, last Saturday, as they've been doing for years now, Afrojam continued to make a case for itself as a reason to come out.