Congolese Superstar Fally Ipupa Live in New York
All photos by Sebastian Bouknight. Videos by Akornefa Akyea.
Here are the facts: Fally Ipupa performed in New York, NY on Saturday, Nov. 5 with his band, F'Victeam. The show took place at Symphony Space, a seated and semi-carpeted venue which usually hosts events like "Selected Shorts," a night of short story readings by well-known actors and the New Amsterdam Symphony Orchestra. I had my reservations as to whether Symphony Space, located in the neighborhood where Tom Hanks and Meg Ryan lived in
You've Got Mail, 
was ready for a night with Fally Ipupa and his live Congolese band.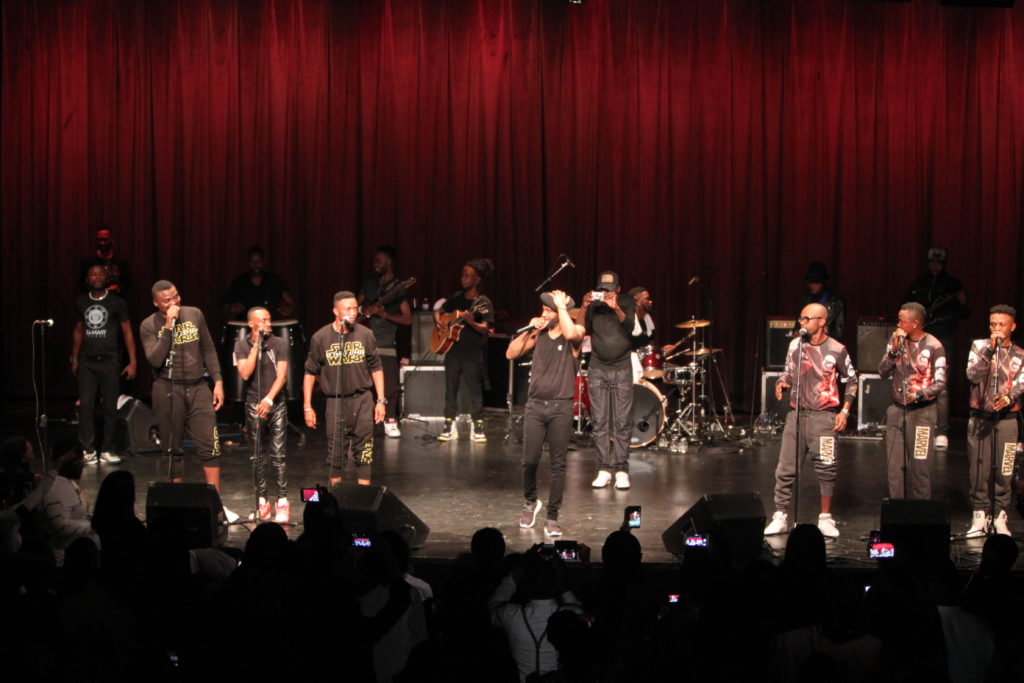 At 8 p.m., the start of the show, there was a congregation of mostly Central and West Africans just outside the doors greeting one another and clearly bubbling with excitement that the prospect of live music usually encourages. There was a mixture of pidgin, English, Lingala and French flying out of the mouths of men dressed in their finest suits and women dressed in dresses that accentuated the movement of their hips--obviously ready to dance. In the next 45 minutes, concert-goers casually made their way inside to their seats. Those who had walked up to their assigned upstairs seating quickly made their way back downstairs seeing as the venue was only about half full. The crowd got warmed up by the charismatic Ivorian DJ Saddam Hussein of
Made In Africa NYC
, and a Nigerian MC who asked the crowd "is Congo in the house?" She received a quick response of "Which Congo? Kinshasa or Brazzaville?" from a man drinking beer in his seat. This audience was not to be played with. There were a few opening acts rapping or singing over a pre-recorded track. The most memorable of the openers was an
Afro-Congolese dance
group with choreographer Eto'o Tsana and bandleader Isaac Katalay, who wowed the audience with live drumming and energetic dancing. These are the facts, but when Fally Ipupa was announced and took the stage, only pure, inexplicable magic transpired and pushed the boundaries of the venue. [caption id="attachment_32688" align="alignnone" width="640"]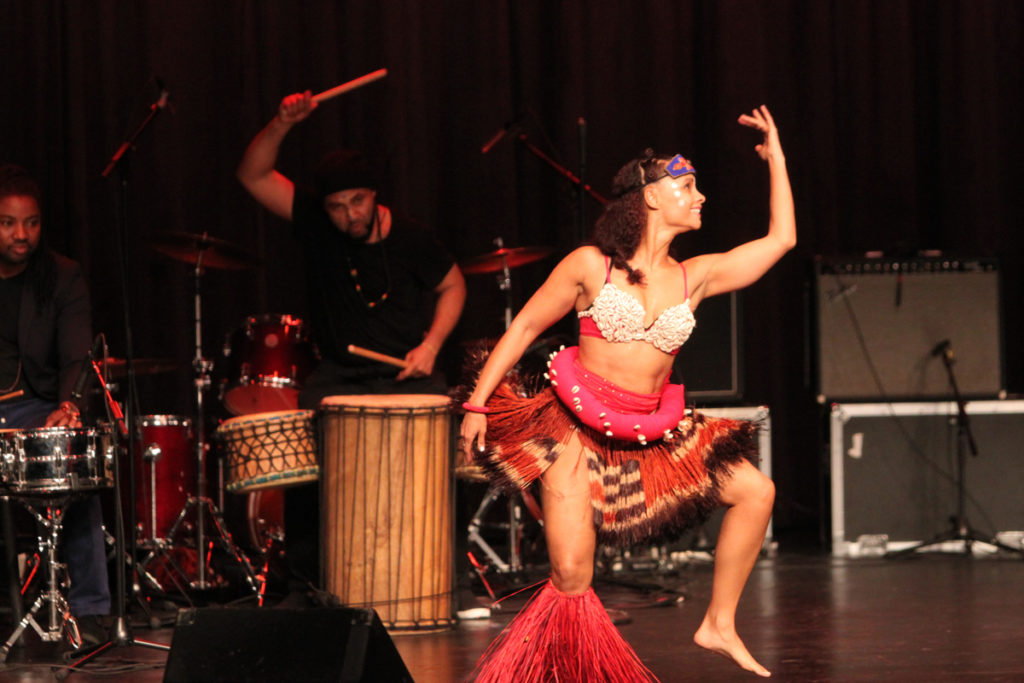 Eto'o Tsana dances with Afro-Congolese dance group.[/caption] The lights dimmed, the stage glowed purple and Fally emerged wearing a button-down pilot's jacket and beret. The audience leapt to its feet and rushed towards the aisles and the stage, eager to leave the rigid confines of Symphony Space's narrow seating. Fally Ipupa's voice filled the venue, making it feel like a large stadium with thousands of people screaming for the music to start. Fally took the mic and introduced himself, letting his fans know, in his raspy, booming voice, exactly who he is: "Le Creatisimo," "El Protagonista," "El Cantador," "El Rey Mago" and "Three-Time Hustler."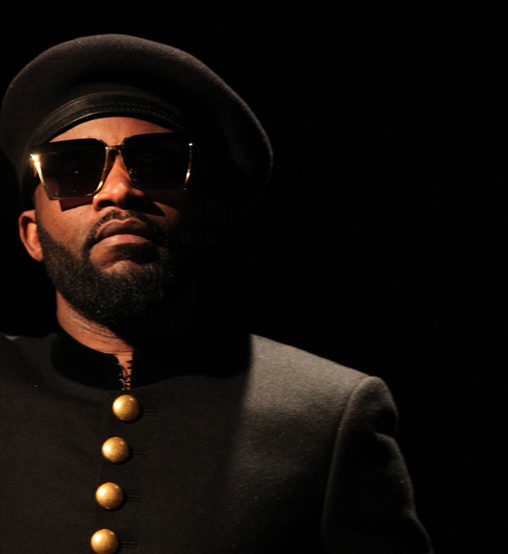 The infectious drum beat for his hit song "French Kiss" began, and hips of all shapes and sizes began gyrating. [video width="300" height="500" mp4="http://afropop.org/migrated-uploads/2016/11/IMG_2907.mp4"][/video] There were a million things to focus on during the performance as Fally and his band are the total package. The begin with, the Congolese crooner's voice is staggeringly consistent. We live in a time where it is acceptable that a popular singer's live performance may not be as strong as his or her recordings, but this was not the case with Fally at all. His voice soared over his band and background singers and his recognizable tone, equally gruff and smooth, seemed to hit one right in the chest. The mixture of sensual Lingala, French and occasional endearing English made for an interesting linguistic palette that continued to keep one's ears engaged.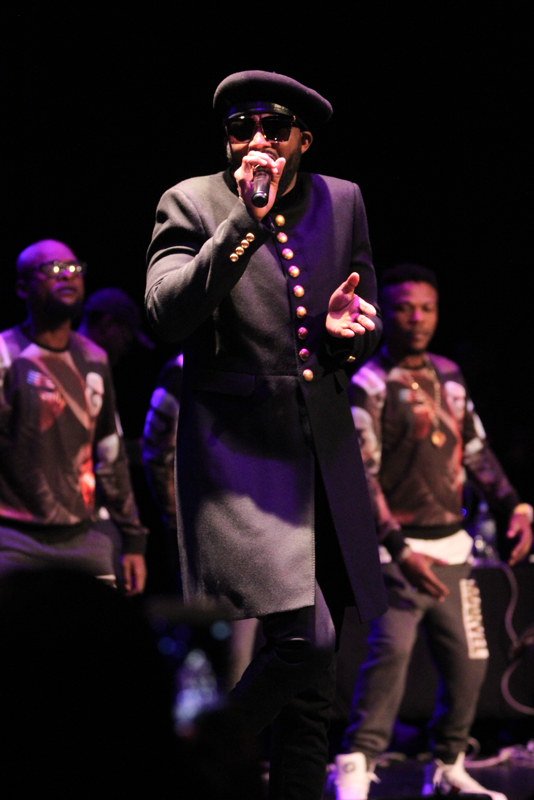 Button by button, Fally's conservative pilot's jacket came off, inciting screams from mostly women (and some men) in the audience. Finally, in just a black tank top revealing his well-toned arms, he was able to let loose and dance. The group of men clad in baggy Star Wars-themed sweatshirts and sweatpants accompanying Fally on stage is the mighty F'Victeam. Sometimes one of the six backup singers would  take control of the mic, allowing Fally to stop singing and focus on the group's choreography.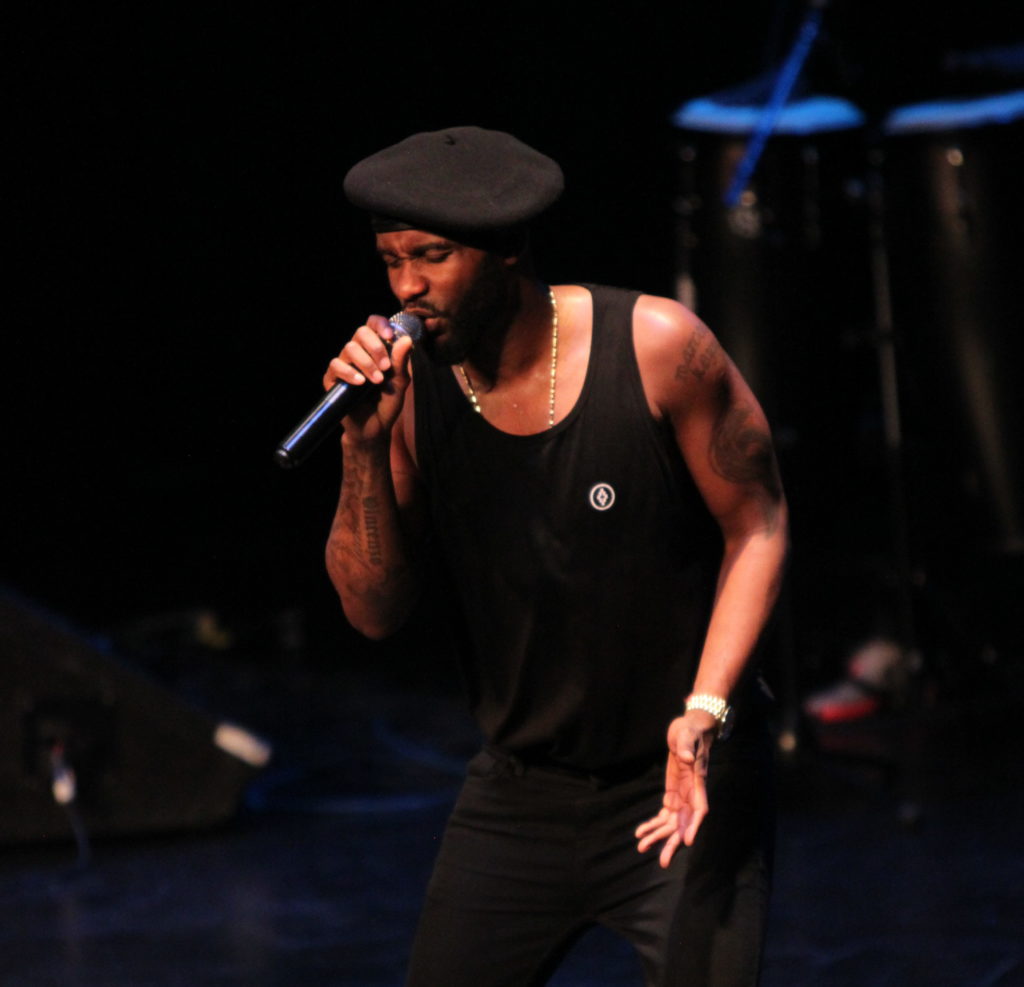 When Fally dances, body isolation and subtlety are key. His movements were never rushed, always smooth, concentrated to the pelvic area and purposefully relaxed so you know exactly who is control of the pace. The choreography was incredibly tight and repetitive, continuing just long enough for the audience to imitate before they switched to another move. [caption id="attachment_32723" align="alignnone" width="640"]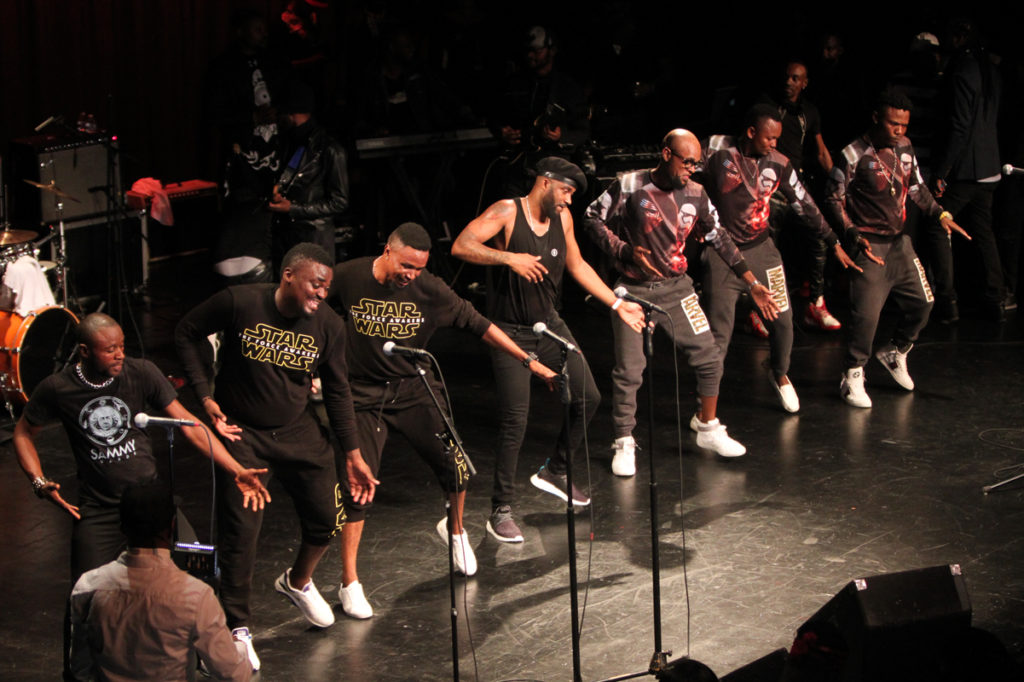 Fally Ipupa and F'Victeam[/caption] None of this would have been possible without Fally's live band. All the standard instruments were present (bass, drums, guitars, synthesizer and congas) but the way they communicated with one another in the language of their kinfolk was beautiful. In Fally's performance, the music cannot exist without dance and the dances cannot exist without the music. It makes sense that Fally is an exceptional musician and dancer because without the other, he wouldn't be able to create the tension his music is so well known for. In other words, Fally, has perfected "the drop" common in electronic music. The music starts in one rhythm, with chords that sustain for a while, often hinting that there is something more to come. Then suddenly the bass line and drums switch to a new and refreshing rhythm. In Congolese music, the guitar and/or synthesizer take the lead in an exhilarating melody, finally ridding the music of all its built-up tension. Fally conducts this "drop" with his choreography and the nature of the song informs his choreography. This seamless communication between musician and dancer did not become fully apparent until audience members were invited to come up on stage to dance with Fally. With no prior rehearsals between the band and the random audience member, the drummer would crane his neck to follow what the dancer was doing, and the good dancers who received the most applause were the ones who listened, responded and followed the music. [video width="300" height="500" mp4="http://afropop.org/migrated-uploads/2016/11/IMG_2919.mp4"][/video] At around midnight, a Symphony Space staff member awkwardly pushed past the many bodies on the stage to tell the band leader that the show had to end. The DJ rushed to the stage to announce in French and English where the after-party would be, while Fally bowed and the last chords sounded. The lights came on and smiling and glistening faces searched for their coats as many had shifted several seats down while dancing. Concert-goers slowly sashayed towards the exit asking one another details about the after party, clearly eager to keep the magic going no matter the time or venue. [envira-gallery id="32765"]