Cuts From the Crypt: Banning's Picks
The Afropop Archive, 30 years in the making, is a huge collection of vinyl, cassettes, CDs, field tapes, live performance recordings, videos in many formats, photographs, books, periodicals, posters and more. Afropop producers have meticulously collected materials all over the world over the years. Over the course of 2015, most of this material has been consolidated in three locations in Brooklyn and Connecticut, principally the Afropop office in Sunset Park, Brooklyn. We are very excited to have now begun the long-term work of organizing, protecting, and cataloguing these materials. Our vision in the future is a vast, searchable database, available to fans, students and researchers in perpetuity. Realizing this vision is going to take time and resources. Happily, Afropop has begun working with two powerful allies: The 
ARChive of Contempory Music
 in New York City, and the 
Internet Archive
 in San Francisco.  In the coming months, we hope to unveil the first public access to the Afropop archive online. In the meantime, here are some ways you can get involved:
Make a tax-deductible contribution to the Afropop Archive fund.  Click the Donate button on our home page for details.
Spread the word about the project to Afropop fans, archive nerds and Internet futurists.
If you are in the New York area, you can volunteer time to help with the organization and digitization activities. Write to info@afropo.org with the subject line "Archive."
If you have materials you would like to donate to the archive, contact us at info@afropop.org. We are happy to receive recordings not already in the collection.
[caption id="attachment_24702" align="aligncenter" width="600"]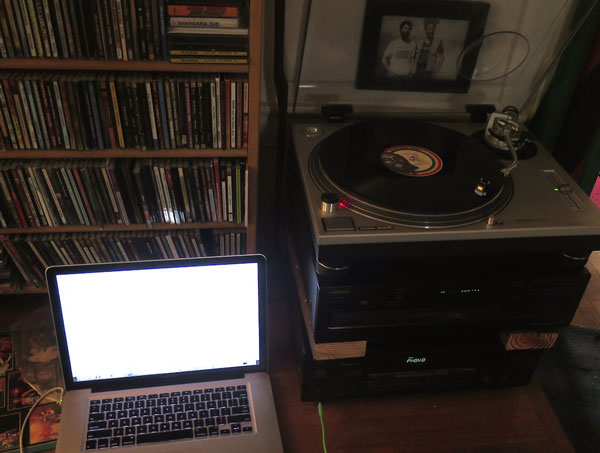 Digitizing vinyl. Nothing to it, if you got the time...
[/caption] As we work through the collection, we will continue to air editions of our occasional "Cuts from the Crypt" series. This week,
producer Banning Eyre has selected a set of tracks
from our Zimbabwean and South African vinyl collection, and some choice moments from our field work in Congo, Mali, Mozambique, and Madagascar.  Special thanks to Nambu Productions in Maputo, Mozambique, for two choice selections. These were collected when Banning Eyre visited in 1998 and was hosted by the late director of Nambu Productions, Rob Pannekoek. There is one selection from a current CD by French-Malagasy guitarist Solorazaf. The CD is 
Solodeguitar
.  Click here to hear 
Banning's All Things Considered review of Solodeguitar
. Finally, as promised, here is the cover art for the vinyl releases featured in this program: