Dancing in the streets of Cape Verde
Lying a three and a half hour flight from Fortaleza (Brasil), six from Boston, and four from Lisbon, the beautiful Cape Verdean island of Santiago is more or less in the center of three continents. So, it was the perfect setting for the first Atlantic Music Expo, a new meeting for world music professionals from across Africa, Europe and Latin America. The Expo was held in early April in the Cape Verdean capital Praia, a city which offers a fascinating mix of creole culture and ancient Portuguese colonial power. Cape Verdean history is closely linked to the transatlantic slave trade. From the 15th century till the abolition of slavery in the 19th, the Portuguese rulers used Cabo Verde as a transit port for African slaves being shipped to the Americas. Independent since 1975, Cabo Verde now wants to be a crossroad for cultural exchanges and a central point for spreading the vision of creolisation, the heart of the Cape Verdean identity. The majority of the population of the Cape Verdian peninsula is Creole ( product of a mixed European and African ancestry).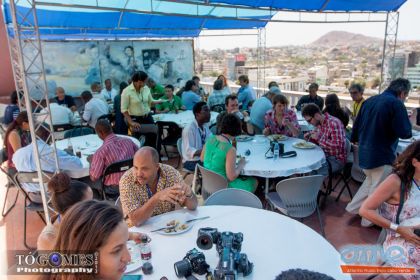 Atlantic Music Expo
Watching the many expensive four wheel drive cars in 'Plateau,' as the center of Praia is called, one can easily get the impression that Cape Verde is a rich country. Driving into the countryside reveals a reality  that is quite different: many people are unemployed, living in simple houses and receive little or no government aid. Despite the poverty, Cape Verdeans in general are a very friendly, relaxed people, genuinely interested in foreign visitors. The cordial way Cape Verdeans greet you is truly memorable."Tudu dretu?" which means 'Everything OK?' Your answer is 'Tudu dretu." A colorful expression to start your day. The Atlantic Music Expo (AME) , which drew around 500 local and international delegates from almost 30 countries, was initiated by the Ministry of Culture of Cape Verde and produced by Harmonia (label, distribution and event production) directed by José da Silva and WOMEX ( World Music Expo). Welcomed by UNESCO to boost the music industry across the Atlantic, the AME offered day and night showcases, a full conference, as well a street market, where Cape Verdean artists and craftsmen could present themselves.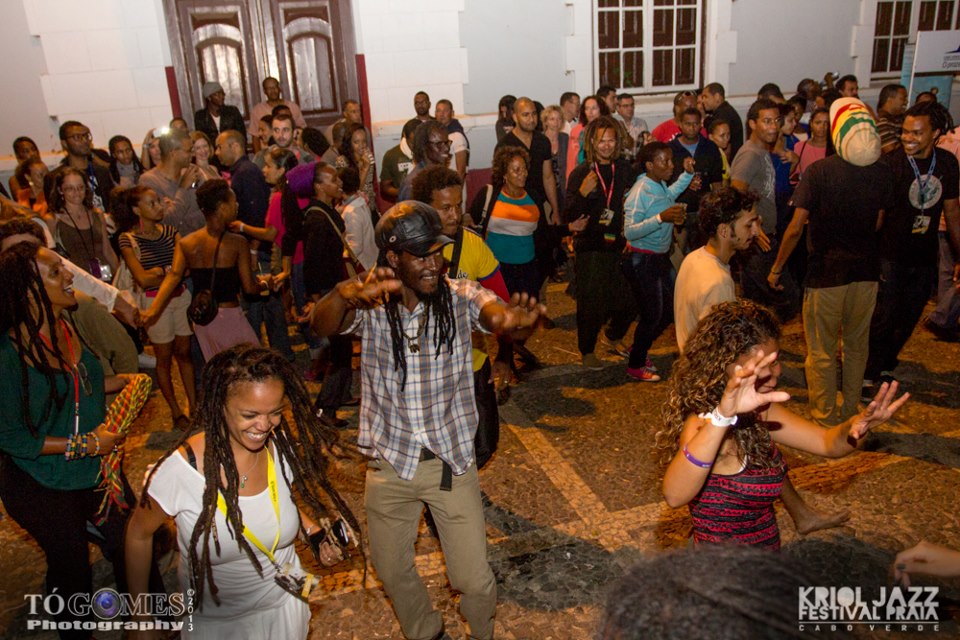 Dancing in the streets
The visionary Cape Verdean Minister of Culture is Lúcio Matias de Sousa Mendes, better known by his artistic name Mario Lúcio. He is the founder and singer of the Cape Verdean group Simentera and released a few beautiful solo albums on José da Silva's Lusafrica label. Coming after Gilberto Gil (Brasil), Rubén Blades (Panama), Youssou N'dour (Senegal) and Susana Baca (Peru), Lúcio is another addition to the ranks of well known musicians becoming ministers. Always dressed in white and wearing sandals, Mario Lúcio is a remarkable man with a strong vision. 'We are all creole' was the credo of his opening speech, in which he called on the participants to join forces by creating a new network. Later that week, Lúcio furthered this message of inclusion and cooperation by taking the initiative to create a forum for music festivals in Africa. 'Rather than compete with each other, the African music festivals must support each other as much as possible.' Mario Lúcio and Youssou N'dour,  who was also present in his role as Senegalese Minister of Tourism, are the vanguard of this new network which expands contact and activities on both sides of the Atlantic Ocean. Label owner, event organizer and record shop owner José da Silva, the man who introduced Cesaria Evora and Cape Verdean music to the world, was a happy man afterwards. 'We are dealing with a limited budget and an infrastructure that leaves something to be desired. But all in all the AME was very successful as a new meeting point for world music professionals. Next year's addition will be even better."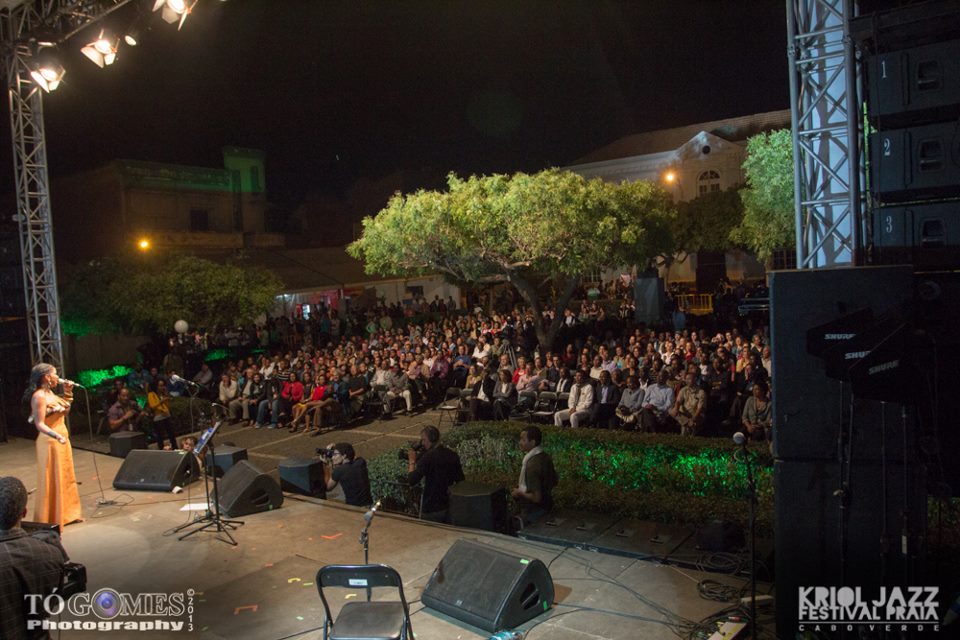 Nancy Vieira Live
While daytime was restricted to professionals, the night's open-air showcases in the pedestrian area of Praia were free for everybody. Thousands and thousands of visitors, mainly of Cape Verdean origin, crowded the streets,  where one could listen and dance to the music of local stars like Angelo Andrade, Cesar Lima and the Ricardo de Deus Trio- not to mention the numerous artists from Brazil, France, Angola, Guadeloupe and Morocco. The atmosphere was exuberant and everyone came with one goal in mind: dancing. Oh yeah, and of course eating and drinking. What a pleasure to watch so many enthusiastic Cape Verdeans enjoying nightlife! Right after the AME was scheduled the fifth edition of Kriol Jazz Festival, which took place at several locations. Headlining the official opening night in the Auditório Nacional Jorge Barbosa was Zé Luis, a new star of Cape Verdian music. Nearly 60 years old, the exceptionally charming performer touched everybody's hearts with his morna's and coladeira's performed in the style of the late great Cesaria Evora. His debut CD "Serenata" (released on Lusafrica ) is one the most interesting African CD's of this year. The concerts at the stage on the Rua Pedonal offered a wide range of artists. The Cape Verdean nightingale Nancy Vieiria performed together with Portugese fado star Joana Amendoeira, while the Gangbé Brass Band from Benin set the audience on fire with their danceable mix of brass music, percussion, funk, and jazz . Carmen Souza impressed with her original cross-fertilization of Cape Verdean music and jazz, a complete contrast to the Congolese superstar Jupiter who infused funk and urban grooves into his rumba. Latin jazz trumpeter and congueiro Jerry Gonzalez, American soul diva Betty LaVette, and the legendary Gabonese singer and lyricist Pierre Akendengue exemplified the inter-continental character of Kriol Jazz. Most important was that Cape Verde, a small country with only 523.000 inhabitants, managed to put itself firmly on the world music map with the AME and Kriol Jazz. With attractive ingredients like a tropical climate, friendly people, tasty creole cuisine ('cachupa'), divine drinks ('grogue') and inspiring music Cape Verde is definitely among the most attractive places on earth. Here's looking forwards to next year!
-Report by Bastiaan Springer, a producer for Radio 5 (Netherlands), and a world music journalist since 1984.