Dispatch From Nigeria #5: Port Harcourt--Biafra and Oil
Banning Eyre is currently in Nigeria, researching the vibrant music scene for
Afropop Worldwide'
s
Hip Deep
series. Here's the latest field report.
PORT HARCOURT, Nigeria, Feb. 20—We've just wrapped a week in Port Harcourt, the largest city in the Niger Delta, a place that has endured the horrors of the Biafra War (1967-70), as well as devastating abuse by Shell Oil and subsequent acts of sabotage and freelance "tapping" or "bunkering." Illegal oil extraction by enterprising young locals who see no other option for survival has amplified one of the most destructive environmental disasters the world has seen. It turns out that these stories—Biafra and oil—are related and involve music—both highlife, the music that ruled West Africa from the 1950s-80s, and hip-hop, which now rules the world. This is complicated and sensitive material, and I will only hint at the many nuances here. But our work in Port Harcourt centered on connecting these two narratives through music. In a nutshell, the Biafra war stemmed from a movement for independence in eastern Nigeria, spearheaded by the Igbo people. The Nigerian government was so determined to hold onto this oil-rich region that they were willing to tolerate between two- and three million deaths in Biafra, mostly from starvation caused by an effective siege of this vast region. [caption id="attachment_34783" align="aligncenter" width="640"]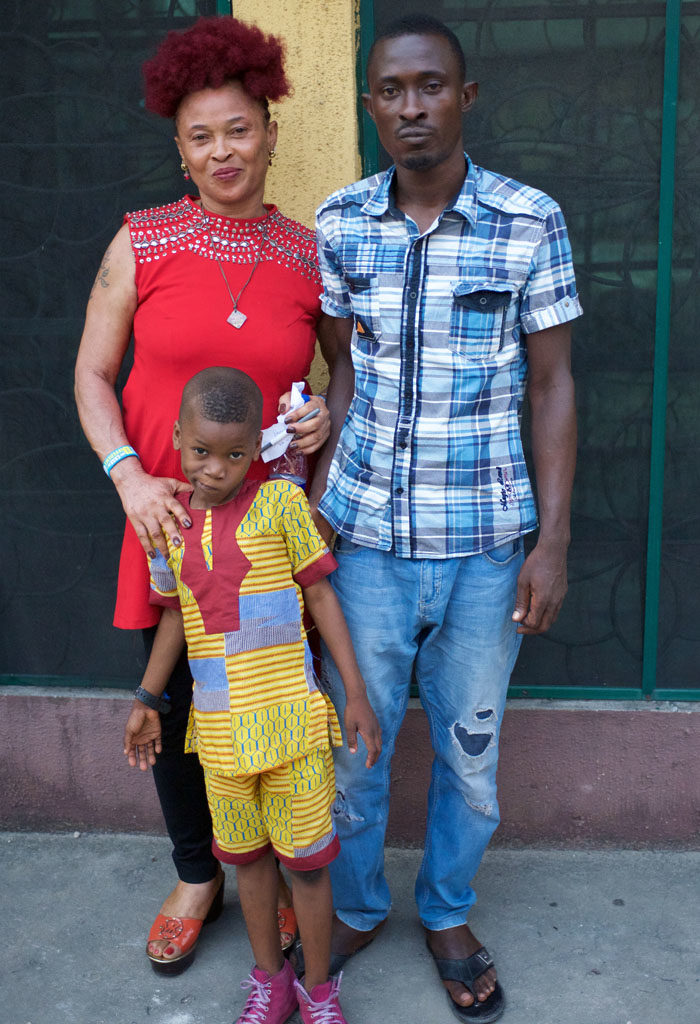 Descendants of highlife king Rex Lawson. Photos by Banning Eyre.[/caption] These events occurred at the zenith of highlife's popularity, and as it happens, most of the big stars—none bigger than Rex Lawson—came from the eastern region. The war dealt Nigerian highlife a severe blow. The rise of juju music was one result. We spent time at the University of Port Harcourt (Uniport) with the Rex Lawson Chair, Professor Onyee Nwankpa, a brilliant and charming man who introduced us to a number of others at the university, and treated us to a splendid highlife concert by the university's music department band. Rex Lawson died tragically in a car accident in 1971, but we were also able to speak with his daughter Princess and his grandson Rex, who is a DJ these days. [caption id="attachment_34776" align="aligncenter" width="640"]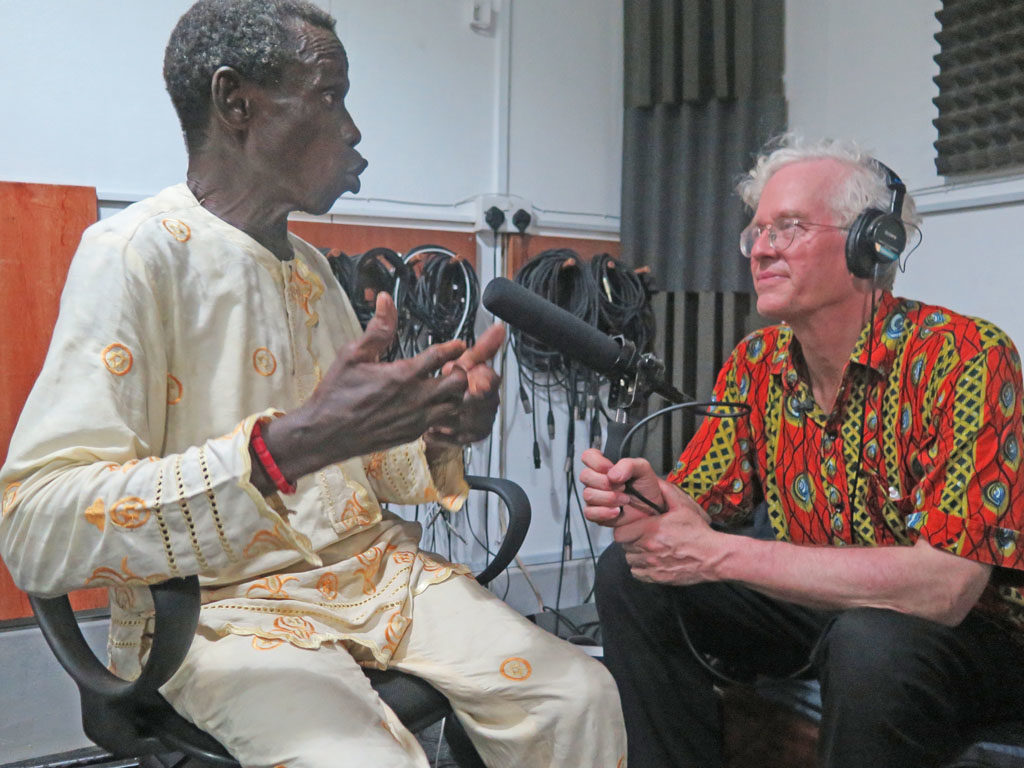 Anthony Odili (Papa Tony), the last surviving member of Rex Lawson's band.[/caption] We also met the one surviving member of Rex's band, percussionist Anthony Odili (Papa Tony), a remarkable performer and a real character, wily and quick-witted at 90. Our friends in Port Harcourt organized a band of highlife veterans including Odili, and young enthusiasts like singer/songwriter Abie Howells to perform for us at The Shed, a venue in the midst of the Okrika slum on the waterfront. [caption id="attachment_34773" align="aligncenter" width="640"]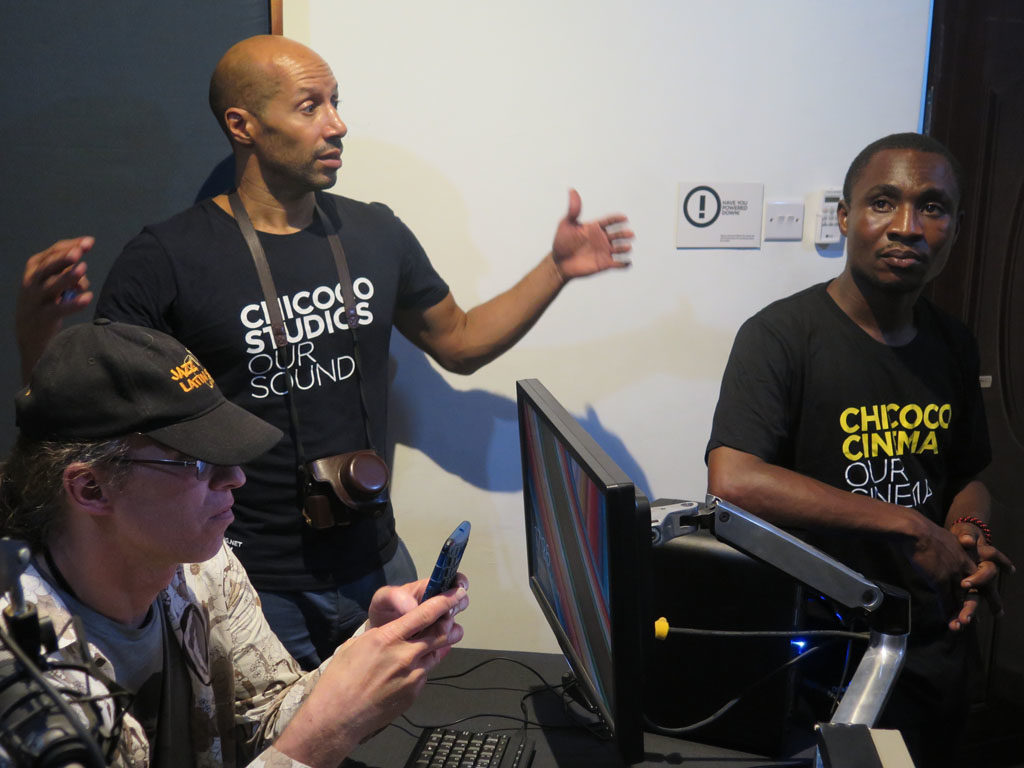 Michael Uwemedimo of Cmapping and Chicoco Radio[/caption] A little background here: Our hosts in Port Harcourt, Michael Uwemedimo and Ana Bonaldo, run a truly inspiring community organization here called Cmapping. At its heart, the project is dedicated to detailed mapping of this vulnerable, warren-like neighborhood, which has been the target of brutal forced evictions—literally bulldozers running down peoples' homes and offering them no alternative whatsoever. The mapping is done by young locals who have now become highly effective community activists. The forced evictions have now effectively stopped, a good first step. [caption id="attachment_34770" align="aligncenter" width="640"]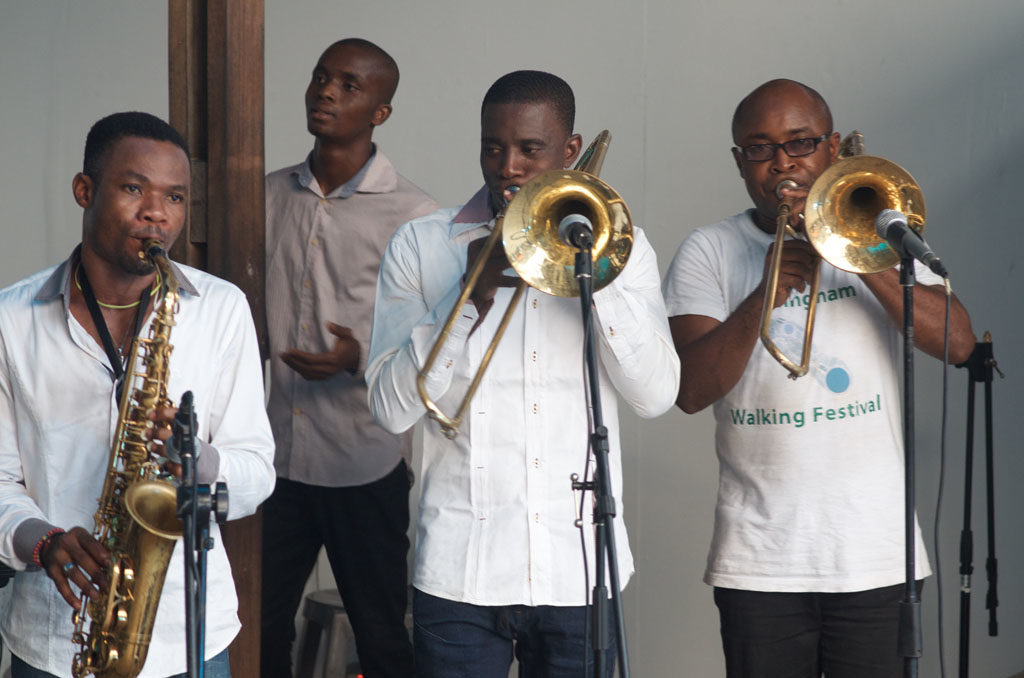 Highlife horn section at The Shed[/caption] But there's more. Cmapping has expanded to build a recording studio, a radio station (Chicoco Radio), and a performance venue—The Shed. Young aspiring artists, musicians, producers, filmmakers and journalists come to Chicoco (a word that refers to the mud that is all around them) for intensive training. I gave two seminars during our stay and was quite knocked out by the engagement, sharpness and community spirit these young artists and producers showed. I can't remember seeing a more impressive example of community activism anywhere. Truly remarkable, and hopefully the beginning of an ongoing relationship with
Afropop Worldwide
. [caption id="attachment_34768" align="aligncenter" width="640"]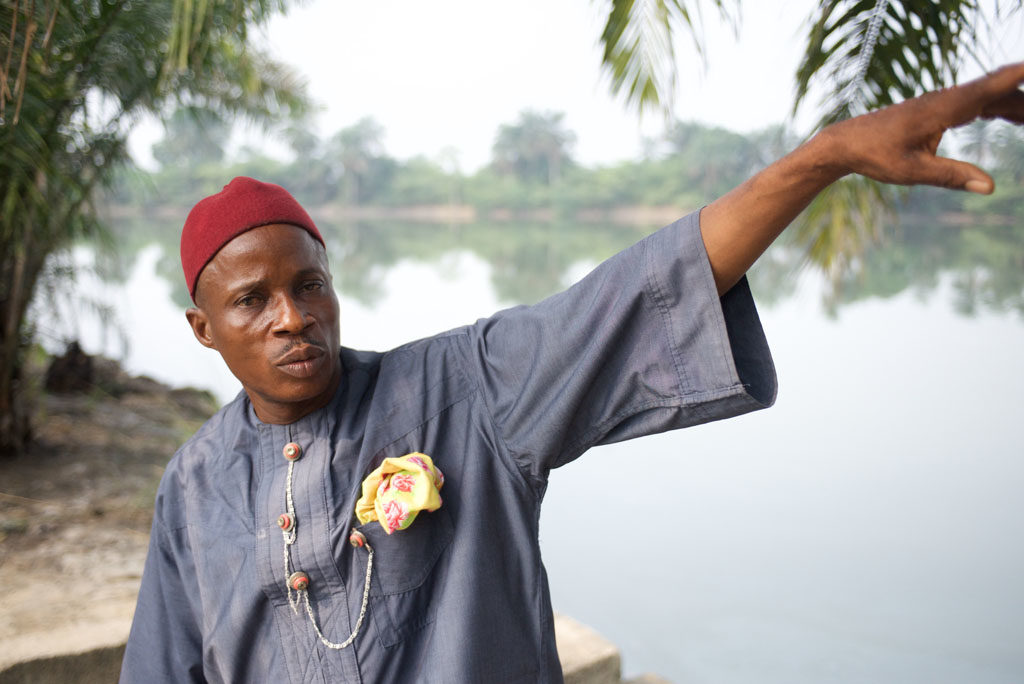 Chief Eric Dooh views the environmental devastation in Ogoniland.[/caption] In Port Harcourt, we were joined by
Hip Deep
scholar Mark LeVine (UC Irvine historian), the man who introduced us to Cmapping and Chicoco. Through his connections, we made a one-day excursion into Ogoniland, the boggy area north of town where environmental destruction has reached apocalyptic proportions. In the waterside site of a former village in Gokana, we met with Chief Eric Dooh, who showed us his hopelessly polluted fish ponds, the site of his people's former livelihood, and his family home, now abandoned by order of the state due to unsafe conditions. They say that the oil goes down 14 feet in these small creeks and ponds. An effective cleanup would literally cost billions and take at least 25 years. [caption id="attachment_34787" align="aligncenter" width="640"]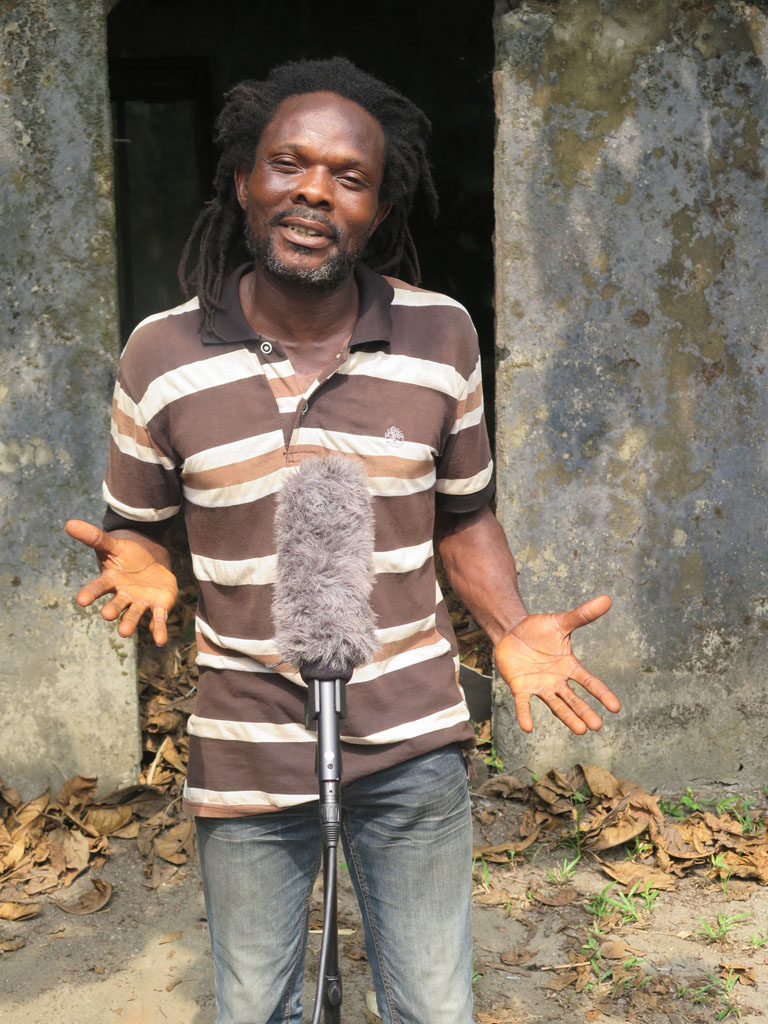 Reggae artist Tumsi Ogoni[/caption] Interestingly, the chief believes that one of his greatest assets is his young artists, like MC Kay, T-Peln, and the reggae singer Tumsi. The chief assembled a number of such artists who shared their tracks, spoke with us, and even performed in the ruins of the chief's home. The chief said that if he ever wins his settlement with Shell (currently filed in the International Criminal Court in The Hague), the first thing he would do is to build a recording studio for these artists, both as a viable means of employment for young locals, and as a way of more effectively projecting the Ogoniland story to the world. We were moved and honored to meet all these people, and look forward to creating a truly great
Hip Deep
radio episode on the Port Harcourt region. These rappers, and those we met at Chicoco, provide a fascinating contrast to the good-timing hip-hop artists in Lagos, as well as those in Kano, struggling to create art within the strictures of Sharia law. [caption id="attachment_34785" align="aligncenter" width="640"]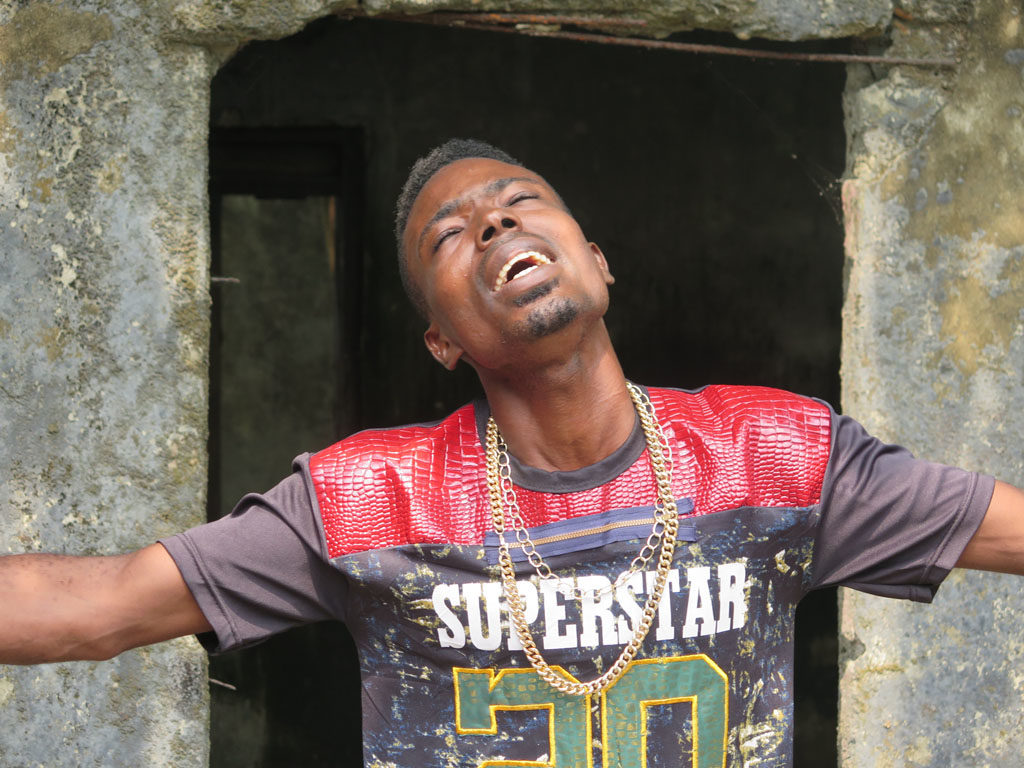 Ogoni rapper T-Peln[/caption] The pollution is Ogoniland is on a scale few of us can imagine. But even in Port Harcourt, the air is smoky and dense with particulate of undetermined origin. Even inside Michael and Ana's air-conditioned home, constant cleaning is required. Just walking for a morning on the stone floor produces a black coating on bare feet. [caption id="attachment_34786" align="aligncenter" width="640"]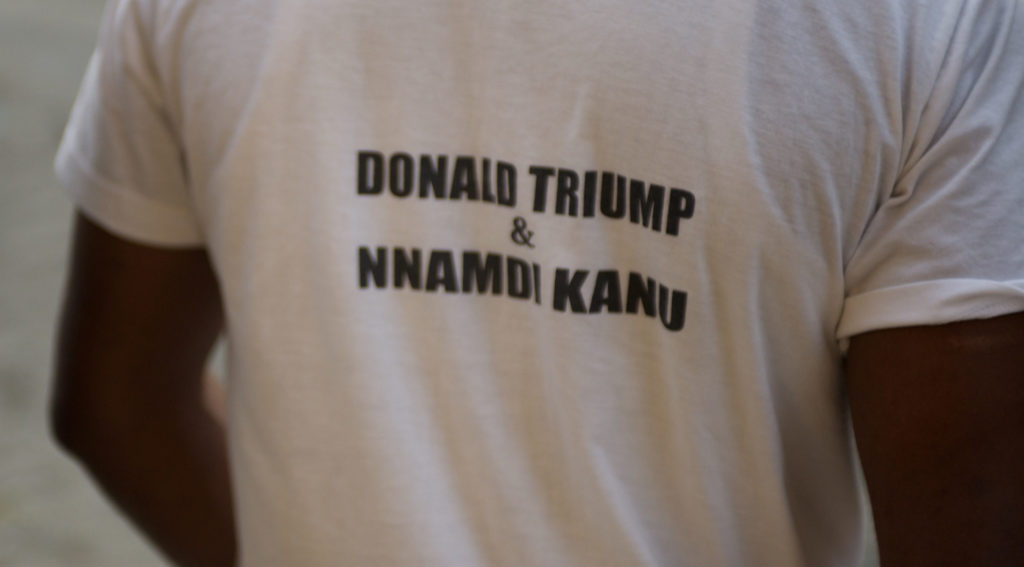 A Donald Trump supporter in Port Harcourt.[/caption] Two side notes: We also met with representatives of an ongoing, possibly resurgent Biafra movement. These activists are violently opposed by the government. On Jan. 20, a large number of them rallied in Port Harcourt in support of Donald Trump—essentially because they share with him a clear animosity towards Muslims. The Biafra activists' courage and passion was impressive, however it is difficult to imagine that the current Nigerian regime would tolerate Biafran independence today any more than did the leaders of the 1960s. As evidence, people were shot and killed at that pro-Trump rally. [caption id="attachment_34781" align="alignleft" width="640"]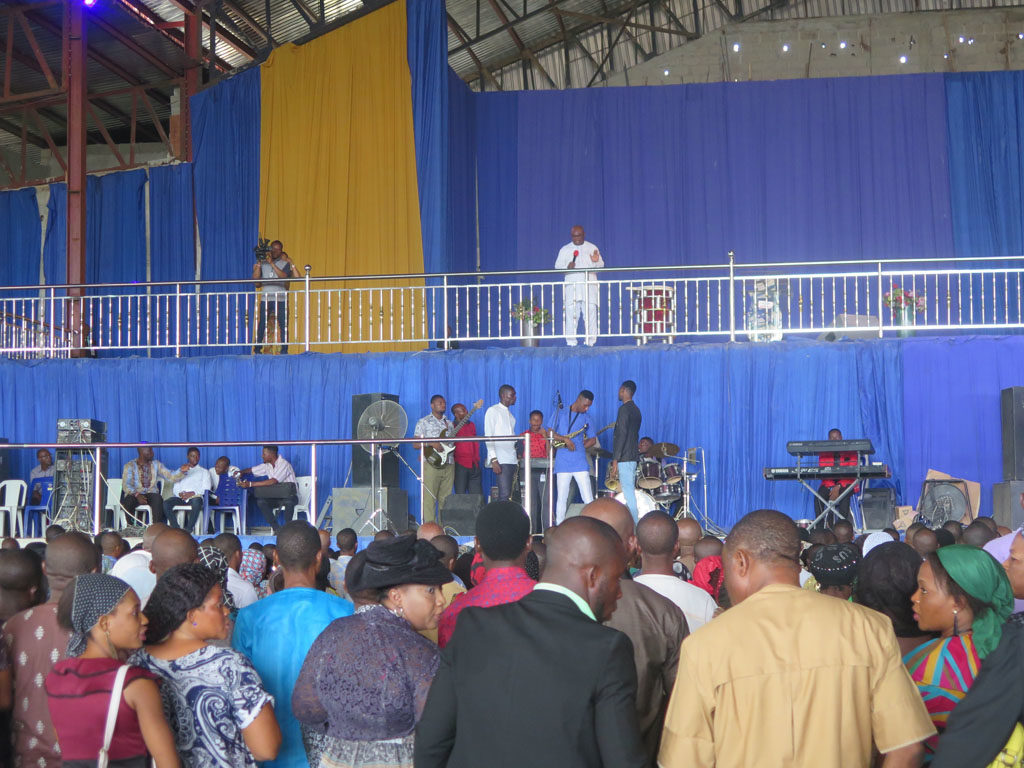 Omega Power Ministries service[/caption] Also, no visitor to Port Harcourt can fail to notice the overwhelming presence of evangelical prosperity ministries. The proliferation of billboards and churches overwhelms Lagos and even what we saw in Accra, Ghana, in 2013. I attended a service at one, (OPM, Omega Power Ministries), hoping to record some gospel music. There was a good band, though in the massive, sweltering tent, filled with literally thousands of parishioners dressed in their Sunday best, the sound was less than satisfying. [caption id="attachment_34779" align="aligncenter" width="640"]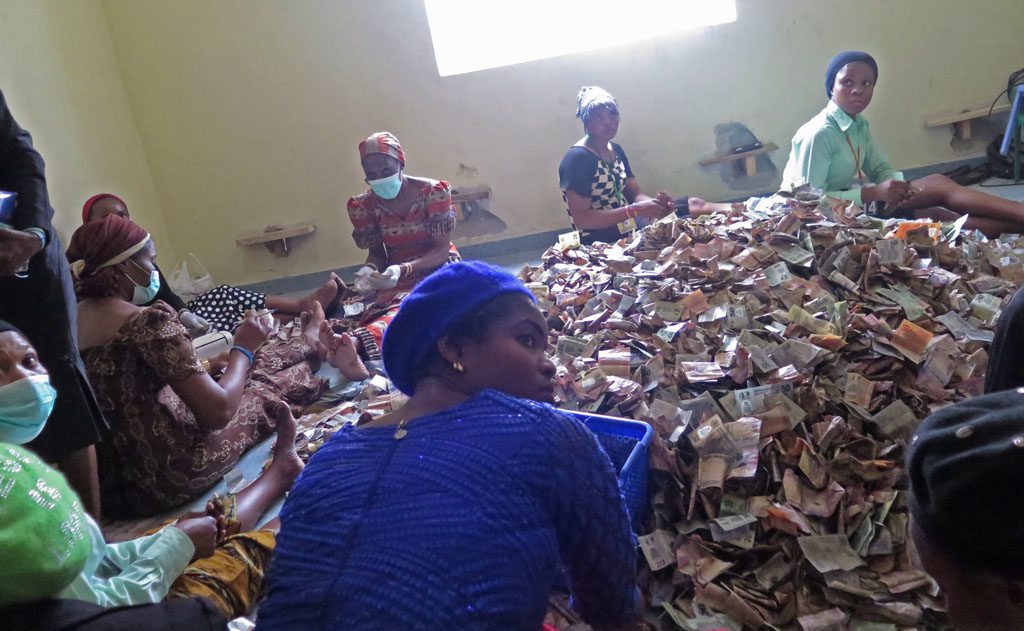 Mountains of money donated at the OPM church service.[/caption] During the four-hour-plus service, I (the only white person present) was called to meet the pastor in his office behind the massive raised stage. It was a cordial exchange, but on the way, I could not help but notice the mountain of money collected from the crowd. It is hard to determine whether it is the message of prosperity or simply the community experience that draws so many to these churches. They do offer a modicum of support, including sponsoring education for selected kids, but one wonders what real solutions such churches offer to such a deeply troubled community. Watch this space for more. Heading to Lagos now to wrap up this wide-ranging Nigerian trip.


With additional support from

View previous dispatches here: Number 1: In Lagos, Number 2: Fela's Legacy, Number 3: The Fuji Scene, Number 4: Kano