Festival Nrmal Playlist: Get Your Ears Around Some Tunes
Since 2010,
Festival Nrmal
has brought together bands from Latin America, the U.S. and even farther afield for an outdoor festival in Mexico City. The 2015 lineup was just announced, and while there are certainly some big international names making the trip—Swans and Future Islands stand out, not to mention Afropop favorites like
Omar Souleyman
 and Peaking Lights—there are a number of killer Latin American acts playing the fest that are well worth getting to know.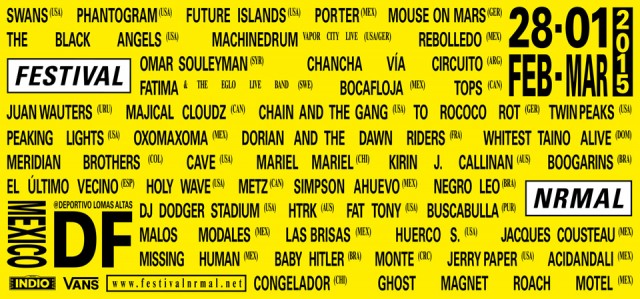 With that in mind, Afropop put together this playlist to spotlight some of our favorite tracks by up-and-coming Latin American musicians who'll be playing at Festival Nrmal this spring. If you're thinking of attending, this might help you scope out which acts you want to see. And if you're not going to make it, why miss out on
all
the musical fun? Cómene's "Rebolledo - Pitaya Frenesí" sounds like what aliens dance to in their bedrooms. If fuzzy lo-fi garage rock is what you need, try "Like A Crime" by Malos Modales. Another favorite is Ghost Magnet Roach Motel's self-titled track, which clocks at 10 minutes and wanders through all kinds of spooky sounds and textures. Enjoy, and let us know what you think!