Field Report: 2017 Latin Alternative Music Conference
The Latin Alternative Music Conference (LAMC) is a week-long series of events dedicated to the freshest artists coming out of the Spanish-speaking world. The whole gathering is an incredible opportunity for artists and their teams to learn from and network with industry leaders, promoters, and journalists from major publications like Billboard and Rolling Stone. This year's LAMC took place from Tues., July 11 through Sat., July 15 at the Stewart Hotel and featured industry panel discussions, press conferences, numerous concerts, and artist showcases.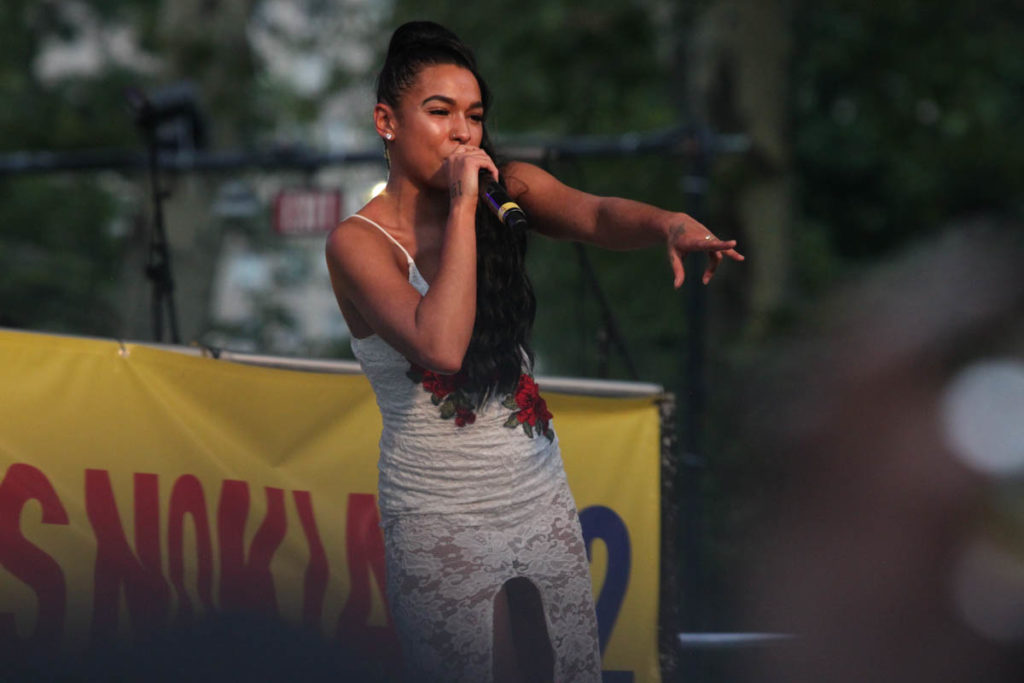 Princess Nokia at SummerStage. Photo by Sebastion Bouknight.[/caption]
LAMC's most popular event of the week was definitely their SummerStage show in Central Park. This rock-star lineup featured Chile's immensely popular Mon Laferte and Brooklyn's own Princess Nokia. ÌFÉ, a Puerto Rican electronic band, was also scheduled to perform but sadly could not due to unexpected health concerns. Nonetheless, Princess Nokia started off the event addressing her crowd of packed fans with a declaration of the beauty and power of black youth and all who are connected through the African diaspora. She continued to energize the crowd with her hit, "Tomboy," followed by the Yoruba pride anthem, "Brujas," among other songs.
After her set, the crowd morphed from a community of mostly young, boldly dressed 20-somethings to a crowd with multiple generations full of Chilean pride waiting for Mon Laferte. Her performance did not disappoint. Reflecting back on the show, Mon Laferte told us that "it was an amazing experience. When it was time to listen to the lyrics, they would listen and when it was time to dance, they danced." Her show featured new music from her latest album, La Trenza, which she says is "obviously a pop album" with music that features "a lot of rhythms or Indian influences from all these instruments I've grown up listening to."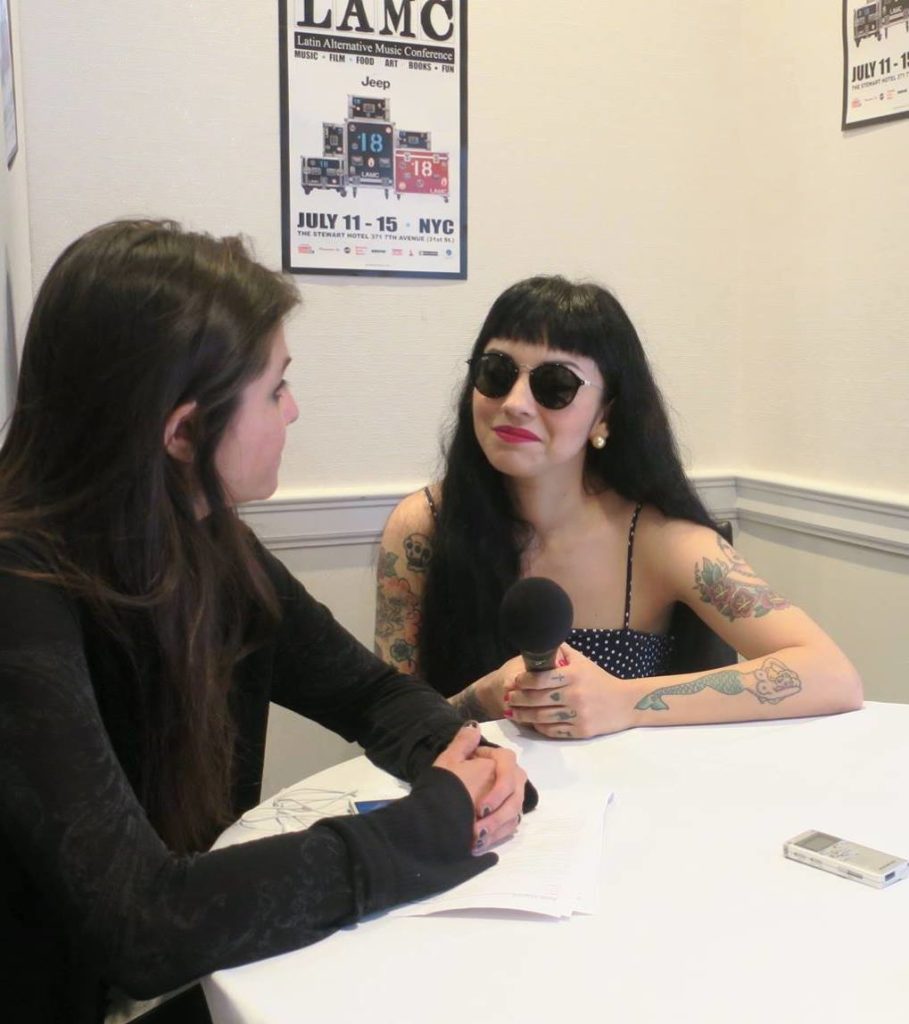 Mon Laferte. Photo by Ben Richmond.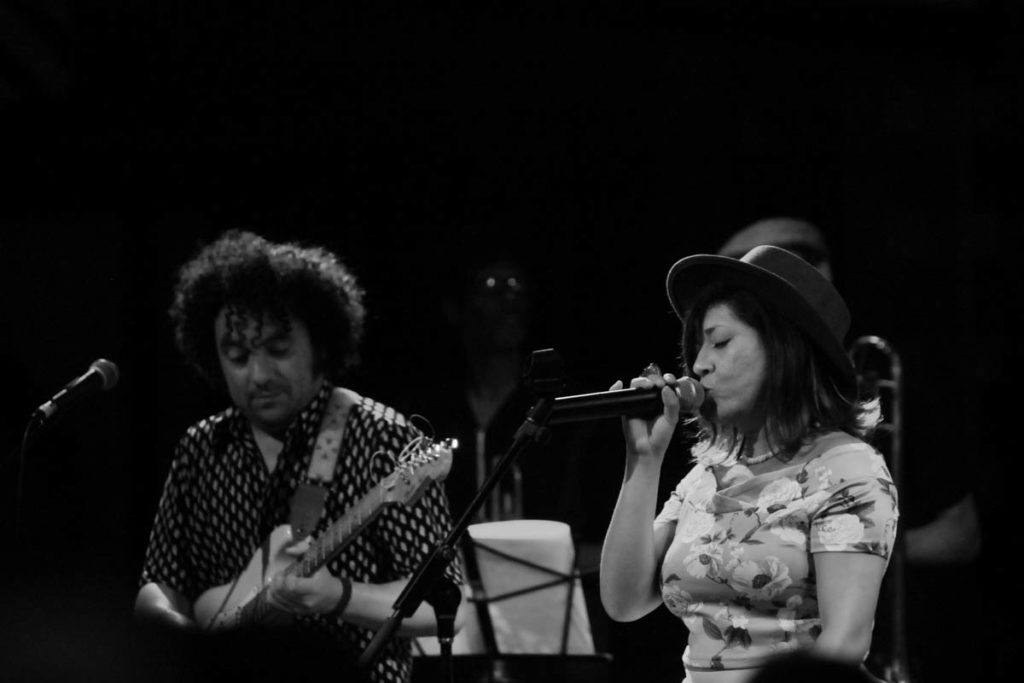 Elastic Bond at the LAMC Focus on Venezuela Showcase. Photo by Sebastian Bouknight.
Earlier in the week, we attended the LAMC Focus on Venezuela Showcase. The rock 'n' roll band Los Mesoneros, who first formed as teenagers, were very popular with the audience, who danced and sang along to every song. Elastic Bond offered a straight ahead soul-rock sound with a quick-fingered guitarist and a great singer on top of a bit of cumbia, Afro-Latin jazz, and some snappy, twanging bass funk. Viniloversus, comprised of three guitarists and a drummer all clad in leather jackets, showed off a nice, tight punk rock sound, before the popular group Rawayana played their grooving, lighthearted reggae set.
Later that night, we headed over to the Highline Ballroom for LAMC's Sounds from Spain showcase. The concert featured Amaral, C. Tangana, Nunatak, Los Nastys, and Nora Norman. We had a chance to talk with Norman the next day about how she, like multiple other artists who came to LAMC that week, was excited to be performing in New York for the very first time.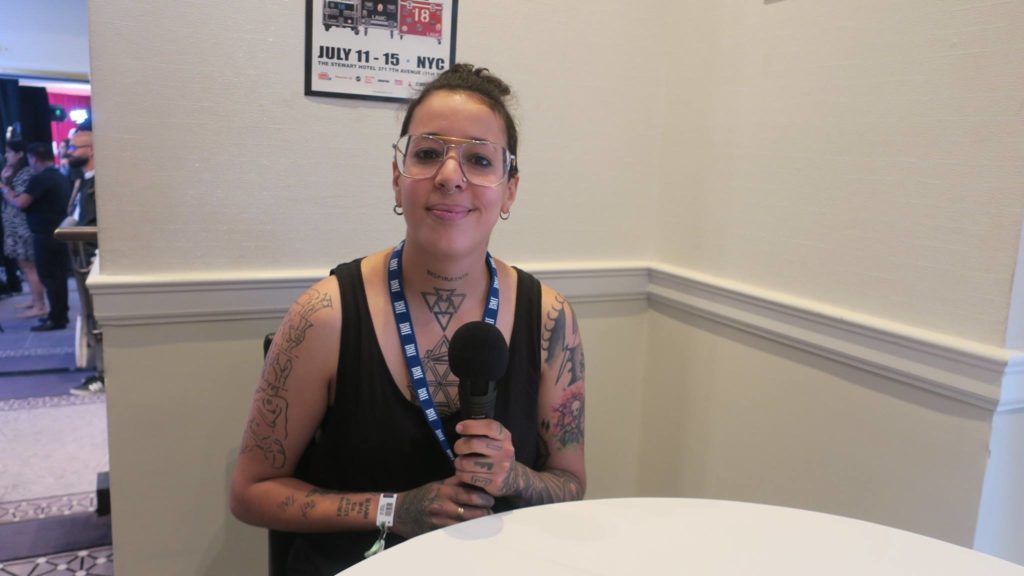 Nora Norman. Photo by Christopher Stoddard.
On Friday, we returned to the Highline Ballroom for the LAMC Indie Showcase featuring A.CHAL, Audri Nix, Javiera Mena, Jesse Baez, Juan Ingaramo and Indios. The Argentinean band Indios was a slamming opener, followed by fellow Argentinean singer Juan Ingaramo, who gave a great set that showed off his rich voice. Puerto Rican singer and rapper Audri Nix performed hits from her latest EP El Neuvo Orden, Vol. 1 like "Veneno" ("Poison"). One of the highlights of the night was definitely Chilean artist Javiera Mena and the two dancers who accompanied her on stage all clad in crop-tops and armed with light sabers, creating the perfect electronic dance environment for the end of an exciting night. Before Javiera Mena went on, both Jesse Baez from Guatemala and Peruvian-American artist A.CHAL received the LAMC Discovery Award for their rising careers.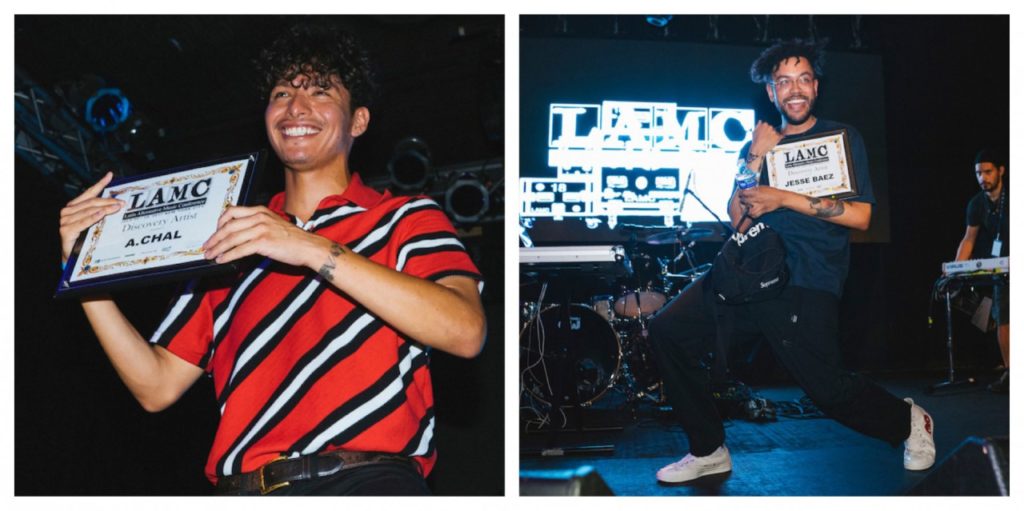 LAMC "Discovery Award" winners A.CHAL and Jesse Baez.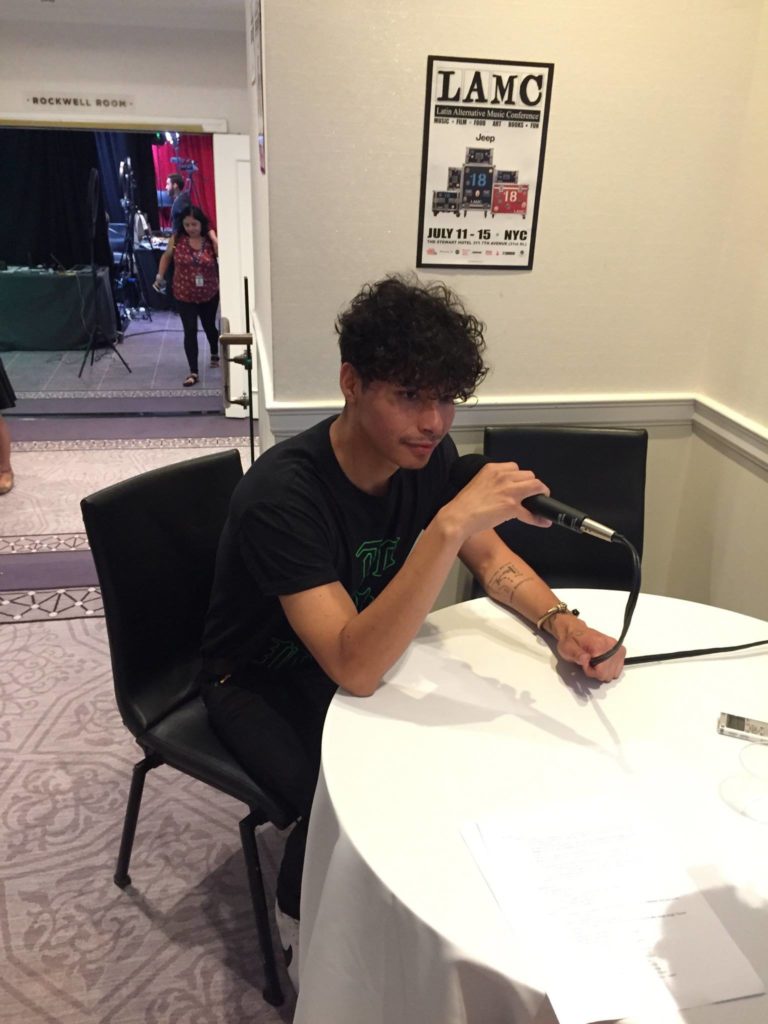 A.CHAL. Photo by Ben Richmond.
Before the show, we talked with A.CHAL about the newfound responsibility he feels with his growing fame. "I got a message the other day from a Mexican kid who said, 'I appreciate you a lot. You have made me and my friends proud to be brown skin. We didn't like being Mexican before, and now you're making us feel comfortable with that.' I love that. That's essentially why I do what I do. I don't care if they're Mexican; they could have been Indian. He probably thinks I'm Mexican, but I'm Peruvian, you know? It doesn't matter. For me it's about anyone who feels like—I hate the words 'fitting in' and being an 'outcast.' We've heard that story so many times, but it's just about not letting society dictate how you should feel about yourself. So that's the responsibility I see I have, and that's what I try to supply."
Tei Shi at Celebrate Brooklyn. Photo by Eli Berman.
This sense of Latinx pride was evident all over LAMC throughout the week, but it was especially potent at the LAMC Celebrate Brooklyn show. Though this concert was set under some pretty dreary weather, that didn't stop the Argentinean New York-based singer/songwriter Tei Shi from electrifying the stage with an incredibly powerful performance, showing off her sensual, raw voice and dynamic songwriting. Quantic and his band were a big hit as the final act with their energetic mix of cumbia and bossa nova mixed with jazz and funk that prompted the audience to demand a well-deserved encore.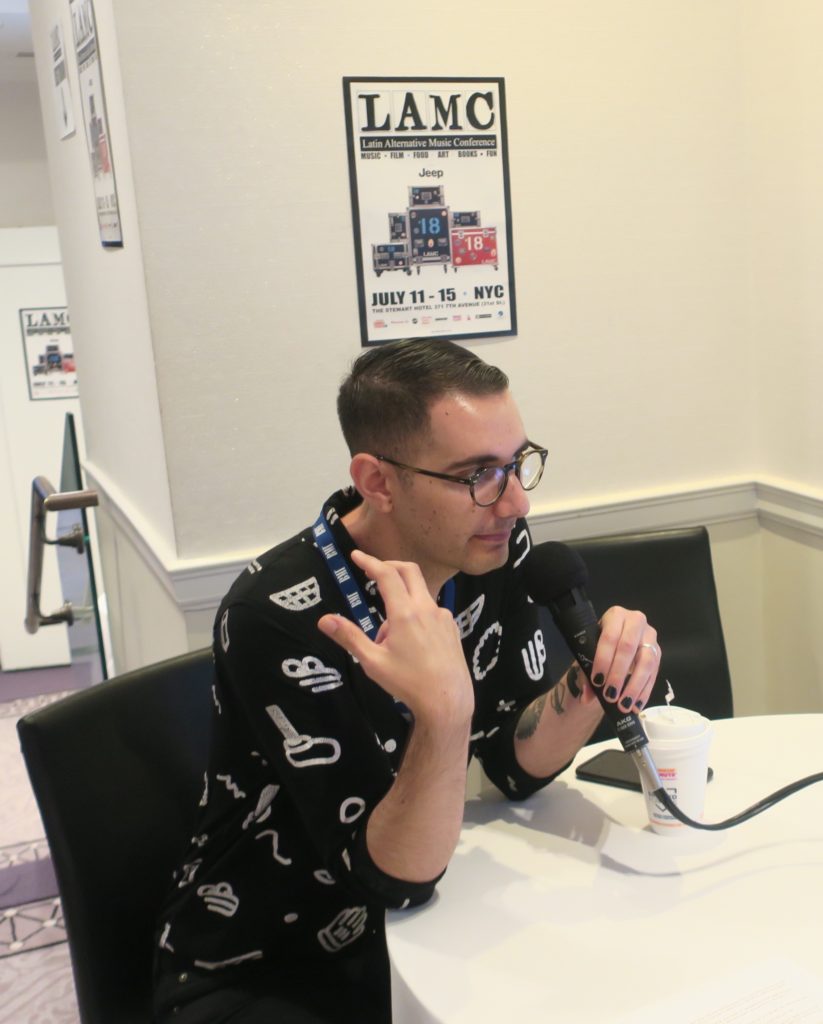 Alex Anwandter. Photo by Eli Berman.
The day before Alex Anwandter opened up the Celebrate Brooklyn show, we talked with him about how Latinx pride manifests in his "political, emotional dance pop." On the topic of the political power of pop music, Anwandter says he is "certainly of the school of the thought that every art is political. If you write love songs for your entire career, implicitly you are saying that the world is fine as it is." Pop music for him is especially "strategic," because it allows him to explore the importance of "[renovating] the aesthetic of being dissident." When asked what political issues he addresses in his newest album Amiga, Anwandter says that art doesn't necessarily work "like scratching off a list of political issues." However, there are definitely "concrete concerns" he addresses such as "discrimination, homophobia and gender violence." While addressing these subjects, Anwandter says, "I try to be very authentic and not appropriate any other people's suffering, and just analyze how those issues affect very intimate spheres of my own life." For the Chilean artist, this authentic political music stems heavily from the history of political songwriting in his home country and is a large part of what connects him to the larger spirit of South American musics.
Another artist who emphasizes authenticity in his South American roots is Pablo Díaz-Reixa, otherwise known as El Guincho. He performed in New York for the first time in seven years on June 13 at Nowadays in Queens, and at Manhattan's Le Poisson Rouge on June 14. Ahead of his second performance, El Guincho talked with us about his influences and his ever-evolving career. He says that his music is all about "finding the limits between genre, and finding these little spots between styles," such as "reggaeton, Afrobeat, but also hip-hop, r&b, more like 90bpm or 100bpm tracks." Growing up in the Canary Islands had a profound impact on El Guincho's musical influences because, as he says, people on these Spanish-owned islands off the coast of West Africa are "[grandchildren] of Latin immigrants basically--in my case Cuba, but we have Venezuela, Caribbean, etc. So all the music we listened to growing up was salsa basically, reggaeton, Cuban music…"
It seems that an even bigger element of El Guincho's music besides its African and Caribbean influences is its constant desire to evolve. "It's very important to make a statement that every record is going to be a big change," he says. "Change is the engine of my music. Something I always care about when writing a new record is looking at the past record and saying, 'How can I defy you?'" Often these changes for El Guincho are triggered by something "like moving to a new house, a new country, working with different sound engineers, studios or new equipment." In the end, it's all about making good music, and for El Guincho, it's important to remember "that writing music is your life, so your life has to be exciting if you want to make exciting music."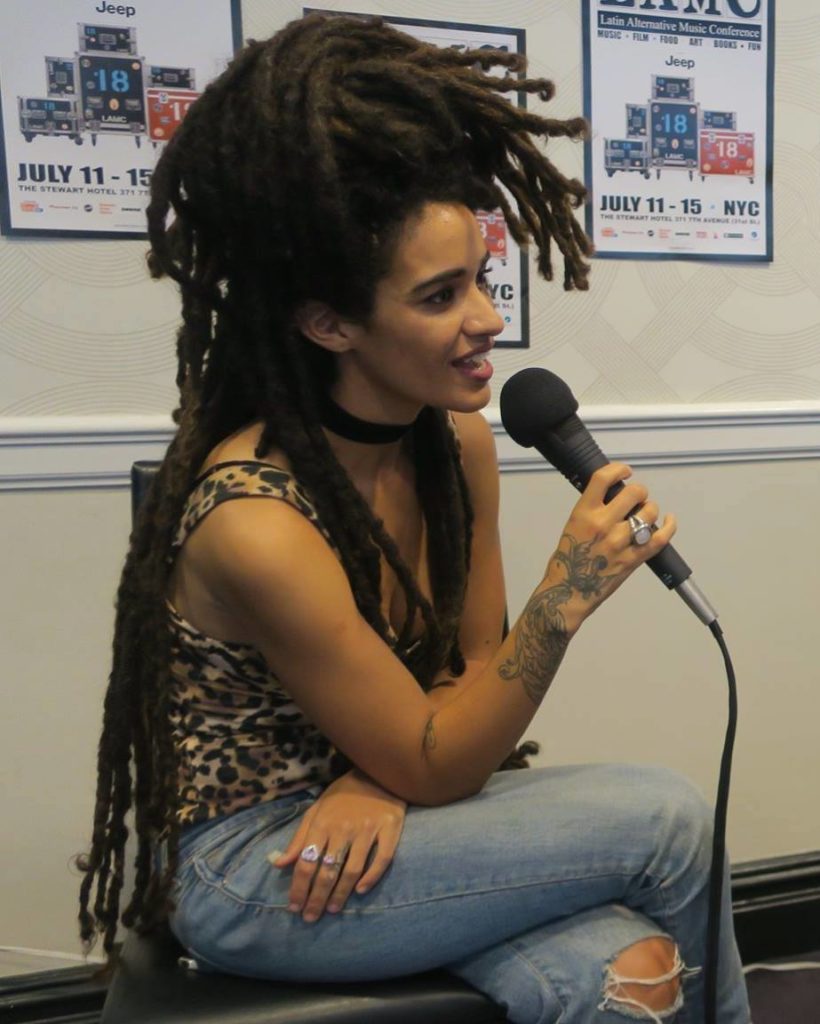 Calma Carmona. Photo by Rahsaan Lucas.
These ideas of location and evolution were common denominators for many of the artists we talked with. Singer/songwriter Calma Carmona from Puerto Rico is no stranger to travel, having grown up in a military family that moved between the southwestern United States, Puerto Rico, and Germany. "All those places, all those friends, all those schools, the music, the way people dress...it just makes me who I am." These places continue to influence Carmona to this day, especially when it comes to her development as an artist. "I think a lot of the artists that I admire, more than anything they have a career. For example, Madonna could come out with an acoustic record, and the next could be totally dance, but it's still Madonna. Shakira does it. They push themselves to explore these spaces without losing who they are, and to me that's my goal. It comes naturally for me because I was raised in so many different places, and all these places are a part of who I am."
The singer/songwriter has proved just how well she is able to maintain her intimate, soulful sound no matter if she is in the electronic space of her latest release, Presentiment, or the acoustic world of her first EP, There's No Other Girl. Be on the lookout in September for Calma Carmona's first album, Siembiedas, which she describes as a "cosmic soul rockstar" project that is sure to add another dimension to her already versatile sound.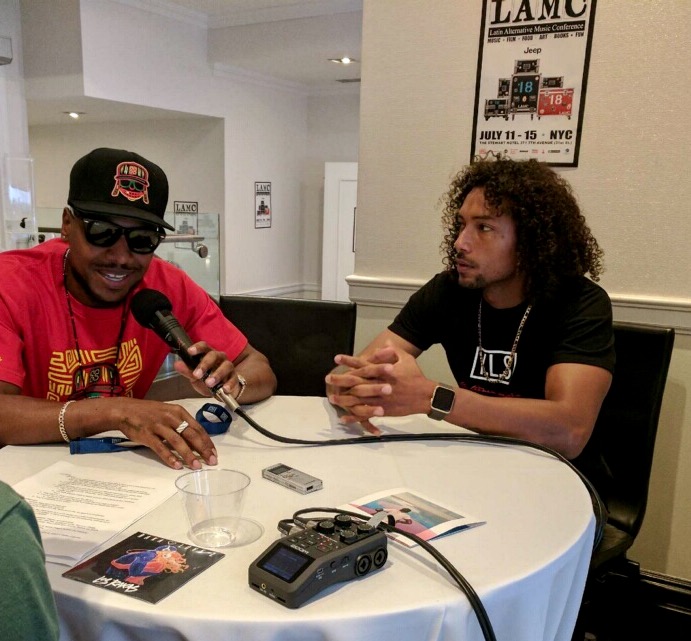 Los Rakas. Photo by Ben Richmond.
The music of Los Rakas, a duo made up of cousins Raka Dun and Raka Rich, has also developed significantly over their career while continuing to honor the music of the two homelands they share: Panama and the Bay Area of California. There is an obvious progression in their music from their earliest underground sounds to the more commercial pop music in their latest Grammy-nominated album Raka Love 2, but all of Los Rakas' releases have upheld their dedication to their distinct style of "Panabay" music. "We started making music in the Bay Area, in the cities of Oakland and San Francisco, but we are Panamanian, and we love to represent our culture, and we love to represent who we are." When it comes to their music, Los Rakas draws a lot of influence from the "rock 'n' roll, hip-hop, r&b, cumbia, and Hatian music" that they grew up listening to in Panama in addition to the unique and innovative Bay Area hip-hop that they jumped into when first starting to make music in the youth centers of Oakland, CA.
Similar to all the other artists we talked with, this cultural authenticity is something that Los Rakas prides themselves on. It even shows up in their name. "Our name, Los Rakas, is Panamanian slang [for hood or ghetto], and it's basically telling people to be proud of where you're from and who you are. I'm a raka. I'm proud. I'm a rebel–a warrior. You could be a raka. Anybody could be a raka. It don't matter what skin color you are. It's about what's inside of you, who you want to be, you being proud of you."
I'd now like to leave you with these final words from Los Rakas, because I believe they capture the spirit of LAMC and the great importance of bringing together new musical voices across the Spanish-speaking world. On the topic of cultural pride, the duo agreed that "we love to rep [being raka] because we come from nothing, and they used to make fun of us for being raka. Eventually people move to the United States, and they want to leave that behind. They don't want to be raka no more. So, us representing that and being proud of that is us just wanting to influence people to be proud of who you are. It don't matter if you're fat, if you're gay, it don't matter. Just be yourself, and people will love you for that."