Field Report: Mundial Montreal 2018
The eighth edition of Mundial Montreal, which bills itself as the "North America World Music Summit," returned to the French-Canadian city Nov. 13-16 this year. The conference offers an opportunity for agents, managers, festival and venue promoters from all points on the globe to network, attend seminars, and, of course, check out some world music bands on the horizon.
This year there was a focus on what the festival's artistic director, Derek Andrews, dubbed "Music Mosaic."
"[This] is a turn of phrase natural to the Canadian cultural landscape," he wrote in the festival's press release. "It is our theme this year, so we can distinguish ourselves from the 'melting pot' to the south. We retain heritage, offer positive settlement practices, and as a result, our chances for 'peace, love and understanding' flourish. As 'settlers' on colonized land, we also continue to recognize the need to educate ourselves about indigenous emergence."
Following through with that concept was a range of musicians, not just from Canadian indigenous peoples, but also acts like Australian Aboriginal singer/songwriter Emily Wurramara, and representing the Sami people of Norway, yoik singer Elle Márjá Eira.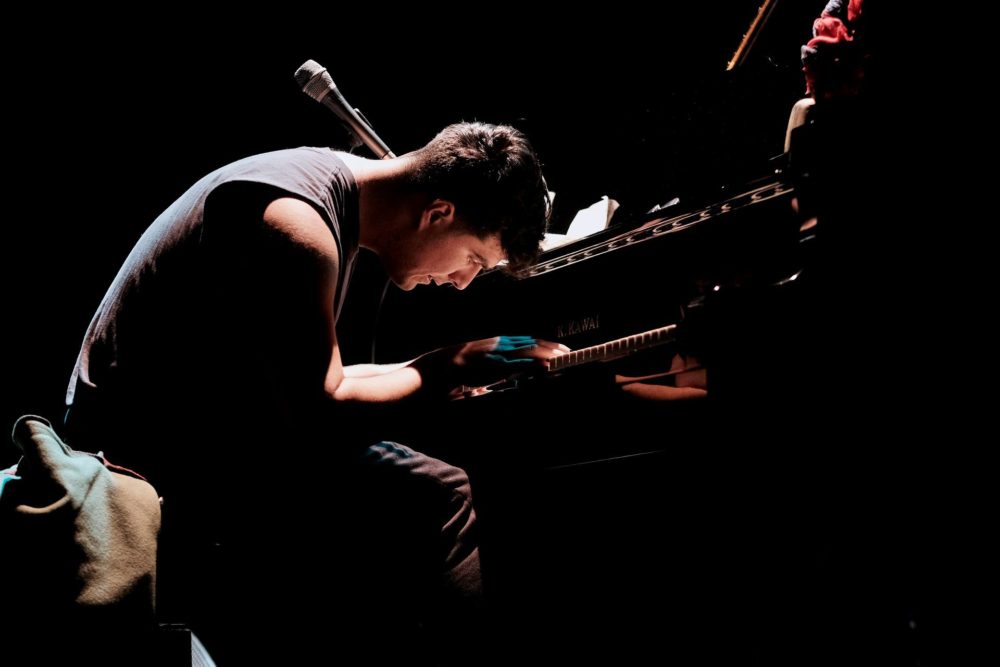 Of these indigenous acts, we were deeply moved by two Canadian performers – 2018 Polaris Prize winner Jeremy Dutcher, and world music ensemble OktoEcho's latest project Saimaniq, which incorporates katajjaq, also known as Inuit throat singing.
Dutcher, a member of the Wolastoqiyik tribe based in New Brunswick, is a classically trained opera singer and pianist. His very original music weaves together classical, pop and jazz with the traditional music of his people, including sampling century-old field recordings of his ancestors. His set was beautiful and transcendent, and we would highly recommend exploring his latest recording, Wolastoqiyik Lintuwakonawa. The lyrics are in his native language, which has fewer than 1,000 fluent speakers remaining, he noted during his performance.
Moving to other parts of the world, headlining the opening night showcase, as part of a contingent of artists brought from Spain by Catalan Arts!, was Marinah, formerly of Ojos de Brujo, whom we saw earlier this year and adore. We had a chance to sit down with her at that time for a conversation about her career.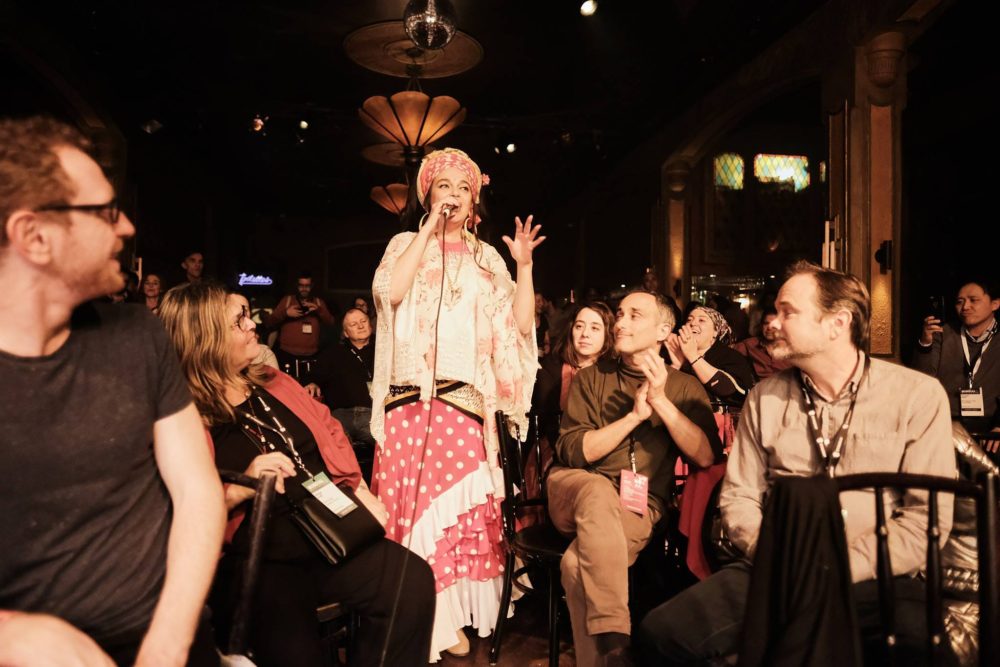 Of the other 30 acts that performed in the many showcases, there were several standouts we were quite taken by.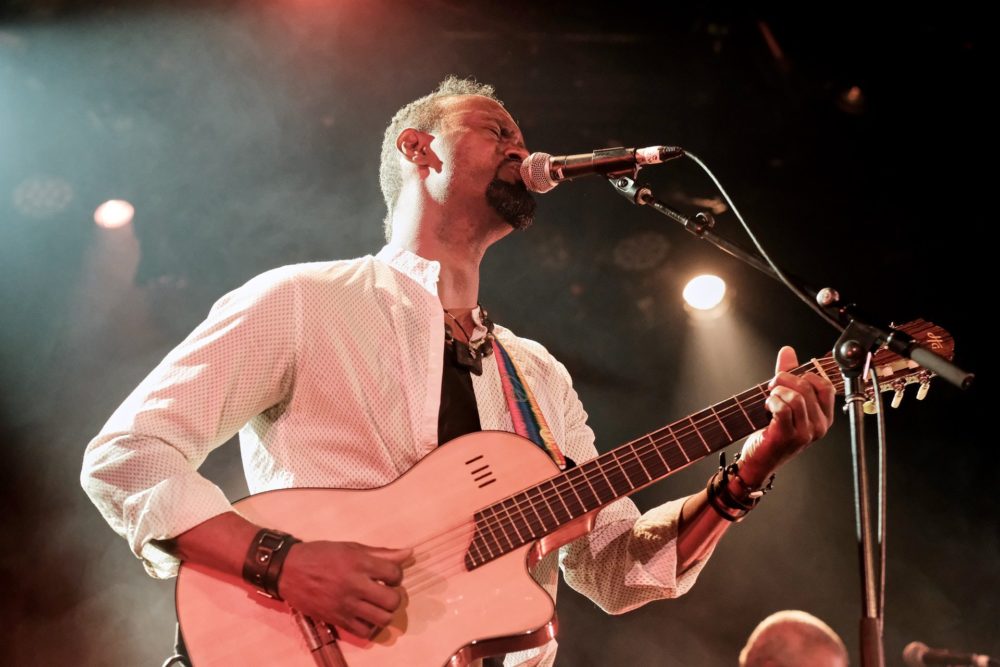 Working as Cesaria Evora's percussionist for over a decade, Lisbon-based Cape Verdean, Miroca Paris, has now stepped to the front of the stage with his own group. He sings and both plays guitar, and of course percussion, during his performance which transported us to those African islands he grew up in. We will be featuring an in-depth interview with Paris, who is also a nephew of the great Cape Verdean singer Tito Paris, here on the website shortly.
Headlining the closing showcase on Friday night was the Montreal-based Ayrad. The group, which has been together for a decade now, dropped their second album Zoubida that same day. Led by singer/guitarist Moroccan immigrant Hamza Abouabdelmajid and Montreal oboist Annick Beauvais, they offer up a world music melange of Moroccan chaabi, Berber beats, flamenco, reggae, Jewish and Latino rhythms and grooves, as well as rock 'n' roll. Their music is infectious and madly danceable. This is a band well overdue for international recognition.
Conference goers were instantly smitten by Aurora, a group from Barcelona, that fuses traditional flamenco – with considerable emphasis on the works of early 20th century composer Manuel de Falla – with modern jazz. Fronted by singer Pere Martínez and the incredible footwork of dancer Jose Manuel Álvarez, they mesmerized us from beginning to end. If you get a chance to see them, do not miss it.
Direct from the Crescent City, Cha Wa, a brass band featuring Mardi Gras Indians in full regalia, heated things up on a cold Montreal evening during their showcase. Cha wa is an Indian phrase meaning "We're comin' for ya" – and they not only came, but they conquered the audience with their deep funk sounds. The group's leader, J'Wan Boudreaux, is the grandson of legendary Mardi Gras Indian Big Chief Monk Boudreaux. They are currently touring [http://www.chawaband.com] the U.S. Eastern seaboard through the beginning of March, and definitely worth checking out.
Finally, two special mentions. First, Waahli, a member of Nomadic Massive, has embarked on a very funky hip-hop solo effort steeped in Afro-Haitian roots. We were totally digging his performance and recommend giving his album, Black Soap, a listen for sure.
Secondly, we also took a liking to newcomer Farnaz Ohadi and the Mashregh Ensemble. Ohadi hails from Iran and now lives in Vancouver, British Columbia. As she said on stage, coming from a country where women are not allowed to perform in public, that alone was a dream she never thought to consider at one time. Her father instilled in her a love of flamenco music, and she has translated lyrics of some of her favorite songs into her native Farsi. Complementing her singing and the traditional flamenco instrumentation, she has added a Persian santur musician into the mix, which further connects the music back to her roots. We look forward to seeing how this talented artist develops.
In addition to the showcases, there were daily seminars on topics such as how to break into the Latin-American market, networking sessions with music supervisors, and various mentoring opportunities for artists to meet with festival programmers and artist managers for career advice. Next year's Mundial Montreal will take place from Nov. 19-22.