Field Report: Rebel Salute in St. Ann, Jamaica
[caption id="attachment_35461" align="aligncenter" width="640"]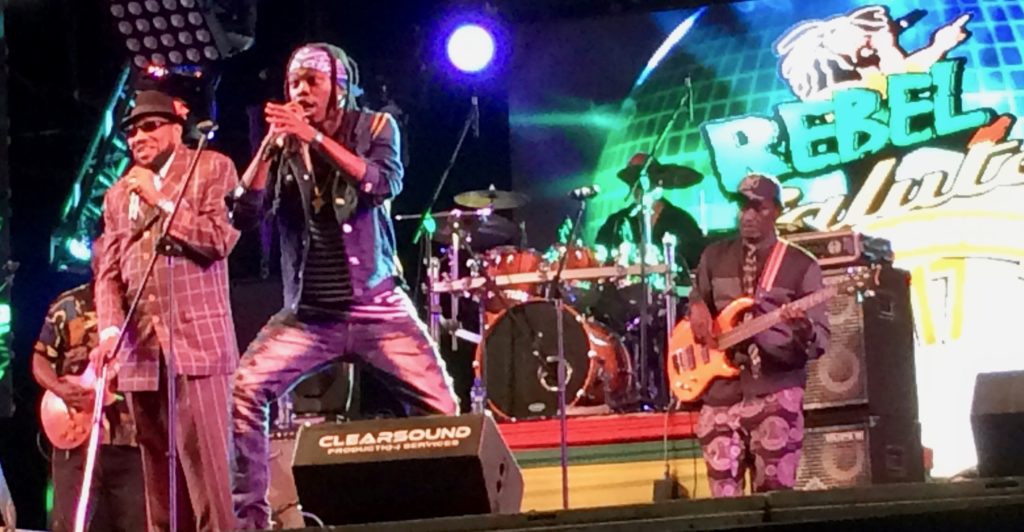 Derrick Morgan joins his grandson Imaru Tafari on stage. Photo by Noah Schaffer.[/caption] Reggae artist Tony Rebel's annual Rebel Salute festival in St. Ann, Jamaica bills itself as the "Preservation of Reggae." It might not seem like reggae needs any preserving—pop stars like Justin Bieber and Drake are having hits on dancehall riddims, while reggae revival artists remain major touring attractions in the U.S. and Europe. But with non-Jamaican artists making up half of this year's reggae Grammy nominees, there has been talk of whether reggae is becoming an international music which is losing its ties to the land that created it. So the two long nights at Rebel Salute, held Jan. 13-14, could be considered a 26-hour stand for reggae from a Jamaican perspective. [caption id="attachment_35460" align="aligncenter" width="640"]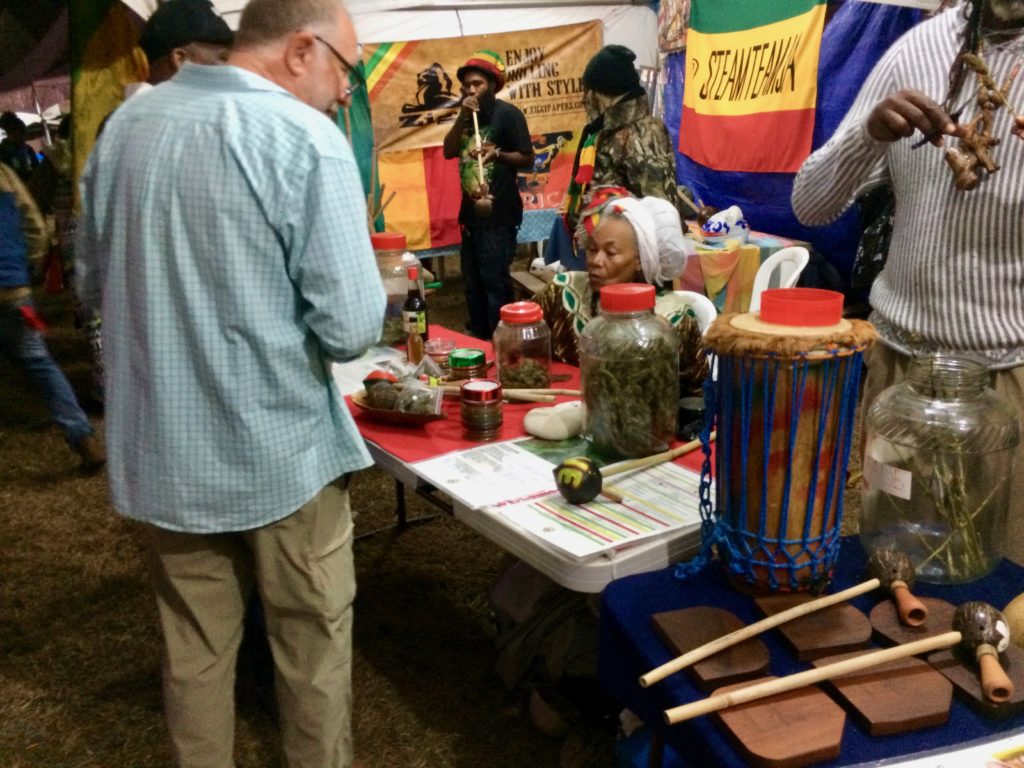 The "Herb Curb" marijuana education (and sales) area of the fest. Photo by Noah Schaffer.[/caption] Rebel has taken other stands as well. Adhering to pure Rastafarian philosophy, there are no sales of meat or alcohol, depriving the event of the liquor sponsors who underwrite many reggae events. (Of course, it's not alcohol consumption that most associate with reggae, and thanks to special government dispensation marijuana is openly sold and consumed.) Also as a "clean" festival, artists are asked to avoid cussing and slack lyrics. https://youtu.be/mklAKp8moSA Another Rebel Salute trademark is the
wide range of artists
, and the 20th edition was no exception. Popcaan, one of the biggest dancehall stars of the moment, did a high-energy set around 8 a.m. Sunday morning, a few hours after one of Jamaica's first stars, Derrick Morgan, had delivered his ska hits from the early '60s. The '90s dancehall giant Beenie Man capped off the weekend billed as his birth name Moses Davis. He proved his versatility with a segment that included jazz, pop and African leanings. https://youtu.be/yc_tlCHsB1o But where the stage show really shines is in the predawn hours, when a house band backs a series of important but under-appreciated reggae greats who are too seldom seen on the touring circuit, but who are experts when it comes to working a stage and can fit a lot into a 10 or 15 minute segment. Dancehall pioneers General Trees and Lone Ranger showed the kind of wit that is generally absent from non-Jamaican reggae practitioners. Junior Kelly and Warrior King had massive smashes in the '90s with "Love So Nice" and "Virtuous Woman," respectively, and made strong impressions with short but impactful sets that proved their catalogs went beyond their biggest hits. The importance of Jamaican-bred acts in the diaspora was also on display. New York audiences have lots of opportunities to hear Ed Robinson sing his popular cover of Bob Dylan's "Knockin' on Heaven's Door," or female dancehall pioneer Sister Nancy's immortal "What A Bam Bam," but neither had appeared in Jamaica in years. https://www.youtube.com/playlist?list=PLkn3HPSWL0D-Tw2LCUwgr1wDwC92eyM71 Since reggae audiences tend to express their enthusiasm at the beginning of a song, stage shows can seem more like victory laps than concerts. The truth is that veterans like Half Pint and the version of the Abyssinians led by Bernard Collins only have a fraction of their past vocal power, but that didn't stop their performances from being punctuated by frequent "forwards" from the plastic horns which vendors purveyed throughout the grounds. Other vintage artists shined, especially the trio of Derrick Morgan, Errol Dunkley and Stranger Cole who were backed by rocksteady experts Lloyd Parks and his We The People Band. Heptones' lead singer Leroy Sibbles showed how his bass playing led to some of reggae's most enduring riddims, while Leroy Gibbons reprised his great covers of "A Lover's Question" and "This Magic Moment." As part of his wide-tent philosophy, Rebel has sometimes included Christian artists, but rarely has that part of the show been as widely anticipated as one of the first major appearances by Marion Hall since she dropped her hyper-sexualized Lady Saw persona in favor of performing gospel. Long one of Jamaica's most popular and complicated figures, Hall's fame earned her a full hour on stage during which she seemed as confident as ever. Her once revealing outfits were replaced by a long dress, and her bawdy rhymes were dropped in favor of an honest conversation about her status as a rape survivor. Still, Hall's old battle skills came in handy when she was able to deftly retort a Rastafarian audience member who yelled "Burn Jesus" at her, and critics who thought her conversion was motivated more by monetary than spiritual reasons. Trying to fit dozens of artists into two nights created a few complications. As Friday's schedule fell further behind, the entourages of Tarrus Riley and Anthony B got into a confrontation over who would perform when. Eventually Riley, who always performs with a band led by saxophone legend Dean Fraser, gave up any hope of doing his own set and just did a brief cameo with Fantan Mojah. Anthony B ended up giving the morning a high-energy finish, but the bad blood spilled onto social media for a few days. Tempers remained cooler on Saturday, but the self-contained band Third World still expressed frustration at being forced to compress their usual show into 45 minutes. Guitarist Steven "Cat" Coore noted that for all of the great musicians who had taken the stage over the weekend almost no solos had been played—then had to leave the stage before he could add the sound of his trademark cello solos. Tony Rebel himself was a cultural artist at a time when dancehall dominated, and he surely paved the way for the younger "reggae revival" artists like Jesse Royal, who earned a strong response. For all of reggae's reputation as the music of conscious thinking, a reggae fest can be a tough place to take a political temperature. References to the inauguration of Donald Trump were shockingly nominal. Far more attention was given to a scandal involving the abuse of minors by Jamaican clergy. The anti-gay lyrics which had been a routine and unfortunate part of past Rebel Salutes seemed absent, prompting MC Mutabaruka to quip that any gay attendees were surely grateful to the priests. Despite its purist bookings and lack of corporate sponsors, Rebel Salute has incredibly outlasted almost all the other Jamaican stage shows, with far more commercial events like the misnamed Jazz & Blues, Sunsplash and Sting events falling by the wayside. And if you're looking to find reggae in Jamaica, it's hard to imagine you'll hear more of it at any other event.
Noah Schaffer recently coproduced "Barbados at 50: Spouge to Soca" for
Afropop Worldwide
. He is the world and roots music columnist for ArtsFuse.org, a contributor to
Living Blues Magazine
and has received over 10 awards from the New England Newspaper and Press Association.