Field Report: Rototom Sunsplash Festival Celebrates Africa: Reggae Style
Feature image: Teshay Makeda, singer with African Head Charge. Photo by Lorenzo Scaldaferro ©Rototom
---
The African-Jamaican dialogue has been going strong ever since African rhythms birthed reggae. The Motherland has produced plenty of her own reggae heroes, hosted many others, and is the topic of countless reggae lyrics.
This year the Rototom Sunsplash festival in Benicassim, Spain shined its spotlight on Africa. With 250,000 attendees over eight days, Aug. 12-19, Rototom is both one of the largest and longest-running reggae festivals in the world. With nine stages plus Reggae University and Social Forum panel discussions, there was no shortage of explorations of African music, culture and politics. You could take African dance lessons on the beach in the afternoon, reason with a Nobel Peace Prize recipient in the early evening, and dance to African and reggae sound systems until dawn.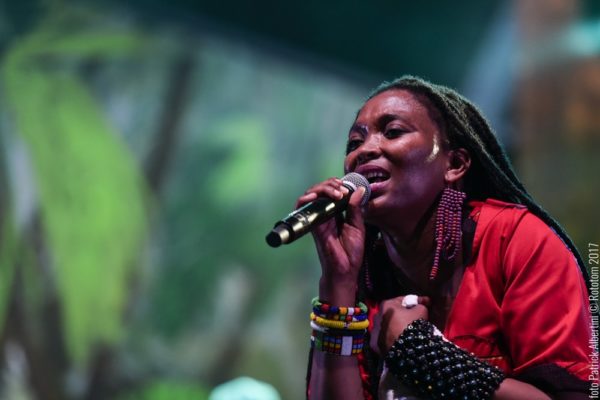 Nkulee Dube (Main Stage). Photo by: Patrick Albertini © Rototom Sunsplash 2017.
Rototom's main stage featured four artists a night, and most evenings there was an act with an African connection. Starting things out on Saturday night was Nkulee Dube, the daughter of the late South African roots reggae star Lucky Dube. With a powerful voice and contemporary sound, Nkulee is a worthy successor to her father. Hopefully she'll get to make her Jamaican debut in the near future--an effort to bring her to the Rebel Salute festival in 2017 was stymied by a paperwork snafu.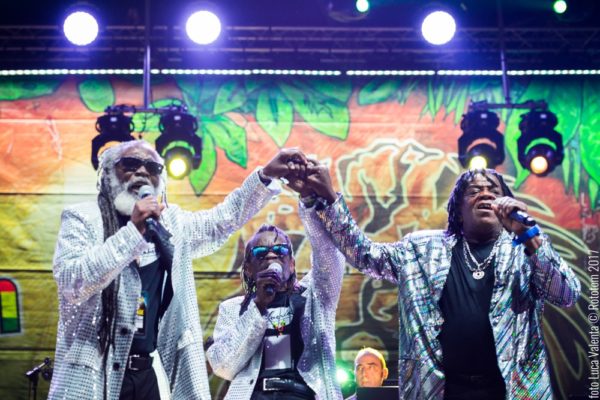 The Silvertones (Main Stage). Photo by: Luca Valenta © Rototom Sunsplash 2017.
Sunday saw two rocksteady-era groups, the Heptones and the Silvertones, share a revue with mixed results. With Heptones' lead singer, Leroy Sibbles, long a solo artist, the group is kept alive by original member Earl Morgan, but he and his cohorts sang poorly. While the Silvertones may also have a sole original, Keith Coley, they still breathed life into their Lee "Scratch" Perry-produced singles as well as covers of American soul classics like "Midnight Hour," which they first cut in the '60s. I actually ran into Coley near my tent in the festival campground where the group stayed for a few days following their performance. He said the group has yet to play the U.S. during its 50-year run. Hopefully word will get out that there's another fine rocksteady outfit still looking to tour.
The rocksteady segment was followed by Seun Kuti and Egypt 80, who were just as fierce musically and politically as when they touched down in the U.S. earlier this summer. If you read Kuti's Afropop interview you won't be surprised to hear he told the audience that he didn't speak Spanish "because I already speak English, and one colonial language is enough for this black man."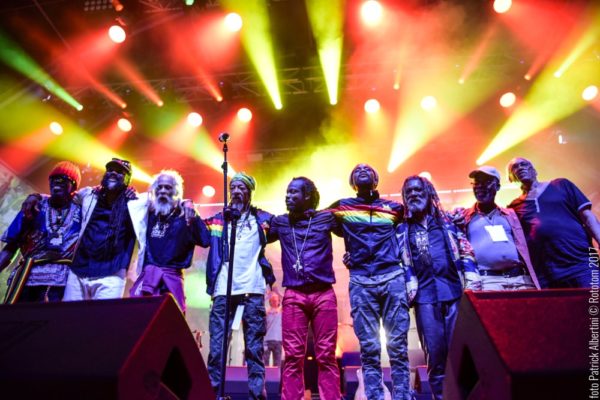 Benicassim, 2017-08-14. Inna de Yard (Main Stage). Photo by: Patrick Albertini © Rototom Sunsplash 2017.
Earlier this year Afropop explored the acoustic and traditional sides of reggae in the episode "Big A Yard, Big Abroad." Much of that show focused on the sessions behind the Inna De Yard series of recordings. Several of the artists have started to tour, and at Rototom the showcase included Kiddus I, Kush, Cedric Myton of the Congos and his fellow veteran Winston McAnuff. Instead of a full drum set the members alternated between several Rastafarian Nyahbinghi drums, but anyone expecting a laid-back session was in for a surprise. Myton and McAnuff in particular had mesmerizing, high-energy stage presences that resulted in one of the most unique and memorable sets of the festival.
Don Carlos (Main Stage). Photo by: Lorenzo Scaldaferro © Rototom Sunsplash 2017.
Another Monday highlight was Don Carlos. While his biographies inevitably mention his brief tenure in an early version of Black Uhuru, Carlos has made scores of excellent roots reggae recordings which powered his set list, and his Dub Vision Band is one of the rare roots outfits which still boasts a full live horn section.
The night was capped off by British two-tone ska stars the Specials, who brought along a live string section for their hits like "Ghostown." Although a crowd favorite, it was hard to take seriously their bland cover of "Monkey Man" when the song's originator would grace the stage the next day.
Toots & The Maytals (Main Stage). Photo by: Tato Richieri © Rototom Sunsplash 2017.
That originator was Toots Hibbert, the gospel-inspired master of reggae soul whose current Maytals band still includes many rocksteady-era session vets like bassist Jackie Jackson. After his fiery set he briefly talked to Afropop about his time touring Africa. "I first went there in the '80s with Bob Marley—I remember going to Nigeria and the Ivory Coast," he said. "I would go on stage at 5 [at night] and never come off until the next day at 6 o'clock! And the people, they still wanted more!"
More details about some of the earliest tours of Africa by Jamaican artists were provided when Afropop Worldwide producer David Katz hosted crucial Wailers members Aston "Family Man" Barrett and Junior Marvin for a Reggae University session. (Noted blues guitarist and Marley and Peter Tosh sideman Donald Kinsey was billed but did not appear on this leg of their tour.)
Marvin mentioned how the band did not realize until it reached Gabon in 1980 that its first African appearance was for a dictator. "We didn't know the political situation, but it was a beautiful experience—we felt like we were finally coming home," he recalled.
A later show marking Zimbabwe's independence was Marvin's favorite memory of playing Africa. "We were celebrating redemption and unity and freedom—the things that Bob sang about," he said.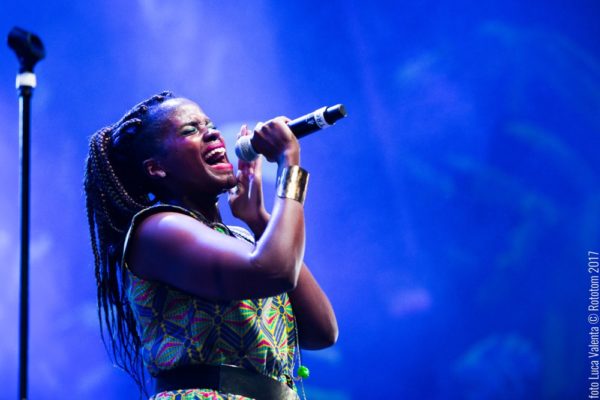 Treesha (Main Stage). Photo by: Luca Valenta © Rototom Sunsplash 2017.
On Tuesday night the African representative on the main stage was Treesha, a Kenyan-born resident of Germany. Her reggae/pop sound showcased songwriting from the perspective of a highly empowered female voice. She also included her take on the Swahili classic "Malaika" in tribute to Miriam Makeba, who popularized the tune.
Speaking to Afropop after her set, Treesha revealed that she had grown up as a huge reggae fan in Kenya but had never pursued music professionally until she moved to Germany a decade ago. At first she worked as a doctor's assistant, but after getting tapped to sing vocals for the hugely popular German reggae singer Gentleman, she became more serious about writing and singing full-time, and is currently working on her second album. (Gentleman himself followed Treesha with a crowd-pleasing set in collaboration with Kymani Marley.)
One of the artists who most inspired Treesha when she was growing up kicked off the mainstage on Wednesday: Beenie Man. In recent years the dominant '90s dancehall star has broadened his sound and included Afrobeats as well as soca in his mix, and his live set showed his peerless energy and dance moves.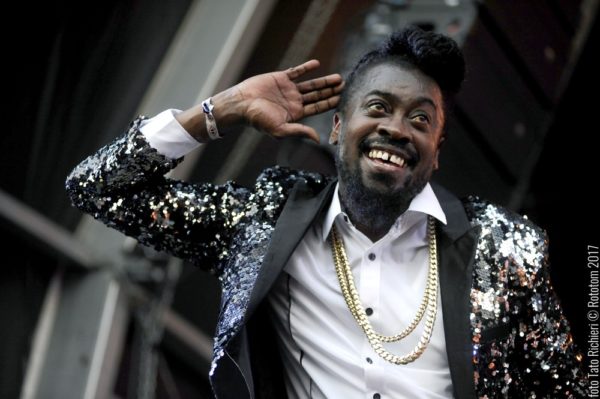 Beenie Man (Main Stage). Photo by: Tato Richieri © Rototom Sunsplash 2017.
Beenie stuck around to make a cameo with Christopher Martin, a ladies' man whose East Coast U.S. appearances have generally been at events that cater to the Jamaican community. I was curious to see how his bubblegum reggae would go over in front of a European crowd perhaps more used to roots and hard dancehall stylists. Thanks to a crack band and strong stage presence Martin got the hearty response he deserved.
Wednesday's main stage ended with a typically enthralling performance by Youssou N'Dour, whose hard summer touring schedule had him in Brooklyn just 72 hours before he touched down in Rototom. His set was clearly the event of the summer for Spain's Senegalese community, who were well-represented in the audience. "This music is the father of reggae music," declared N'Dour.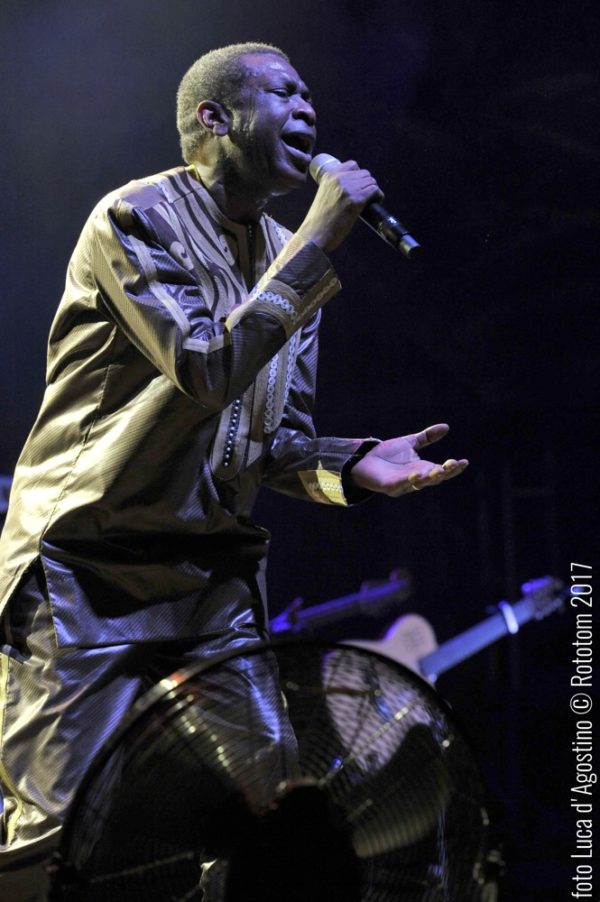 Youssou N'Dour (Main Stage). Photo by: Luca d'Agostino © Rototom Sunsplash 2017.
The night before he took the stage, Youssou (who has served as Senegal's minister of culture and tourism) appeared at the festival Social Forum as part of a conversation on "The Africas of Africa" along with Yohannes Tilahun, director of the Ethiopian Tourism Organization and Boniface Ofogo, a Cameroon-born cultural mediator. "The media only shows the negative—conflict, illness," said N'Dour. "No one speaks about the growth. We need to show the world the richness of Africa. We need to work the diaspora to portray a more beautiful image."
N'Dour was in good company at the Social Forum. Other panelists over the week included Nobel Peace Prize recipient Mohamed Ben Cheikh, who discussed his dialogue-centered work in Tunisia, and Senegalese writer and activist Mamadou Dia.
While many reggae artists have sung about Africa, Friday night featured a collaboration between two artists who have made the connection a physical one: the psychedelic dub journeys of African Head Charge, mixed live by Mad Professor.
African Head Charge dates back to the early '80s, when percussionist, singer and leader Bonjo Iyabinghi Noah first started making music with dub pioneer Adrian Sherwood. "The group wasn't really formed," explained Noah to Afropop. "It just come and it gwan. Me and Adrian was always in the studio experimenting and doing different things. We just laid down a lot of different drums, adding different effects and got different ideas. It was like the herd coming together."
The group was off the scene until recently when it resumed touring and recording, with several of its early albums slated for reissue in the near future. It turns out Noah had been spending the intervening time in Ghana. "My wife and children are there and that's my heart is," he said. "I was born in Jamaica but the Rasta vision is always to go to Africa. I feel at home and I learned a lot of drumming there. I've been learning a new language."
At Rototom, African Head Charge's mind-expanding set was invigorated by the rhythms and acrobatic moves of Emmanuel Okaine. And it was mixed by another legend of the U.K. dub scene, Neil "Mad Professor" Fraser, who returned the following night to mix a lengthy and rewarding revue that featured dancehall pioneers Nadine Sutherland, Big Youth and U-Roy.
Big Youth, The Robotiks with Mad Professor (Main Stage). Photo by: Tato Richieri © Rototom Sunsplash 2017.
Fraser's Ariwa label has sponsored several editions of the Back to Africa Festival in the Gambia. Taking his sound to Africa was a natural, Fraser told Afropop. "We all have to honor where we come from, whether you're from Europe or India or Africa, because it's part of you and you cannot hate it because if you hate it you hate yourself. Africa is where the drums and bass came from. Before the word 'bass' even came out we had music with the bottom end."
Fraser says that producing a festival in the Gambia wasn't easy, but he promises there will be a follow-up to the most recent edition, which was held in 2016. "We won't keep it every year, but we will do it again. People there, they loved it—everyone was jumping and dancing. So now from when I reach the airport in the Gambia people ask when I'm going to keep the next one. They really loved and appreciated it."
Unfortunately one of Rototom's only sour notes came later on Friday. After a exuberant performance by Chronixx, who showed why he is the biggest name in contemporary roots reggae, the night was slated to end with the Ivory Coast's reggae icon, Alpha Blondy. A huge crowd was on hand to sing along with Blondy's classics and hear him speak out against the deadly terrorist attacks that had happened the day before in Barcelona, but after about 40 minutes he stormed off stage, seemingly citing technical issues, and refused to come back despite the pleas of the audience and the MCs.
Besides the previously mentioned Mad Professor revue, the main stage ended on a strong note when Luciano's rich catalogue and unbeatable stage presence was backed by veteran U.K. riddim section Mafia and Fluxy, a treat for roots and dub fans.
The "Celebrating Africa" theme was also reflected in the programming on the Lion Stage, which featured at least one African artist nearly every night.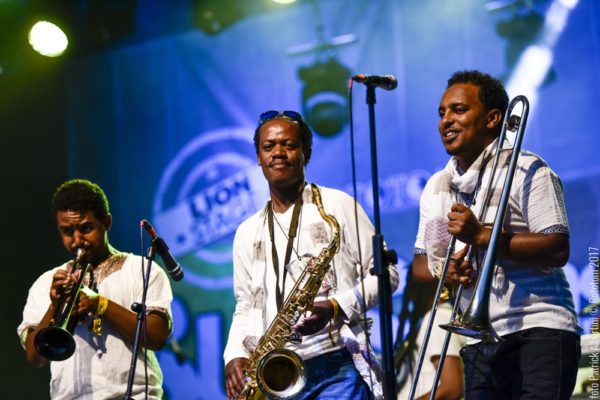 Ethnopia Reggae Music Ambassadors' horn section (Lion Stage). Photo by: Patrick Albertini © Rototom Sunsplash 2017.
A huge block on two nights was devoted to the Ethnopia Music Ambassadors, a sprawling revue of nine singers and DJs backed by a large horn-fueled band. Among the stars were bandleader Henok and singers Haile Roots, Yohanes and Chelina. This was anything but a carbon copy of Jamaican sounds—each act delved deep into Ethiopian scales and rhythms to make a refreshingly new reggae sound. It was announced that Rototom will be attempting to mount an event in Ethiopia sometime in early 2018.
Spain-based African acts like Guinea-born Nakany Kante and Senegal's Khaly Thioune were highlighted midweek. It was rather surprising to see a world music-circuit star like Bombino slated for a 2 a.m. slot on the smaller stage, and he opened to sparse crowd, but it didn't take long for his desert blues sound to attract a large audience.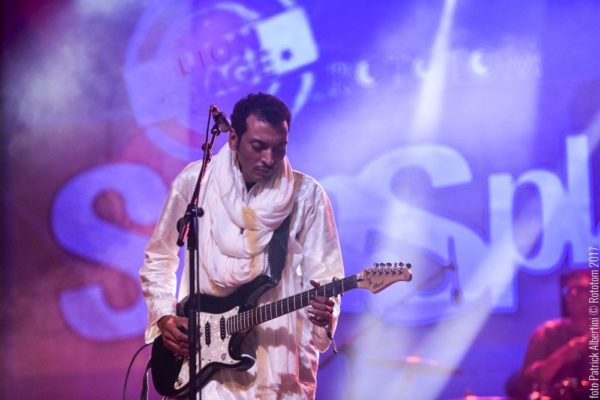 Bombino (Lion Stage). Photo by: Patrick Albertini © Rototom Sunsplash 2017.
Thursday and Friday included some North African offerings. France-based Maclick combined Moroccan grooves with the slicker side of pop/reggae. They're on the lineup for the Womaaf Festival in Tangier later this month.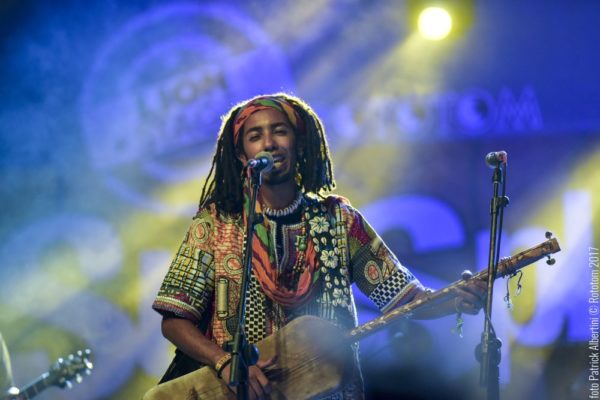 Mehdi Nassouli (Lion Stage). Photo by: Patrick Albertini © Rototom Sunsplash 2017.
Over the past year Afropop listeners have heard a lot of the versatile Moroccan musician Mehdi Nassouli, who was featured in both the "Moroccan Music Today" and the "Festival in Fes" episodes. Nassouli is no stranger to reggae—he's a member of Bob Maghrib, one of the most inventive Marley cover bands on the planet. But at Rototom he did two shows with his own band of virtuosos and it was pure Gnawa all the way, played with a modern kick.
Even in years when Africa is not the theme, Rototom always includes an on-site African Village, the home to drum and dance lessons, food and craft demonstrations, book launches, storytelling sessions and even an Ethiopian circus troupe. There was plenty of action on its stage, and special credit has to go to Rototom regular Hermanos Thione, who seemed to be everywhere from the drum lessons on the beach to the late-night full-band performances.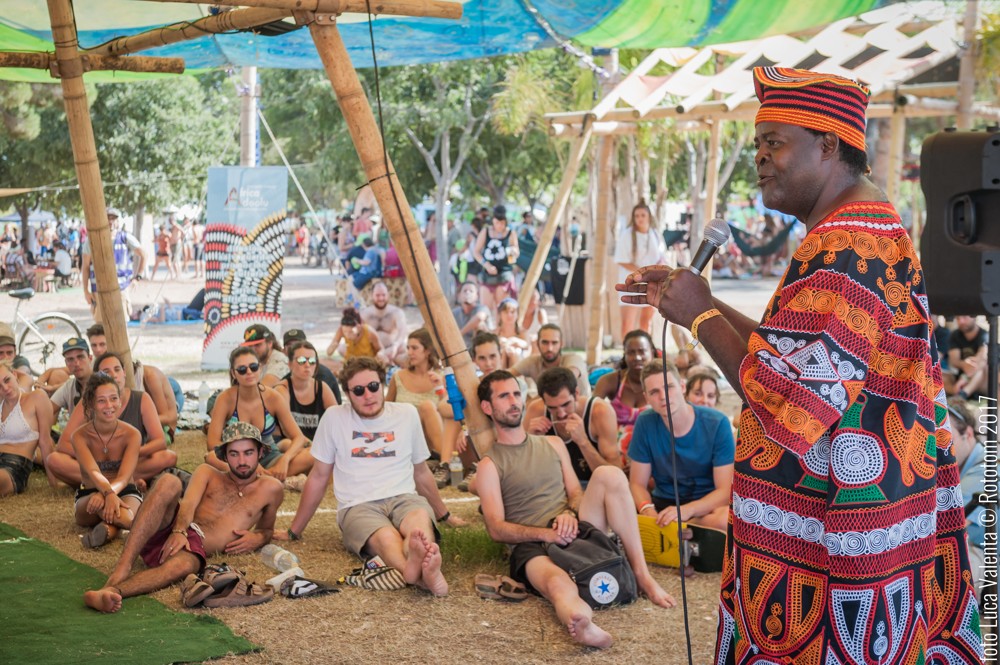 African Village. Photo by: Luca Valenta © Rototom Sunsplash 2017.
The intimate stage was the perfect place to catch recent Afropop interview subject Mû Mbana and his enthralling solo performance on a variety of stringed instruments. Later that night the Ashanti sound system had the dancefloor rocking for a dancehall vs. Afrobeats session where selections from the two styles were seamlessly mixed together.
Ghanaian drummer Mohammed Alidu has been living in the U.S. for the past few years, leading impressive bands in both New York and Colorado. At Rototom he did a high-energy afternoon workshop before leading a special Spanish and Cuban version of his Bizung Family in an impeccably funky show. We sat down with Alidu for a full interview which will be posted soon on Afropop.org.
Rototom will return in August 2018 in Benicassim. In the meantime, the festival has posted videos from nearly every full set from its main stage.