Field Report: Visa For Music 2018
Long live Visa for Music! These words could be heard at practically every concert during the fifth edition of the professional market and showcase of music from Africa and the Middle East, held in the Moroccan capital of Rabat in mid-November. More than 1500 music professionals from all over the world gathered in this beautiful city and unanimously agreed that Visa For Music must continue in the future. The reason for this spontaneous display of solidarity is the fact that this important showcase and networking festival had just received a cut in government funding from previous years. Despite that, the event turned out to be wonderful, with 50 showcases (short concerts lasting rough 40 minutes) in which artists from all over the world could demonstrate their skills.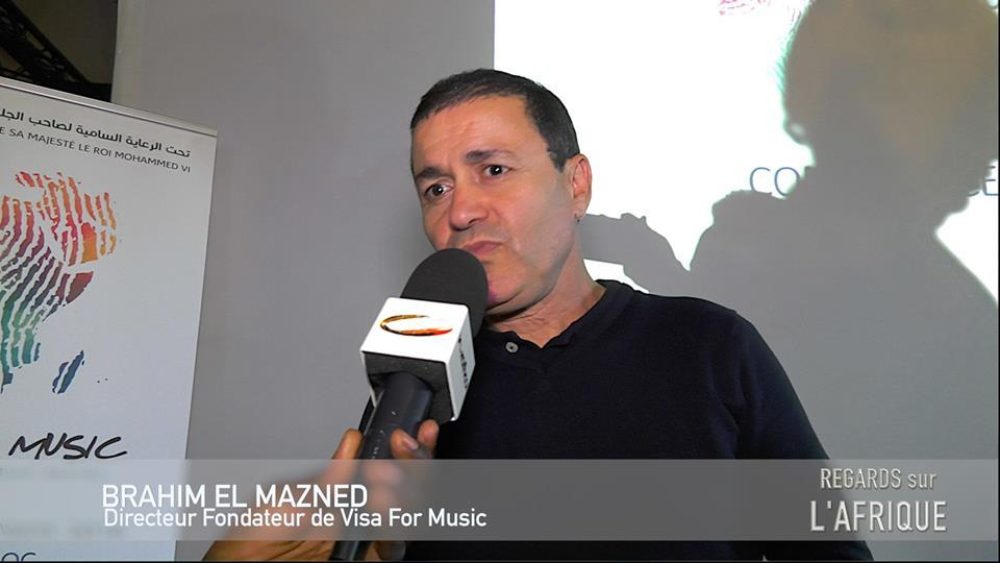 Despite the uncertain future, festival director Brahim El Mazned has not lost faith in his creation: an international platform for musicians and world music professionals from Africa, the Middle East, Europe and the rest of world. "We received a lot of support from music professionals, inhabitants of Rabat and high officials in the government. This edition was a success and we will do our utmost to continue with Visa For Music," El Mazned explained.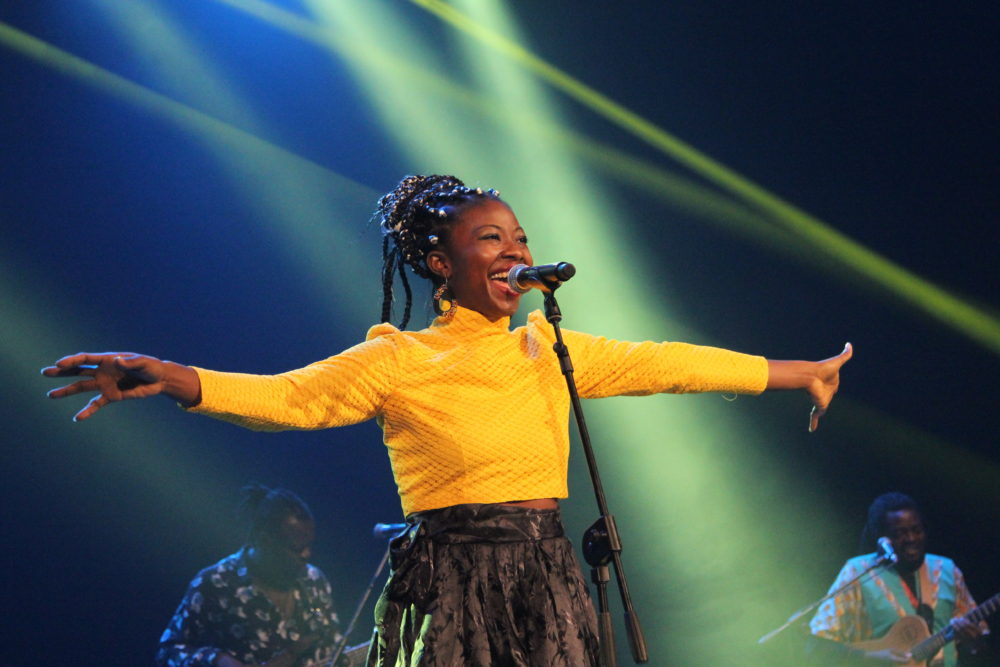 One of the most interesting conferences of the festival focused on female artists from Africa and the Middle East, which was also the recurring theme of the festival. Recently, 45 international music festivals announced that they had signed up for a new program that aims to end the gender inequality in the festival landscape. This initiative pledges to achieve a full 50/50 gender balance across their lineups by 2020. Director El Mazned succeeded in selecting a remarkably high percentage of female artists for his event. To illustrate: On the opening night in Théâtre National Mohammed V, three of the four artists were female: the Lebanese jazz singer Farah Syrah, Lornoar from Cameroon, and Mounira Mitchala from Chad.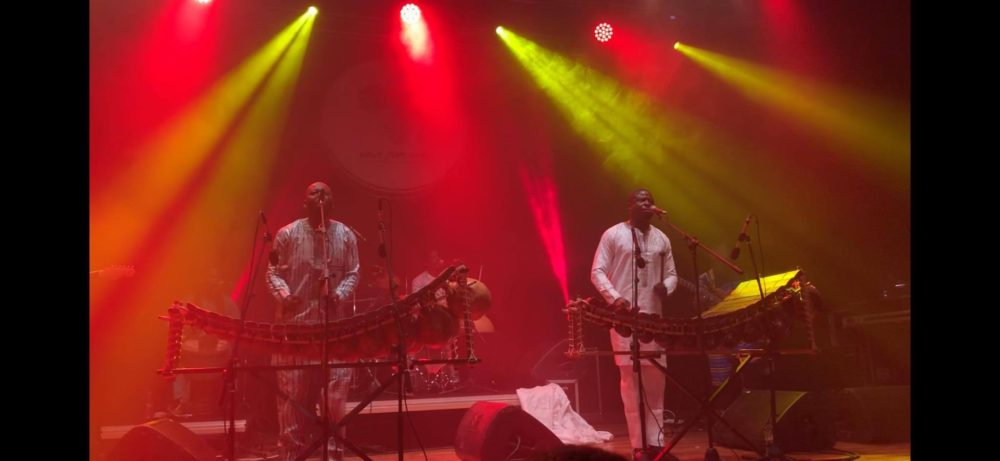 One of the most dynamic performances in the Salle Renaissance came from balafon player Mamadou Diabaté and his group Percussion Mania from Burkina Faso. He descends from a traditional djeli family of musicians and storytellers of the Samba people. At the age of five Diabaté started his professional education and over the years developed a special technique of playing balafon solos, making it sound as if three balafons were playing simultaneously. Since 2001 he has released 13 CDs and played all over the world. What makes his project so special that there is a second balafon on stage, played by his cousin Yacouba Konate. Their musical dialog on balafon with passages of extremely rapid playing was one of the highlights of the conference.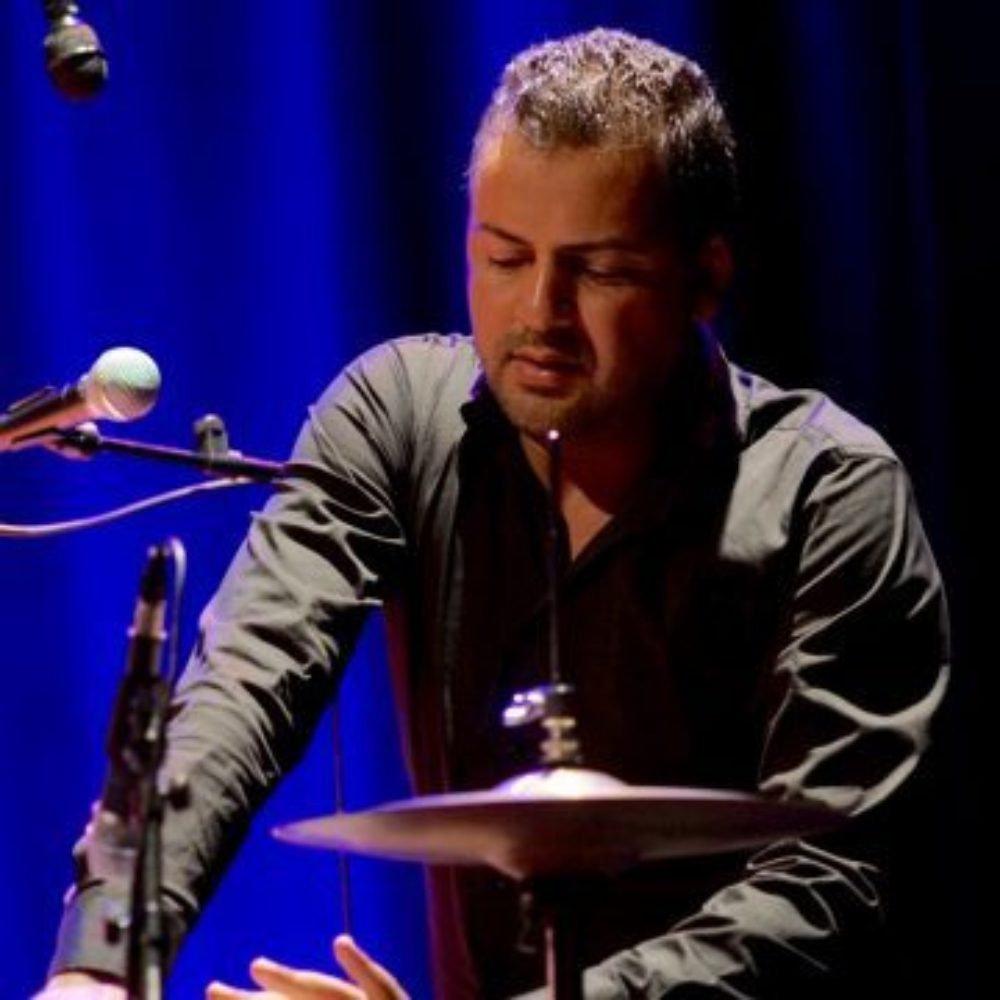 Frigya, which means "Africa" in the ancient Tunisian language, is a very interesting project fueled by the inspired Imed Alibi, an exceptional percussionist who was born in Tunisia and now lives in France. He started playing percussion at an early age in classical North African/Middle Eastern orchestras, moved to Montpellier, France in the early 2000s, where he played in a variety of groups and styles – from flamenco, Eastern, gypsy to fusion. For eight years Alibi toured with the Boukakes, an oriental rock band that produced two studio albums. The collaboration between Imed Alibi, trumpet player Michel Marre, Khalil Hentati (synthesizer) and singer Kandy Guira resulted in beautiful melodies and uplifting dance songs, mixing Berber and Sufi rhythms with electronic western dance music.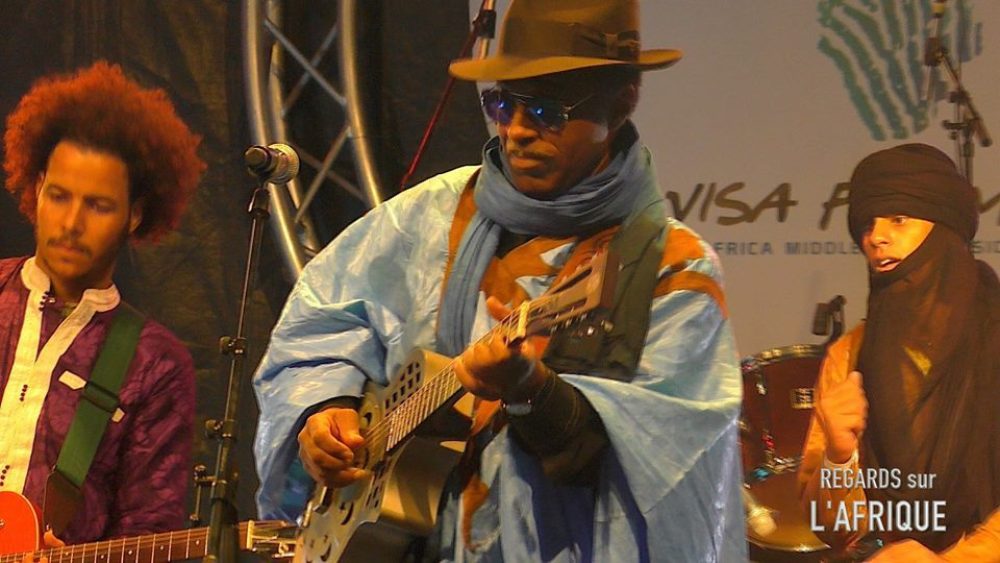 Desert blues in the style of Tinariwen and Terakaft was offered by Joudour Sahara, which rocked the stage in the beautiful Palais Tazi. The musicians from this band come from a music school for children and youth, located in the oasis of M'hamid El Ghizlane in the desert of southern Morocco. Joudour Sahara performed an impressive energetic mix of desert blues and rock. Extra support came from Mississippi blues guitar man Vasti Jackson, a Grammy-winning artist who has played with BB King.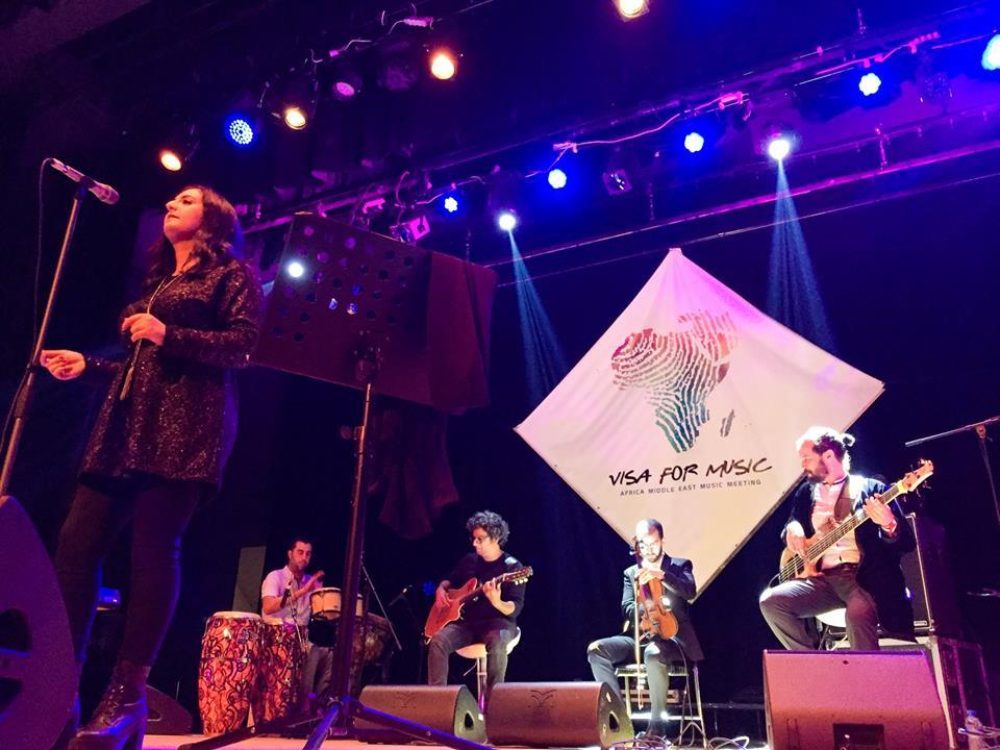 Salle Bahnini was more than packed to the rafters when Nabyla Maan, the talented Moroccan singer from Fez, came on stage. It was so crowded that a large crowd was denied entry and a lot of people, including me, had to sit in the middle aisle. Nabyla Maan is blessed with a beautiful voice. Accompanied by her sextet she performed an interesting mélange of traditional Moroccan and Arab-Andalusian music with jazzy and even flamenco accents. Nabyla recorded her first album, D'nya,in 2005,in which she sings in Darija, classical Arabic and French, including two reprises of Nass El Ghiwane's famous songs "Allah Ya Molana" and "Essiniya." Her album sold hundreds of thousands of units and allowed her to be showcased in concerts in Morocco and Europe. At age 19, she was the youngest Arab/African artist to perform at the famous Olympia music hall in Paris. In 2009, she released her second album, Ya Tayr El Ali, which also features songs in Moroccan Arabic, classical Arabic and French, including her version of Edith Piaf's "Padam Padam."
Magou Samb is a Senegalese guitarist and singer based in Paris. He plays folk music influenced by the ndeup, a traditional Lebou rhythm from the fishermen of Dakar. His voice is rough and powerful and his guitar style is tinged with Mandingo tradition, mbalax, blues and salsa. Magou has also created a repertoire of tales showing the virtues of animist traditions in the preservation of nature. In Rabat Magou Samb was accompanied by his wife on cello. His catchy compositions recall the young Ismaël Lô and Carlo D.
Judith Profil, better known as Kaloune, is one of the most interesting artists from the island of Réunion, a French overseas department in the middle of the Indian Ocean. This actress, storyteller, and author of two collections of poems in Creole and French, is passionate about words. Accompanied by electro beats and a mbira, a thumb piano used during ritual ceremonies in Zimbabwe, Kaloune's intimate universe unfolds before us with images full of poetry that touch upon remembrance, sacredness and femininity. Maybe not everybody in Salle Renaissance enjoyed her performance but I really appreciated her originality and strong stage presence.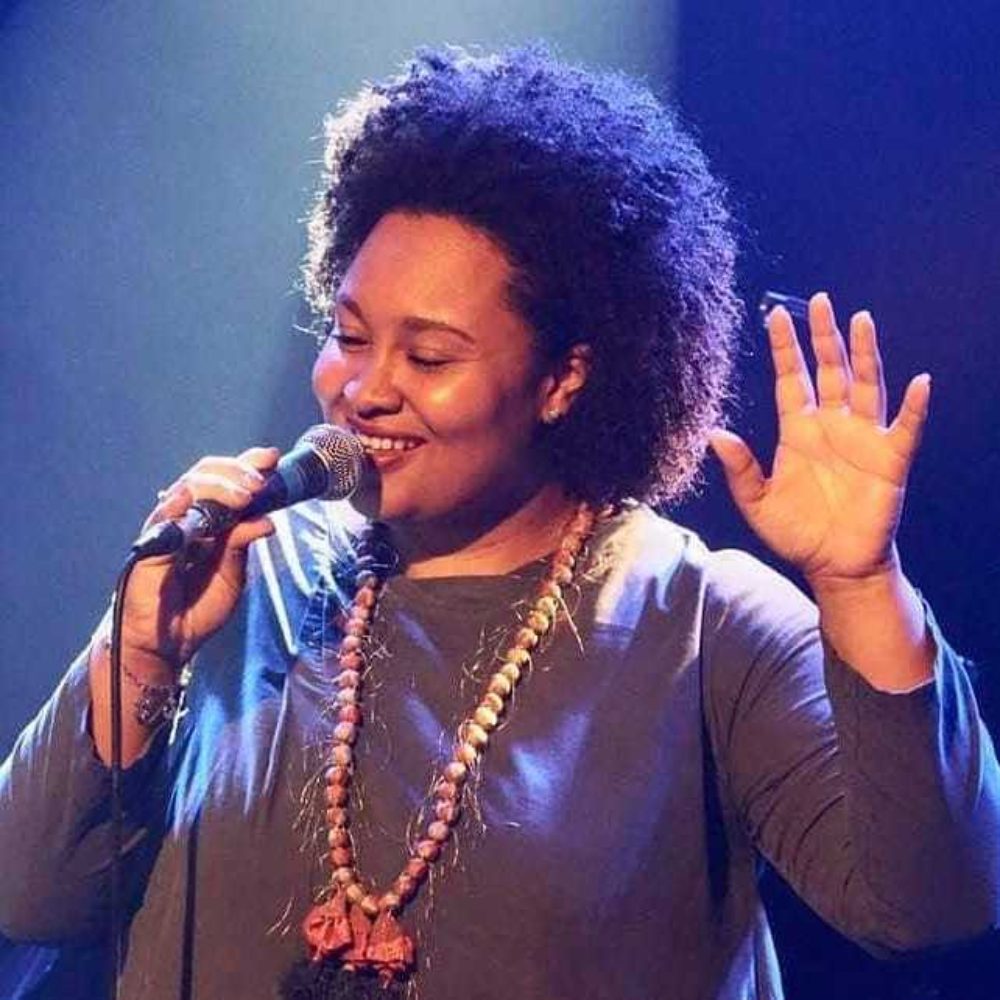 Lucibela Freitas Dos Santos, better known as Lucibela, is one of the new stars of Cape Verdean music. She was born in Tarrafal on the Cape Verdean island of São Nicolau in 1986. She began to sing in the tourist hotels on the islands of Sal and Boa Vista, refined her technique and became an instant hit, performing songs made famous by the great singers of Cape Verde: Cesaria Evora, Titina and Bana. In 2016 Lucibela debuted in Lisbon and in 2017 she performed at the prestigious world music market, WOMEX. Lucibela sings typical Cape Verdean genres such as morna and coladera, reminiscent of the late great Cesaria Evora but has developed her own unique style. Her show in Salle Bahnini was not really different from her performance at WOMEX 2018, but it's always a delight to hear Lucibela sing.
Despite the uncertain times Visa For Music is facing, this showcase festival has again proven its worth. It's not only an annual meeting point for music professionals from Africa, the Middle East, Europe and the rest of the world, it also proves that there is a huge amount of talented musicians in this region, who deserve exposure in the rest of the world. The cultural and economic impact for Rabat and Morocco is high, so let's hope there is a great future for this festival. Long live Visa For Music.
Report by Bastiaan Springer, presenter and producer for Concert Radio (Netherlands), and a world music journalist since 1984.