Gold Dust: A Visit to Photogenic Ghana
A trio of British photographers
going under the name Tripod City
has just published a book documenting a trip to Ghana. With a background in street photography in their native U.K. and
skills honed on a trip to China the year previous
, Chris Lee, Charlie Kwai and Paul Storrie present a personal and playful side of the West African country.
Charlie Kwai via Gold Dust. All images used with permission.
The photographs,
now compiled in a book called Gold Dust
, were taken over the course of a month. One of the photographers, Paul Storrie, tells Afropop that they used Accra as their home base, and "traveled to the Cape Coast, Kumasi, Busua on the western coast." Interested in photography people above all, they stayed in dense urban areas, traveling no further north than Kumasi.
via Gold Dust
Going from mainland China to Ghana isn't the most intuitive leap, so I asked Storrie how they decided on a subject. "We're attracted to places with clear stereotypes. The image of Africa presented in the media is often limited and one dimensional, that focuses on negative issues," Storrie said. "Our aim was to challenge these stereotypes. In the last few years, Ghana has reportedly enjoyed economic and political stability. Some hail it as the poster child of Western Africa. Ghana was the perfect candidate to explore and show an alternative story."
Image: Chris Lee. via Gold Dust, used with permission
Said alternative story is likely no great revelation to Afropop readers and listeners, but there's enough going on in the pictures to interest casual fans of street style and photography. This being Afropop, though, I couldn't help but ask Storrie about what they were hearing around town. "You can't go anywhere without hearing 'Brother Brother' by Bisa Kdei, and any of Shatta Wale or Stonebwoy's songs cranked up to max coming out of a beat-up speaker-stack—and these are the soundtracks of the street," Storrie said.
Papa Row. Image: Charlie Kwai via Gold Dust, used with permission.
They also spent time with "the rising star of Jamestown, Accra," a recovering-alcoholic-turned-musician named Papa Row. Their encounter turned into a sort of mini-documentary for
DAZED
magazine.
Storrie says that they haven't yet decided where they'll head next, only that "wherever we go, our mission is to document people and place with honesty and originality to change opinion and inspire people's imaginations."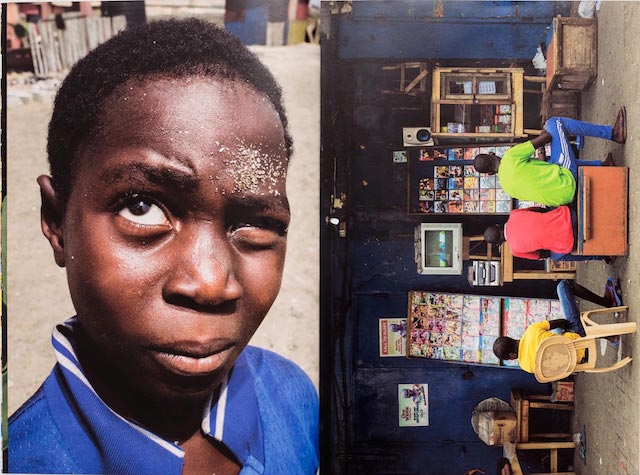 For the curious and British,
Gold Dust is also exhibiting at Dream Bags Jaguar Shoes, London, until Aug. 5
.