Hakim Talks Post-Revolution Egypt
Hakim, known as the "Lion of Sha'abi Music" in Egypt, had not performed in the U.S. since February 2002, when he shared the stage with Algerian rai superstar Khaled at the Beacon Theater in New York. In the months after the 9-11 terrorist attacks, that was a moment fraught with emotion—a concert no one who attended will forget. Hakim's return to New York, on July 15, 2016 came about somewhat by chance. Celebrate Brooklyn had been promoting a concert by Rachid Taha at the Prospect Park bandshell that night, but weeks earlier, Taha was forced to cancel, and the organizers scrambled for a suitable replacement. Enter Hakim, and some 12 members of his enormous Cairo band.
Afropop's Sean Barlow and Banning Eyre found Hakim backstage before the show. Hakim had shown the Afropop team extraordinary hospitality in 2011, as we were researching our five-part Hip Deep in Egypt series. One episode, "Cairo, Hollywood of the Middle East," delves deep into Hakim's back story. During that visit, Hakim took Sean and Banning for a late night tour of Cairo's five-star hotels to see him perform sets at two consecutive weddings. They ended up at the pyramids at sunrise, riding horses and camels. This memorable night ended with breakfast at an out-of-the-way confectionary stand called Malky. And that is where our conversation began. Hakim spoke a little English. The rest was translated on the fly by a bilingual friend of Hakim's, Pierre Girgis.
Hakim: Malky! Good breakfast. All the artists go to Malky after the show. We meet there and eat something sweet.
Pierre: Hakim takes you to the highest-end places. I'm telling you. Hang out with Hakim, this is heaven. So when was the last time you guys went to Egypt?
Banning: 2011. After the revolution, but before the elections.
Pierre: I think it's time for you to go back. I'm sure Mr. Hakim and will arrange for your very nice program to go away from Cairo to Luxor.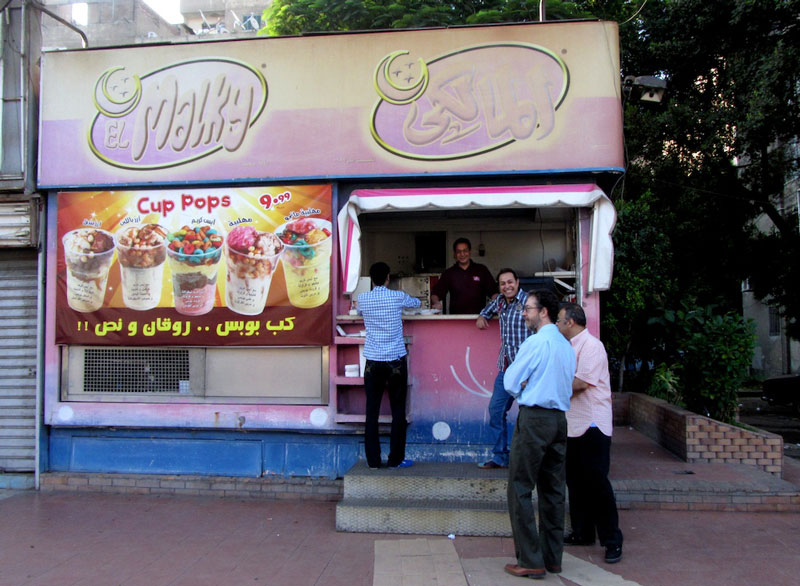 Hakim and Sean at Malky (Cairo, 2011)

Sean: In sh'allah.
Banning: So, Hakim, when we were there in 2011, it was before any of the elections, nobody really knew what was going to happen. Things have changed a lot. How has it affected your musical life?
Hakim: I was depressed during this time. And not only me. Many other Egyptians were depressed during this period after 2011. From 2011 all the way until June 30, 2013, when we had our second revolution, almost everybody was living in depression, but everybody was having hope, and this is what made us survive until now. Thank God after June 30, things have changed to a better picture and a better view that has allowed happiness to come back. I feel that everything is getting back to normal now. People are back to their reality, pursuing their careers, and I believe that now we will see more peace.
Has the situation affected your songwriting? We'd love to hear about some of the songs you've been writing during this time.
Yes, of course, I was inspired during this period of time, driven to help give people hope. So from this time up to the time of the second revolution, and even after, I have written a lot of songs that are kind of considered national songs, to support Egypt and Egyptians and to promote peace through my music and songs. The last song I wrote was called "El Masry." That means more or less "Long Live Egypt." And it's a song showing that Egyptians are men, I won't say powerful as much as people of integrity.
So it's talking about strength.
Yes, strength, but with integrity. And if you hear the song, it has a lot of good meaning in it. I am shouting out to people who are working in industry or in farms or in any kind of work. I encourage them. I'm telling them that we're in a time where we need to continue moving forward. Let's join our hands altogether so we can build a new country, the new Egypt. Actually, this song was complemented by the minister of defense. This song was on their official website, on the homepage of the Ministry of Defense.
Sean: What are you going to perform in Brooklyn tonight? Classics? New songs? Brooklyn is very strong, some would say the best part of New York.
I have two songs that I'm planning to sing from my recent work. One is called "Halawet Rooh." This is a very big one. It happened in 2015. And the other one is "Aam Salama," from just six months ago. First "Halawet Rooh." What made this song unique and popular is that it actually came from the bar rooms of Egypt, from a class where anyone would understand it. That's why this song was a very big hit on YouTube and other channels. It appeals to all ages. It comes from the soul of the Egyptian street. So it's very, very popular in Egypt, and also all throughout the Middle East.
[embed][/embed]
Banning: Can you tell us about some of the lyrics?
O.K. The song says, "What bothers me the most and what is killing me and hurts me the most is that I have given my loved ones everything, with my soul and my heart. And now this person has turned his back on me. Maybe this has happened to you before. It happens to a lot of us. We do things for many people, and sometimes they turn their backs on us." Everybody is crazy with this song. Crazy.
That sounds like a metaphor for the revolution, right? People felt let down by those who ended up in power.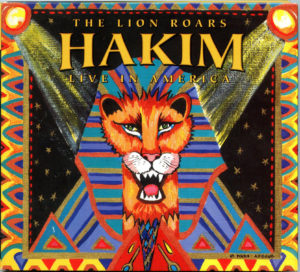 Absolutely. The youth and the young generation actually took this song, and they kind of customized it. They put videos and images of the old regime, and the university, Morsi. Those people turned their back on them and someone else came and helped them out. Those people did a phenomenal job on that song.
That's very interesting. Let's talk about the other new song you mentioned, "Aam Salama."
"Aam Salama" is a social song. I'm asking this person, "What happened to the world? What happened to Egypt?" I shot the video in very poor areas where people really need help. I wanted to say, "Hey you guys, you've got to feel each other. You got to love each other." I'm asking this person why people have changed. Why are people no longer loving each other, not caring for each other? I'm trying to persuade them that, no, you've got to care for each other, you've got to be together, so we can have a better country and a better life. And we can have humanity in what we do. I feel like this is almost the end of the world. Our judgment day is coming.
[embed][/embed]
That's heavy.
Yes. Strong. This is a very strong song.
Are there other songs from recent years you want to talk about?
Another one of my favorite songs, one that is dear to my heart is called "Teslam el Ayady," which means "thanks to these good hands." I live day to day with what happened during the revolution, and before the revolution. And then we got the second revolution. "Thanks to these good hands." The song is uses a chorus of 12 singers. So on the one hand, we're thanking our military and our army for standing behind the Egyptian people during the June 30 revolution. They listened to our suffering during this previous regime. But also I am thanking Egyptians overall for supporting this second revolution. This is what we always expected from our military, to be there to support Egyptians. And they were actually able to do that in those two revolutions, especially the recent one.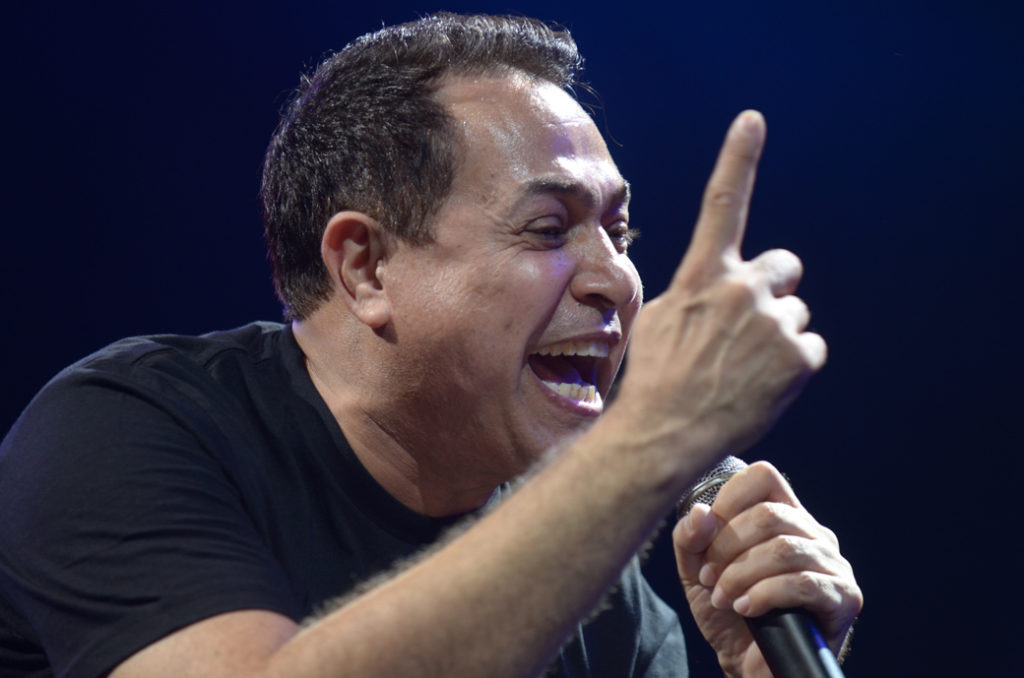 Hakim at Celebrate Brooklyn (2011)
For our listeners who may not know exactly what you mean when you say "the second revolution," can you explain that?
I was personally was on the fence for the first revolution. I wasn't exactly sure what to think. I think it was a necessary correction that needed to happen so we could get new blood and refresh things. To have new people coming up and standing for their own freedom. That was the 2011 revolution. However, June 30, 2013–this was when I realized that the people who would be taking over would be the true Egyptians, people who would really support the country. I was happy that so many people were willing to support the second revolution. To me this was the actual revolution. When [Mohamed] Morsi was kicked out and we had our temporary president take over, and then we had our true election and Abdullah Fattah El Sisi took over. So there were two corrections. The first one was more about beginning change; the second one was going exactly the right way.
Let me ask you about sha'abi music. There's a lot of new music now coming out of Egypt, the new electronic party music called mahragan and so on. But sha'abi comes from the street, from people's direct experience. Talk about the endurance of this music despite all the changes in Egyptian culture. Everything's changing, but this music remains, despite all this change. Why?
I agree with you. Sha'abi songs are strong, and they will remain strong. This music probably started in the late 1800s, early 1900s. And as you said, it's coming from the street. It's coming from the people. What we do as singers is just to reflect the feelings of the people, their emotions, through the music. Yes, you have these mahragan songs, and hip-hop songs. But most of them don't have a theme. They're more like jokes. However, not just anyone can see sha'abi music. You can get the rhythm of hip-hop or the rhythm of mahragan, and you can probably do it. But for sha'abi, you need a very strong voice. You actually need talent. And you need to really understand what sha'abi music is in order for you to sing it. Mahragan songs, you probably just want to hear it once. But sha'abi music, you can play it over and over. It's the kind of music that has depth, and you want to hear it over and over.
At this point, a woman arrives with a T-shirt Hakim has requested. Orange letters on black reading: COME TO EGYPT.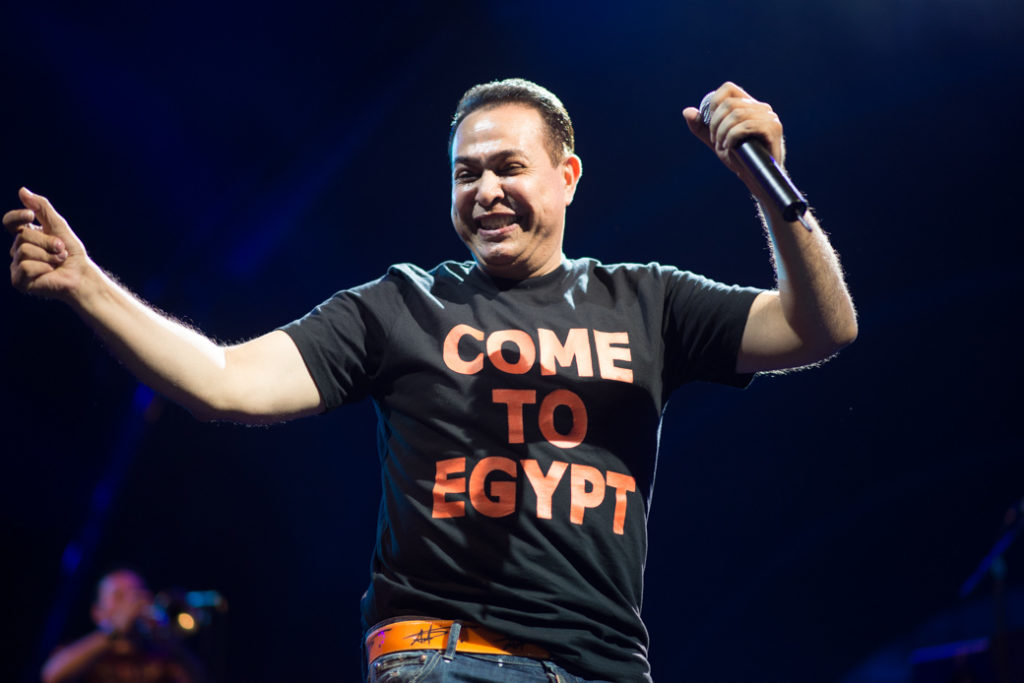 This T-shirt. Will you wear it tonight?
Yes. I will wear tonight. "Come to Egypt." This is to support our tourism in Egypt, and to encourage people to support our beloved Egypt, and to support peace and to come and see our heritage and our country.
Sean: If people do come to Egypt, where will they find music these days, and where will they find Hakim?
Listen, going to Cairo, there are certain places you need to see. Of course there is Giza, this part of the greater Cairo. You need to visit the pyramids. You need to visit the Sphinx. And you know, we have the best hotel services. The accommodations there and the services like restaurants are fantastic. And don't forget the museums in Tahrir. And there is new one coming up now, a new national museum.
Yes, we have heard about that.
It will be like the Louvre, and hopefully it's coming soon, by the end of 2017. But don't wait until then. We have so many things. Now for music, on a daily basis there is always something happening in Cairo. There is the Cairo Opera. There is Sayd el Sawi, another place they present sha'abi music. They also do folklore and classic music. And also Beit el Sahemy. This is another music venue. Come to Egypt and just ask and you can find it. And tourism is not only Cairo. We do have Sharem el Sheikh, Gona, Wagaka, Sahl Hasheesh.
I recently stayed five days in Sahl Hasheesh, a very, very nice place. Really. This was the first time I take a vacation in my life. Really. The first time to take a full five-day vacation for myself. And I was so very happy with this place—the best place in Egypt. Very quiet. Very special. This is north. By the Red Sea.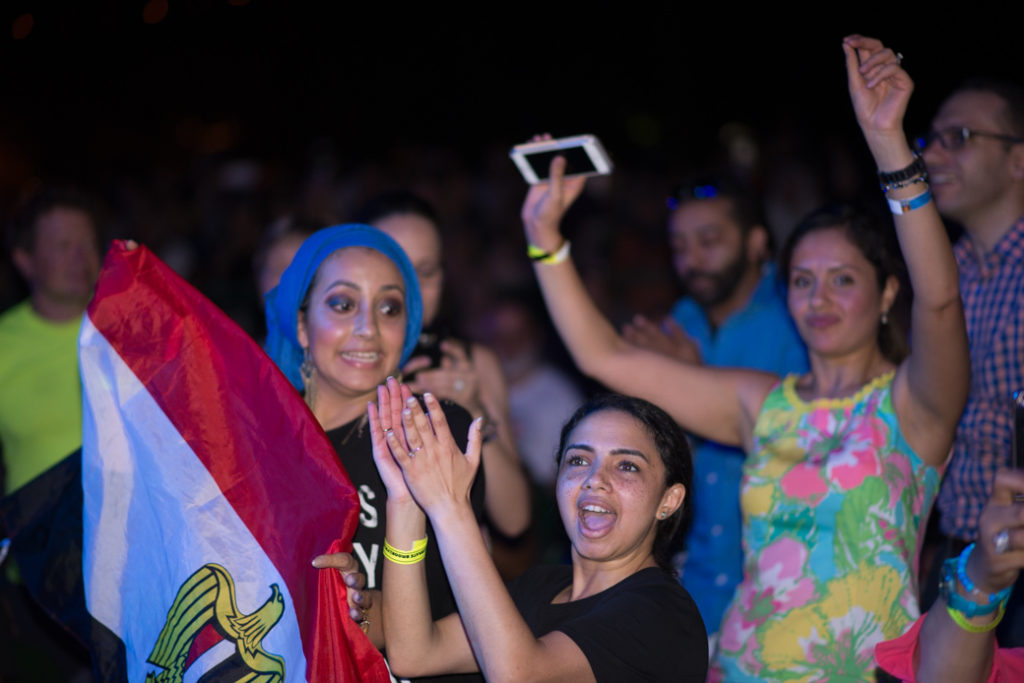 Audience at Celebrate Brooklyn
Sean: We've been talking about song lyrics and songs. But tell me about your band. You are the singer and the conductor. But take us through the band. The different sections.
I have a really big team behind me. Not all of them were able to come to the U.S. this time. But I really have a vision of how to mix the Middle Eastern instruments with Western instruments. I have accordion, flute, along with piano, the brass section, keyboards. In addition to the traditional percussion. Oriental percussion.
Before we end, are there any new artists, in any style, that you especially like these days?
There are many people who come out all the time. But there are two that I really enjoy when I listen to them. Tamer Hosny and Mohamed Hamaki.
We'll check out their new music. Thanks so much, Hakim. Have a great show tonight!
Here are more of Banning Eyre's photos of Hakim at Celebrate Brooklyn, July 15, 2016.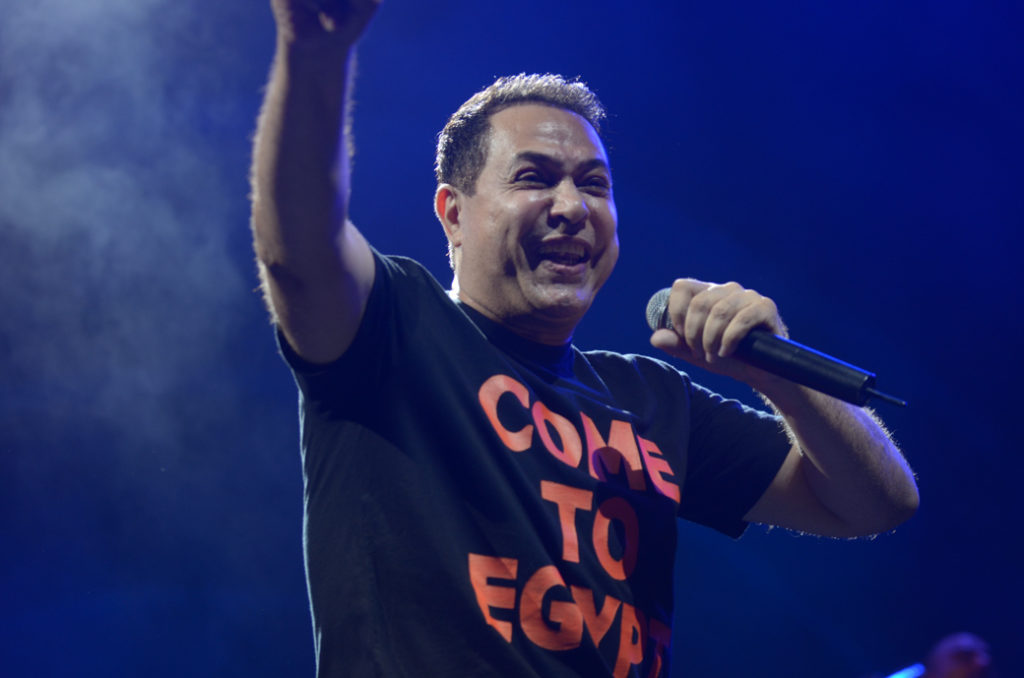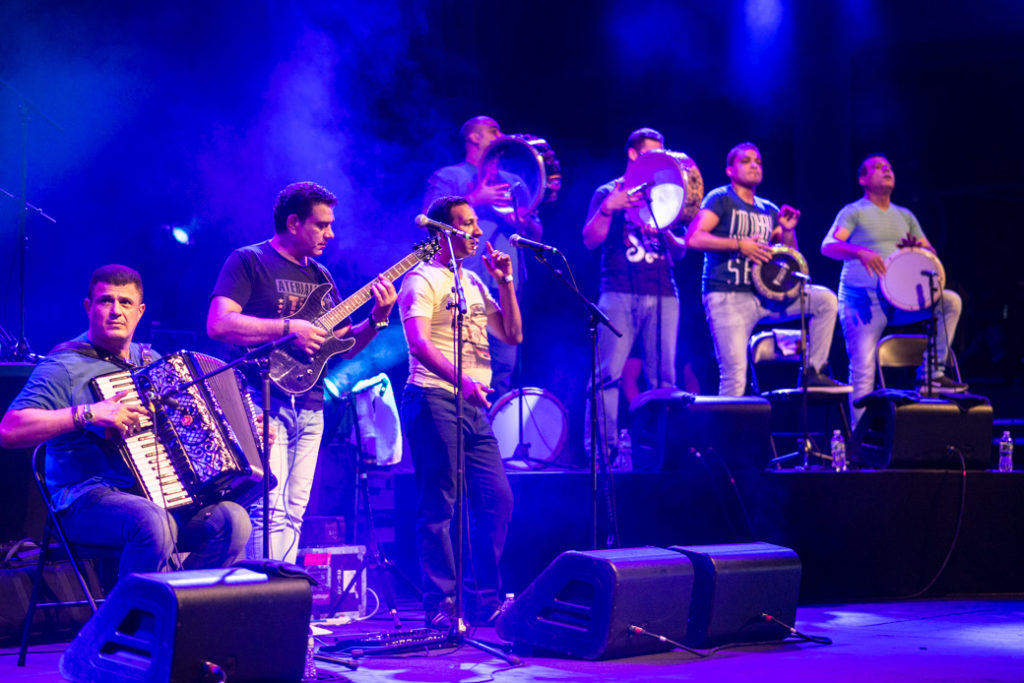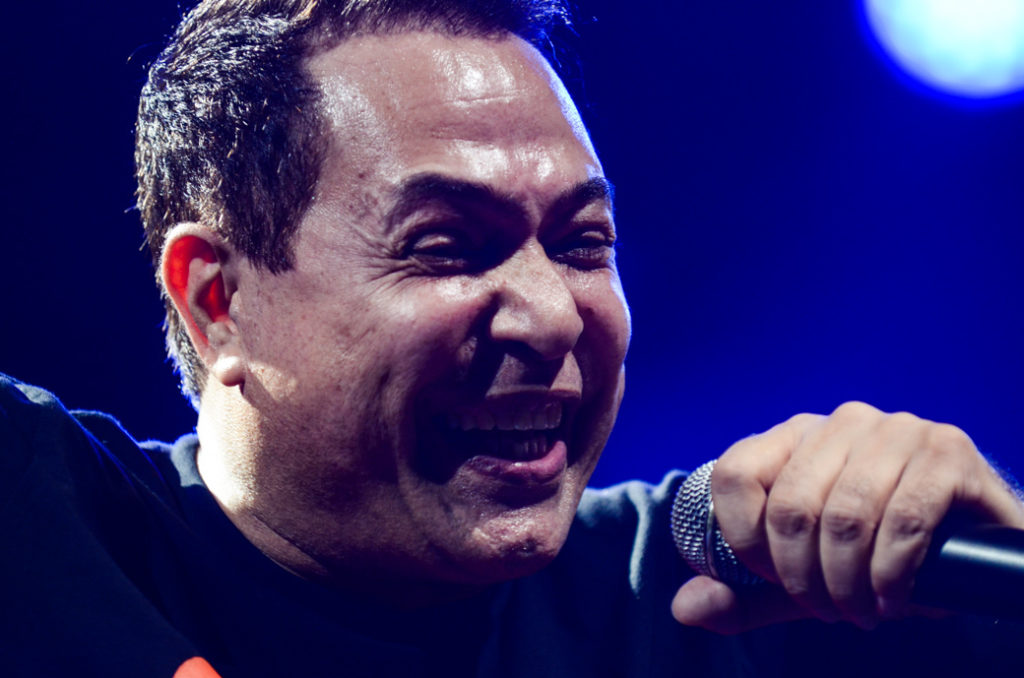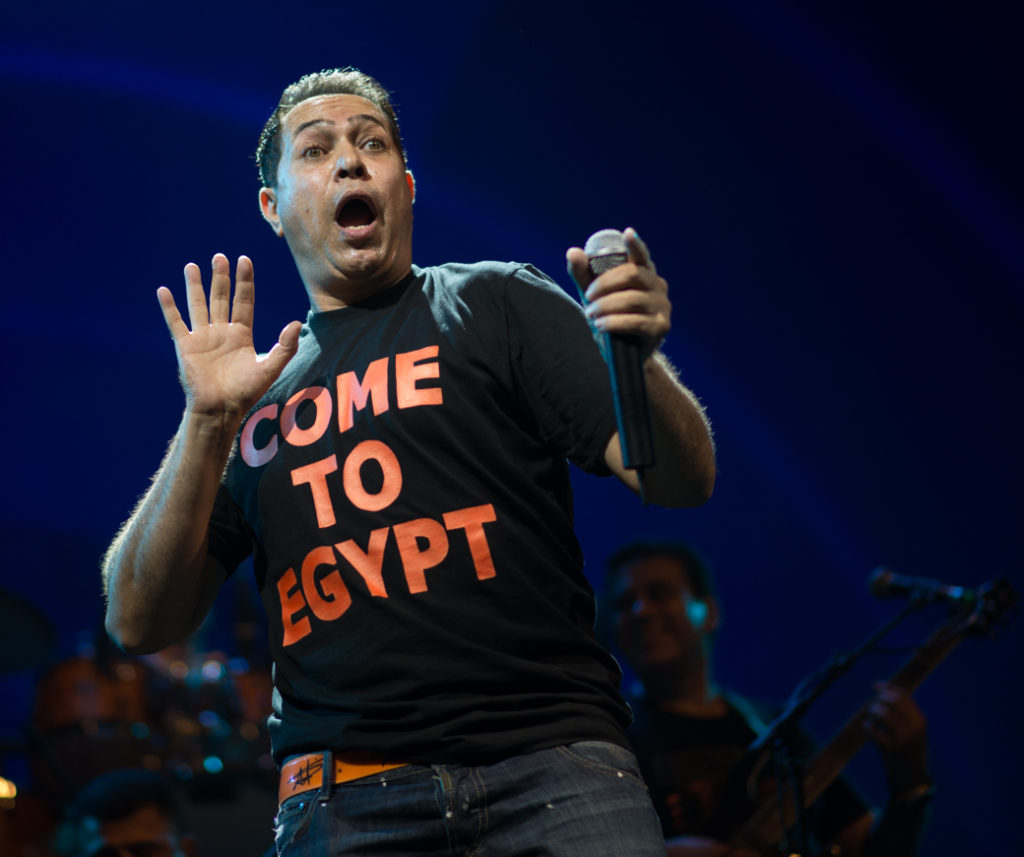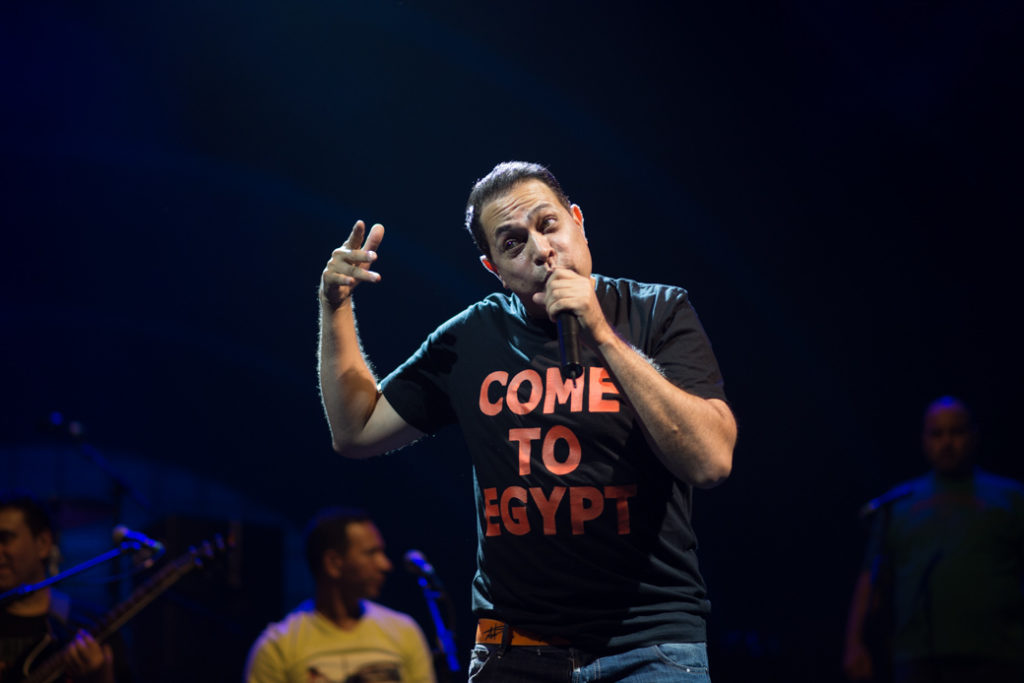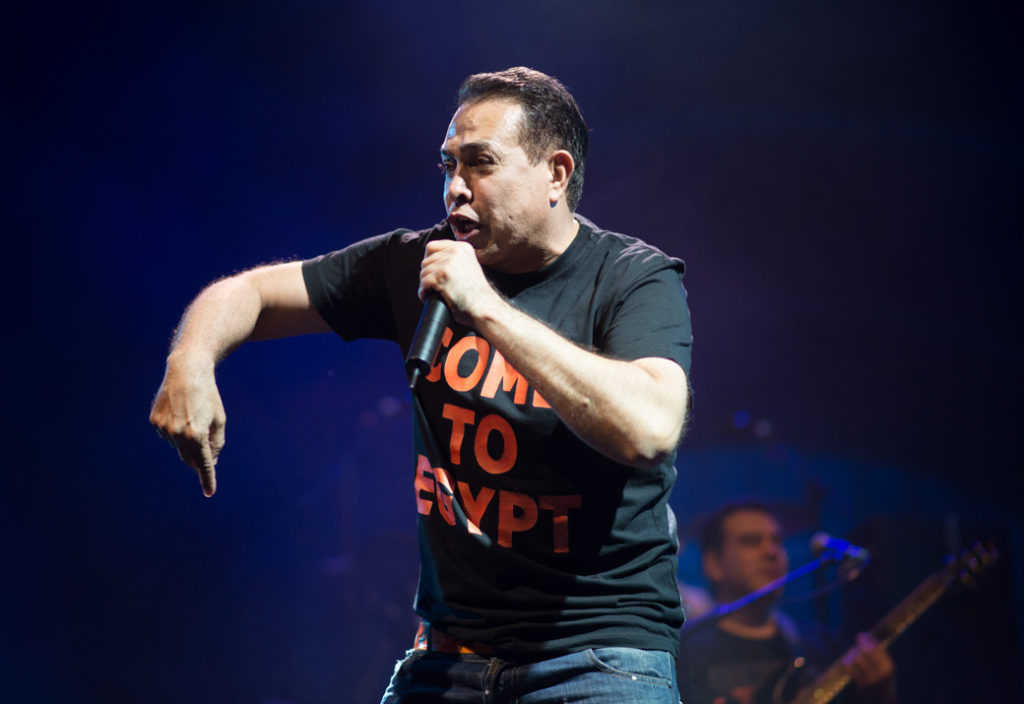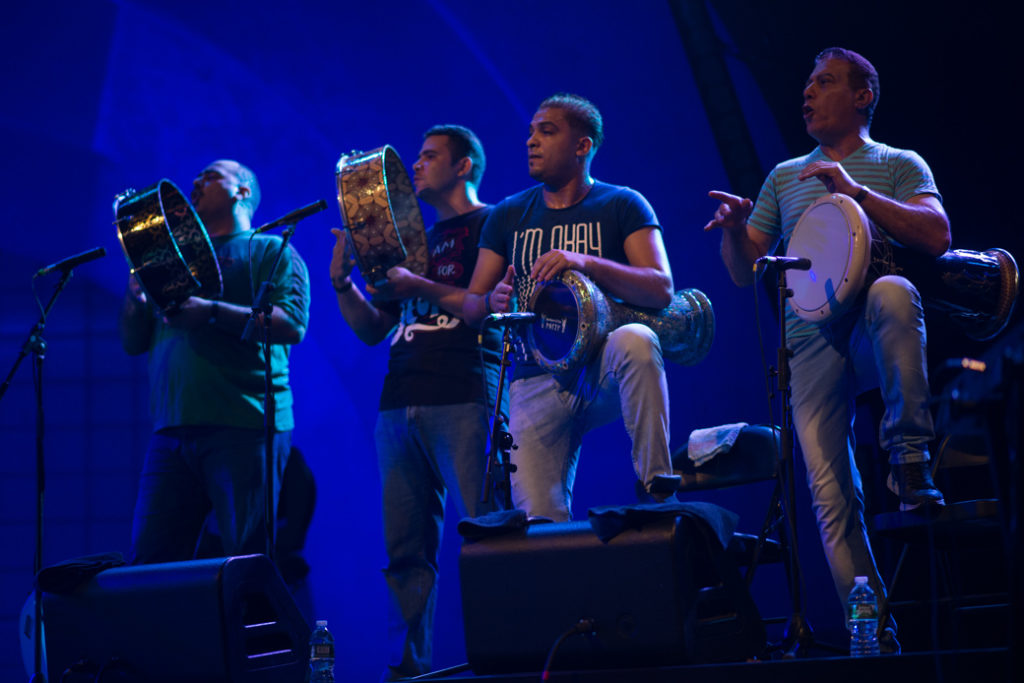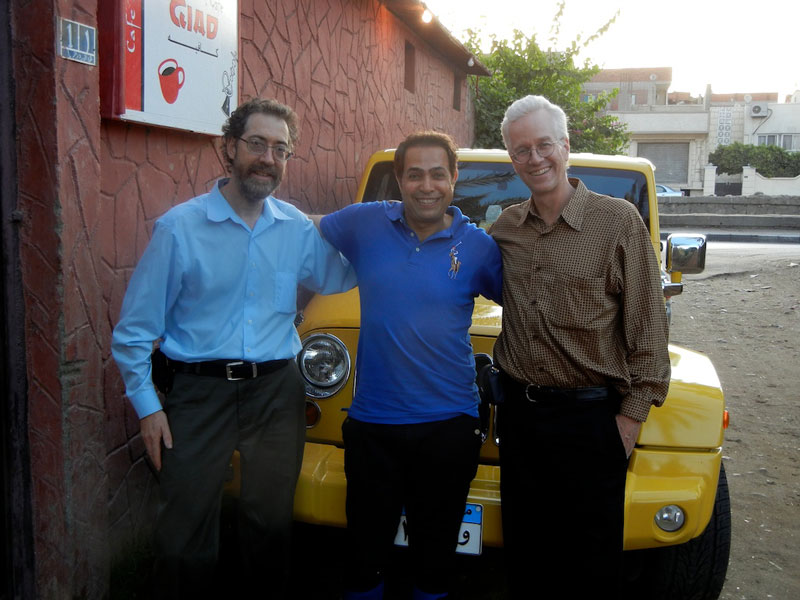 Sean, Hakim, Banning after a long night of adventure in Cairo in July 2011.