Hidden Cache of South African Jazz Unveiled
Electric Jive, an excellent blog focusing on rare and unreleased South African music, has recently come into a serious musical treasure-trove of previously unreleased jazz. The existence of these recordings and pictures are due to the efforts of Ian Bruce Hartley, a white fan of the music who seems to have been a ubiquitous presence around the Capetown scene during the mid to late 1960's. Although not a musician himself, Hartley was an avid taper, and recorded countless hours of live audio from shows around the city. Given the increasingly harsh measures put into law by the apartheid regime during the period, it isn't particularly surprising that Hartley was subjected to harassment due to his close friendships with black South Africans. Kicked out of his loft for allowing black musicians to crash there after a gig, Hartley, who worked for the South African Government, was transferred out of Cape Town for "unknown" reasons.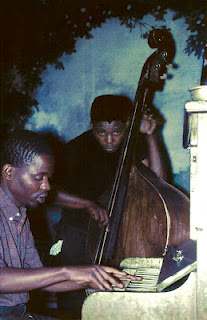 Despite this unfortunate result of his efforts, the recordings he managed to make showcase a moment when "it was still possible ...for racially mixed bands to perform at select public places." So far, the writers behind Electric Jive have only shared a few choice cuts from the archives, but more ( hopefully much more) should be coming soon. Until then, it seems well worth it to chew over what's available so far, which includes both a ten minute take on the classic "Body and Soul" by Kippie Moeketsi, and Chris McGregor and the Blue Notes playing Charles Mingus's "Boogie Stop Shuffle." Given the less orthodox direction that Macgregor would follow in his late 60's work with the
Brotherhood of Breath
, this early work is particularly fascinating. To download those tracks (and more), check out Electric Jive's original post
HERE
. And be sure to stay tuned for whatever else comes from the archive!