In Conversation With Orlando Julius
Nigerian Afrobeat legend Orlando Julius, a.k.a. O.J. Ekemode, had a U.S. tour last month, making a stop in New York at Le Poisson Rouge on Sept. 25, which we covered here. Prior to the show and just after soundcheck, Afropop producer Morgan Greenstreet and Director of New Media Atane Ofiaja met with Orlando Julius for an interview and pictures. Below is their conversation.
Orlando Julius:
My name is Orlando Julius. I'm a musician, I play multiple instruments, sing and dance and I've been a musician all my life. I just celebrated my 72nd year a few days ago.
Morgan Greenstreet: I am so much your junior and I've been checking out your music and digging more and more into it, but there's so much history to your career. If it's O.K. with you I'd like to ask you something we like to do sometimes that we call "Four Tracks." You can pick four tracks from anywhere in your career, and talk a little bit about them and then when we put the interview up online we feature those tracks as a way you can share some things in your history that we might not be aware of.
O.K. I do know where to start from. But I'll start taking them one by one. When you start talking about my music, I have a lot of music, you know, that I have recorded and released and been everywhere. [embed]https://www.youtube.com/watch?v=K8kl3qDJ9y4[/embed] One of those music tracks, I was able to do was to welcome James Brown when James Brown came to Nigeria and we met. I did a song called "James Brown Ride On" and after that we did one too for Louis Armstrong, when I was playing with Eddy Okonta. Apart from that I was invited to come to America and when I got here I did some recordings that I produced for Hugh Masekela, and one of those recordings is a song "Ashiko." [embed]https://www.youtube.com/watch?v=in-h1p2bgz8[/embed] I'm surprised that when I did it with him a new record company called Casablanca in Los Angeles heard this music, they said "Yes. We want to use this as the first album to launch our record company." "Ashiko," that was the one. In 1977, when they wanted to do something for—they were talking about a song that they did for this guy interested in my music, his name is Lamont Dozier. Somehow he was interested in using my song that I did for Masekela, they wanted to do a song called "Going Back to My Roots." His producer told me that he wanted to do that. I said yes. Well, he was African-American and so that means, for him to do a song about going back to his roots, Africa is his roots, and I'm from Africa so I decided to use the chorus
kawa oma ranti, ranti ile o, isedale baba awa
[Sings]. We always remember the roots of our father, which is in Africa. [embed]https://www.youtube.com/watch?v=VdHjFxb5TqA[/embed] That song, when I did it for him, some way he was really happy because I used the chorus from "Ashiko," a song I did for Hugh Masekela from South Africa. I used them for him and by that time, it worked well. It worked fine. I was surprised that 
that
 song was the ninth song on his album and that was the only song that won a Grammy. I was so, so happy for him. And now, you know, I went back home and I went to FESTAC in 1977 in Nigeria. I was a little late because they had almost finished the festival. So I went out to different discotheques, and when I get there, that song "Going Back to My Roots" that I did with Lamont Dozier was played everywhere because the chorus of the song is in my language. "We will always remember the roots of our father"
kawa oma ranti, ranti ile o, isedale baba awa
[Sings]. So when I walk in to the discotheque club, because this is our language and I wrote it, everyone was singing it! It makes my head so... I was happy! I came back to America and when I came back to America I asked him, "so this won a Grammy." They said because it won a Grammy when I'm the one who brought that record and released it, it means this guy has made millions. I said "Oooh! O.K.," I said that. What happened about the album now, when I look at the album now, they gave me the wrong credit. They gave me a wrong credit that O.J. Ekemode "Orlando Julius Ekemode--Translation." But I don't call it translation, because my language is African, my language is Nigerian, my language is Yoruba that I wrote. And I wrote part of it on Masekela's album but now the guy now reused it again.
But you performed on that track as well?
I sang, I played and I even brought three ladies and two guys that I was conducting to play drums and sing, and when you hear it, you can tell that that was me...So now, its been a long time, so now, I just release an album that I did in the U.K. last year.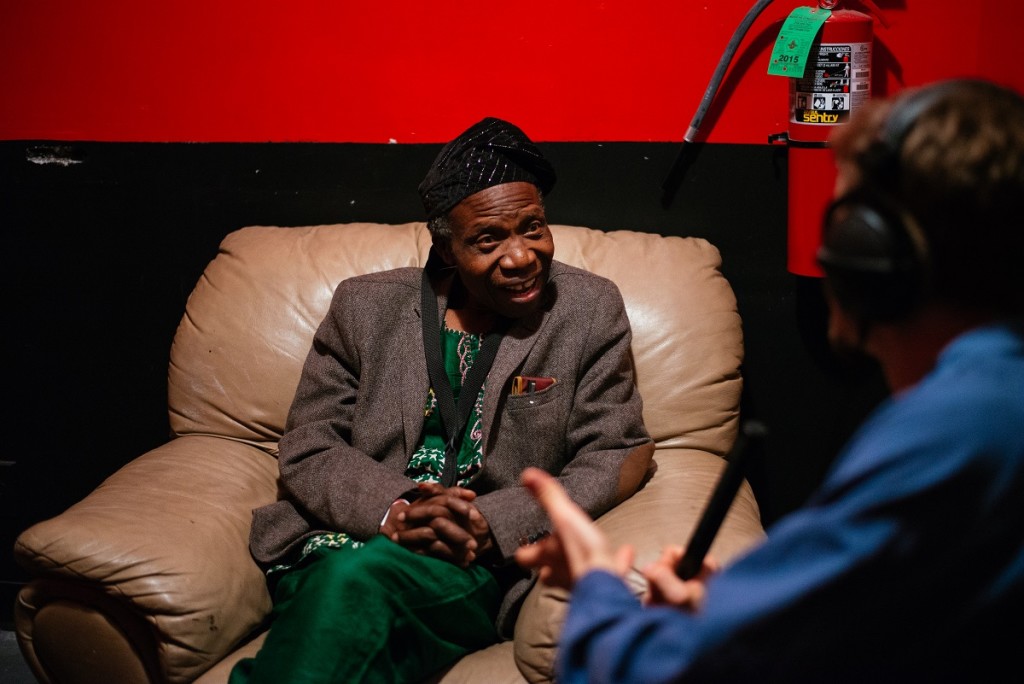 Great album!
Thank you.
Jaiyede Afro
, when it came out in the U.K., that was when a lot of reporters were able to meet me. They now found out what happened with "Going Back to My Roots" they used my music, my song, I sang on it, and performed it, and they gave me a wrong credit. "Translation." I didn't translate; my voice is there; you can hear it. So when I went back to Africa I recorded a song and added more to it so that people could know, on this CD, who is the originator of that song. So when that came out, we put it on that album so now all the reporters everywhere, whether it's the U.K., America, or Europe or everywhere, now they know who did what. I went back to U.S.A., and when I got to U.S.A. and found a lawyer and I told her, "Please, this is what happened and what can we do? This was my language, and the language of my country and that I wrote the song with that I've done with Hugh Masekela and with Masekela's producer who did the Lamont Dozier "Going Back to My Roots." Now it has happened that that particular album, two or three guys now have given me a lawyer who will work on the case. All I want is the truth, because when you hear my voice and I want people to know. He used it on his album and it was a hit, and now I have my own album that I did in Ghana, so it's the same "Going Back to My Roots" but I had to add more to it, and again my wife now did her own chanting and her own translation, and we did it together so we have a new album that is the same song, since he stole my song. So, we're on it!
Excellent. So we have James Brown and three versions of "Going Back to My Roots."
Now with the
Jaiyede Afro
album now, reporters in Europe and Africa, they now see the truth. And I found out recently that Marvin Gaye's family just got some money for some of the same thing that happened to them—they didn't get the money from a track.
You know Manu Dibango, "Soul Makossa," that's another great example because he ended up getting money from so many people, from Michael Jackson, from Rihanna, because people continued to sample it and he continued to follow up with lawyers and say that "You know that's still my song."
I remember it in the U.K., so when I register my album that I recorded and the same song there, if it was not mine, if they found out, they'd try to say "Yeah I don't think that's yours, it belongs to this person." Well, they do anything and I didn't get anything, but I accepted it as "Yes, I'm right." [embed]https://www.youtube.com/watch?v=psaHuIUJstk[/embed]
We definitely wish you all best with that. You deserve the credit and with that credit comes some money. Let's talk about Jaiyede Afro. How was that, working with the Heliocentrics? How did that come about?
Heliocentrics? You know my wife came to U.K. and somehow some way there was a festival that was happening in France, so I was told that they invited me there, and because I know the Heliocentrics and they were so happy to say "Yes, we want to back him," so I don't have to bring a band from Africa, just me and my wife, we went there. When we got there it was a great show and it was after finishing the show the guys said "Ah, we really love to back you," and I said "O.K., I really want to also do an album together." And the way I found out that they were the right people to do it, is that many of my hit songs in Nigeria were recorded by Philips and EMI in the recording studio. Later later later, I'm talking about like maybe about six years ago, the company already folded up back in Africa. So my recording machine and everything was brought to the U.K. and it was sold as something used, so they sold it very cheap, so it was Heliocentric guys who bought it and set it up at their studio. So I talked to Strut Records, which was working with them too, and they said "Maybe we should take you to meet with these guys, you know? See if they'd back you up at the festival they do in France." So then I came to their studio just to see how their studio is set up and I found their 24-track two-inch tape recording machine that I recorded so many of songs in Nigeria on now belonged to them in their studio, so I said yes. I was still interested in recording in an analog studio because I don't like sequencing and I told them. And when I told them this story of that recorder, that their recorder was used at EMI and another studio before they decided they wanted to sell it and someone brought it to the U.K. and just when I do a little bit of fixing it to make sure it's good, and they sold it to the Heliocentrics. So I said "Let's use this to record the 
Jaiyede Afro
 album, and some of my old songs that I did, I redid about four oldies, and I was just seeing O.K., experimenting and seeing what happened. When the album came out it was everywhere and I've never been to Europe and that was the album that took me around the whole of Europe. It's interesting.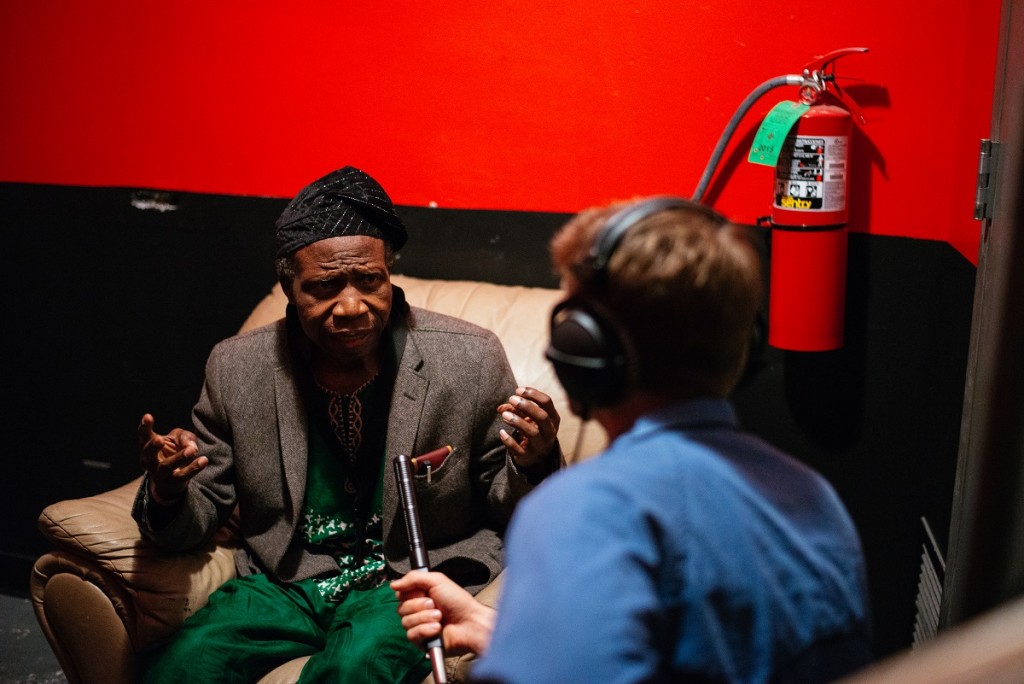 That's excellent, especially to have a long career and have much success in Nigeria and also to do a lot of stuff in the United States, based in all these different places and then to have this opportunity to do a different circuit. What was it like musically with them to record the album? Did you find it an easy band to work with? They're a white English band, not entirely white; their guitar player is from Nigeria, but did you find that it was easy to communicate your musical ideas with them?
Yes, because, I don't know if you know that many of my oldies that they were selling in the U.K., because I did not play there before, I didn't know what was going on and I didn't know many were buying it. I was going from Strut Records and they have one called 
Super Afro Soul
, they've been selling it since 2000, and, yeah, its been selling. It's still selling now. That was the reason why I decided to use some of my oldies from the albums to join with the 
Jaiyede Afro
 tracks that I did with the Heliocentrics. It was supposed to be nine songs and I did six songs of mine and I let them have three songs of theirs on the album and it worked.
Yeah, Malcolm, the drummer, said somewhere that in those three songs they were trying to push you in some other psychedelic direction that you never went. He said something like "If OJ had taken acid in '69, we wanted to make him play like that."
[Laughs] Interesting, because those guys, I like their ways because not only just me, they back three or four of the elder musicians and it went very well. I was able to help them too, do three songs to add to my six songs, and I was able to write parts for them too. And it really works out very fine, and they too are very happy because it's not just me: because I have six songs, they have three songs and the whole album is the hit.
And now you're touring the United States. Tell me about the band you're bringing. It has the old name, Afro Soundz. Who is in the band these days?
Some of them have worked with me in Nigeria. A couple of them have worked with me, the ones from Ghana, they worked with me, and by putting them together now it's really good because every time things like this happen—you've worked together before many times and worked together again and now doing something interesting to add to this makes them very happy. You'll come and see tonight. Yesterday we had a great time in DC, it was really good; it was a great show. We did a show yesterday that was really, really good. The booking agency I was using before, some of them I was talking with yesterday, they were very happy to see us and the show was good.
Our producer recently did a show about San Francisco and he wanted to make sure you had a copy of that show and to regret that he couldn't make it here tonight. But part of your story is in there. When we were talking to your wife earlier, we got the impression that Afropop hadn't given you your due, maybe, in those years.
When it comes to a lot of what I've been doing around the world and the people I've met and worked with, it's good because it just makes the world better because, whether I just met you now or you've heard my music before, they're always something that brings us together, when I'm working with people here and there, and there's so many people I've worked with that make it sound so unique and nice.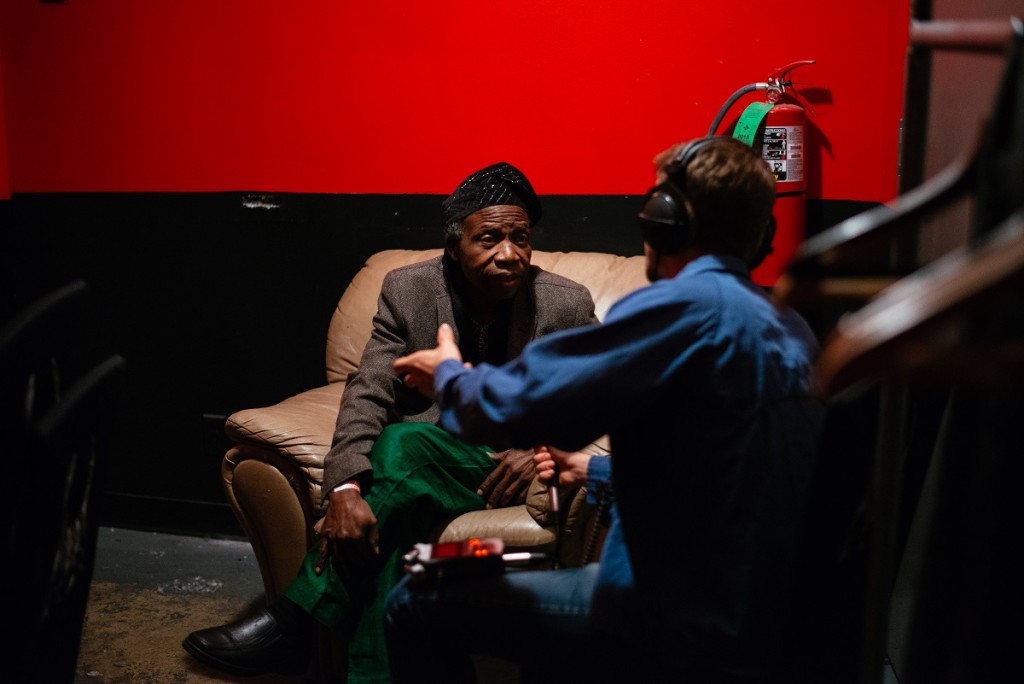 How are things for you in Nigeria nowadays? I know the sounds of today have moved in a different direction. Are you getting the respect you deserve in Nigeria?
Yes, because the oldies there, you know, it's something that people still remember. Because I would say it happened to me more than a lot of people, and a lot of my oldies, people are still now doing it. They're now trying to redo it, just because it's still evergreen. And that...God is great. I'm very happy that it's working that way because it's not easy to do a recording and then that recording skips so long and is still getting use? People still will use my oldies and they've been recorded three times by people who are interested in having it and they want their voice to be worked with that music. They love it.
I understand why, and will continue to support you and want your music to reach a wider and wider audience. Hopefully this interview will go up on the Web and be part of a future podcast or radio show, you never know.
I'm very happy because this trip it happened that I just turned 72 a few days ago, so it's interesting that people who love it...it's nice. To be 72 years and with Facebook, my wife was looking at it over the last few days, so many people all over the world, I've got over 4,000 people that were saying happy birthday to you! On Facebook, YouTube and everywhere. And we are on the road playing. People love it. Yesterday people loved it. It's so nice.
What keeps you going?
God is great and everywhere I go, there are a lot of people who come to see my music they come and they want to dance to my music again and more of those recordings we are finding that they are releasing them again. Very nice. [caption id="attachment_25443" align="alignleft" width="640"]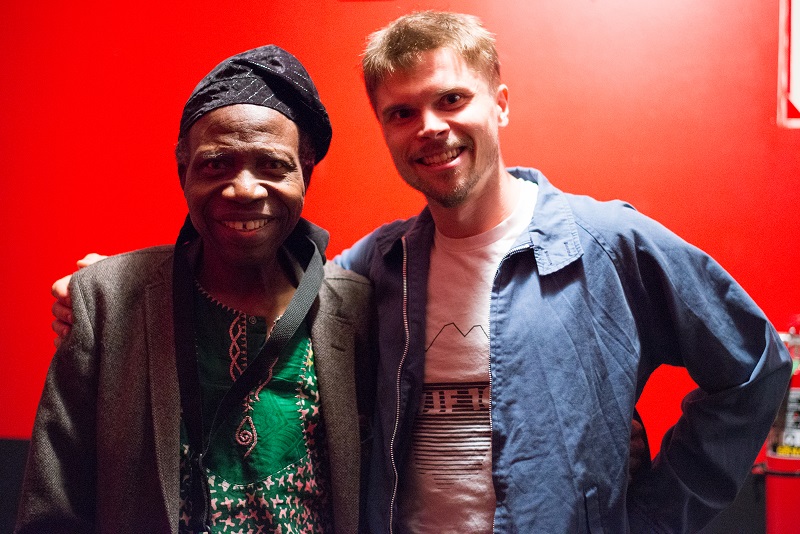 O.J. with Morgan Greenstreet[/caption] All photos by
Atane Ofiaja
.